Use these simple tips and free football party ideas and football printables to host the best game day party ever! They make throwing a game day party, whether big or small, a cinch!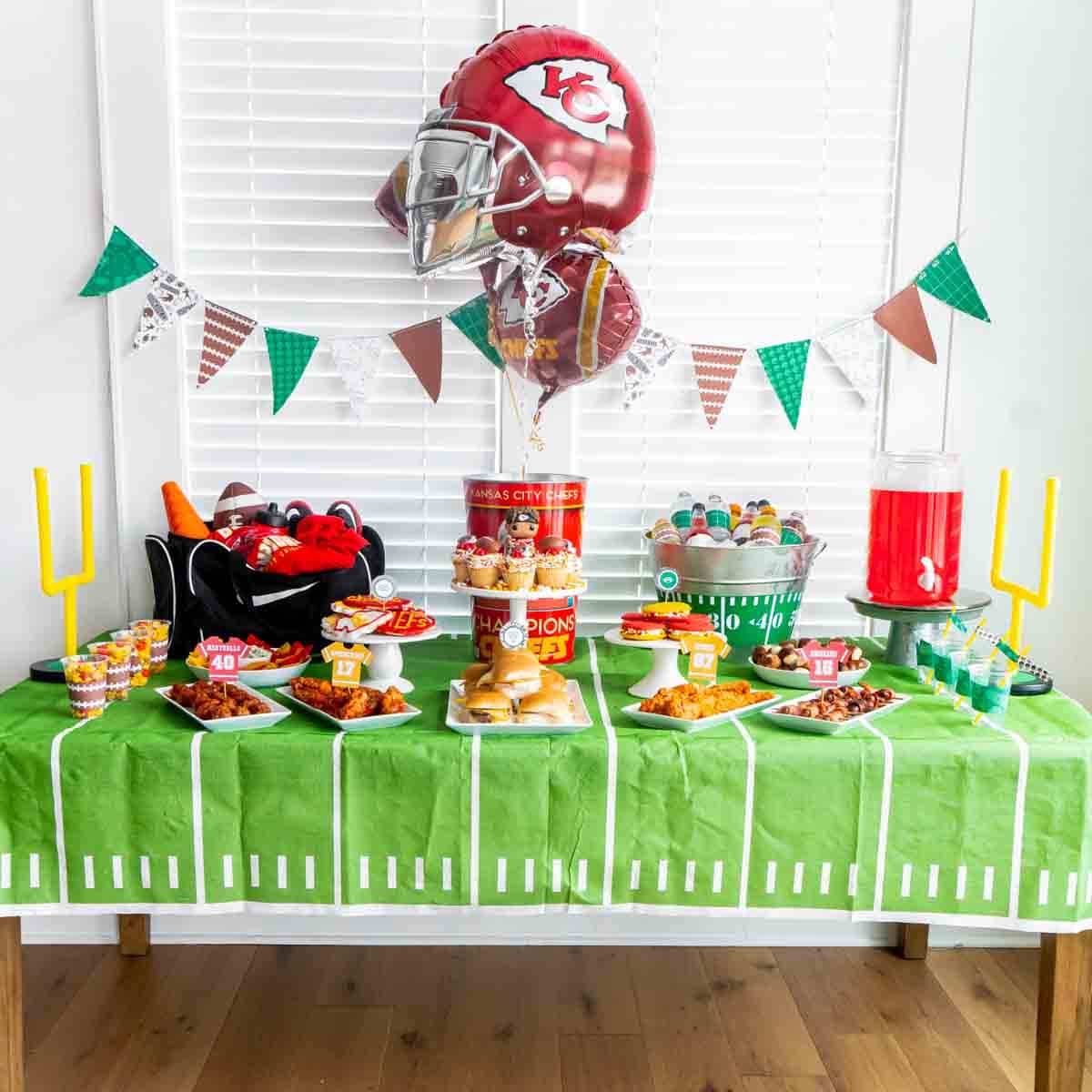 Sponsored by: Hy-Vee. All opinions are honest and my own.
Can I just start by saying GO CHIEFS??
I can't tell you how much fun it's been to live in the Kansas City area the past two years. There's just something incredible about going out on Fridays during football season and seeing half the people around you wearing red for red Friday.
And the team, the team is just so fun to root for. I've never been a huge football person, but I am a Chiefs person. I've (okay maybe Mahomes and Andy Reid and the rest of the players…) even converted my Dallas born husband into a Chiefs fan and that's saying something.
Game Day Party Tips
While I know this year is a little different than normal, it doesn't mean that you can't still have a small or family only game day party with the perfect game day spread! I mean that's half the fun of watching right?
And I've got all sorts of tips for your celebrations this year!
1 – Shop smart
Put together your list, order groceries online for pickup via Hy-Vee's Aisles Online program, and get everything you need in a fraction of the time. Spend that time cleaning, decorating, or relaxing instead.
Place your order now and pick it up the day before game day, just in case your favorites are out of stock and you need to check another Hy-Vee! Or if you have the Hy-Vee app, order through the app!
And if you're a Hy-Vee Plus member, 2-hour pickup and standard delivery on any orders over $30 is free! That would make it even easier!
2 – Don't make it all
Football games can last forever and you don't want to run out of food. Make it easy on yourself by enlisting help – ask people to bring something to share and get at least some of the food catered.
I ordered pretty much everything on my table from Hy-Vee catering. They have everything you could possibly need for a game day party. Wings, meat platters, pizza, pretzel bites, meatballs, even bacon wrapped smokies.
You can see everything they offer here!
Place your order now and schedule pickup for game day weekend! Then it's literally as easy as walking into the store, having your cart loaded up with snacks, and walking back out. Easiest game day spread ever!
3 – Create height and volume
I know game day is typically all about the food, but I really wanted to make a big statement with my party table. I went all out with large pieces to really fill the table.
Chiefs balloons from Hy-Vee (and that awesome metal tin), a big drink bucket (get the DIY instructions here), goal posts, and then a duffle bag with football gear.
Since football parties typically include lots of appetizers and food that's best laid flat (wings, pretzel bites, etc.) – adding large non-edible items gives you the height and volume you want while still being able to place flat trays of food!
4 – Start with Desserts & Drinks
I'm not talking about starting your meal with dessert first, although I do really like to do that! I'm talking about adding desserts and drinks to your table first.
I typically use cake stands to add height and keep the desserts out of the reach of the littlest hands. Plus, they just stack better.
Tip!
Plate desserts together like these cupcakes with the Chiefs M&Ms. It fills up plates, adds color, and adds another small treat for someone who may not want an entire cupcake.
Since Hy-Vee has such a large selection, I decided to go with just Chiefs desserts. It was hard to choose out of all the options, but these sugar cookie sandwiches were my personal favorite!
For drinks, I typically like to give options. Always water. Typically some sort of carbonated drink like soda. And some other non-carbonated juice option that's more for the kids.
I went with a sports drink, red soda, waters, and some fruit punch in the pitcher – mostly because I wanted to show off my cute straw flags but also because well it's red!
Tip!
Print water bottle labels on full-sheet label paper instead of regular paper. Then just cut out the strips, take off the backing, and stick them on like stickers! Way easier than taping them on!
5 – Add Room Temp Snacks
After I have all my desserts and drinks out, I like to add any appetizers and snacks that will still be good once they've cooled off to room temperature.
For our party, this meant spinach artichoke dip with chips, pretzel bites with cheese, and meatballs!
6 – Save hot foods for last
Anything that needs cooked and is better warm, heat it up and plate last minute so people can enjoy it as warm as possible.
Hy-Vee has all sorts of different appetizer options – some come pre-cooked, others like these bacon wrapped smokies – are prepped but need to be cooked. I cooked the smokies just before game time so everyone could enjoy the bacon while it was hot and crispy!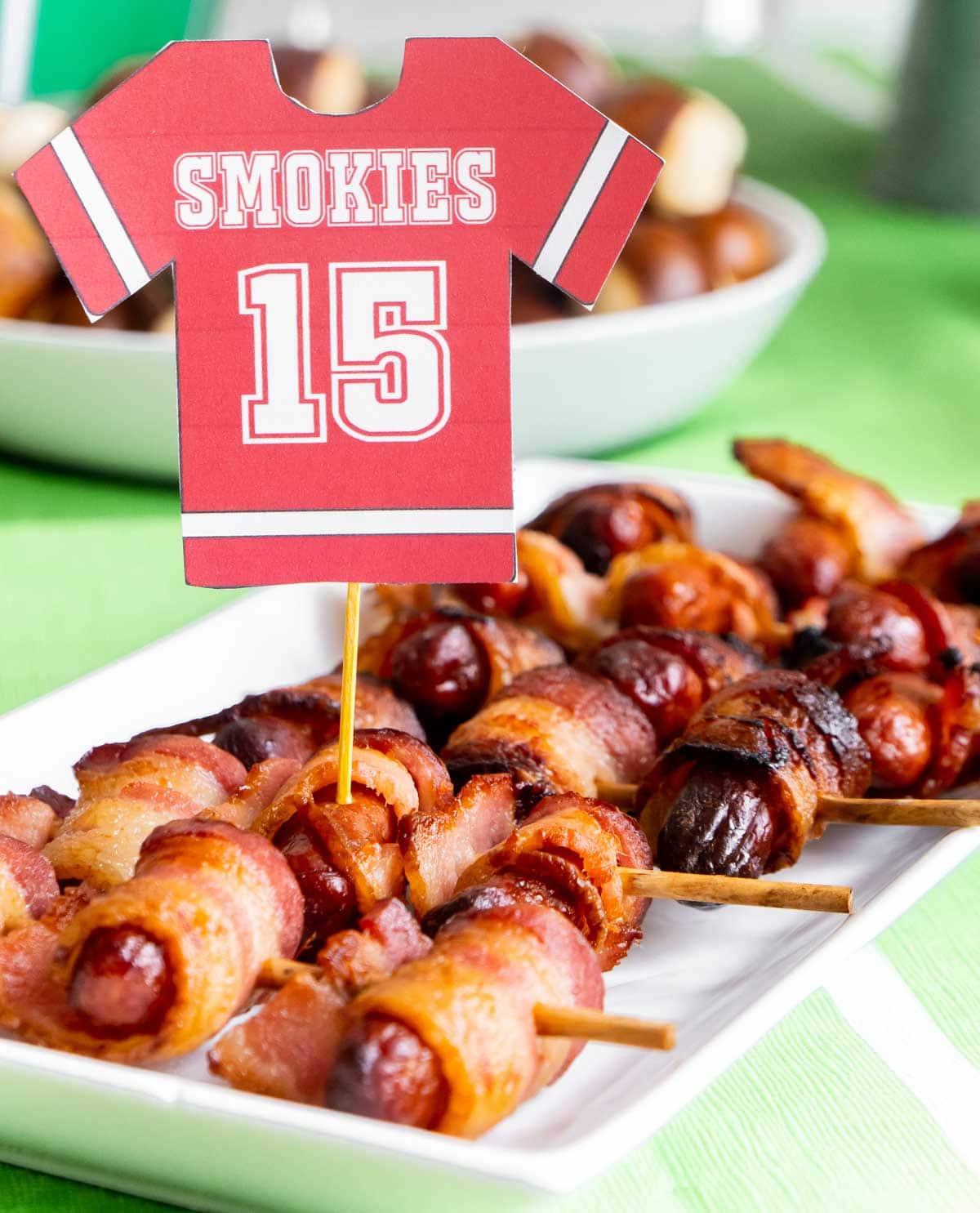 7 – Incorporate Team Colors
If you're a fan of the teams playing, you can either do a full party table using their colors. Or dial it back a bit like I did and go generic football look with team colors incorporated.
We're obviously rooting for the Chiefs and luckily Hy-Vee has a TON of Chiefs specific items right now going into the big game next week. I picked up some balloons, a bucket, Chiefs' popcorn, cookies, cupcakes, and more!
Plus, I just had to grab a Patrick Mahomes Bobblehead, it seemed appropriate to put him in the center of the table.
And don't worry, Andy Reid made it onto our table as well. I saw this cookie in the Hy-Vee bakery and knew I had to have it. It may just be the cutest cookie I've ever seen, maybe too cute to eat!
8 – Finish it with printables
I'm a sucker for a good set of printables. If you just add a few here and there to tie your entire table together, they're the perfect way to finish a table.
I included a few cupcake toppers, food labels from this set of Chiefs game day printables, a banner behind my table, and bottle labels.
And I've created a set of simple football printables just for you – download them at the bottom of this post! They're all football themed with things like a football field, football texture, playbook, and more!
Nothing super over the top, just a few items to make your table look more impressive and polished!
9 – Don't forget the games
Just because you're watching a game doesn't mean that people won't enjoy a few games while they watch! Some of our favorites include this football guessing game, this commercial bingo game, or this squares game.
And make sure to grab some prizes for the winners! Choose your prizes depending on how many winners there will be. I like to do things that are theme specific so this year I picked up some Chiefs items from Hy-Vee (they have a HUGE selection) to use as prizes!
I set up a little prize table for people to choose their prize as soon as they win! There are also a few gift cards, snack buckets, and other things not shown but mostly Chiefs items since most people coming to our party this year will be Chiefs fans!
Pretty sure the hot prize of the year is going to be The Rise of A Champion (a Patrick Mahomes book that's available in all Hy-Vee stores!). It'd make a pretty great coffee table book for any of the Chiefs fans in my family!
Or maybe Mahomes Magic Crunch cereal! There are eight different boxes you can collect with different puzzle pieces, so fun!
10 – Send people home with leftovers
Last but not least, make sure to have containers you can use to send home leftovers with people. I mean, it's a game day party. There's always a lot of food and always a lot of leftovers.
I picked up fun Chiefs souvenir buckets from Hy-Vee for people to use as take home containers! It's kind of like a party favor and a take home treat in one!
If you're more of a visual person, here's a quick video showing how easy it is to plan your game day party with Hy-Vee!
Download the Football Printables
As promised, I create a set of generic football printables for you to use for game day parties all year long!
Just click the button below to get the printables!
The file will include:
2 Banners – one with no words and one with GAME DAY! letters
2″ cupcake/treat toppers
1″ cupcake/treat toppers
Circle favor tags
Straw flags
Water (or other drink) labels
Food cards