My dad turns 50 tomorrow. I've been trying really hard to write him a letter expressing what he means to me and haven't been able to do it; I just have too much to say. Instead, I am going to create a version of his favorite game, Name that Tune, with 50 songs, that we can play with my new pocket speaker when I'm there next week. I think it'll be a great 50th birthday present.
I like to call myself a music lover but honestly compared to my dad, I don't even like music. Just to give you some idea of how much my dad loves music, he took a year off from working and created what he calls "Denny's Opus," a compilation of his top 1000 songs and 100 movies ever. And he didn't just put them on CDs in order from 1-1000, no that would be too easy. He actually narrated the collection with stories and reasons why those are his favorites. I'm not sure my mom was super excited about the idea of him hanging out in his cave for an entire year working on his project but all of us that got a copy love it. I listened to it while working at BYU one summer and had to keep myself from laughing out loud as my I listened to my dad singing a little diddy in between songs. My dad is goofy, what can I say?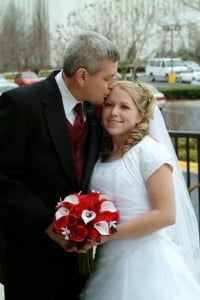 When someone asks me what kind of music I like, I have to answer all because I could listen to Fish Heads by Dr. Demento, the Les Miserables soundtrack, or Chicken Fried by The Zack Brown Band and be happy. And I was first introduced to all three by my dad. I only hope that I can pass down that same love of all types of music to K. So far so good. I think he liked dancing to the music.
Anyway, back to my gift. All my life I remember playing Name that Tune with my family. We played at every single family reunion, lots of family parties, and well just for fun in the car using songs on the radio. The basic idea is that one person (always my dad) puts together a playlist of songs and then teams try to be the first one to shout out the name/artist of the song to win points for their team.
You can find full instructions in my black and white party post. The game is always super competitive at family reunions because my dad's side of the family knows and loves music as well. When we play at parties with friends, not so much. So for my dad's birthday I'm going to change it up and create the playlist to let him play for once, and since I like themed games, I've created a playlist of 50 songs, one from every year he's been alive. It'll be fun to see if he can beat the rest of us at guessing them. Here's just a sample of my playlist. You can download the full list here or by clicking on the image below.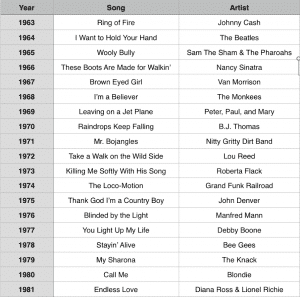 I just hope my dad likes his present. And I'm secretly hoping that my siblings beat him in his own game, that'd mean he taught us well. Do you have any great gift ideas for a music lover or for a 50th birthday?