Try out this Halloween guess the food game to see who can guess the real names of gross Halloween food (or Halloween candy) first! So much fun for kids, adults, and everyone in between!
Fun Halloween Guess the Food Game
When I was growing up, my parents always threw me birthday parties with creative birthday party games. That's actually one of the reasons I share so many games on my blog – I've grown up loving games and assume everyone else does too.
One of the games I remember the most from all those birthday parties was the time we played Fear Factor, and I ate an octopus and promptly threw it up.
Pretty sure I can blame my dad for my picky eating these days. I haven't touched an octopus again. Candy octopuses in ocean blue lemonade popsicles I'll do but no actual octopus.
This Halloween Guess the Food Game is kind of a lighthearted version of that Fear Factor game where we had to eat something gross.
In the case of this game, the foods just sound gross – they're not necessarily actually gross.
For example – cat poop is actually a Tootsie Roll.
If you don't want to do the Halloween guessing game gross food edition – I've included a Halloween candy version as well! That one should work whether you're looking for Halloween games for kids or Halloween games for adults.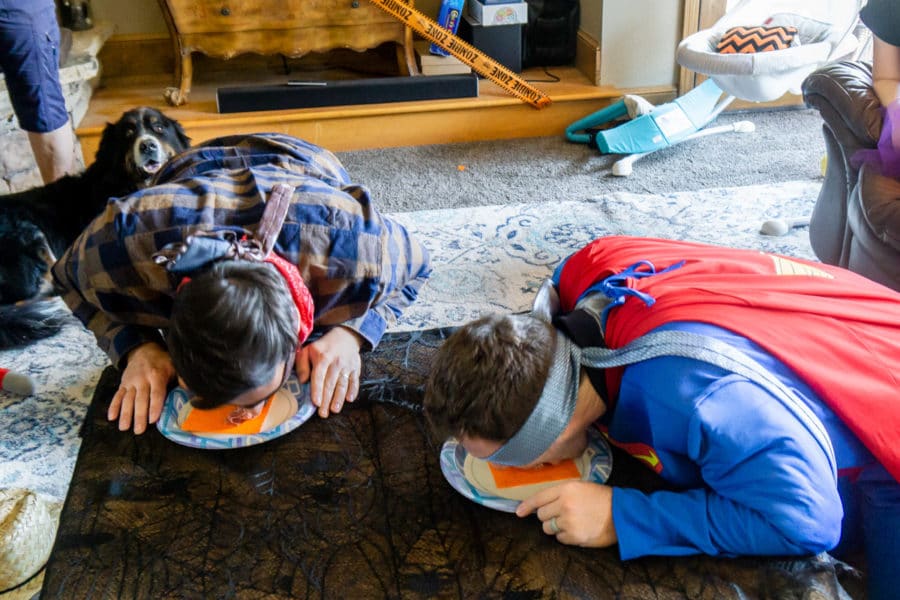 Guess the Food Game Supplies
For this game – either version – you'll just need a few things.
Blindfolds (one for each team or get this bulk pack and just let everyone have one so you don't have to switch them out)
Halloween napkins or small paper plates (enough to have one for each food you'll be putting out for people to eat)
Food – check out my food lists below for examples of what to use
How to Play this Halloween Food Game
Playing this game is super simple – that's one of the reason it makes one of the best Halloween party ideas. Want to see how fun it is? Watch the video in this post to see how it works!
1 – Get your food items ready.
I like to put each one in a muffin tip cup like this and then cover the muffin tins until it's time to play. One muffin tin per team – one food item per cup. If you're doing muffin tins, you could always just skip the plates/napkins in the supply list above and put them in cupcake wrappers too.
You don't need that much of any one food item – just a quick little taste. People will either know it or not know it quickly whether you give them an entire plate full of food or just a few bites. Save your money and go with a few bites.
2 – Divide into teams.
Depending on how many people you have playing, divide into two or more teams. At most, I'd put four people on a team. Any more than that and you're likely going to end up with a lot of people just sitting around bored.
3 – Set the table.
Put a plate or napkin on a table or a flat surface area for each team. You'll have to reset the table each round since people probably don't want to eat off the same napkin or plate as someone else. Make sure there is plenty of space around each person so they aren't bumping into each other.
4 – Pick your first victims.
Like in my Halloween family feud game where everyone takes a turn being the first to guess family feud questions, in this game everyone will get a chance to be the taster. Have each team send someone to the table where they'll be blindfolded and put in front of one of the plate settings on the table. If they'd like to put their hands around the plate to get a sense of where it is for the eating portion, they can.
5 – Add the food.
Once everyone is blindfolded, put your first food item on the plates in front of the players. Team members can't help or say anything – if they say anything or make any comments (e.g., gross or ooh I'd love that), the team is disqualified from the round. Unless you're playing with kids, then be a little more lenient of course.
6 – Tell them what they're eating.
If you're playing with gross Halloween food items, this is the fun part – tell the lucky players what they'll be eating today – the gross or creepy name of the food, not the real one of course.
I've got an entire list of gross Halloween food ideas below but feel free to get creative if you have other ideas. If you're playing the candy version, skip this part and move right into the eating part.
7 – Eat and repeat!
Give the players a ready, set, go countdown and when you say go have the players taste the food on the plate in front of them – mouths only, no hands. First person to try the food and guess what it is wins a point for their team. Keep going through the same process above switching out the plates and food items between players.
How to Win
Keep track of points for each team. One point for being the first team to guess the food on the plate in front of them.
Team with the most points at the end of all of the rounds wins. I recommend doing enough rounds for each team member to try twice (or more). That gives them a chance to win the second round if they lost the first.
Halloween Guessing Game Gross Food Ideas
Like I mentioned above, these only sound like gross Halloween food items – they're actually totally normal food items, just with gross Halloween food names.
You don't have to do everything on this list, simply pick the ones that make the most sense for you. And when you're picking out which food items to put in front of people, keep in mind the individual who is playing that round. You don't have to have a set order of when you put things out. For example, my son doesn't like chocolate so I made sure to avoid the Tootsie Roll.
Worms – cold spaghetti noodles
Eyeball – peeled grape or black olive
Frankenstein's finger – mini hotdog
Broomstick – pretzel stick
Dracula's dinner – ketchup
Pumpkin teeth – candy corn
Mummy wrap – prosciutto (or fruit by the foot)
Black cat poop – Tootsie Roll
Skeleton bones – baby carrot
Bat wing – beef jerky
Zombie flesh – fuzzy peach piece (with skin on)
Headless horseman's head – candy pumpkins
Bigfoot's toe fungus – mushrooms
Ghost – marshmallow
Boil or blister – Gusher
Troll's club – Cheetos
Human heart – tomato
Werewolf vomit – chunky guacamole
Cockroaches – dates
Monster's horn – Bugles
Halloween Candy Guess the Food Game Ideas
If you're going to do the Halloween candy route instead, I highly recommend using popular brand name candy – so Skittles instead of a piece of chocolate bar – to make it more difficult. Or if you're doing it with kids, you could just do generic things like gummy bears but it's more fun if they have to actually figure out the real candy item.
I've included a list of some of the most recognizable and popular candy options below.
Skittles
M&Ms
Snickers
Rolos
Starbursts
Twix
Airhead
Nerds
Mike & Ikes
Reese's Peanut Butter Cups
Kit Kat
Smarties
Tootsie Rolls
Dots
Raisinets
Red hots
Whoppers
Almond Joy
You could also do a combination of both gross food and candy – or do the gross food for adults and candy for kids. Totally up to you!