Jazz up the gift for your child's teacher this year with one of these free printable teacher appreciation gift tags. These free teacher gift tags are perfect for adding to a little gift or just adding a personal note thanking everyone who helps your students grow! And if you're just looking for the perfect gift ideas, we've got some great gift ideas too!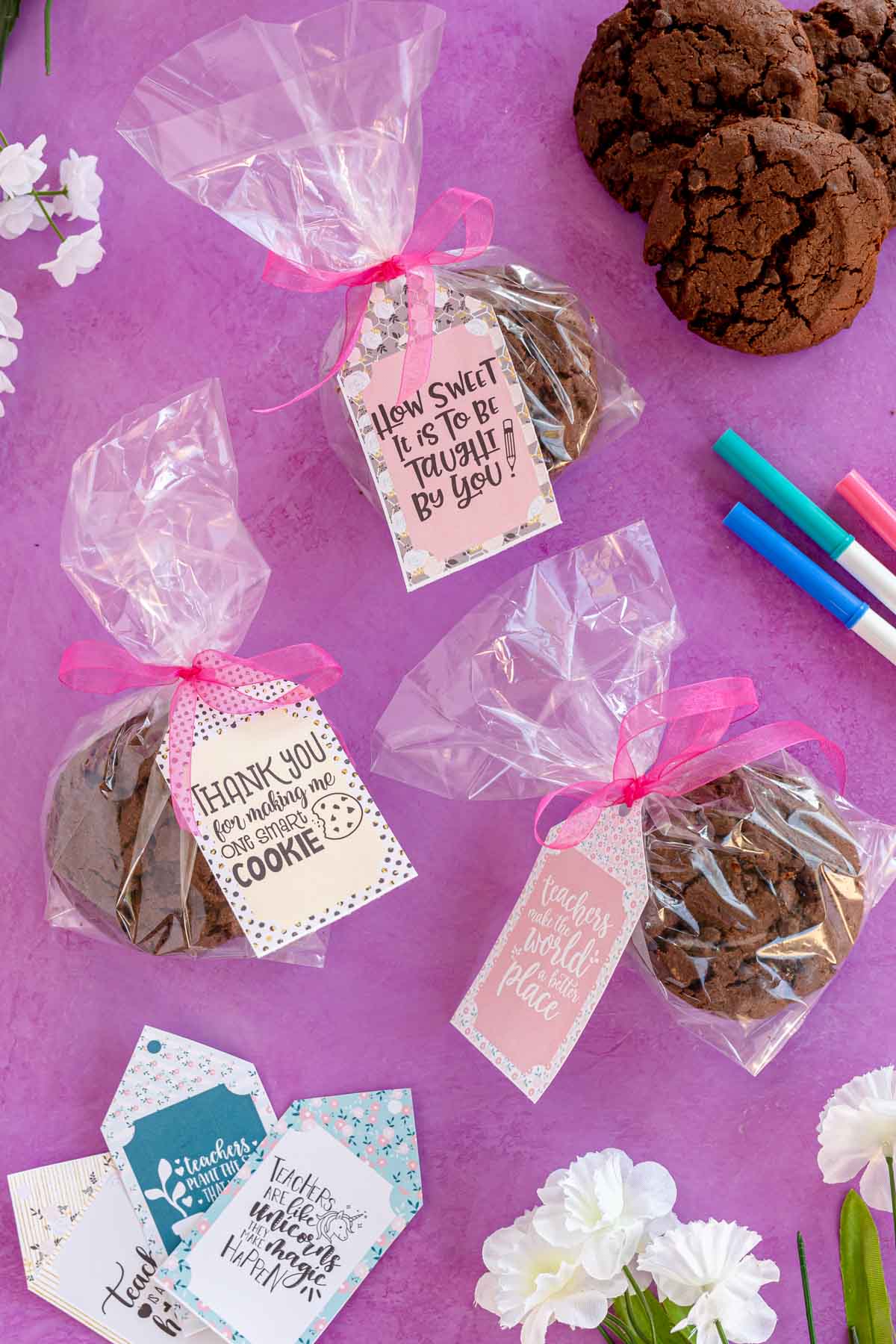 Each year my son's school "does it up big" for teacher appreciation day, well, teacher appreciation week really. The PTA puts together amazing food spreads like a nacho bar, bakes treats, and plans activities to show some much-needed staff appreciation.
I shared some of their ideas in this post about teacher appreciation week ideas – they go all out when it's that time of year!
We as parents volunteer to donate items, gifts, chocolate, blueberry muffins, soda, or whatever we have on hand just to show a little extra "Thank You" for all the time they spend on lesson plans, teaching, and helping our kiddos all year long.
Plus, we typically send in small gifts for each of the main teachers and something small for their specials teachers. We even sometimes send in a bonus for their favorite teachers from previous years. I know my son loves giving something to his favorite teacher ever!
Honestly, I'm still not sure why teacher appreciation week is the first full week in May, so close to the end of the school year (I'd love to see it in February or something, like the middle of the year), but I just do as I'm told because teachers put in hours of hard work just because they love it.
And I am a huge fan of saying thank you with thoughtful gifts!
Free Printable Teacher Appreciation Tags
These free printable teacher thank you tags are perfect for when you want to send a little thank you, snack, candy, or gift to any teacher you know. You can print them out, attach them to the gift, add little personal message (but only if you want to) and boom, your gift is ready to go.
It's not your typical DIY where you actually make something, but I count putting together a gift DIY so it counts!
There are six different printable tags to choose from that should work for every special teacher in your child's life! Pick one for each of your children's teachers or give your kid's teachers all the same thing!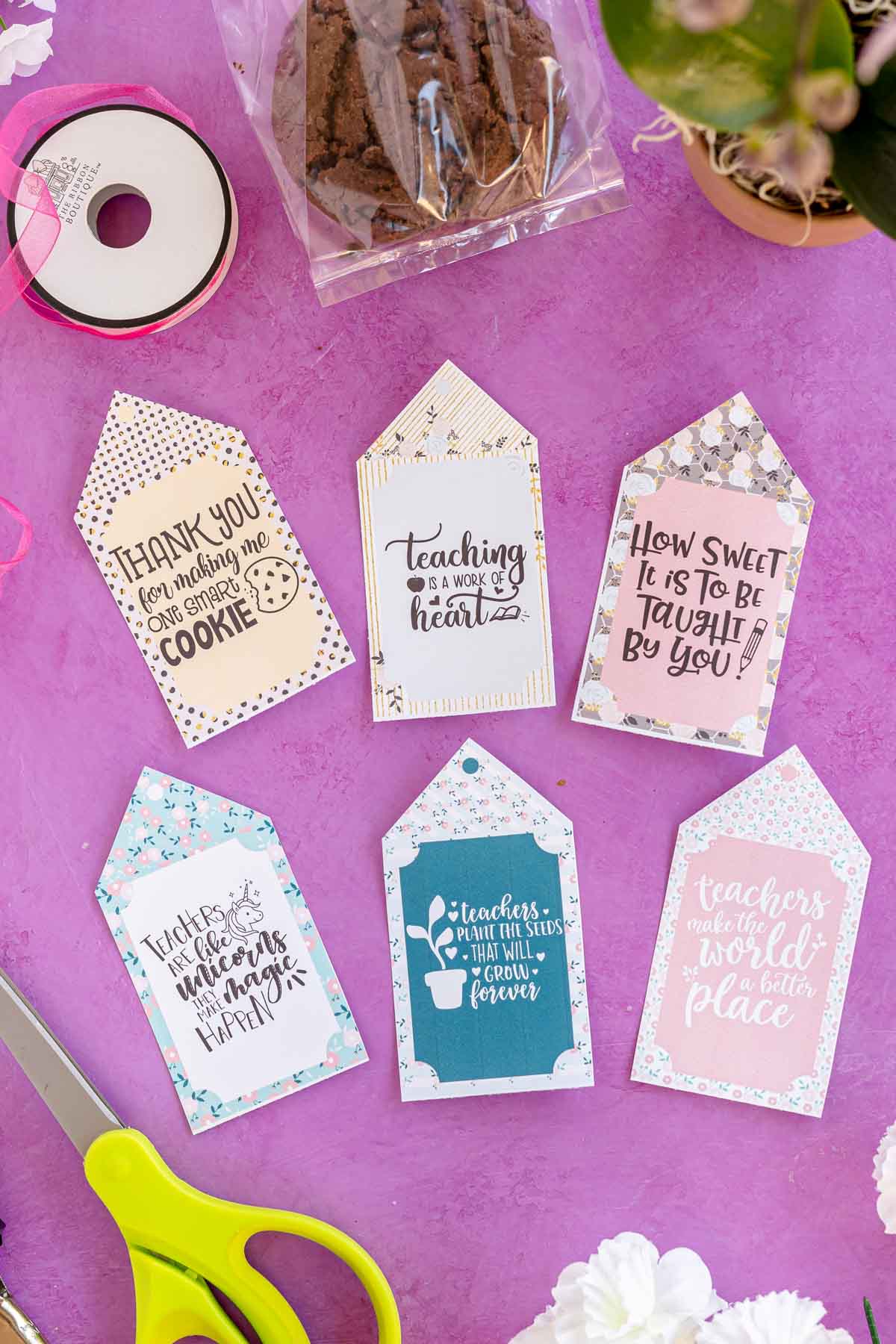 There's a free printable gift tag for those who love music, enjoy those sweet treats (hello cinnamon swirl bread), one for that unicorn of a teacher who has a magical way of making the hard things seem easy. And many more!
Really, any tag can be used for any teacher – you can let your kids choose or you choose which one would be best for your kids' teachers! Only you and your child will know if a teacher will appreciate a plant or prefer some chocolate with a cute gift tag!
How to use the Free Teacher Appreciation Gift Tags
It's really simple to use these tags. Just download the free printable template below and print them out. Then you can cut the tags out or if your kids are old enough, they can do it.
Use a hole punch and make a hole on one side on the tag and fish a piece of twine, ribbon or some kind of string through the hole and around your gift.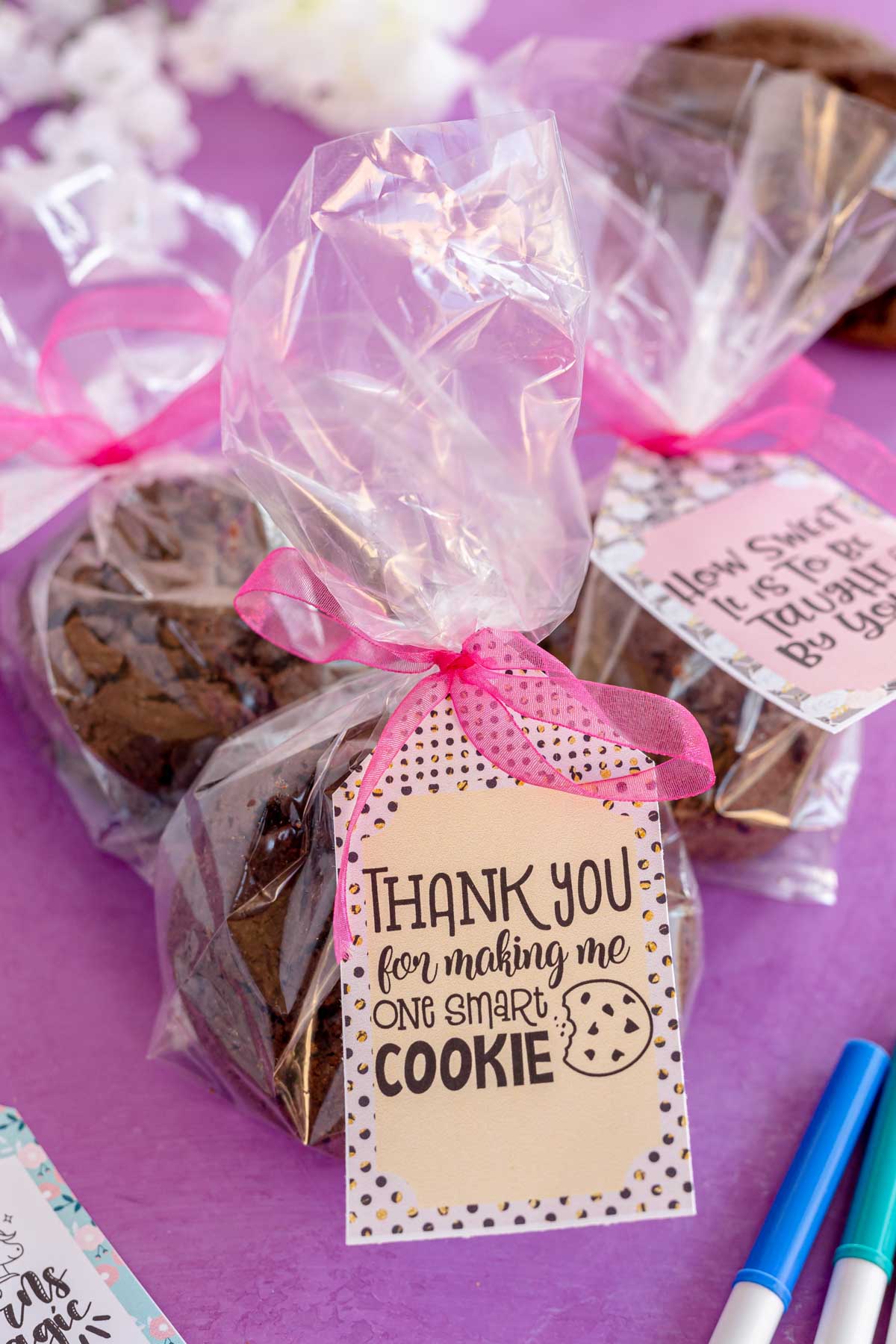 Or if you don't have twine, you can also tape your tag to the gift or bag if needed.
That's it – your sweet gift is done! I'd love to know if you use any of these for your child's favorite educator this year – tag me on social at playpartyplan!
Just like with teachers, tagging me and sharing when you use my ideas goes a long way – it totally makes my day!
Teacher Appreciation Gifts
While these cards are great, sometimes you still want to add a heartfelt gift to make your teacher's day – so I've included some simple DIY gifts (and when I say DIY gift, I mean ones you can just toss together) to go with your selected free printable tag.
If you're looking for some unique gift ideas, our teachers really thought these orange gift ideas were adorable, there's even a fun teacher specific tag included to go with your great teacher gift.
We've also used some of these classic apple gift ideas. And, these cricut teacher gifts are just what you need for those beginning of the year thank you's or those end of the year goodbyes.
And if you can't find one of these that work, one of these printable thank you tags with gift cards is always an appreciated gift (or so my teacher neighbor says).
Or a gift card plus a small homemade gift and one of our cute tags was also recommended – that personal touch is always encouraged and a great idea!
And if you're still stuck, some of the best teacher gifts I've seen include:
A heartfelt note – this one is a great opportunity for kids to be included in writing the note and also a good inexpensive teacher gift idea. You could even just have them write something short on the back of these adorable tags!
Gift certificate – something to a local restaurant or activity you know they enjoy, like my son's teacher loves ice cream so we got her a gift card to the local ice cream place – super easy gift!
Tote bag – get one with a cute teaching quote or cool design that's large enough to hold papers, notebooks, and such. They'll be able to carry everything while still looking stylish (this isn't recommend for men teachers). This is more of a practical gift compared to other fun gifts above. I have a friend whose a former teacher that has the coolest tote bags!
Chocolate bars, candy, or another treat you know they'll enjoy – you can often stock up cheap at the Dollar Store! Those would go great with the sweet tag! Or give them something like a Target gift card to buy their own candy bars!
Gift basket – a gift basket of themed gifts makes one of the best teacher appreciation ideas because it's thoughtful and practical! And sometimes gift baskets just make the best gifts, especially if all those wonderful teachers can reuse the basket!
More Free Printable Gift Tags
You can never give out enough gifts! Check out these other fun printable gift tags for the next time you want to say thanks!
Download the Free Printable Teacher Appreciation Gift Tags
Enter your first name and email address in the form below to get the printable PDF.
You will receive a link to download the PDF to your email within minutes.
If you do not see the form, click here to get to it.
If you'd prefer to not provide your email, you can purchase a copy of the DIY teacher appreciation cards in my shop here.
If you do not see the email immediately after you fill out the form, make sure to check your promotions, spam, and junk folders.
I recommend printing the tags on white cardstock and and adding a personal note on the back (this is a great opportunity to teach your kids about how writing a nice note can be a thoughtful gift)!
The file will come with:
Instructions and personal use copyright info
Teacher appreciation gift tags