Use these free printable New Year questions cards to talk about some of the best moments of the year, things you learned, and more! Plus, a handful of New Years Eve questions to talk about the upcoming year! It's a fun activity for all ages and groups of all sizes!
As we get to the end of the year, I can't help but look back at everything that's happened this year. It's been a year alright. It was definitely the hardest year ever to make these New Year's Eve trivia games.
But along with all of the crazy that happened, there's a lot of good that happened too. And I personally don't want to forget that or have it be lost in the shuffle!
This year as one of our New Year's Eve countdown activities we are going to use these look back cards full of New Year questions to chat about the year – good and bad. And to talk about what we want out of next year!
You could also use them as a game, similar to these New Year's Eve would you rather questions, where everyone answers the question before moving on.
The cards have questions about all sorts of things from the past year to get people talking – favorite movies, favorite TV shows, favorite memories and more. They also have a handful of questions looking forward to next year, things like something on your bucket list for next year, habits you want to change, goals, and more.
It's a simple and fun way to remember the year and get excited for the next one. Definitely one of my new favorite New Year's Eve activities!
Supplies
There's not much you need to use these New Year questions. Really it's just the actual question cards themselves plus a timer if you think that people will take too long to answer the questions.
Oh and a couple of the versions of the activity below require paper and pen for each person, but I've noted that with each of the versions below.
You can get the cards to print at the bottom of this post or get a copy in my shop here. Or get these cards and 11 other great New Year's Eve games in my New Year's Eve bundle below!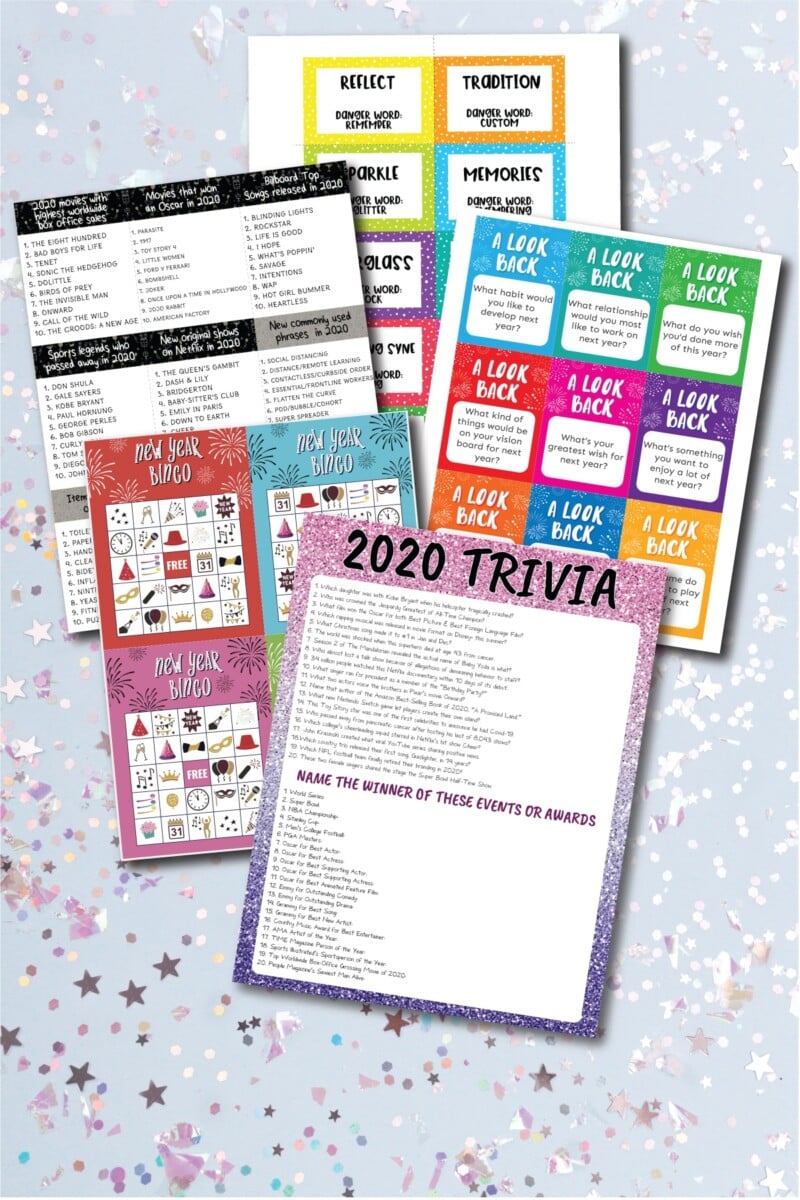 want more New Year's Eve Games?
If you need more questions, you could also try asking some of these pillow talk questions – they're great for getting people to talk!
Activity Prep
No matter how you're going to use the cards, you're going to want to print and cut them out before you play.
Once you print and cut, you can either put all of the cards in one pile or you can divide them into two different piles of cards:
Questions about the past year
Questions about the upcoming year
Put the pile(s) where everyone can reach them, or just where you can reach them if you're doing this virtually.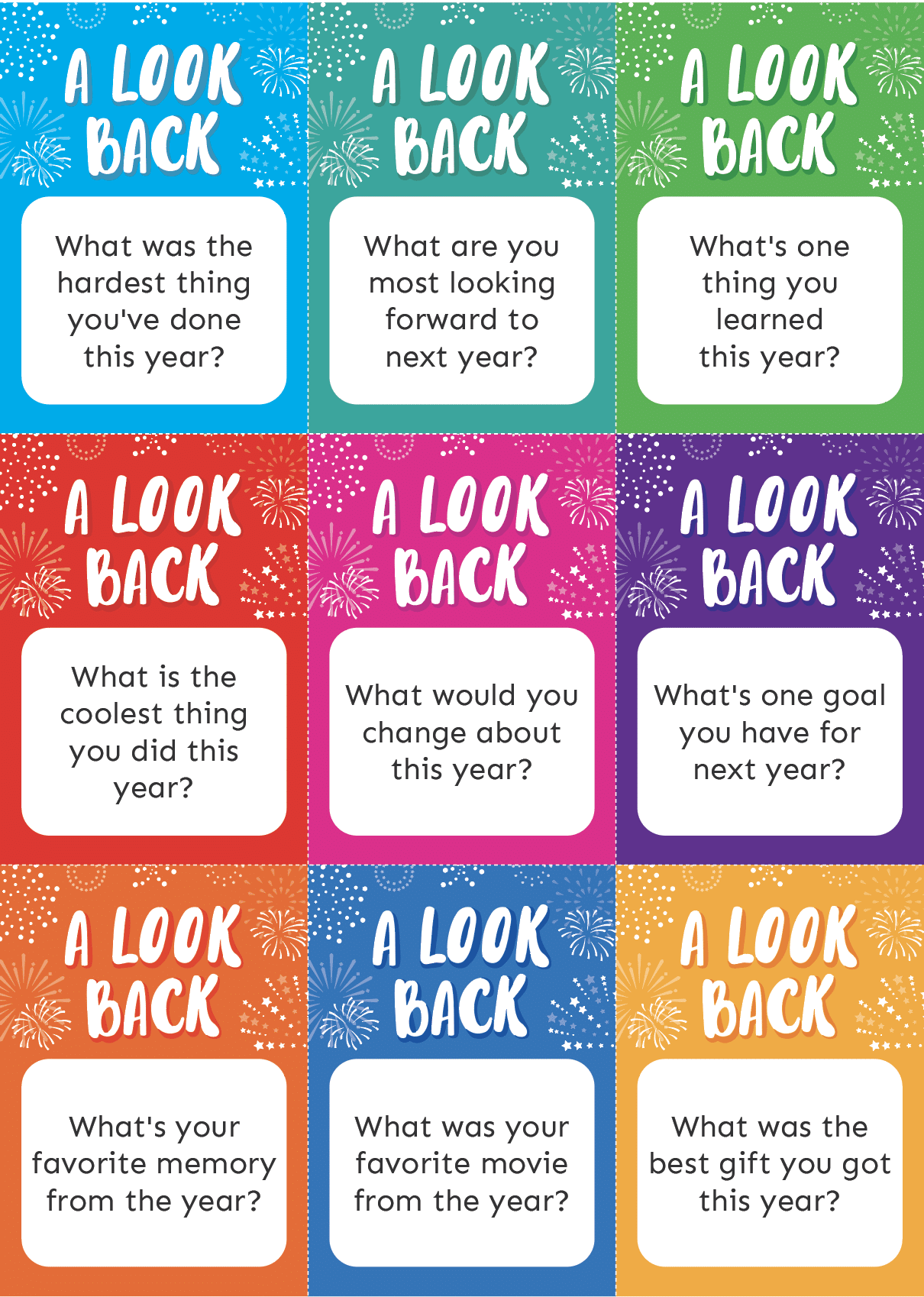 How to Use
You really can use these New Year Eve question cards however you want, but I've included a couple of different ideas below to get you started. Some are more just conversation starters, reflection ideas, and some are more game oriented.
My personal favorite is #3, mostly just because it's more of a game than just asking questions. And you know I love good party games.
1 – Ask the Room
Have one person choose a card from the pile and read it out loud. Go around the room and have everyone answer and listen to each other's answers.
Once everyone has answered the question, have the next person in the group pick a question from the pile and go around the room answering that question.
If you do two separate piles of question cards, do one round of past year questions and one round of next year questions.
Best for: Smaller groups who are interested in hearing everyone's answers
2 – Ask One Person
Have one person choose a card and read it out loud. Then just that person answers the question while everyone listens.
Same as above, if you split the questions, do two different rounds of questions.
Best for: Larger groups who don't have time to hear everyone's answer to each question
3 – Guess the Answer
This version of using the cards is a little more like a game. You'll need to give everyone pen and paper before you play, and you'll need a timer for this one.
Have one person choose a "in the past year" card (this works best with things that have already happened, not future ideas) and read it out loud. Before they answer, flip the timer and have everyone in the group write down what they think that person will answer.
Once the timer is over and everyone has written down their answer, the person who flipped the card should answer the question. Anyone who answered correctly or close enough that everyone agrees it is close enough gets a point.
Move to the next person in the circle and have them ask a question for everyone to guess the answer. Everyone in the circle should answer each question except for the person who asked the question.
Keep going around the group asking questions until you've gone through once or twice or even three times depending on the size of your group. You can pre-determine how many questions you want to ask before the game, just try to make sure that everyone gets the chance to have equal turns being the asker.
The person with the most points at the end of all of the questions wins.
Best for: Smaller groups that know each other fairly well, like families
4 – Conversation Cards
The last way to use these questions is simply as conversation cards. If you're having a New Year's Eve party, print out these cards and put them on the tables. People can then just pick them up to chat with other people at the party.
Best for: Larger groups or gatherings where you don't want an actual organized activity.
Expert Tips
Laminate the cards to use them year after year. I recommend printing on white card stock then laminating. I have this laminator and these laminating pouches that I use all the time. They're super easy to use and work great!
Don't cut people off once they start talking. The idea is to let people think about and share things from the year. It's a conversation starter type game. You can use a timer so that people don't take forever to come up with their answer but once they start talking, let them talk.
Balance this activity with a sillier one. I recommend any of these New Year's Eve minute to win it games, New Year's Eve danger words, or even New Year's Eve bingo.
Game FAQs
Can you skip a question?
Let people skip one card if it's something they really can't answer or aren't comfortable answering. If they skip a card, put it back in the bottom of the deck. They would then have to answer the next question in the pile.
What age is this best for?
These questions work for really any age since they're just opinion type questions. All questions are family-friendly and appropriate for any age. I can't guarantee the answers will be, but that is totally dependent on your group.
How do I get the question cards?
Fill out the form at the bottom of this post for the New Years questions and printable instructions. Or you can get a copy in my shop here.
How many questions are there?
There are a total of 54 questions (six pages with 9 questions each). The majority are questions about this past year (like 40 of the 54 questions) and the others are looking forward to next year. You can see examples of looking forward questions below.
More New Year's Eve Activities
New Years Eve scavenger hunt – send players around the house using these fun printable clues!
New Years Eve Time Capsule – put together a time capsule from the year with your favorite things and memories then open it the same time next year!
Kids New Years Eve Party – tons of fun ideas for hosting a New Years Eve party specifically for the kiddos!
New Years Eve outburst – can you guess all the top movies of the year? How about the things that were sold out most? This fun game is based on knowledge from the past year – silly and real!
New Years Eve Bingo – a New Years Eve version of classic bingo!
Download the Printable
Enter your first name and email address in the form below to get the printable PDF. You will receive a link to download the PDF to your email within minutes.
If you do not see the form below, click here to get to it.
If you would not fill out the form, you can get a copy in my shop here.
The PDF will include:
Instructions
Six pages with 9 questions each (54 total questions)
If you do not immediately receive the email, make sure to check your promotions, spam, and junk folders!