Set the kids table with these printable Thanksgiving placemats for kids to give them something to do while they eat! These Thanksgiving placemats to color, draw on, and place will make Thanksgiving even more fun for your youngest guests!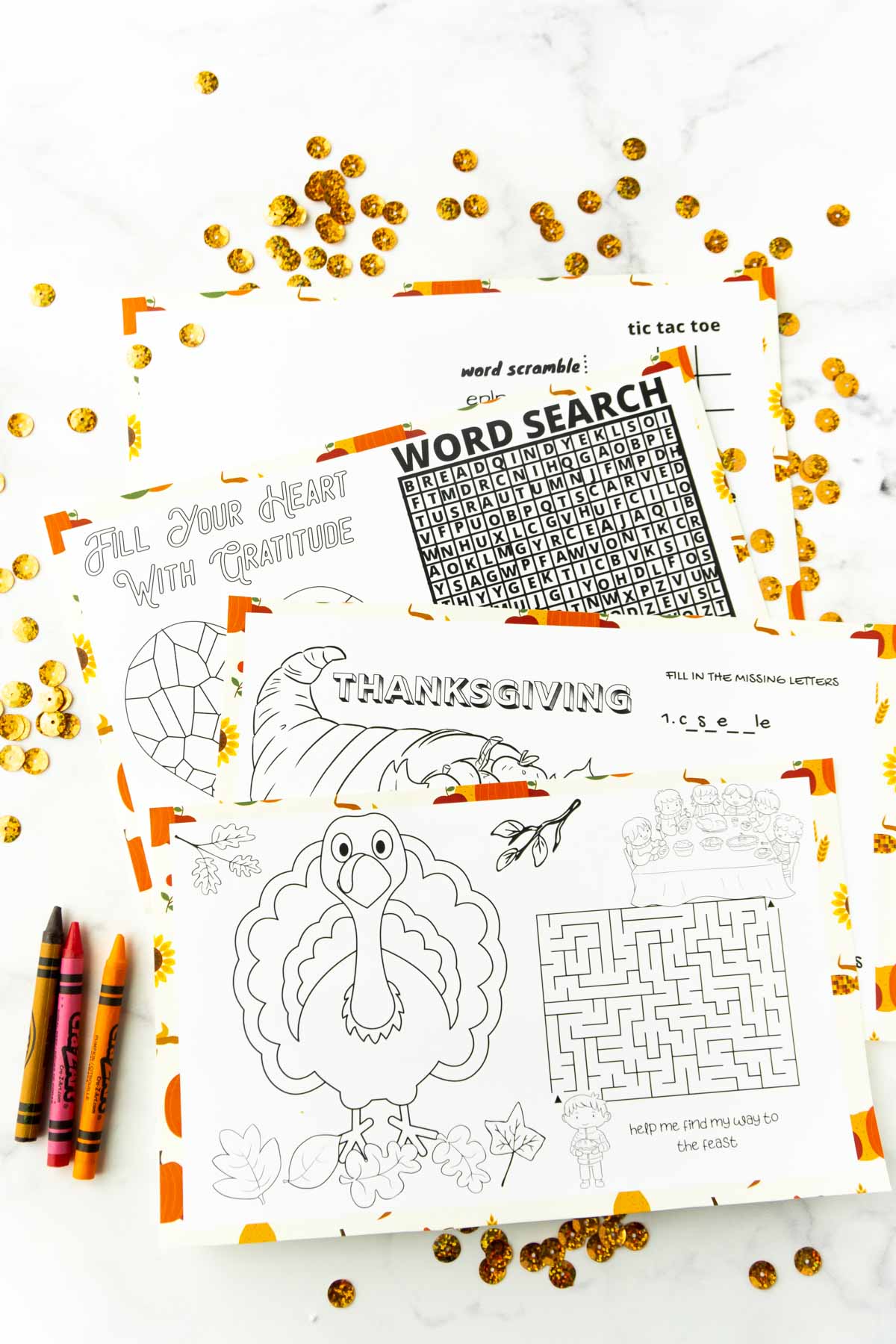 If you've ever eaten at a restaurant with kids, you know there are good kids menus and not so good kids menus.
The good ones come with crayons. They have coloring, mazes, and activities to keep the kids busy while they're waiting for their food to show up.
The best ones have activities AND a tablecloth that you can color on, like our favorite restaurant in Texas.
There's a reason people started making kids menus with activities – it's hard to sit still while you're just waiting. It's also why these activity placemats have been so popular!
These Thanksgiving placemats for kids are just that – activities for the kids to do while they're waiting to eat, while they eat, or when they're done and waiting for the Thanksgiving feast to be over before the Thanksgiving games start. And with four different printable Thanksgiving placemat designs, there's something for any age.
They're great for Thanksgiving dinner, a Thanksgiving activity at preschool, or really any Thanksgiving celebration!
Printable Thanksgiving Placemats
Instead of just doing one placemat design, I've created four totally different placemat designs. You can either print out your favorite, print out a bunch of copies of each and let kids choose their own, or give kids a copy of each!
Here are photos and descriptions of how to use each of the different printable placemats. You can get the download at the bottom of this post by filling out the form! Or get a copy in my shop here!
If you think your kids will use them again, I recommend laminating and letting kids color and complete the activities with dry erase markers instead of crayons and regular markers!
Word Search and Grateful Heart
This Thanksgiving placemat is definitely designed for older kids who can handle a word search and writing. And if they like word searches, you could print out these placemats PLUS this Thanksgiving word search for even more fun!
While the word search is a bit more self-explanatory, the gratitude heart can used in a number of different ways:
Color in the heart
Write things you're grateful for in each piece of the heart
Color pictures of things you're grateful for in the heart
Color + write/draw things you're grateful for
Maze + Turkey Coloring page
The next placemat option includes a maze and a turkey to color in. If your kids like coloring, these Thanksgiving coloring pages are great too!
This one is definitely a better option for preschoolers, younger kids, and anyone who can handle mazes. Also fine for older kids who would just color the turkey a bit cleaner than a preschooler!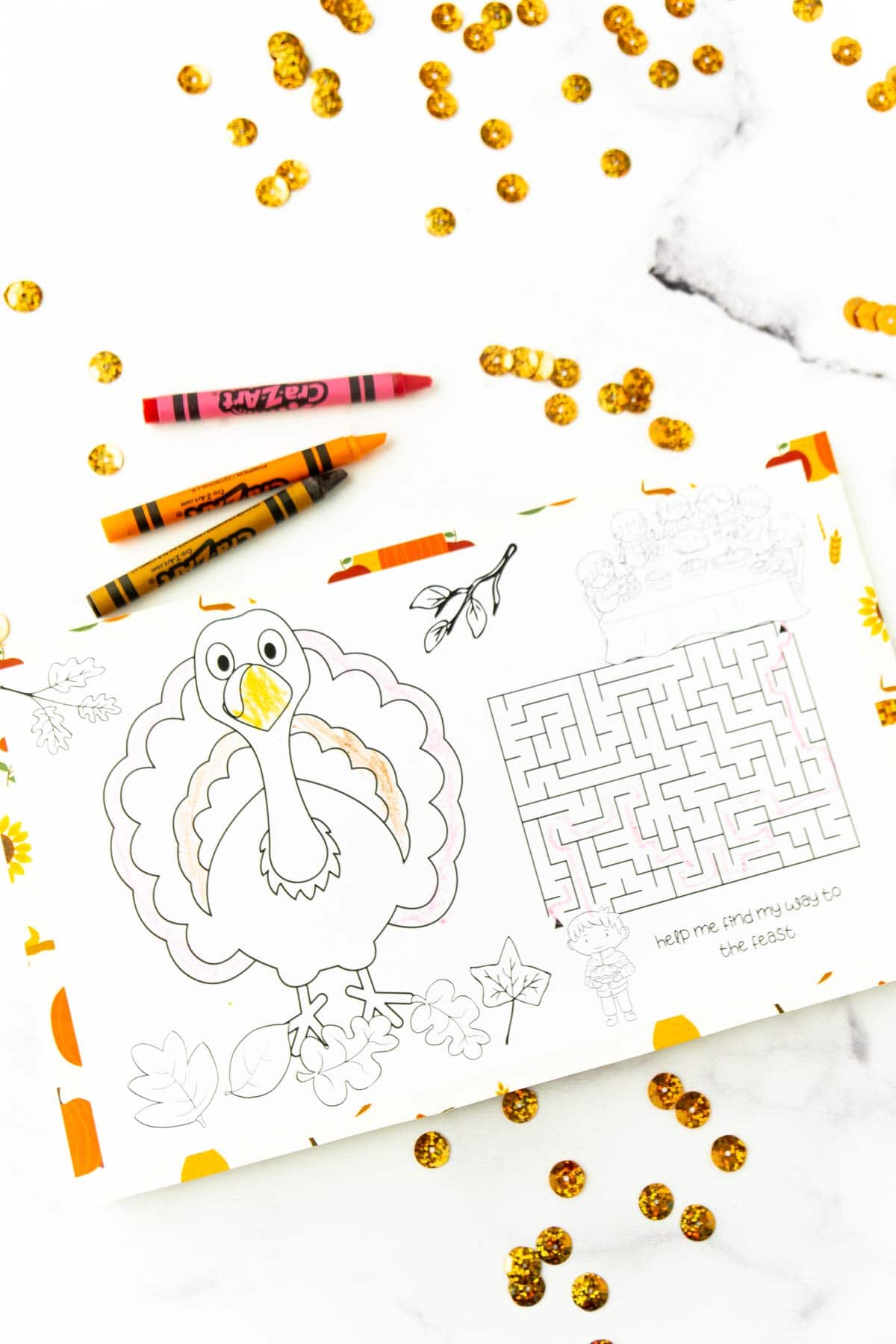 Cornucopia and Fill in the Blanks
The third of the printable Thanksgiving placemats includes a more complicated cornucopia coloring page as well as a Thanksgiving food fill in the blank game!
If kids like the Thanksgiving food fill in the blanks, they might also enjoy this Thanksgiving matching game that has you matching Thanksgiving foods together!
This one is also for kids who are a bit older since the coloring includes smaller spaces and the fill in the blank means having to know how to write letters. If you need the answers to the fill in the blanks, they are:
Games Placemat
The final placemat in the set includes one side that's blank so people can draw pictures, play the dot game, write a list of things they're thankful for, or really anything you'd do in a blank space!
The other side includes a couple of games like Tic Tac Toe and a word scramble.
This placemat could be used for any age as long as they know how to play tic tac toe since the blank space is really a freebie space!
More Thanksgiving Activities for Kids
Kids will love these other fun Thanksgiving games and activities you can print and play!
Download the Printable Thanksgiving Placemats
Enter your first name and email address in the form below to get the printable PDF. You will receive a link to download the PDF to your email within minutes.
If you'd rather not fill out the form, you can get a copy in my shop here.
If you do not see the form, click here to get to it.
If you do not receive the email immediately after you fill out the form, make sure to check your promotions, spam, and junk folders!
The file wills:
Four different Thanksgiving placemats
A set of Thanksgiving coasters kid can add their name to and color