This almond chicken recipe is easy to make and perfect for someone looking to try something new.The almond crusted chicken outside is crunchy while the inside is nice and tender! And it's perfect for any diet – Whole 30, Keto, paleo, and more!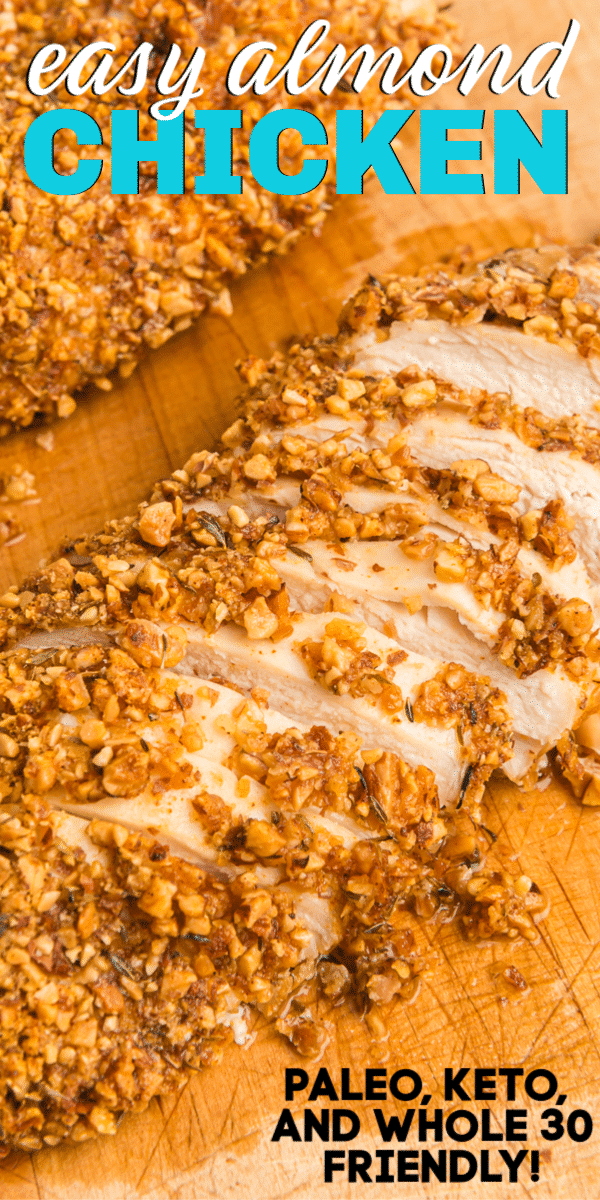 I love chicken tenders, chicken wings, chicken nuggets, and pretty much any other chicken that's been coated in something crunchy. This almond chicken gives you the best of all that without being fried or breaded. It's encrusted in a crunchy almond + spice mixture then baked to perfection!
If you're looking for almond Chinese chicken, that's something totally different and you may want to try my teriyaki chicken instead! This is simply almond crusted chicken that's perfect for a weeknight meal!
I have yet to meet someone who tried this recipe and didn't love it. It's a family favorite too – even kids will love this take on chicken nuggets! This and these coconut chicken tenders are two of my sons' favorites!
Ingredients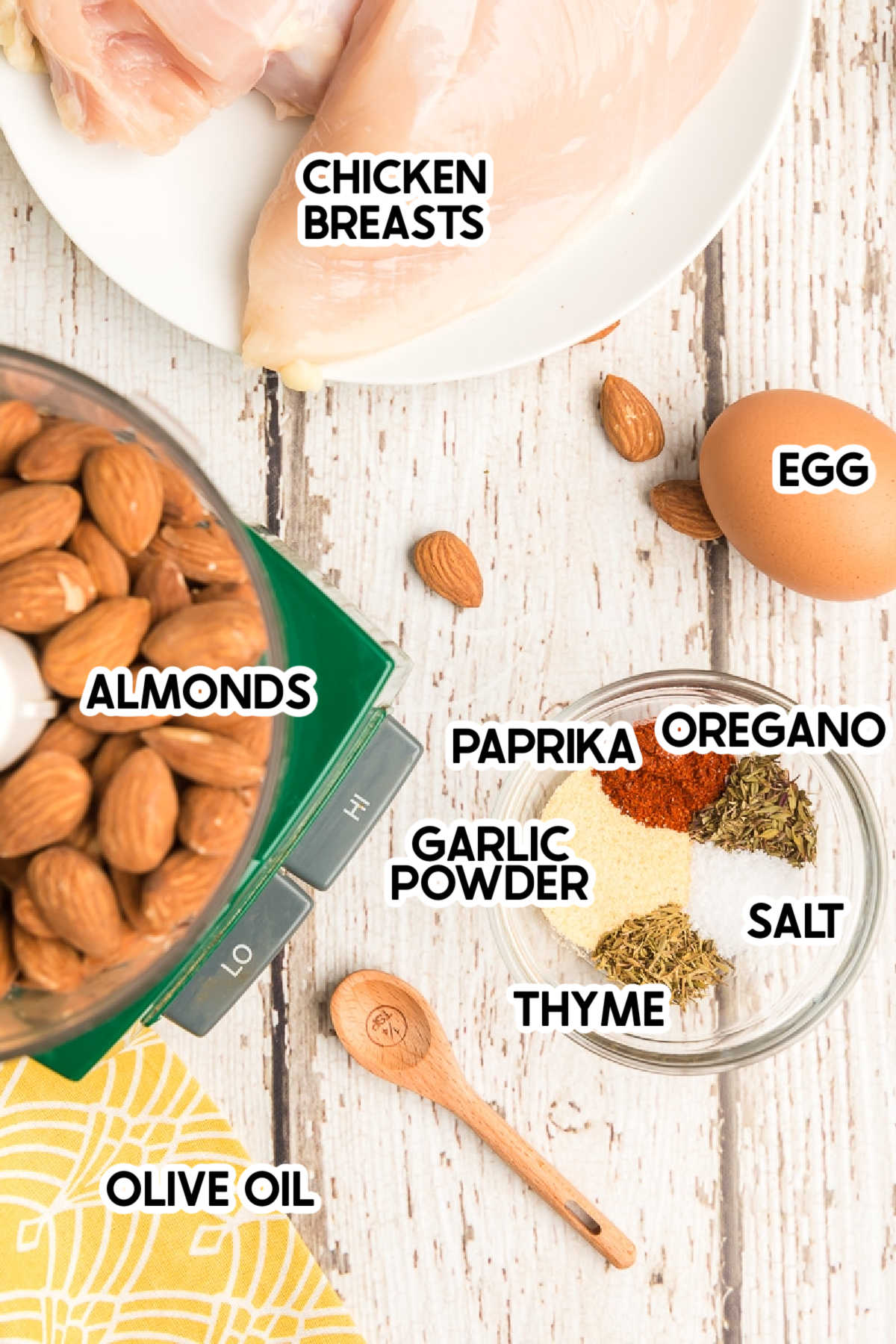 This recipe uses things that you should already have in your fridge or pantry at home! Just a few notes on the ingredients:
Almonds – you want to use raw, whole almonds, rather than anything that's already roasted/salted/chopped. Anything with additional flavor will change the taste of the breading.
Chicken breast halves – this is best made with boneless, skinless chicken breast halves. If you have full chicken breasts, you can just use a knife to cleanly slice them in half before cooking.
Salt – you'll need 1/2 tsp salt to include in the breading PLUS salt to add to each side of the chicken before you coat it. I always prefer kosher salt for things like this.
Paprika – regular paprika or smoked paprika works fine for this.
Garlic powder – garlic powder or garlic granules work great, just don't use fresh garlic or garlic paste (that's good in this baked ziti though!).
How to Make Almond Chicken
This recipe is really just a matter of one, two, three but there are some key steps and tips you want to make sure and read below to get the best almond chicken ever!
There's also a video below with step by step instructions. It really is as simple as it seems!
1 – Make your coating
First, you want to pulse the almonds and spices in a food processor until they're small but not totally pulverized. You want small chunks of almonds, not ground almond powder. This means you need to pulse the mixture, not just let it run.
Using a food processor has always given me the most consistent sizing in the coating but if you had to, you could also just use a mallet and smash them up or something as well, but I recommend the food processor.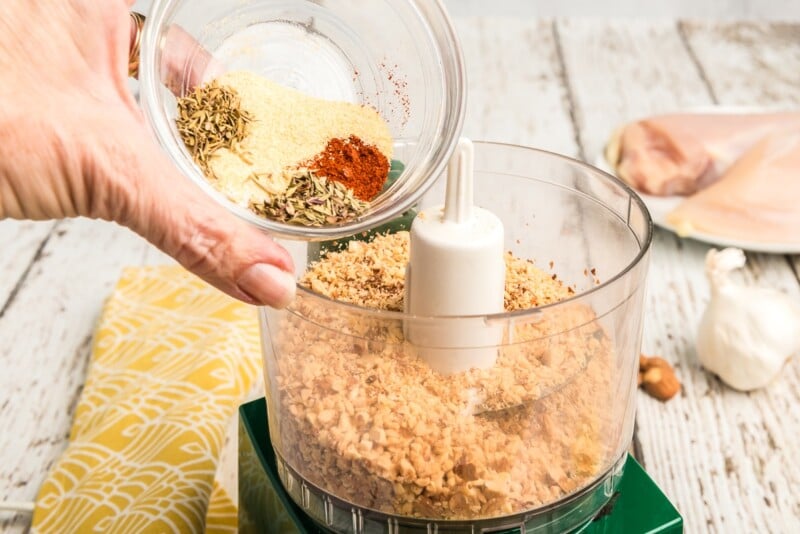 2 – Coat the chicken
Place your beaten egg into a shallow dish and your almond mixture into another shallow dish.
Salt both sides of your chicken then dip one piece of chicken into the egg then into the almond chicken. Flip it over to coat both sides.
After the almond coating is on the chicken, pat it down with your hand. This will seal the coating to the chicken and keeps it from falling off. It also helps the flavors of the spices to soak into the chicken.
Place the keto almond chicken onto a parchment lined baking sheet.
3 – Bake the chicken
Add a drizzle of olive oil before putting the chicken into the oven. It's not going to make or break the chicken, but it will give an added layer of crispiness to the chicken and just help the coating brown perfectly.
Place the chicken in the oven and bake for 22-25 minutes depending on the thickness of the chicken.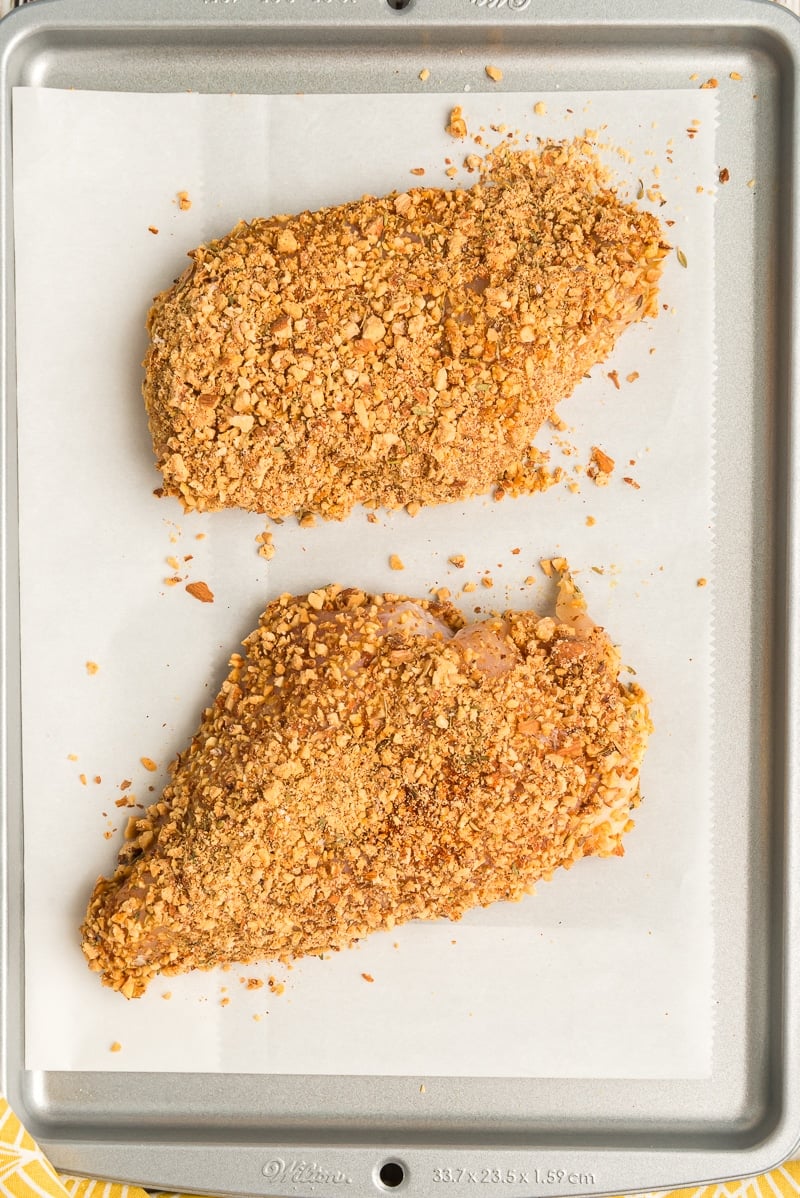 4 – Let it rest
After baking, let the chicken rest for a few minutes after you take it out before cutting. This will help the juices distribute and keep it perfectly moist and delicious!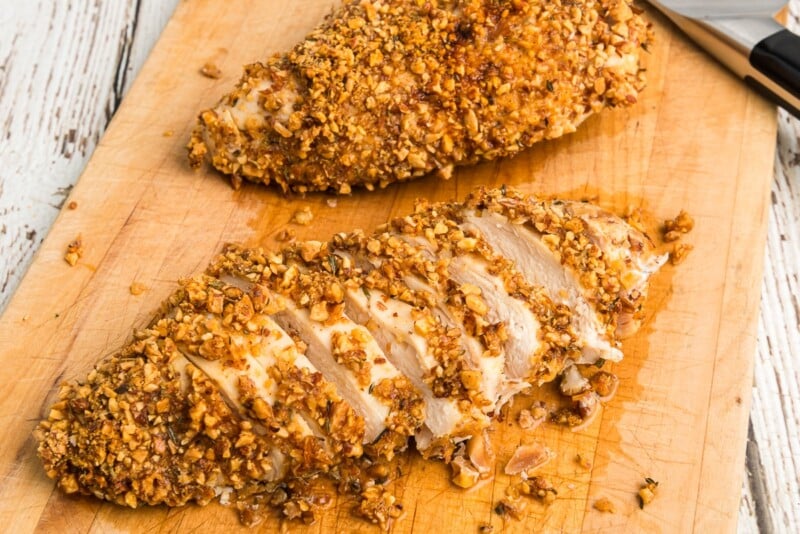 5 – Enjoy
After the chicken has rested for a few minutes, serve warm with your favorite side dishes!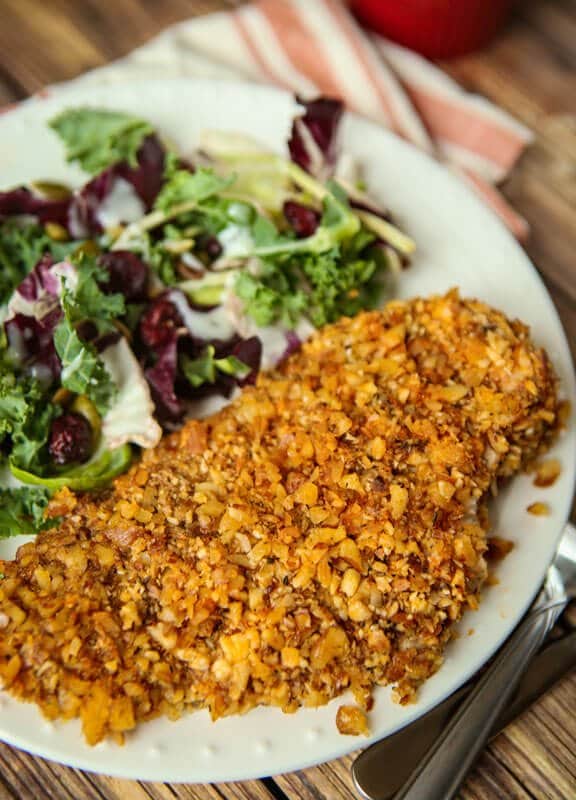 What to Eat with This Almond Crusted Chicken
Since you can't just eat almond chicken by itself, here are some great sides that would pair well with this paleo almond chicken. You could always go with something basic like easy mashed potatoes, strawberry spinach salad, cauliflower puree, or one of these other delicious sides!
Almond Chicken FAQs
Is almond chicken healthy?
Yes! The recipe uses only clean ingredients – eggs, almonds, boneless skinless chicken, spices, and olive oil. It's a great source of protein and fats and absolutely delicious! Make it even healthier by using organic chicken, eggs, and spices!
How to reheat almond chicken?
My favorite way of reheating almond chicken is to simply put it back in the oven (350 degrees) for a few minutes until it's warm and crisped up.

You're not cooking the chicken again so you don't need to leave it in long enough to cook, just get warm. You can also microwave it in a microwave safe dish as well, but we try to limit our microwave use these days!
Is Almond Chicken Gluten Free?
This almond chicken recipe as written is gluten free. The breading is made up of chopped almonds and spices. If you want to add actual breading to the recipe you can, but you don't miss it at all without it!
How To Make Breaded Almond Chicken?
If you want to do a full breading, add a 1/4 cup of bread crumbs to the mixture. You don't even miss the breadcrumbs, and I'm normally all about the breading. The chopped almonds make a great crust all by themselves.
How To Make Almond Chicken Sauce?
We don't normally eat a sauce with this almond chicken recipe, but you could make some sort of gravy or this cauliflower puree is great with it and acts like a kind of sauce!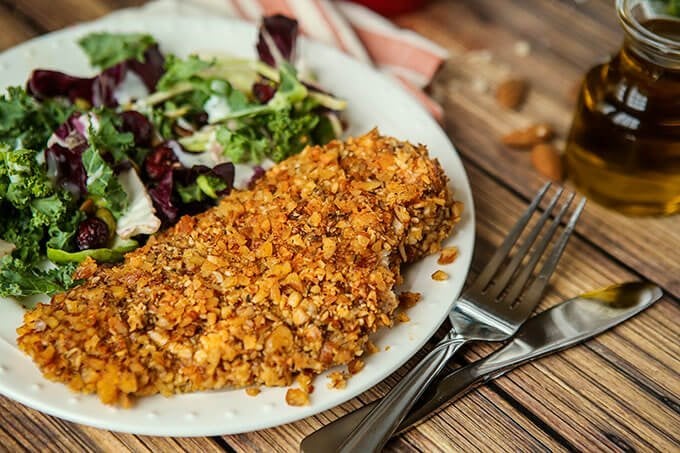 Other Delicious Chicken Recipes:
If you're a big chicken lover like me, these other paleo chicken recipes should be added to your meal plan along with this almond chicken recipe!
The Best Almond Chicken Recipe
The best almond chicken recipe ever! Almond crusted chicken that's crunchy on the outside and moist on the inside! Delicious enough that both kids and adults will love it!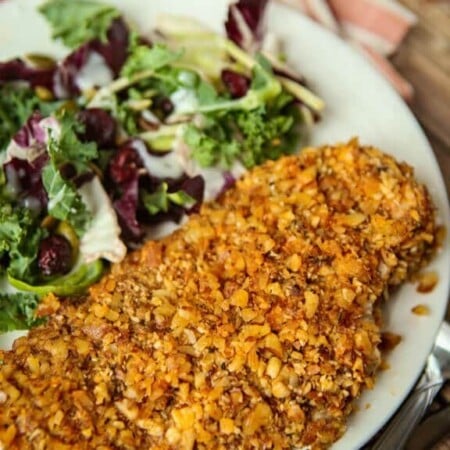 Ingredients
3/4-1 cup almonds , depending on the size of the chicken
1 tsp garlic powder
½ tsp paprika
½ tsp dried oregano
½ tsp dried thyme
½ tsp salt
1 egg , beaten
4 chicken breast halves 4 small or 2 large
Instructions
Preheat oven to 375 degrees F.

Combine the first six ingredients (through the salt) in a food processor. Pulse until the almonds are chopped fairly small.

Pour the almond mixture in a shallow bowl.

Pour the beaten egg egg in a shallow bowl.

Salt the front and back of each piece of chicken.

Working with one piece at a time, dip the chicken in the egg and then coat with the almond mixture making sure to pat the mixture into the chicken.

Place the chicken on a non-stick baking sheet or one lined with parchment paper.

Drizzle olive oil over top of chicken to help make crispy.

Bake for 22-25 minutes and remove from oven.

Let rest for 3 minutes to let juices redistribute

Serve hot.
Tips & Notes:
This is the gluten-free version. If you would like to make this a breaded almond chicken, you can substitute 1/4 cup of the almonds with bread crumbs to add a little extra breading to the chicken.
Nutrition Info
Calories: 302kcal, Carbohydrates: 6g, Protein: 31g, Fat: 17g, Saturated Fat: 1g, Cholesterol: 113mg, Sodium: 438mg, Potassium: 631mg, Fiber: 3g, Sugar: 1g, Vitamin A: 235IU, Vitamin C: 1.3mg, Calcium: 83mg, Iron: 1.9mg
Don't forget to pin this almond chicken recipe for later.