This shop has been compensated by Collective Bias, Inc. and its advertiser. All ideas and content are mine. #ZiplocBackToSchool #CollectiveBias
This southwestern chicken salad recipe with its cilantro lime dressing is one of our favorite make ahead recipes and great for college students looking for healthy recipes! 
I spent the past week with my family in Kansas, and while I was there I spent a lot of time with my little sister who was home for the month from college. Ever since she returned from the Philippines about a year ago she's been trying to eat a little healthier, especially since the junk food options in college are pretty much everywhere. She's been taking cooking courses, which  means that she has to make homemade chocolate cake and other amazing desserts weekly. It's a pretty rough life, right?
One of the things that she's started doing to combat the infamous "freshman 15" is going grocery shopping and doing a bunch of meal prep on Sundays when there isn't as much going on. We tried out her strategy this week while I was in Kansas with one of my husband's favorite recipes, a southwestern chicken salad with a creamy cilantro lime dressing. I convinced my little brother and sister to help me prep everything, and we ate it as a family all week long so people weren't cooking all day, every day.
The first step in great meal prep is your grocery shopping trip. We went to Harris Teeter to pick up all of our supplies including some amazing produce and plenty of Ziploc® brand Storage bags with Easy Open Tabs , Ziploc® brand Sandwich bags with Easy Open Tabs and Ziploc® brand Freezer bags with Easy Open Tabs,  which are the key to successful meal prep. You can print out what you need to buy on the recipe card below. And, depending on when you shop, make sure to take advantage of these great deals! If you have extra Ziploc® brand bags after you make the salad, use your leftovers for one of these great back-to-school ideas!
From 8/9 to 8/30 get $0.50 off regular retail price on:

Ziploc® brand Sandwich bags with Easy Open Tabs 40ct
Ziploc® brand Sandwich bags with Easy Open Tabs 90ct
Ziploc® brand Snack bags with Easy Open Tabs 90ct
Once you've purchased all of your groceries, it's time to start your prep. I always start with the chicken marinade because it needs to sit for a little while before you can grill the chicken, and you can cut up your veggies while the chicken is soaking. Mix all of the necessary ingredients in a gallon bag. If you're going to marinate more than four chicken breasts, I would recommend breaking it up into multiple Ziploc® brand Storage bags with Easy Open Tabs, like we did. If you have extra chicken you won't be marinating, toss it into a gallon size Ziploc® brand Freezer bag and freeze it until your next meal prep session. 
Once all of your ingredients are in the bag, mix them around with your hand until they're well combined then add your chicken. Let the chicken marinate in the fridge for at least 30 minutes, but the longer the better. Ziploc® brand just added these awesome new Easy Open Tabs to their bags, which makes this meal prep even better because the bags are easy to grip and easy to open!
While your chicken is marinating, cut up your veggies and divide them evenly into Ziploc® brand Sandwich bags with Easy Open Tabs.. If you're planning to have the salad for dinner tonight, and then two more times over the week, divide the veggies into three different bags so you can just grab and go when you're ready to put the salad together. Put all of the veggies in the fridge with your marinating chicken.
Once your veggies are cut up, move on to dividing up your additional toppings like tortilla strips, pre-shredded cabbage, cheese, etc. into Ziploc® brand Sandwich bags with Easy Open Tabs. It'll be so much faster to grab what you need for your salad later if you just divide everything up now. Again, if you have more than you're going to need for this meal, just throw the extra toppings in a gallon bag to use another day.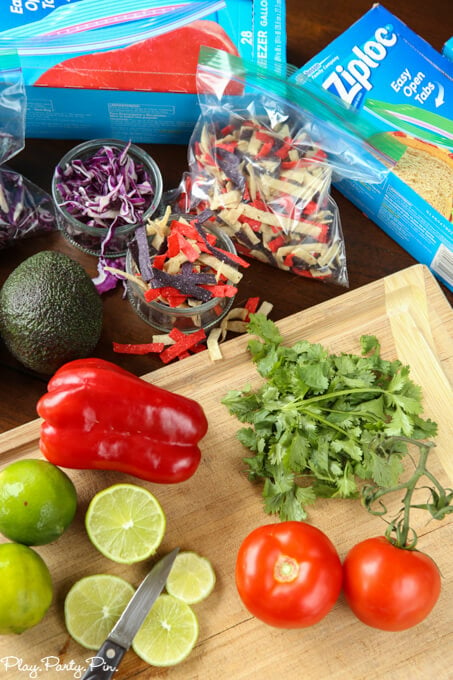 By the time everything is divided up, your chicken should be ready to go. Grill it on medium-high until completely cooked. Once cooled, cut up the chicken and divide evenly into Ziploc® brand Sandwich bags with Easy Open Tabs (told you they were the key), so that you can just grab the chicken along with everything else when you're ready to go.
While the chicken is grilling, make your dressing with the limes, yogurt and other veggies. I prefer to store it in the small square size Ziploc® brand Containers with One Press Seal.
Last but not least, the most important part – putting together meals. Remember all of those divided bags of veggies, toppings and chicken you put together earlier? Pretend it's Halloween and take one bag of each item and put them into a gallon bag along with one small square Ziploc® brand Container with One Press Seal of  dressing. That's it; you're done. Just as quick as getting into your car and picking up something from the closest fast-food restaurant. Plus, it's absolutely perfect for college students who want to save a few bucks and eat a little healthier, like my sister.
Southwestern Chicken Salad Recipe
A simple southwestern salad recipe with Tex-Mex grilled chicken and a creamy cilantro lime dressing.
Print
Pin
Rate
Ingredients
1

head romaine lettuce

, chopped

1

red pepper

, cut into strips

1

tomato

, diced

1/4

cup

pre-cut red cabbage shreds

1/4

cup

tortilla strips

2

Tbs

crumbled feta cheese

1

avocado

, cut (optional - cut this right when you're making your salad)

1

piece

of Tex-Mex grilled chicken

(recipe below)

Cilantro lime dressing

(recipe below)
For the Chicken
2

large boneless skinless chicken breasts

salt

1

T

olive oil

2

T

lime juice

2

T

water

1

tsp

cumin

1

tsp

chili powder

2

garlic cloves

, minced

1/2

tsp

oregano

1/2

tsp

smoked paprika

1/8

tsp

chipotle chicken powder

(optional)
Instructions
For the Salad
Cut all veggies and mix together into a salad.

Top with cheese, avocado, tortilla strips, and chicken.

Drizzle with cilantro lime dressing.
For the Chicken
Salt both sides of your chicken.

Mix all ingredients together in Ziploc Storage Gallon bag.

Add chicken and allow to marinate in fridge for at least 30 minutes.
Notes
*Amounts listed in the directions is dependent on how much you personally like in your salad
**I've written this recipe for 1 serving, but I highly recommend making more and storing it to eat later in the week as written in this blog post.
Nutrition
Calories:
929
kcal
|
Carbohydrates:
44
g
|
Protein:
61
g
|
Fat:
59
g
|
Saturated Fat:
12
g
|
Cholesterol:
174
mg
|
Sodium:
751
mg
|
Potassium:
2565
mg
|
Fiber:
19
g
|
Sugar:
13
g
|
Vitamin A:
9235
IU
|
Vitamin C:
216.3
mg
|
Calcium:
245
mg
|
Iron:
5.5
mg
Cilantro Lime Dressing
Creamy cilantro lime dressing that goes perfectly with a Southern chicken salad.
Print
Pin
Rate
Ingredients
1

bunch cilantro

, washed and torn into pieces by hand

1

garlic clove

, smashed

1/3

olive oil

1/3

cup

Greek yogurt

1

Tbs

lime juice

1

Tbs

white vinegar

1/2

tsp

salt
Instructions
Put all ingredients into a blender.

Blend on low or medium low until it reaches desired consistency. (If you blend at too high of a speed, you will lose the flavor from the cilantro, so it's better to blend low and for longer than high and for less time).

Check flavor and add salt to taste.
Notes
Serving is dependent on how much dressing you put on your salad.