These Valentine party games are the perfect way to add a little fun to any Valentines Day party! They're great for kids, for adults, and even for Valentines Day classroom parties. Just grab a couple of things around the house, some kids to play, and have yourself a fun day playing Valentines games all day long!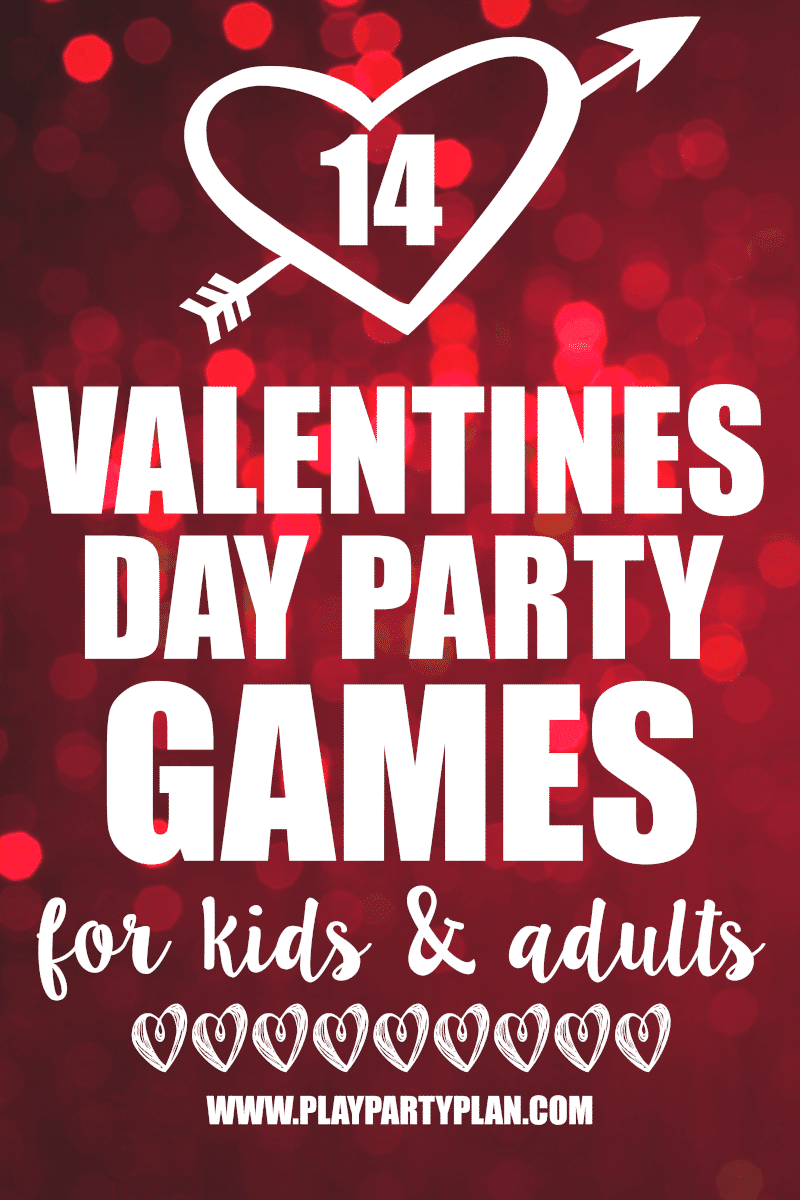 One of my favorite memories ever is having a couples Valentines Day party complete with dancing, games, and delicious food. I can't help you with the dancing, these chalklate brownies would make a great dessert, and these Valentine party games are perfect for the games! Or forget hosting a party at home and just use these hilarious games for your kids' classroom Valentines day parties!
All of these games are Minute to Win It style games and depending on the number of people playing, there are three different ways you can play them. It's up to you how you'd like to play them, just do what works best for you.
Style #1: Man vs. Clock – In this version, one player will be trying to complete the game in under a minute. If they do, they win a prize. If not, let someone else have a shot. If you go with this style, I recommend choosing a different person for each game.
Style #2: Head to Head – In this style, you'll pick two players for each game who will going head to head against each other playing a game rather than trying to beat the clock. The first person to finish wins the prize. Again, rotate through pairs for each game, repeating players as necessary.
Style #3: Team Competition – In this style, you'll split your group into two (or 3 or 10 depending on the number of guests) teams. For each game, teams must choose one player to compete head to head in the game with the other teams. The first team to finish will receive 10 points, the second team will receive 5, etc. Continue playing through all the games and the team with the most points at the end wins. This works best if you have quite a few people and is a good way to get everyone involved cheering for their team.
Hilarious Valentine Party Games
Heart to Heart
This game is played in pairs. Teams must race to be the first pair to successfully move a balloon from one side of the room to the other using any part of their body other than their hands. Start by having one person bounce the balloon off of their "heart" then keep moving. If the balloon hits the ground or someone touches it with their hands, they have to go back to the starting line.
Box of Chocolates
Blindfold a player and give them a box of name brand chocolates (Snickers, Kit Kat, Reese's, etc.). Player has to race to put all of the chocolates in the box in alphabetical order. Player can do whatever they need (open, taste, smell, etc.) to determine what the chocolates are other than ask a friend. First player to get chocolates in alphabetical order wins.
Cupid's Cups
Stack six cups on top of a table on one side of the room and give the player a Nerf gun with a limited number of shots in it. Player has to use the Nerf gun to play cupid and knock all of the cups off of the table (not just down, actually off). If they run out of bullets, they have to run across the room to refill.
Love Birds
Tape small hearts to a table or a large piece of poster board prior to the game. Players have to race to slide Valentine's Day rubber duckies from the end of the table (or poster board) to try to get them to land on the taped on hearts. As long as the rubber ducky is touching the heart, it counts. Players must either cover all of the hearts on the table (do 3-5) or get the most in a minute out of the group to win.
Ring Around the Roses
Spin players in five circles then give them three rings to toss. Players must toss rings and get three onto chocolate roses to win the game. If they miss their three rings, spin them again prior to tossing their rings again.
Love Song
Players have to race to be the first to complete this free printable love song game before the other teams or to complete as much as possible of it in a minute's time.
Love Letters
Give each player a cup filled with the same number of conversation hearts. Players have to dump out their conversation hearts and race to place the conversation hearts either in alphabetical order (more difficult) or to sort them by color (easier – for kids).
Love Goes Round
This game is played in pairs. Have one player stand on one side of a table and have the other player stand on the other side of the table. Players must take turns rolling (not sliding) Oreo cookies across the table to their partner where their partner, without having their chin on the table, has to catch the Oreo in their mouth. Continue rolling cookies back and forth across the table until both players have caught a cookie in their mouth. This is a fun alternative to the popular face the cookie game.
What's your favorite Valentine party game? I'm always looking for more ideas and would love to hear yours!
Don't forget to pin these games for later!