This sweet bee my Valentine printable will bee the talk of the classroom. Both younger and older kids will love the cute bee pun and cute bee image. Plus you'll love how easy they are to use, first print then cut. That's it! No need to leave your house! And if you like bugs, you'll love these other bug valentines included with the bee one!
I love a good pun which makes Valentine's day so much fun. I get to create cards full of silly puns, like these bee valentines.
While real bees may not be as cute as the little bee on these Valentine's Day cards, there is still something bee-utiful about them (in a look but don't touch sort of way).
These cards are perfect for kids who love a good chuckle or have a soft spot for cute little guys, like these sweet little bees.
If bugs aren't your thing but looking for other easy animal-themed Valentine's day cards, try this penguin valentine, bear valentine, or frog valentines.
If your kid loves animals of any kind you really can't go wrong with any of these free printable valentine cards.
Or you can purchase a bundle of all of our free printable Valentine's Day cards in my shop!
Insect Valentines
You didn't think I was just going to have one kind of valentine with a cute little bug on it, did you?
Like all of my other valentines, I actually made three different insect valentines including the bee mine valentine, a lady bug valentine, and a hooked on you worm valentine.
I mean, how cute are those ladybugs??? And the little bug erasers I found in the Target dollar spot to go with them!
The ladybug and bee valentine comes in a white version and a colored version depending on how much ink you want to use. I always like a little color in my life but totally understand if you want to go with the white!
Here's an example of the colored and the white version of the bee valentine card – each of them has something similar that you'll get with the printable PDF.
There are not different colored options (like pink background, red background, etc.) just colored background or white.
The hooked on you one only comes with the blue background – I just liked that one too much to create a white version!
Bug Valentine Gift Ideas
These bug valentines, including the bee my valentine card, can easily be handed out alone or with a sweet treat. I have included a few perfect gift ideas that are perfect to go along with these printable cards!
Bee Gift Ideas
Lady Bug Gift Ideas
Worm/Fishing Gift Ideas
For the hooked on you worm ones, if you do anything other than gummy worms or sour gummy worms, well you don't need to. Those are the perfect addition to these cards!
You could also do some sort of fishing gifts, but I really just love the idea of the gummy worms!
How to Print These Bee Valentines
For the perfect print on this bee valentine card, I suggest using white cardstock, it makes it sturdier and gives the best results, which is always a bonus when kids are involved.
If you are looking for a little more color or personalization, you can always paste them on top of colored paper (like yellow paper for the bee valentines) to create a border then decorate the back with red hearts, your child's name, or whatever creative ideas your kid comes up with.
Or just stick with the white card stock, white paper always works.
More Printable Valentines
If you like these cute bee printable valentines, you will love these other free printables as well. If you have more than one kid, as I do, having multiple options is always a lifesaver!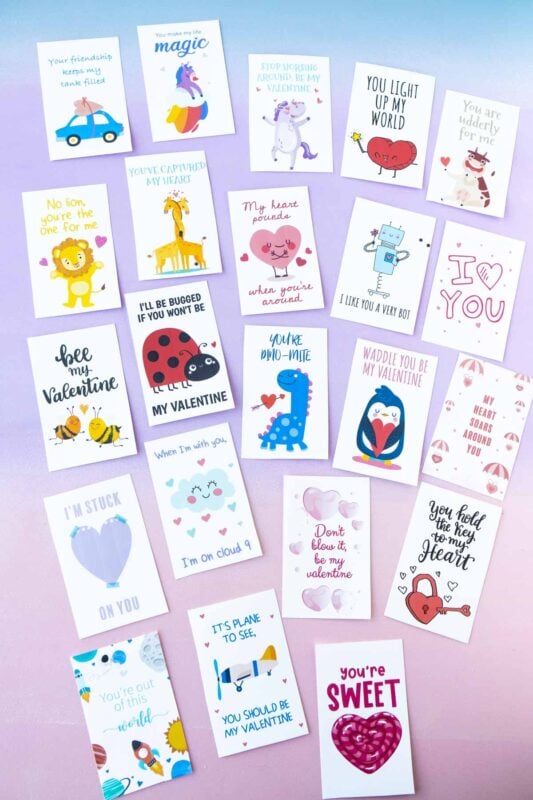 want more Valentines??
Download the Printable Files
Enter your first name and email address in the form below to get the printable PDF. You will receive a link to download the PDF file to your email within minutes.
If you'd prefer to purchase a copy in my shop rather than provide your email address, you can get a copy here.
If you do not see the form, click here to get to it.
If you do not receive the email immediately after you fill out the form, make sure to check your promotions, spam, and junk folders! Emails will be sent within a few minutes.
The file will include:
PDF of bee valentines with colored background and ones with a white background
Page of ladybug valentines with colored background and ones with white background
Page of hooked on you worm valentines with blue background (no white background option)