Tons of great Halloween trivia questions with easy questions for kids and more challenging options for adults! Whether you're looking for a Halloween trivia game, questions to ask your classroom, or even just fun Halloween questions to ask yourself – you'll find them here!
With Halloween just around the corner and Halloween movies playing every night of the month, I thought it was time to finally put together the Halloween trivia game I've been meaning to create for years!
I've designed a printable set of Halloween trivia questions that you can use as one of many Halloween games at a Halloween party or just to ask to friends and family during the month of October!
There are two sets of questions including easier ones that work better for kids (or non-Halloween fans) and one that has questions more challenging for adults!
The printable game includes 25 easy questions and 25 more challenging questions. I just did 25 so that I could include them all on one sheet.
This post, however, includes all sorts of other Halloween trivia questions as well! So keep reading if you're a Halloween buff and want to figure out how much you know (or don't know).
If you want the free printable Halloween trivia game, you can get the free printable all the way at the bottom!
What Kind of Halloween Trivia
These Halloween trivia questions include all sorts of random Halloween facts and figures – movies, songs, history, and more! I've tried to include a variety without any bias toward my favorite movies or monsters!
I actually just grab the list of these Halloween pictionary words and started coming up with all sorts of fun questions I could ask about them. And then I just kept going and going.
I love Halloween and trivia, and it was a blast putting this all together after looking up interesting facts, the history of Halloween, and other random Halloween knowledge that people have shared out there!
If you're looking for more Halloween song trivia, make sure to try out this Halloween song game!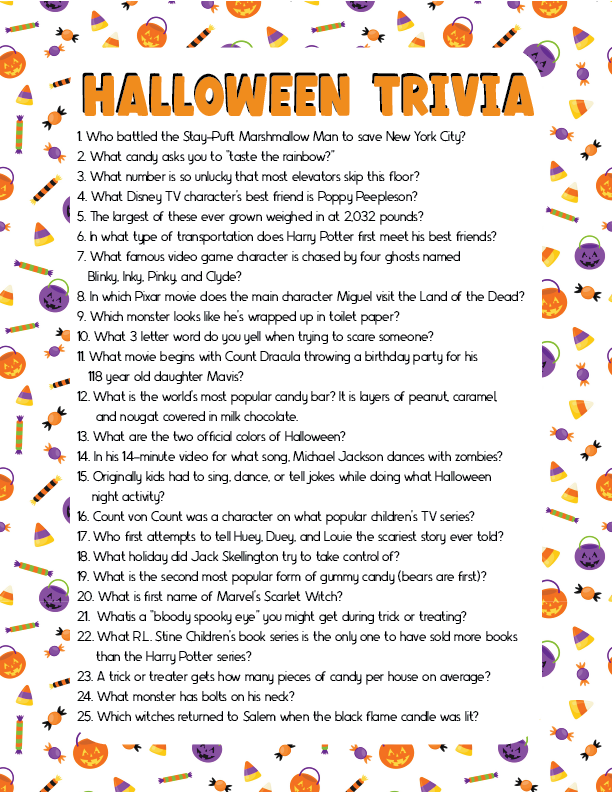 Halloween Trivia Game
Unlike my other trivia games, that include a set of trivia cards and a one page sheet, I decided to just create the one page trivia quiz for these Halloween trivia questions and answers. If you're really interested in the cards, feel free to email me or comment on this post, and I'll see what I can do!
Trivia Game Prep
I recommend printing out one copy for each player or if you'd rather just read the questions and have people answer on a sheet of paper, make sure that everyone has a piece of paper and pen.
Then also make sure that you have a Halloween themed prize for the winner or you could do small prizes per question if you"re going to have people answer these individually.
How to Play
There are so many different ways you can use This Halloween trivia game. You can put them on tables around the room and let people answer them at their leisure.
You could hand them all out at once, give people a time limit, then go over the answers together after.
You could hold onto the sheets, give people blank pieces of paper, and have people answer one at a time as you read the questions out loud.
Or you could even just grab a list of questions and tell one question out to the crowd and have the first person to answer get a prize.
Or you could use them for a team trivia activity. Split into teams, ask a question, and have the teams answer it together just like a team trivia night.
It's up to you – but there are plenty of fun trivia questions and answers for adults (and kids) so you could even do a variety of each!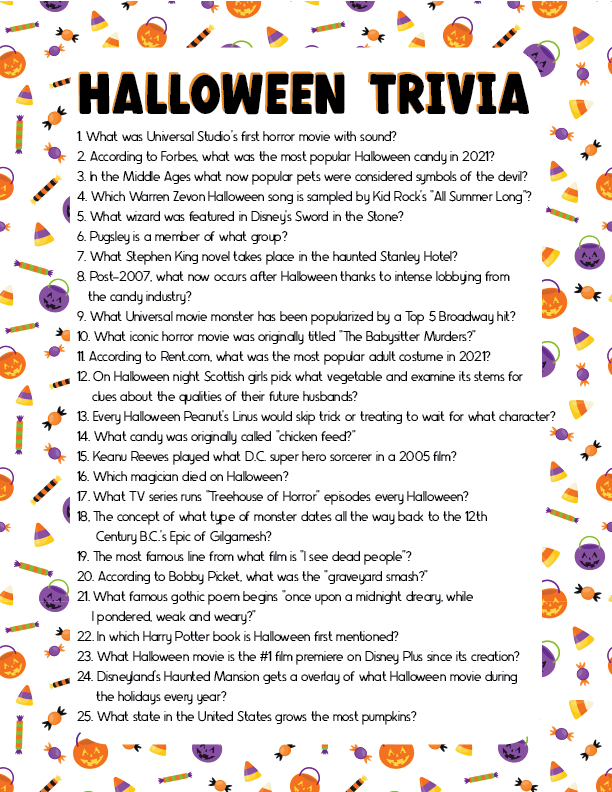 Full list of Halloween Trivia Questions
If you don't want to print these out and are just looking for ways to see how great your Star Wars trivia knowledge is, here are all of the questions!
I've broken it out into easy and difficulty questions but don't worry if you don't know some of the easy ones – they can be tough! Good luck!
Halloween Trivia Questions for Kids
Who battled the Stay-Puft Marshmallow Man to save New York City?
What candy asks you to "taste the rainbow?"
What number is so unlucky that most elevators skip this floor?
What Disney TV character's best friend is Poppy Peepleson?
The largest of these ever grown weighed in at 2,032 pounds?
In what type of transportation does Harry Potter first meet his best friends?
What famous video game character is chased by four ghosts named Blinky, Inky, Pinky, and Clyde?
In which Pixar movie does the main character Miguel visit the Land of the Dead?
Which monster looks like he's wrapped up in toilet paper?
What 3 letter word do you yell when trying to scare someone?
What movie begins with Count Dracula throwing a birthday party for his 118 year old daughter Mavis?
What is the world's most popular candy bar? It is layers of peanut, caramel, and nougat covered in milk chocolate.
What are the two official colors of Halloween?
In his 14-minute video for what song, Michael Jackson dances with zombies?
Originally kids had to sing, dance, or tell jokes while doing what Halloween night activity?
Count von Count was a character on what popular children's TV series?
Who first attempts to tell Huey, Duey, and Louie the "scariest story ever told?"
What holiday did Jack Skellington try to take control of?
What is the second most popular form of gummy (bears are first)?
What is the first name of Marvel's Scarlet Witch?
What is a "bloody spooky eye" you might get during trick or treating?
What R.L. Stine children's book series is the only one to have sold more books than Harry Potter?
A trick or treater gets how many pieces of candy per house on average?
What monster has bolts on his neck?
Which witches returned to Salem when the black flame candle was lit?
In the traditional Halloween game, what do you bob for?
In It's the Great Pumpkin, Charlie Brown movie, what does Charlie Brown receive in his Halloween sack instead of candy?
Who wrote the story and characters for The Nightmare Before Christmas?
What character starts the Halloween parade at Disneyland and Walt Disney World?
What does the word Halloween mean?
The Salem Witch trails took place in what state?
When is All Hallow's Eve?
Halloween Trivia Answers for Kids
Here are the answers to all of the kids Halloween trivia questions – you can also get a printable copy that has both questions and answers if you download the files at the bottom of this post!
Let's start with the easy questions! How many did you get from the easy Halloween trivia?
Ghostbusters
Skittles
13
Vampirina
Pumpkin
Train or Hogwart's Express
Pac-Mac
Coco
Mummy
BOO
Hotel Transylvania
Snickers
Black and orange
Thriller
Trick or treating
Sesame Street
Mickey Mouse
Christmas
Worms
Wanda
Gumball
Goosebumps
Two
Frankenstein
Sanderson Sisters (Winifred, Mary, and Sarah)
Apples
Rocks
Tim Burton
Headless horseman
Hallowed evening
Massachusetts
October 31st
Halloween Trivia Questions for Adults
What was Universal Studio's first horror film with sound?
According to Forbes, what was the most popular Halloween candy in 2021?
In the Middle Ages, what now popular pets were considered symbols of the devil?
Which Warren Zevon Halloween song is sampled by Kid Rock's All Summer Long?
What wizard was featured in Disney's Sword in the Stone?
Pugsley is a member of what group?
What Stephen King novel takes place in the haunted Stanley Hotel?
Post-2007, what now occurs after Halloween thanks to intense lobbying from the candy industry?
What Universal movie monster has been popularized by a Top 5 all-time Broadway hit?
What iconic horror movie was originally titled "The Babysitter Murders?"
According to Rent.com, what was the most popular adult Halloween costume in 2021?
On Halloween night, Scottish girls pick what vegetables and examine its stems for clues about the qualities for their future husbands?
Every Halloween Peanut's Linus would skip trick or treating to wait for what character?
What candy was originally called "chicken feed?"
Keanu Reeves played what D.C. super hero sorcerer in a 2015 film?
Which magician died on Halloween?
What TV series runs "Treehouse of Horror" episodes every Halloween?
The concept of what type of monster dates all the way back to the 12th Century B.C's Epic of Gilgamesh?
The most famous line from what film is "I see dead people?"
According to Bobby Picket, what was the "graveyard smash?"
What famous gothic poem begins, "once upon a midnight dreary, while I pondered weak and weary?"
In which Harry Potter book is Halloween first mentioned?
What Halloween movie is the #1 film premiere on Disney Plus since Disney Plus' creation?
Disneyland's Haunted Mansion gets an overlay of what Halloween movie during the holidays?
Which American state grows the most pumpkins?
What Halloween season item was inspired by the Irish man known as "Stingy Jack?"
How many movies has the fictional Halloween character Michael Myers appeared in?
Who wrote the Gothic novel Frankenstein?
Which former Victoria's Secret supermodel is known for having iconic Halloween costumes such as Fiona, Jessica Rabbit, and an Old Lady?
What Halloween treat was first created in the 1950s when a Kraft Foods employee experimented with caramels leftover from Halloween sales?
Out of all horror movies (aka scary movies), which has the highest ever worldwide box office sales?
What was Bram Stoker's original name for Dracula?
Name one of the two theme parks that had a Freddy Krueger themed attraction for Halloween?
Who was the lead actor in Dr. Jekyll and Mr. Hyde that won an Academy Award for his performance in the film?
What 1999 "found footage" horror film only took eight days to shoot and eight months to edit?
Which real life serial killer inspired famous movie characters such as Norman Bates from Pyscho and Leatherface from Texas Chainsaw Massacre?
According to the National Retail Federation, what was the top Halloween costume for pets in 2019?
In what United States state is the world's longest haunted cave?
Halloween Trivia Answers for Adults
How about the hard ones? I knew about half of them before I looked them up but some of them (like the pumpkin state one) were tough!
Dracula
Reese's Peanut Butter Cups
Black Cats
Werewolves of London
Merlin
The Addams Family
The Shining
Daylight Savings Time
The Phantom of the Opera
Halloween
Witch
Cabbage
The Great Pumpkin
Candy Corn
Constantine
Harry Houdini
The Simpsons
Zombies
The Sixth Sense
The Monster Mash
The Raven
The Chamber of Secrets
Hocus Pocus 2
Nightmare Before Christmas
Illinois
Jack o' Lanterns
Eleven
Mary Shelley
Heidi Klum
Caramel apples
IT (2017 version)
Count Wampyr
Six Flags or Universal Studios
Fredric March
Blair Witch Project
Ed Gein
Pumpkin
Ohio (Lewisburg Haunted Cave)
Halloween Tie Breaker
If you have two or more people that get the same number of Halloween questions correct, ask them one of these tie breaker questions. They more than likely won't these fun facts exactly right so just say whoever gets the answer the closest is the winner!
How much money did the US spend on Halloween candy in 2019? ($8.8 billion dollars)
How many pounds of candy corn are produced each year according to the National Confectioner's Association? (35 million pounds)
More Halloween Games
If you're looking for even more fun Halloween idea, try one of these fun Halloween party games! They're the perfect addition to any Halloween party!
Download the Halloween Trivia Questions
Enter your first name and email address in the form below to get the printable PDF.
You will receive a link to download the PDF to your email within minutes.
If you do not see the form, click here to get to it. If you would rather not provide your email, you can purchase it in my shop here.
If you do not see the email immediately after you fill out the form, make sure to check your promotions, spam, and junk folders!
As a reminder, the PDF will include:
One page of kid-friendly questions (orange header)
One-page of adult question cards (black header)
Answers for each of the cards (you can see an example of an answer page below)
License and usage rules – everything is for personal use only