These free printable Halloween bingo cards are perfect to play bingo this Halloween with any age! Print and play in minutes for a spooktacularly good time!
Halloween Bingo
Ever since my family started playing bingo on Christmas Eve, I've been a little bingo obsessed. I always try to play when we go on a Disney cruise or when they offer it as an option at Great Wolf Lodge Howl-o-ween, or even at any Halloween carnival we go to!
A few years ago I made this monster mash Halloween bingo game, and it's super cute but the problem is that it was designed for younger kids. You only need four across to win, which means the game goes really fast.
Again, a fun activity for younger kids. It's also great for class parties where you might want people to bingo faster.
I've been meaning to make a set of full-size Halloween bingo cards for ever and finally got around to making full size (five across) game boards last year!
This fun Halloween game is good for any age, not just young kids – from preschoolers to seniors!
It's definitely one of the most popular Halloween party games out there! Probably because it's good for any Halloween parties – classroom, kid, and adult!
Combine them with a little Halloween i-spy, free printable Halloween word search, these Halloween coloring pages, and this Halloween truth or scare game for the ultimate Halloween celebration before digging into the bags full of Halloween candy! It's everything you need for your next Halloween party!
Supplies
You really don't need much to play this Halloween bingo game, just:
Bingo cards – download 20 unique cards at the bottom of this post. This Halloween bingo card set is perfect for small groups but if you need even more different playing cards, you can also purchased additional cards in my shop.
Bingo calling sheet – calling cards are included in the download at the end of the post
Bingo markers – I like these or if you want to go Halloween specific candy, erasers, or even just circles would work great.
Laminating pouches (optional) – if you want to laminate the cards (like to make a classroom set) to play year after year
Prizes – I've got a handful of prize options listed in this post or you can use any of these Halloween prizes
Setup
Before you actually start playing, you need to get your game all setup and ready to go.
Print and cut out the Halloween bingo cards. I recommend printing on white card stock then laminating to use them year after year! You can still use markers or use dry erase markers instead!
Print out two copies of the calling sheet. Cut out the images on one of the copies of the calling sheet, leave the other one intact.
Have everyone pick a bingo board or hand/send them out. Everyone should have different cards so people don't bingo at the same time (or at least not because they have the same card).
Give everyone at least 25 markers, more if you are doing something like candy with young children where they may "accidentally" get eaten.
Put the cut out calling images in a bowl or bag with the full calling sheet next to them.
Then you're all ready to play!
How to Play Halloween Bingo
Bingo is one of those games that most people know how to play, but I like to include instructions just for the off chance someone doesn't know how.
Plus, my family does some crazy bingo options that I think are fun, so I'm including those below as well!
First, everyone should cover the free space on their bingo board with a marker. It's a good idea to make sure everyone knows this in case they've played different rules in the past!
Then you're ready to start playing!
Pull an image out of the bag/bowl and announce and show it to everyone playing. Anyone who has that image on their card should use a marker to cover the card.
Put that image on the printed out calling sheet so you can keep track of what's been called!
Keep pulling images out of the card until someone gets a bingo – five in a row vertical, horizontal, or diagonal. Once they call bingo, check to see if those images have actually been called and declare them a winner.
From there you can either have people remove all of the markers from their cards and start over or play for a couple of winners each game.
Alternate Bingo Options
One of the things my family does that I think is fun is to have alternate bingo options so that it's not always just five in a row.
If you want to switch things up, make sure that everyone knows before you start playing the game what a bingo will be for that particular game. Feel free to change it every game to keep things interesting – just make sure everyone knows what you're playing.
These are some of the bingo types we've played in the past to try! Some of the best ideas were things that people made up on the fly so feel free to let the caller get creative too!
Biggest Loser – the last person to put a bingo marker on the board wins in addition to whoever actually gets a bingo
Four corners – first person to cover all four of their card's corners
Postage stamp – first person to cover four images all together on their card
Cross – first person to cover all of the images down the middle of the card, both horizontally and vertically, making a cross.
X – first person to cover all of the spaces diagonally both ways to make an X on their card
Top or bottom – first person to cover either the full top or full bottom row of their card.
Prizes
Bingo is one of those games that the prizes depend on how many rounds you're going to play and how many winners there will be. If you're playing in a classroom or with family and are going to have tons of winners, keep the prizes small.
If you're playing at a fall party, Halloween carnival, or even virtually just with friends and only going to have a few winners – make the prizes more impressive like gift cards and some of the other larger ticket items on this prize list.
Here are a few ideas to get you started, all things that I personally would love to win!
Looking for more Halloween Games?
Expert Tips
Move quickly so that the games go quickly, and it also helps force people to pay attention and not get distracted.
Laminate the cards so that you can use them over and over again during the holiday season.
Play virtually by sending out cards to players before the game and playing through Zoom or another virtual program.
Game FAQs
How many bingo cards are there?
There are 20 unique cards available to download in this post. If you'd like additional cards, you can purchase more in my shop here.
Can I use these cards to play blackout?
No, unlike regular bingo cards that have 75 different numbers, these cards don't have enough images for a blackout game. If you try to play blackout, you'll likely have multiple people blackout at once.
Do you have any more Halloween bingo cards?
If you want another set of Halloween bingo cards, this Monster Mash game is super popular!
What should I use for prizes?
I've included a couple of ideas in this post and here's a ton of other great prize ideas!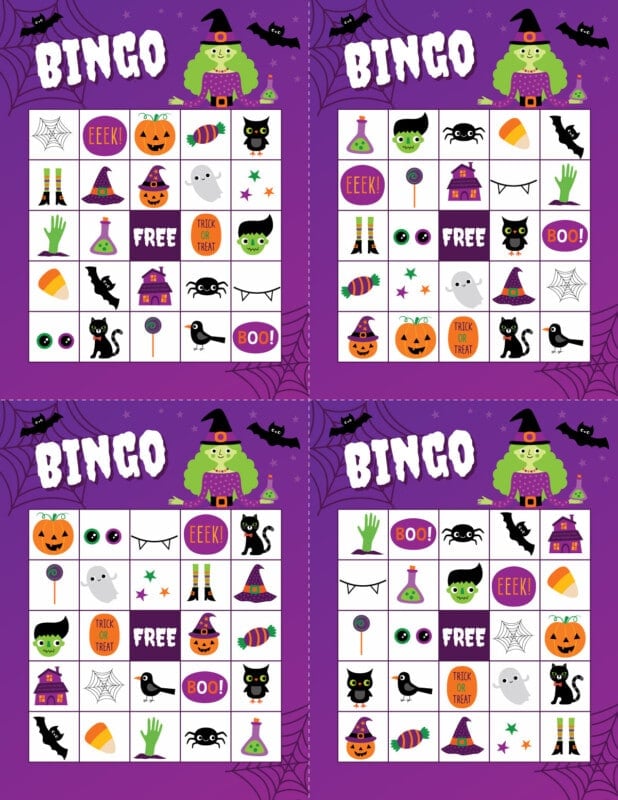 More Halloween Games
If you like this Halloween bingo game, you'll love these other free Halloween printables that are perfect for a family game night, classroom party, or Halloween party!
Download the Free printable bingo cards
Enter your first name and email address in the form below to get the printable PDF. You will receive a link to download the PDF to your email within minutes.
If you'd prefer to not provide your email or you need additional cards, you can buy a set of cards in my shop here.
If you do not see the form below, click here to get to it.
The PDF will include:
A full-sheet PDF calling sheet with all of the images on the cards
20 unique Halloween bingo cards – this will be twenty different bingo cards you can use for your group. If you need more unique bingo sheets for a large group of people, you can get more in my shop here.
Use policy on the last page (these and all of my bingo games are for personal use only)
If you do not immediately receive the email, make sure to check your promotions, spam, and junk folders!