This Harry Potter danger word game will have you trying to get a teammate to guess a word without guessing the danger word – all Harry Potter themed! It's fun for Harry Potter fans of all ages and great for parties, movie nights, or family nights at home!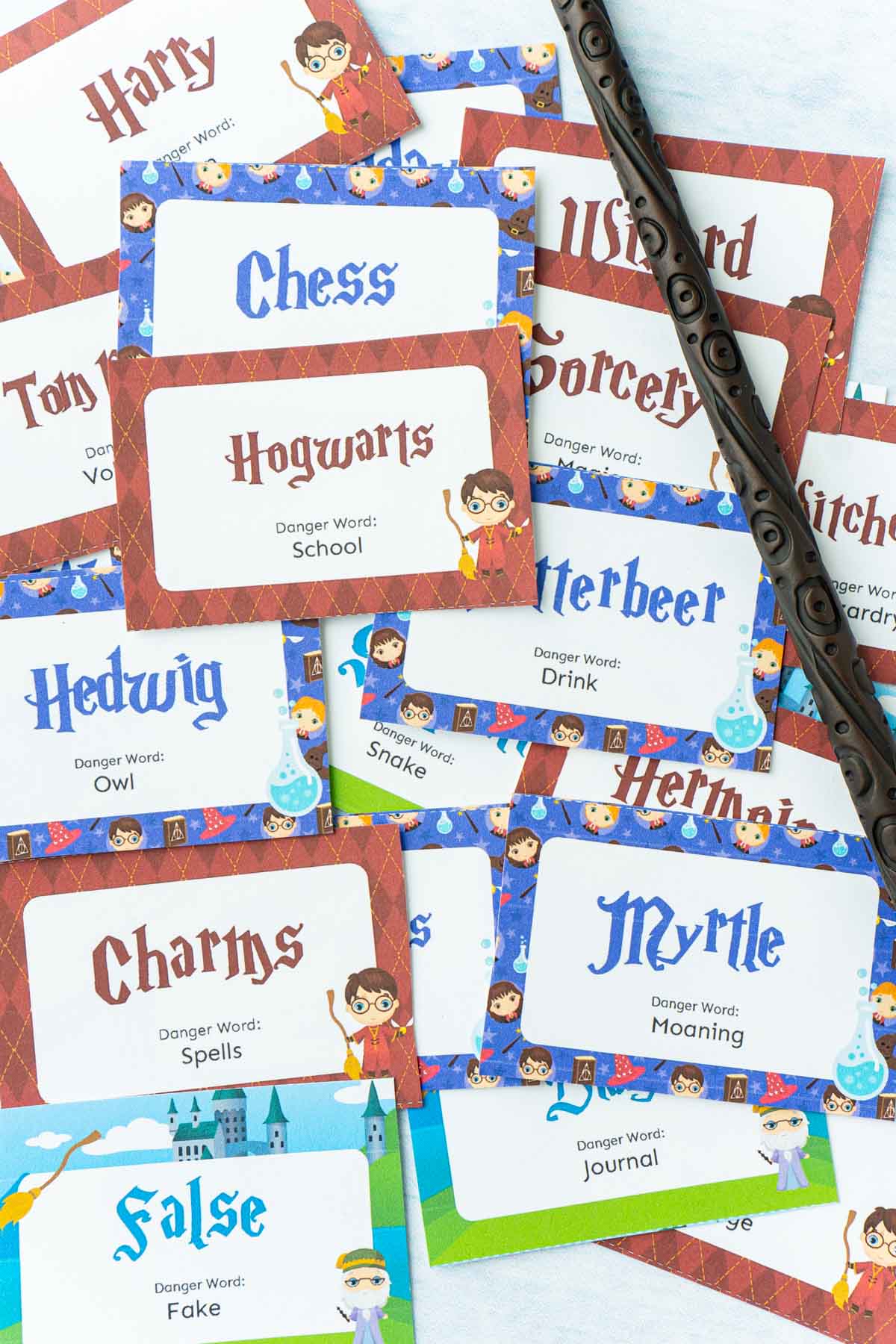 Danger Word Game
So I'm a huge fan of the show Ellen's Game of Games because first off, I adore Ellen, and second I love all of the games.
It might be one of my life goals to get on that show but that's a story for a different day!
This danger word game is a Harry Potter inspired version of one of my favorite games from that show. The basic idea is that you have to get your team to guess a particular word by giving one word clues, and you can't have them guess the danger word or the other team wins that round.
It's easier than Harry Potter trivia because you can likely get people to guess the words without having as much Harry Potter knowledge!
Putting together danger word combinations was a lot harder than it seems, but I think we came up with some pretty good ones! Play with any of these other Harry Potter games for a fun Harry Potter themed night!
Supplies
One of the reasons you'll likely love this game is because you literally only need the danger word cards to play!
I've created a downloadable printable at the bottom of this post that includes instructions, a full-page PDF with all the questions, and the question cards you see in this post!
The only other things you'll need, you likely already have at home!
Scissors – to cut out the cards
Pen and paper – to keep score
Consequences – these are totally optional, see the section under consequences in this post
How to Play
If you've never seen the game on the gameshow, here's how you play. It's pretty easy but gets a little more complicated if you have teams playing, so I've outlined both!
1 – Pick teams
Split your group into two teams – team A and team B. You can do boys versus girls, kids versus adults, family versus family. Your choice, in this game it really doesn't matter much since everyone will hear both teams' clues.
2 – Choose a guesser
Choose one player from team A and team B to be the guessers first. Have them go to the other side of the room from the rest of the players.
Everyone on the team will be a guesser at some point so who goes first really doesn't matter. If you have a mix of kids and adults on teams, you may want to match up when kids are guessing compared to adults, but it'll be fine either way.
3 – Give clues
Choose a card from the bag and show it to everyone on both teams EXCEPT the guessers.
Choose one team to go first. A player from team A will give a one word clue to try to get their team guesser to guess the word on the card WITHOUT guessing the danger word.
For example, if the word on the card is Hogwarts and the danger word is school, the clue might be castle.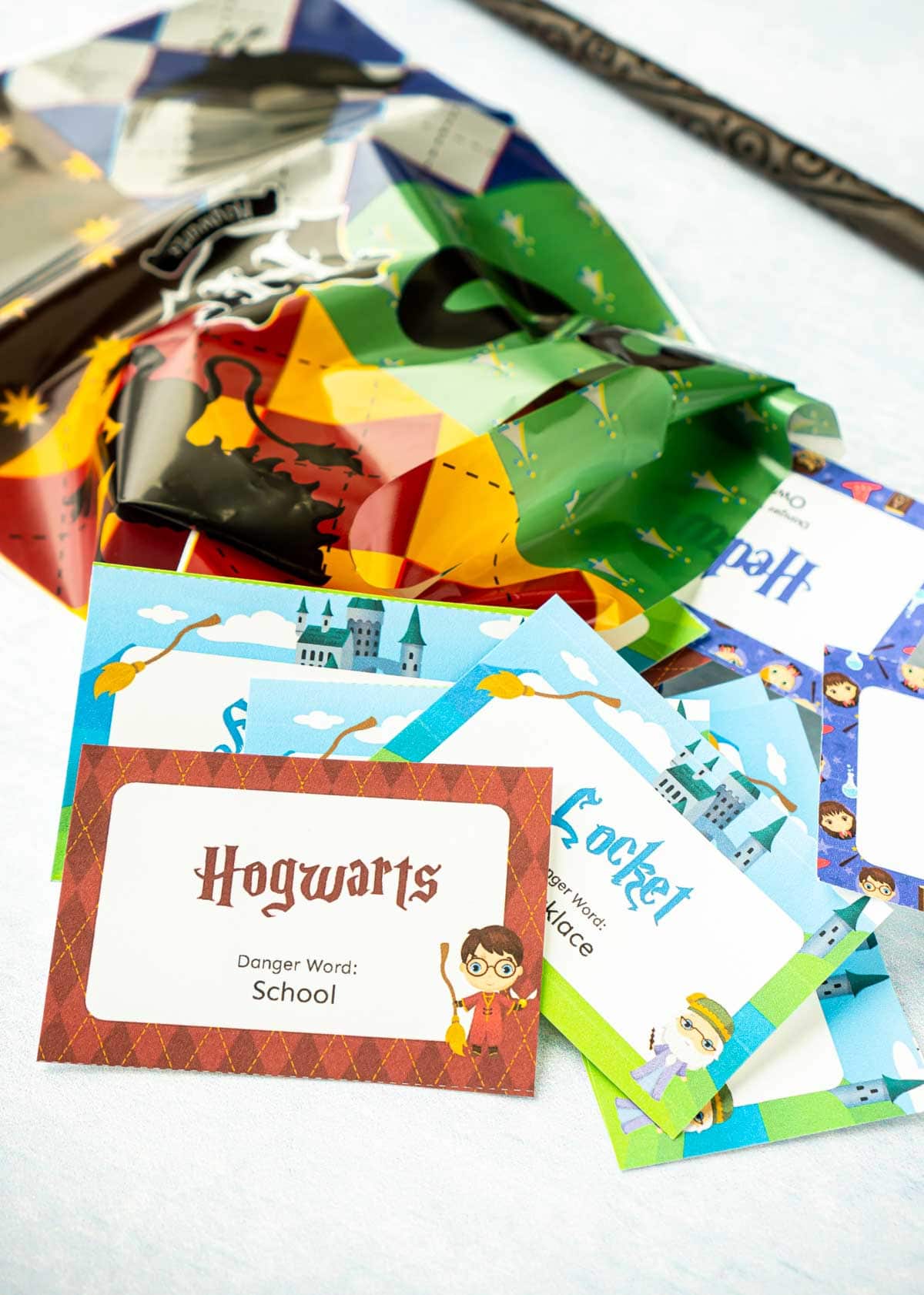 Once they've given their clue, their teammate must try to guess the word on the card.
If they guess correct – the round is over and their team earns a point.
If they guess the danger word – the round is over and the other team earns a point.
If they guess incorrectly – the round continues and play moves to Team B.
Team B would then give a different one word clue to try to get their guesser to guess the word without guessing the danger word. So using the example above, they might say the clue "costume."
Team B's guesser would then have the chance to guess the word. If they get it incorrect, switch back to Team A.
Keep switching back and forth between team A and team B until someone either guesses the word correctly or guesses the danger word. And make sure to switch players who are giving the clues on the teams so everyone is involved.
Once a card is guessed, switch the guesser out for another member of the team then play again with a different word and danger word.
How to Win
Before the game, decide how many cards or rounds you're going to play. For example – play the number of rounds equal to the number of people you have on a team so everyone gets to be the guesser once.
Or if you have smaller teams, play a certain number of cards or a time limit.
At the end of the designated rounds or time limit, the team with the most points wins.
Additional Rules
Just a few other things to note when playing the game. I'm not sure these are official rules in Ellen's version of the game, but they've for sure helped us when we play at home!
You cannot use any part of the word or danger word in your clue. If you do, your team loses the round and the other team gets a point.
Teams may not talk or converse with one another before giving their clues. They can all see the word but must individually come up with their clues.
Rotate through players giving clues on each team so everyone participates just like in Harry Potter charades
While words on the cards may not necessarily be one word (e.g., Harry Potter), clues must only be one word.
If teams are going really slow, feel free to add a timer to the clue givers or guessers.
Danger Word Consequences
If you want to get creative, feel free to have some sort of silly punishment if someone says the danger word. Here are just a couple of options:
Toss a wet sponge at them
Make them eat a Harry Potter flavored jelly bean
Have them attempt to say a Harry Potter spell fast a certain number of times
Make them answer a Harry Potter would you rather question
Prizes
Pick one of these fun Harry Potter inspired prizes to give to the winning team at the end of the game!
Expert Tips
Play virtually by having teams say their clues on a virtual call and having a teammate guess virtually. It's a super easy game to turn virtual!
Don't look at all the cards if you personally want to play! Have someone else print and cut them out that won't be playing because it's hard to forget what the danger word was if you saw it once.
Start with different people giving clues each round, kind of like in this Christmas family feud game. The first clues to give are often times harder than the last ones.
Game FAQs
How many people can play this danger word game?
You need at least four people, and I recommend playing with no more than 10 so you only have up to five people on a team. More than that and it just gets hectic.
Can I play if I've never read the books?
Yes! These questions are actually based on the movies since I figured more people had seen those than read the books.
Can I play if I know nothing about Harry Potter?
Yes! Many of the words (e.g,. prince, creatures) are inspired by Harry Potter but universal enough that you could still get people to guess them even if you don't know Harry Potter.
Which Hogwarts house would you be in?
As much as I'd like to think I'd be in Gryffindor, according to Buzzfeed I'm actually more Hufflepuff because of loyalty to friends. So I guess we'll go with that!
More Movie Inspired Games
Download the Printable
Enter your first name and email address in the form below to get the printable PDF. You will receive a link to download the PDF to your email within minutes.
The PDF will include:
A set of instructions
6 pages of danger words (60 words in total)
If you do not immediately receive the email, make sure to check your promotions, spam, and junk folders!
If you do not see the form below, click here to get to it.