These 10 easy Cricut projects can all be done in 30 minutes or less and are perfect for beginners! They're a great way to get started with using your Cricut and great beginner Cricut projects!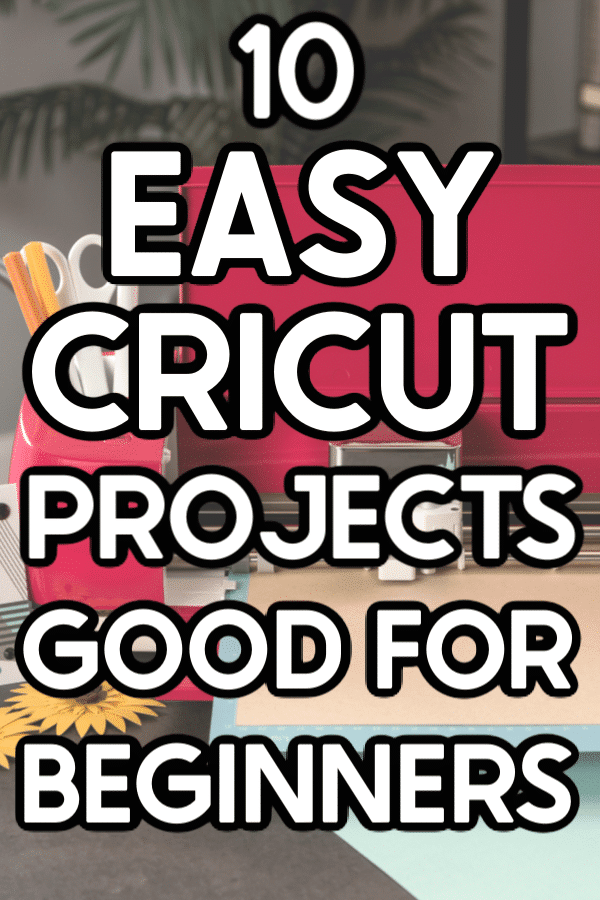 This post is sponsored by Cricut and includes affiliate links. If you purchase via these links, I may receive a small commission at no additional cost to you.
Raise your hand if you've been crafting up a storm while safe at home the past month?
I know I have! I made DIY t-shirts, printable games, labels for my pantry, and so much more.
Plus I've done science experiments, colored way too many pictures, and cut out a lot of shapes with my Cricut. There's just something about perfectly cut circles and dinosaurs that makes my heart flutter.
A few years ago I shared some of my favorite Cricut project ideas and a ton of different things you can do with a Cricut Explore Air 2.
Today I'm going a bit further and doing some beginner or easy Cricut projects – things you can make in under 30 minutes!
These are great for kids, Cricut beginners, or someone like me who doesn't have that much extra time but still wants to get crafty!
Beginner Cricut Projects
Okay, here are those simple Cricut projects I promised. All of these can be done by beginners in 30 minutes or less.
Like open your Cricut box and get down to business easy.
1 – DIY T-Shirts
Okay so in all fairness, these are first because they're my personal favorite to make. Grab a pre-made design from Cricut Design Space or just add your own text, cut out some vinyl, and iron on either using the Cricut EasyPress (find out why you need a Cricut EasyPress here) or iron, and you're done.
Check out some of the DIY Disney shirts I've made in the past few years. And these are just the vacation ones.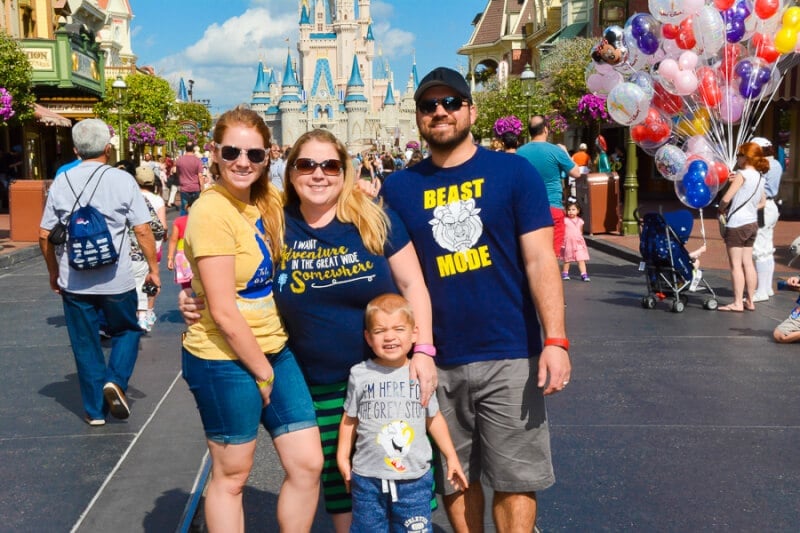 2 – Garlands and Banners
Hosting a party or want to add a little decor to your home? Cut out some shapes or letters on the Cricut in minutes, tie to some ribbon or twine, and hang.
So easy and yet the perfection of the cuts adds a huge statement to any house! This fall banner is a great example of what you could make.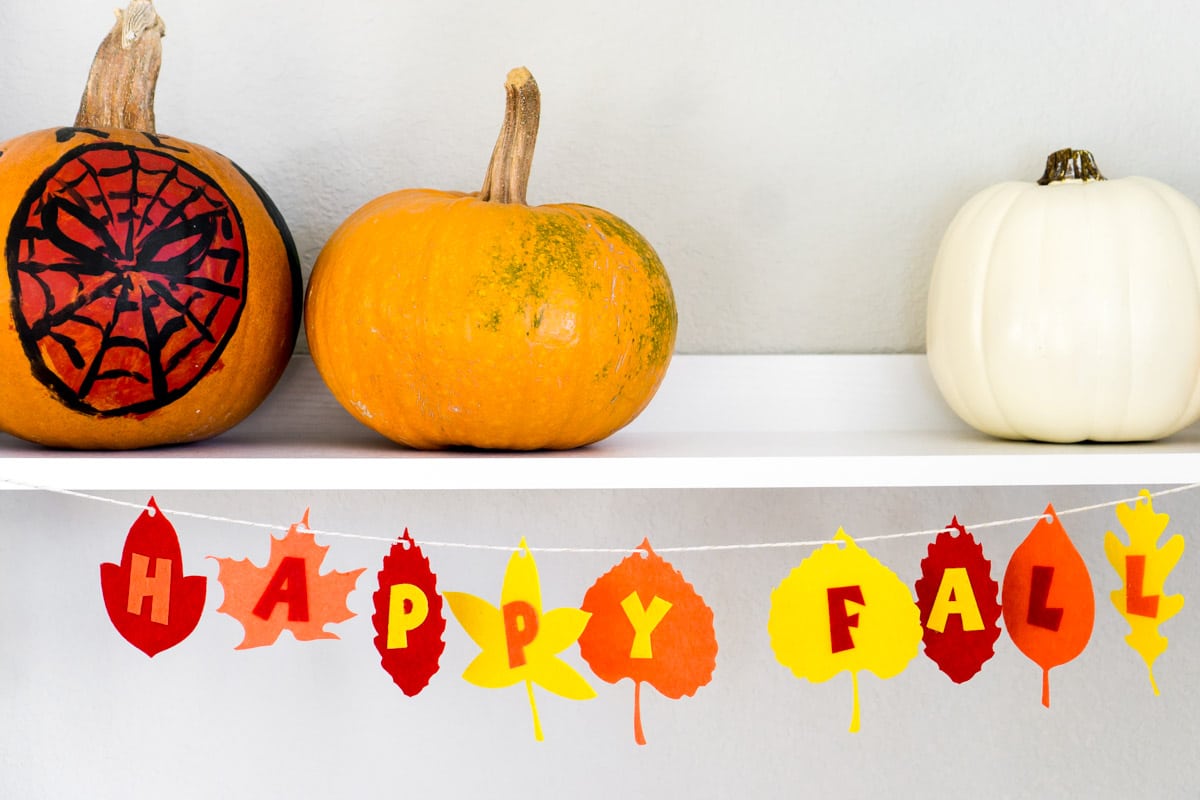 3 – Cake and Cupcake Toppers
Forget ordering cake or cupcakes toppers from someone else. Make your own in minutes with the Cricut Explore Air 2.
Whether you want a large cake topper like this DIY birthday cake topper, or small cupcake cut out toppers like I used in this summer birthday party – they're easy to design and cut out quickly.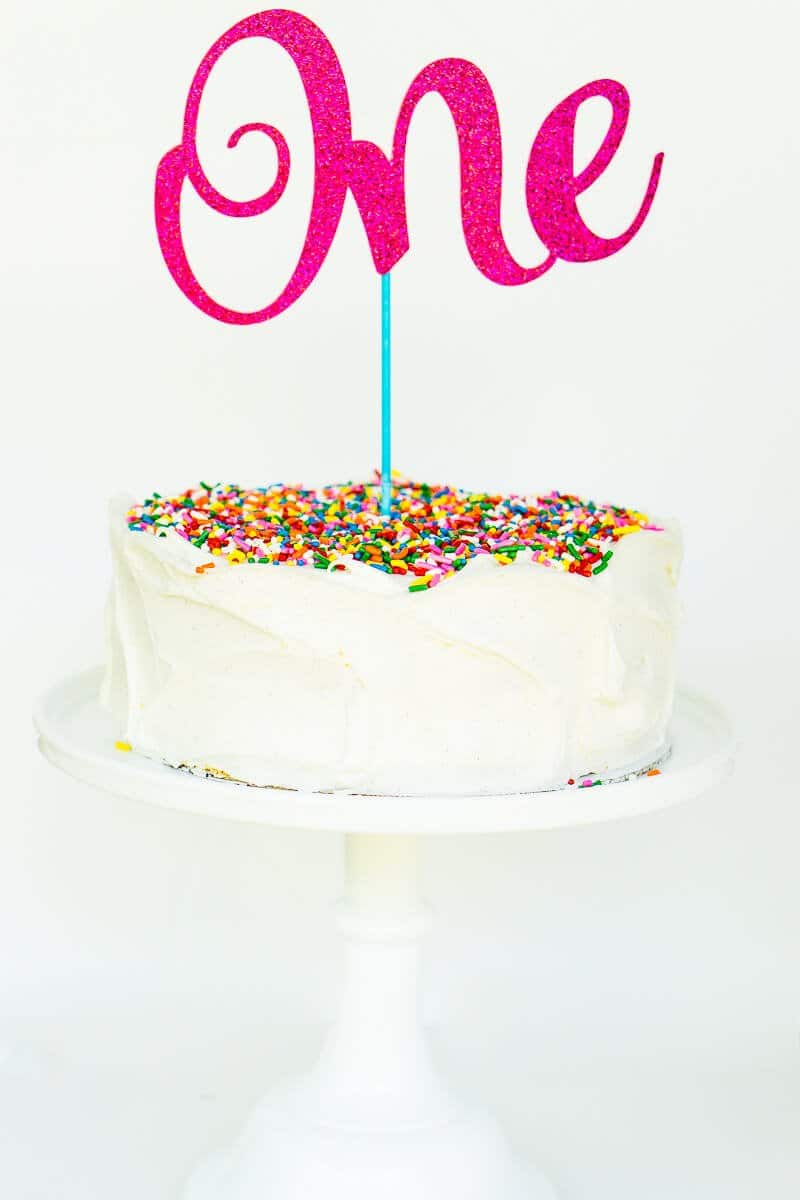 4- Labels
Whether you want to label a bucket full of indoor activities for kids or label every little jar and basket in your pantry, labels are super simple to make!
Even simpler if you use these pantry cut files from Poofy Cheefs.
5 – Personalized Bags
Bags are just the start. Personalize bags, backpacks, tote bags, towels, and more in minutes with a little vinyl and the Cricut Explore Air 2.
This personalized sports bag from my friend Allison is just one example!
6 – Funny Office Supplies
Working from home? Add a little humor to your water bottle, filing cabinet, or buckets full of papers.
You can do something similar for the kids to make school at home a little more fun too, kind of like this fun personalized crayon box from Someday I'll Learn.
7 – Greeting Cards
One of the easiest things ever is making your very own cards. There are so many pre-designed options available with Cricut Access in Cricut Design Space that literally just require you to open the file and follow the instructions to cut.
How fun would it be to make some cards to send to people around the country who are at home right now? I mean who doesn't love getting a little snail mail!
Or if you're looking for something more holiday specific, these Christmas cards from Pineapple Paper Co would be fun too!
8 – Home Decor
Want to spruce up your living room with some custom pillows? How about adding a dinosaur pillow to your son's bedroom?
With a little vinyl and a Cricut Explore Air 2, you can take ordinary pillows from the store and turn them into ones that no one else has and will wish they did!
These heart glitter pillows from Printable Crush are just one fun example of something you can make!
9 – Leather Jewelry
Want to make your very own leather earrings like they sell everywhere? Now you can – quickly and in whatever color and designs you want!
Whether they're Santa earrings like these ones from Happiness is Homemade or just solid ones to go with your little black dress, they're lightweight and the most comfortable things ever!
10 – Party Decorations
I wrote an entire post about why the Cricut is perfect for people who love to host parties here. But seriously – adding decorations and personalized elements has never been easier than with the Cricut Explore Air 2.
Whether you're cutting out paper flowers for a Mother's Day Brunch like my friend Lindi or making custom cupcake wrappers in this summer party, there are SO many things you can do for parties with your Cricut Explore Air 2.
After making t-shirts, it's my second favorite way to use my Cricut! You can have an entire party setup done in under an hour and that's if you go a little crazy!
Have I convinced you yet that you need a Cricut Explore Air 2?
More Beginner Cricut Projects
Don't forget to pin these easy Cricut projects for later!