Whether your theme is the apple of my eye or you're hosting a fall apple themed party, this apple printable pack has everything you need for any apple event! Or just use a piece of these for fun apple themed favors or gift tags!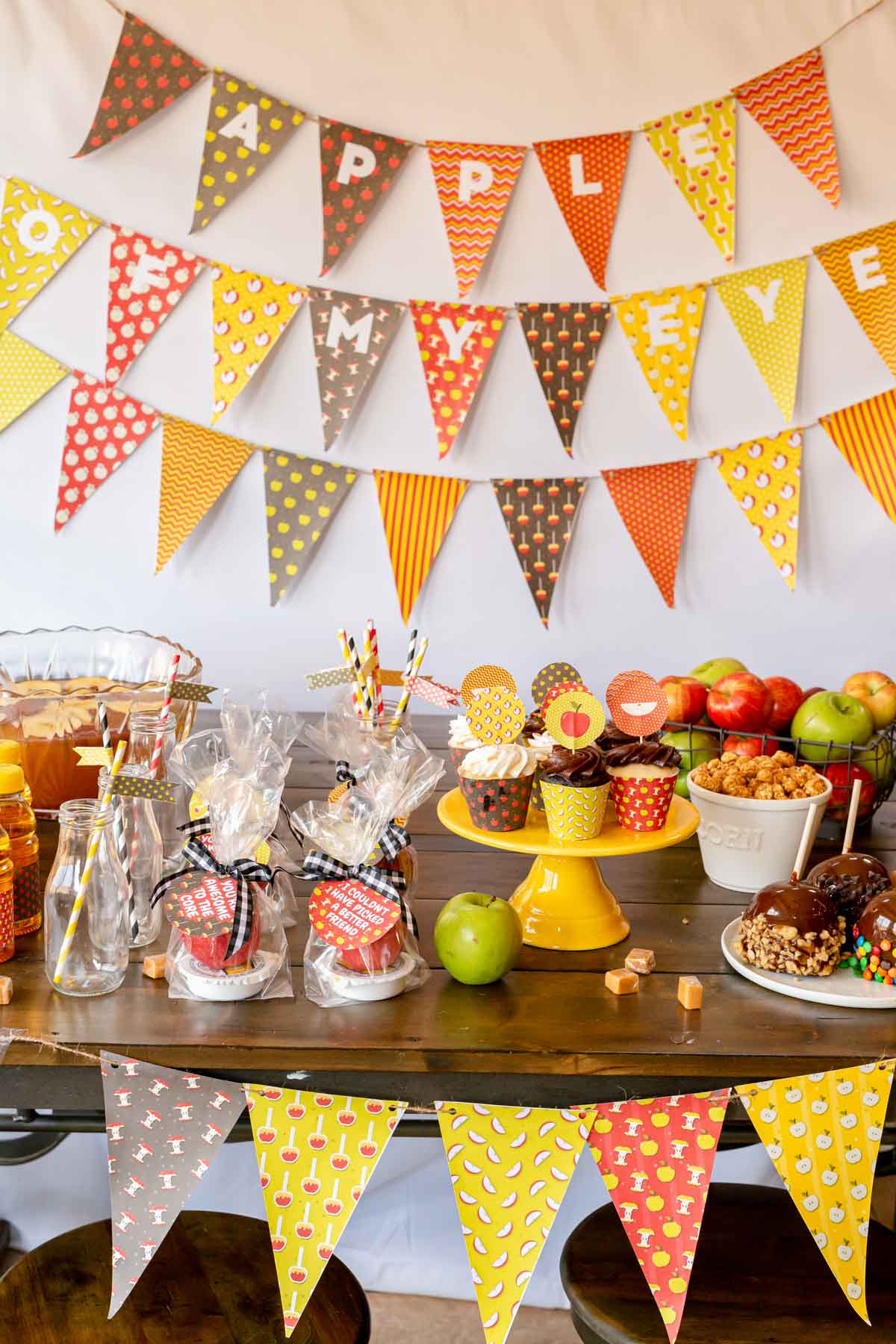 A couple of years ago I shared some really fun apple party ideas like a caramel apple walk and a caramel apple nacho bar. I loved that party but really wanted to do something that had a bit more fall flair to it!
So this fun apple printable pack is full of fall flair with tons of different apples, fall colors, and even cute little dipped candy apples as part of the design.
Use it with any of your fall party ideas, to decorate around a caramel apple bar, or to celebrate a little one who's the "apple of my eye," a super fun fall party theme!
What's Included in the Apple Printable Pack?
This pack includes all sorts of fun printables! I've described each below along with some fun ways to use them!
Apple Bottle Wrappers
Whether you're serving water, apple juice, or even spiced apple cider in mason jars, these fun bottle labels will add a nice touch to your drinks!
You can either cut them out and just tape around the drinks or print on full-page sticker labels and use the sticky side of the labels to wrap around your bottles.
Just don't use the full-size labels on things like mason jars that you won't throw away because they don't come off nearly as easy as the tape!
Straw Flags
Speaking of drinks, these fun apple printable straw flags are the perfect addition to any open drinks (not bottled). They'd be really cute in this caramel apple drink, in jars of apple cider, or even just if you made something like this holiday punch!
I designed these as straight rectangles so you can either just fold and tape them over paper straws or you can cut a little triangle out of them if you want the "flag" look. I typically put a piece of double-sided tape on the inside of one half of the straw and use that to tape it together around the straw!
Apple Printable Bunting
The printable pack includes two versions (same background) of a cute apple bunting or banner, whatever you want to call it. The designs include lots of apple variations, fall colors, and even darling little candy apples!
One version has nothing other than the background designs and the other has the letters APPLE OF MY EYE spelled out in case you want to use this apple printable pack for that reason!
Print on white card stock, punch holes in either top corner of each piece of the bunting, and string together with either fall colored baking twine, yarn, or really anything that would match the design!
The bunting works great behind a table, in front of a table, or even just as decoration on a guest book table or side table!
Cupcake Toppers
There are three sizes of cupcake (aka treat) toppers in the printable pack – 2″, 1″, and .75″. I like to do varying sizes so that you can use the same cute designs throughout the party on various treats.
The 2″ ones are great for larger treats like cupcakes or mini apple pie.
The 1″ ones are great for even smaller items like cookies or Oreo truffles. Use that Oreo truffle recipe dipped in red melting wafers instead of chocolate, add some little green chocolate stems on top and you have darling apple Oreo bites!
And finally, the .75″ ones are the perfect size for putting on the bottom of candies like Hershey Kisses, and mini Reese's Peanut Butter Cups!
To make them, use a circle punch (or scissors) to cut them out then tape a toothpick, lollipop stick, or other food-safe stick to the back.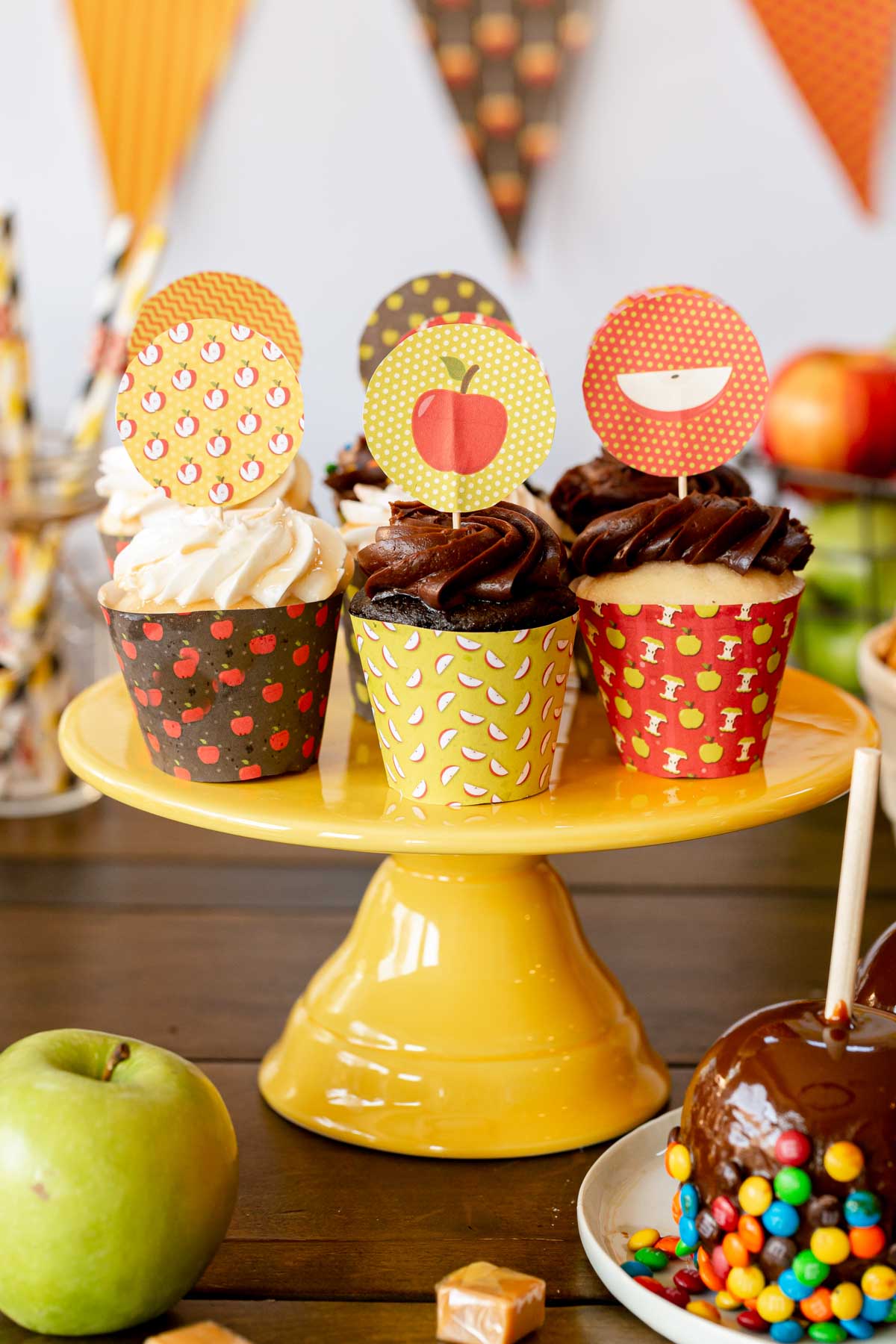 Cupcake Wrappers
You probably saw the cute little cupcake wrappers in the picture above – those are included in the apple printable party pack too!
Just cut and tape around your cupcakes for the cutest apple cupcake wrappers you'll ever see!
Apple Party Favors
Choose from one of six circle designed apple printable favors. Just cut out with a circle hole punch (or scissors) and attach to a bag full of your favorite apple goodies. Here are some fun ideas for favors!
Other Designs Included in the Pack
I don't have photos of these, but these are also included in the pack:
Thank You Cards – Want to write thank you cards to send to people who came to the party? Those are included too, all in th same apple design!
Food Labels – these foldable food labels come with a blank spot on the front to write in all of your treats! I suggest apple crumble, cream cheese apple dip, and of course caramel apple nachos!
Planning checklist – a cute checklist to write down your menu, activities (these fall party games would be perfect), and more!
Menu checklist – a place to write down all of the food and drinks you're going to be serving
Shopping list – A cute designed shopping list so you don't forget anything while you're out!
Guest List – if you're anything like me, you'll want to write down who you invited and whether they're coming or not!
Schedule – write down the schedule for the day if you are planning any fun fall activities!
Note sheet – any other notes you might've forgotten to write on any of the other planning sheets!
Apple Party Activities
Need some fall fun to do at your party? Any of these would be a great addition to your activity list!
Fall bucket list – put out some empty templates with a list of ideas and let people make their very own fall bucket list, including things like apple picking of course!
Fall scavenger hunt – split into groups and hand out this fun fall photo scavenger hunt and see who can finish it first!
Pumpkin patch craft – use apples (you should have plenty around) to make these darling pumpkin patch paintings!
Download the Apple Printable Pack
Enter your first name and email address below to download the apple party pack! You'll receive an email with a link to download the printables mentioned in the post above!
If you cannot see the form below, click here to get to it.
If you'd rather not provide your email, you can also purchase the entire pack in my shop here.