This shop has been compensated by Collective Bias, Inc. and its advertiser. All opinions, ideas, and content are 100% honest and mine alone. #ShareYourSpirit #CollectiveBias
These touchdown worthy football party ideas are all easy, inexpensive, and ones that everyone will love!
My family loves football. Okay, my husband loves football and I love football because he does. And I love throwing a fun football party. This past weekend was the big first weekend in college football and I'm so glad that we sat down to watch our school's game because you guys, it was amazing, like #1 in the top 10 plays amazing.
There's nothing like a game-winning hail Mary pass to start the season off right. To celebrate the new football season, I'm sharing some of my favorite ideas for throwing a touchdown worthy football party and I'll let you in on a little secret, they're all SO easy to recreate at home. Nothing fancy here, just a couple of DIY projects, good food, fizzy fun, and football!
Easy Football Party Ideas
Turn your party table into a football field.
I love using outdoor carpet (aka fake grass) for football parties. You can pick it up at your local home improvement store where they'll cut it down to size for you. Add some white tape lines and numbers and you've got yourself a football field.
Take it up a notch by plating your desserts on "bleachers" that you create by adding aluminum foil to three-tiered serving trays. And last but not least, don't forget the goal posts that you can either create one using Coke cans like I did last year or actually turn it into a dessert with a goal post cake (tutorial below).
Serve amped up concession stand snacks.
I personally can't think of anything better than grabbing a bag of popcorn or a soft pretzel from the concession stand at a football game. Use concession stand snacks as your starting point and turn them into party worthy food like white chocolate popcorn with sprinkles and chocolate covered pretzel sticks.
Make it even more fun by creating two colors of everything for the teams that are playing each other like I did with my red vs. blue football dessert table. My favorite desserts were my bleed blue cupcakes. Make your cupcake batter just like normal, then after you've poured it into the muffin tins, add a sprinkle of blue powdered food coloring (has to be the powder). The powder doesn't dye the batter like gel or liquid food coloring, so you end up with a yellow cupcake with blue inside it, hence the bleed blue cupcake name.
Let people make their own food.
There's a reason that concession stands have all of their condiments out on a table near the concession stand rather than trying to figure out what exactly people want on their food. It takes time to give everyone exactly what they want, and that's time you could be using to hang out with your guests or gasp, actually watch the football game.
Follow their example and create a DIY nacho bar with all of the toppings you can think of laid out for your guests. And make it cute by using these free printable chalkboard signs that give people examples of great nacho combinations to try, combinations named after famous football plays like the fumblerooski (pizza nachos), reverse (nacho salad), and quarterback sneak (nachos with buffalo sauce).
I'm lucky enough to have a black table to actually write the toppings on, continuing the chalkboard theme, but if you don't, you can cover your table with black construction paper or the black butcher paper that comes in those long rolls for art classes and do the same thing. Just make sure that if you're actually writing on your table to wash it off immediately after the party.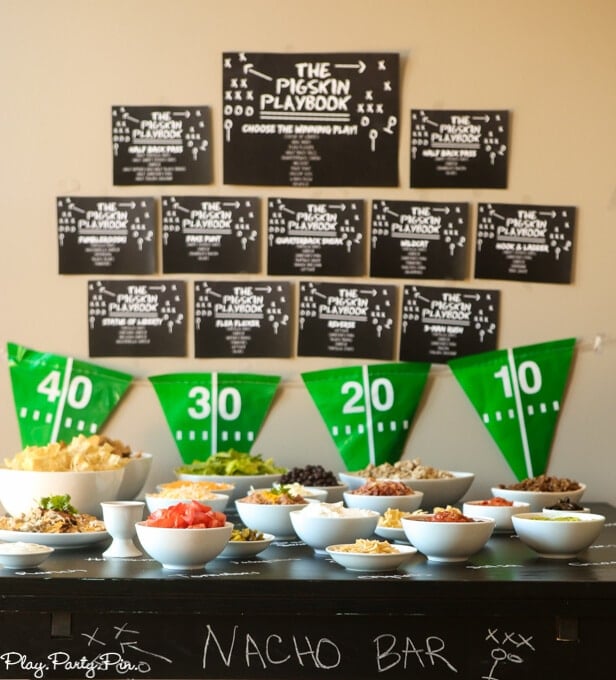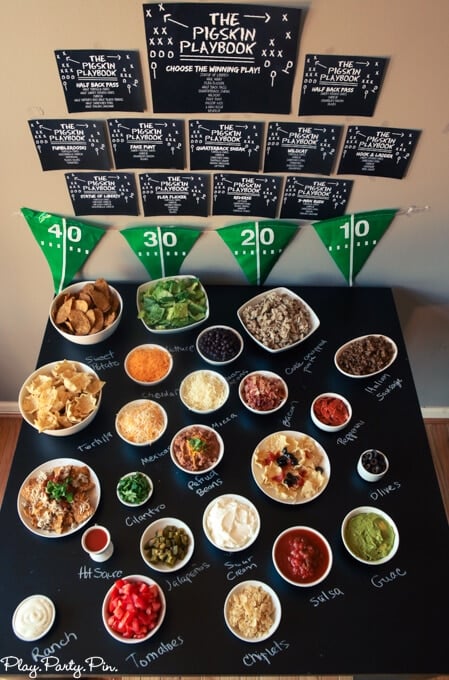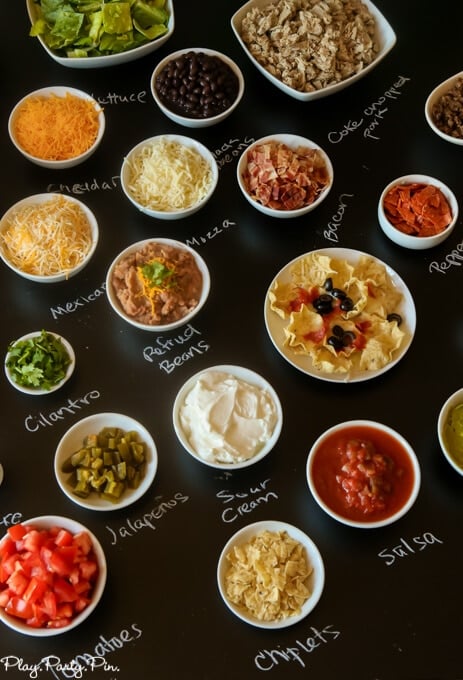 You can check out all of the different nacho combinations in the list of printables but one of my favorites is actually inspired by our trip to Seattle a couple of weeks ago where we had BBQ pulled pork topped sweet potatoes.
The nachos start with sweet potato chips and Mexican blend cheese, topped with a slow cooker Coke chopped pork that I made using this recipe, using vinegar instead of apple cider vinegar. Top that with a little barbecue sauce and you've got one amazing plate of nachos. I call it the hook & ladder.
Hook & Ladder Coke Pork Nachos
An amazing combination of sweet potato flavor with tender Coke chopped pork and tangy BBQ sauce!
Ingredients
Sweet potato chips
Mexican blend cheese
Coke pulled pork
Your favorite BBQ sauce
Cilantro (optional)
Instructions
Top your sweet potato chips with cheese then melt in the microwave for 30-45 seconds.

Add Coke pulled pork on top of the cheese.

Top with more cheese (optional).

Drizzle BBQ sauce on top.

Garnish with fresh cilantro.
Choose your DIYs wisely.
There are SO many DIY football party ideas and cute football party food ideas out there. Choose one or two and buy the rest. I decided I really wanted to make my goal post and rather than doing a Coke can goal post like I did last year, I wanted to make an edible one for my dessert table. Making the goal post was as simple as 1, 2, 3. Okay, maybe a few more steps than that, but still pretty easy.
Bake a round cake then cut off the edges so that you have one large square. Cut the square in half so you have two skinny rectangles. Put one of the skinny rectangles on a piece of cardboard about the same size to be your cake stand.
Frost around the cake with yellow frosting, making sure to cover the cardboard as well.
Create goal posts by dipping pretzel rods in melted chocolate and adding yellow sprinkles while the chocolate is still hot. Stick goal posts into your cake so it looks like a goal post.
Place cardboard (with cake on top) on top of the Coke can and place it on the field you made earlier for an edible centerpiece.
Keep games simple.
Most football parties are to watch the actual game but that doesn't mean that you can't still plan a couple of small games or activities, just keep them simple. Choose an easy one from these 25 football party game ideas or my new favorite, choose the winning play. For choose the winning play, print out these printables, cut them right below the name of the play, and wrap them around full Coke cans.
Right before you're going to play, shake up all of the Coke cans really well except two or three. Have your guests go through one at a time and choose a Coke can to open. If they choose one of the Coke cans that you did not shake up, they win a prize. Silly but fun for your guests and hilarious for everyone else to watch. I highly recommend playing this one outside and encouraging your guests to open their cans up slowly.