The best nacho bar ideas for the next party you're hosting! There's everything from a Cinco De Mayo nacho bar to one that's perfect for game day! Plus, there's a set of free nacho bar printables to use for your very own nacho bar at home!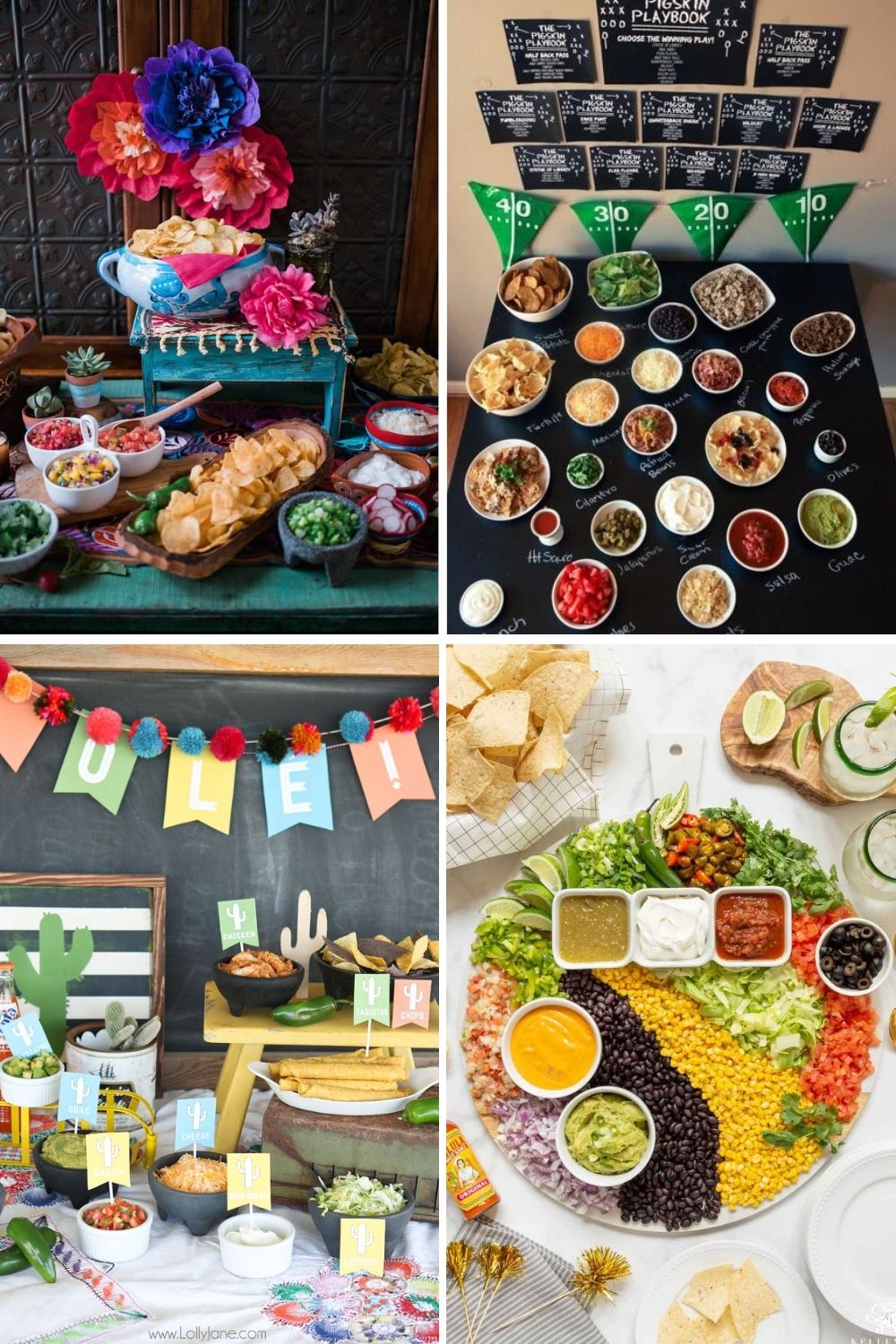 My family loves football. Okay, my husband loves football and I love football because he does. And because the Chiefs are awesome, I also love throwing a fun football party.
I made my very own DIY nacho bar a few years back that was football themed for a Super Bowl party, but it's definitely not the only time that a nacho bar would work!
How about Cinco De Mayo that's coming up soon? A nacho bar is a perfect option for a Cinco De Mayo party.
You could even do this for a birthday party, a movie night, or really any time. People love nachos and giving them the option to choose their own nacho toppings is about as good as it gets!
I've put together the best of the best nacho bar ideas out there as well as ideas for toppings to include, tips for serving, and more! It's really perfect for birthday parties or even a delicious meal or easy dinner with just your own family!
If you're planning a nacho bar, I've got you covered! There are even some free printables that I used at my own football themed nacho bar party the very bottom of this post!
How to Make a nacho bar
Creating DIY nacho bar with all of the toppings you can think of laid out for your guests is easier than you'd think.
1 – Choose Your Meats
First, you need to get all of the things you need for your nachos.
I like to do a variety of meat – this homemade taco meat (aka seasoned ground beef), these shredded pork tacos, and these Instant Pot chicken tacos are always a hit!
Since you're doing a nacho bar where people make their own nachos, assume people may try out different kinds of meat but also likely won't eat as much as they would if they were making say tacos.
2 – Choose Your Nacho Bar Toppings
Then you need your nacho bar toppings – I've included some of our favorites below!
You can use any variety of toppings, but these are just a few of our favorites:
Cheese – shredded, queso, Mexican cheeses like cotija, and anything else you can think of.
Lettuce – both shredded and cut up romaine so people can turn their nachos into a salad if they want
Sliced black olives
Sliced jalapenos
Caramelized corn – just like we use in this layered taco dip
Pepperoni – I like a good pizza nacho but if you don't, you can skip this
Beans – black beans, pinto beans, and refried beans are all good choices
Diced tomatoes and pico de gallo
Chopped cilantro
Sour cream or this cilantro lime dressing
Salsa – this could include one or various types including green, mild, hot, and more
Guacamole
Queso/cheese sauce
Green onions – I personally skip these but know people like them
I mean really the possibilities are pretty endless. Most things are good on top of chips! You could even do a caramel apple nacho bar if you really wanted!
Tip!
If you want to use melted cheese, you can cheese it warm in either a fondue pot or a little mini slow cooker or small crock pot. This is a great option for queso, melted nacho cheese, or anything else you want to keep warm!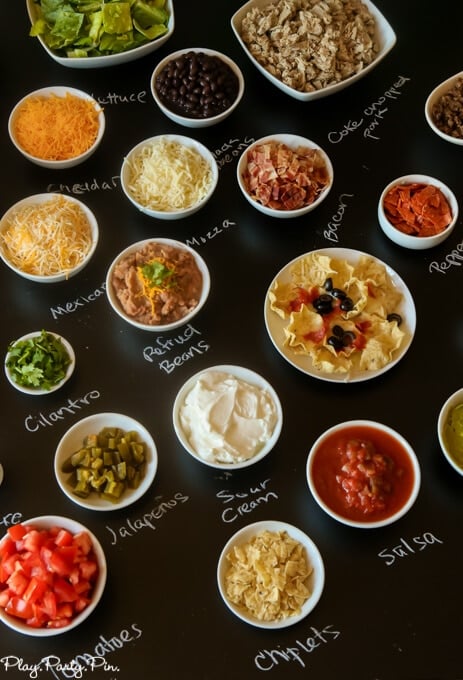 3 – Add the chips
Finally, make sure to add in plenty of tortilla chips, taco shells, mini corn tortillas, or even tortilla bowls that people can use to make their nachos! I know it's a nacho bar, but I always like to serve a variety of things that they can make their nachos on (or tacos) – regular tortilla chips, restaurant type tortilla chips, blue corn chips.
Having a variety to choose from really makes it that much better! It's just another way to make it fun for people to create their own nacho masterpiece!
Tip!
While I don't have it listed as a step in here, you also need to obviously provide something to use for plates that people can eat off of. I personally love providing a disposable aluminum pie plate for each person because it keeps the nachos all in the dish without everything falling off! Plus, they're a little more sturdy than regular paper plates. If you don't want to throw the disposable pie plates away, wash them and use them for your next Taco Tuesday or nacho party!
Nacho Bar Ideas
The next step is setting up your nacho bar! There are so many different ways to do this – I grabbed a bunch of my favorite setups to give you some good examples of how to lay them out!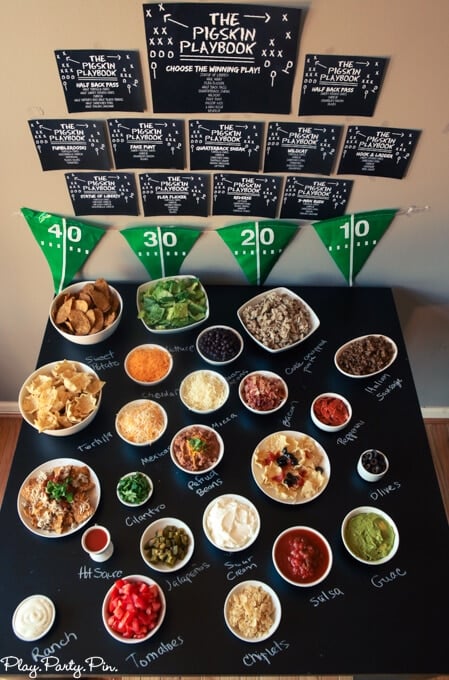 Football Themed Nacho Bar
The first is my own football themed nacho bar! I made a set of playbook printables, used a chalk board table (and wrote the ingredients on the table), and added a little football banner. This was the highlight of this football party a few years back and would work for any football themed event!
Get Details
Touchdown Bar
I love the use of the triple crockpot in this to keep the meat and queso warm for this fun football themed taco bar! You could also use individual quarter crock-pot units if you don't have a triple! Oh and of course, add tons of small bowls filled with toppings!
Get Details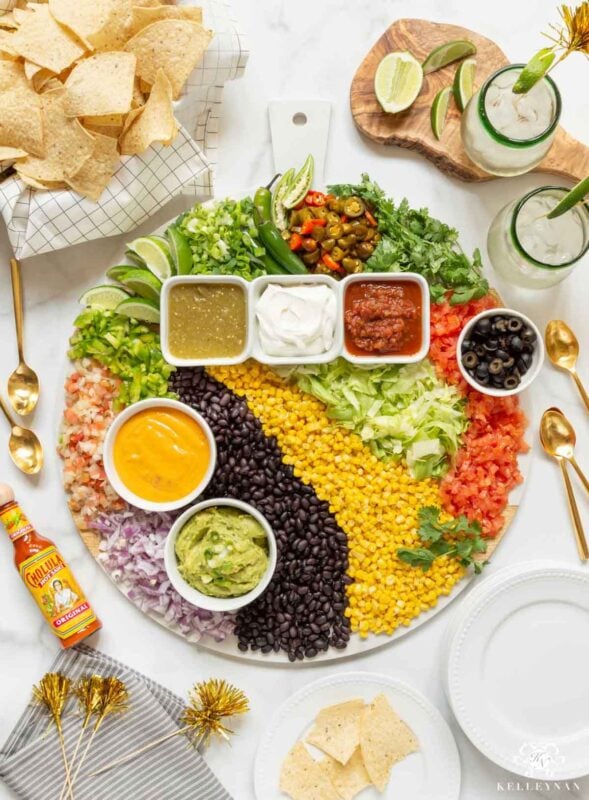 Nacho Board
Instead of setting up a bar, create a nacho board like this one with all of your toppings on a fun nacho themed charcuterie board! Just keep in mind that the toppings may get mixed together so if you're doing this for the sake of having people be able to choose what they want, things may get mixed in! But it's still one of my favorite nacho and taco bar ideas!
Get Details
Nacho Table
Forget setting up a nacho bar and try out this TikTok trend of doing an entire nacho table instead! This would be a huge hit with people who don't mind their food being all over the table and buffet-style meals!
Get Details
Cinco De Mayo Fiesta
Serve up nacho toppings along with fun nacho themed snacks like this fiesta has 7-layer dip and other snacks! Add some color and a fiesta sign for the perfect Cinco De Mayo nacho bar! Anything with color is a great idea in my book!
Get Details
Mexican Fiesta Chip Bar
Speaking of Cinco De Mayo, this Mexican fiesta takes it over the top but the thing I love most about this creative nacho bar idea is the use of chips other than traditional tortilla chips! Break out of the mold and try kettle chips, plantain chips, and even pretzel chips! The colors in this one are a fun way to take nachos from being drab to beautiful!
Get Details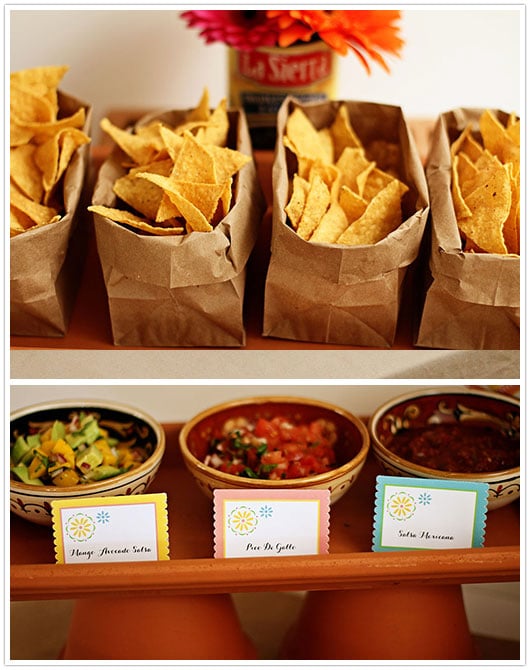 Bag of Chips Bar
Not only is this setup gorgeous, it makes getting your chips a cinch! Grab a bag, layer on the nacho toppings, and bake them to your nacho pleasure!
Get Details
Fiesta with Free Printables
If you're going with the fiesta route, this is one of my favorites of the bunch because of the cute free printables offered to make creating this fiesta themed nacho bar a cinch! Cactuses abound in this fun DIY nacho bar!
Get Details
Small Bites Bar
If you're looking to setup something smaller for a family dinner or small party, I love the idea of using a chip and dip bowl (especially one with lots of sections) to house your toppings like they did in this setup!
Get Details
The Cheesiest Option
While not technically a nacho or taco bar, this cheese fondue fountain is simply amazing and had to be included in my post. Nacho cheese fondue, chips, and all the toppings make this one a must-try if you can figure out how to do it!
Get Details
What to Serve with a Nacho Bar
One of the most popular questions I get is what do you serve with a nacho bar. The simplest answer is anything but in reality the nachos, especially if you're serving a couple of types of meat, are the main dish in themselves.
Even if people aren't eating a full serving of nachos, they're likely going to eat enough chips and salsa or chips and guacamole to be happy, so I wouldn't worry about making a lot of other appetizers unless they're things like this taco dip that would go well on the nacho bar.
My recommendation is to focus on some simple drinks and desserts to serve alongside the nacho bar. If you want to skip with the Mexican theme, you could make this sopapilla cheesecake or fruit salsa (with homemade cinnamon chips). If you don't care about the Mexican theme, these homemade brownies are always a winner.
To drink, I always recommend having water on hand plus some sort of signature drink. This citrus strawberry mocktail would be a great choice.
Nacho Bar FAQs
What toppings go on a nacho bar?
The best toppings for a nacho bar are any toppings that would be good on nachos. Start with the basics like various types of cheese (Mexican, queso, cotija), lettuce (shredded and romaine), black olives, sliced jalapenos, corn (or even caramelized corn), beans of all types, dice tomatoes and pico de galo, chopped cilantro, various types of salsa, guacamole, cheese sauce, sour cream, and various dressings such as cilantro lime, Mexican creama, and more.
How much meat do you need for a nacho bar?
You typically need about a pound of meat for a plate of nachos that will feed 5-6 people. If you are doing multiple types of meat, you can still use the same calculation.
How do you keep nacho cheese warm?
The best way to keep nacho cheese warm if you have access to an outlet is to put it in a crock pot (these small ones are great) and allow it to just stay on low to keep the cheese warm, making sure to stir every once in a while. If you do not have an outlet, you can also put it in a warming dish that's kept warm with a sterno candle.
More Food Bar Ideas
If you like this nacho bar idea, you'll love these other fun food bars including everything from s'mores to pie!
Free Nacho Bar Sign Printables
For my football nacho bar, I made a set of recommended nacho toppings that went along with football play names – kind of like a football coach always draws out plays!
If you're using this for something other than a football game, you can always make up your own combos as well!
If you're ready to download the free printables you can see all of the different printables and download them by simply clicking the button below or clicking here.
They're perfect for setting up your own nacho bar or taco bar!