Make your very own DIY nacho bar with these tips, tricks, and nacho bar free printables! It's the ultimate in game day food!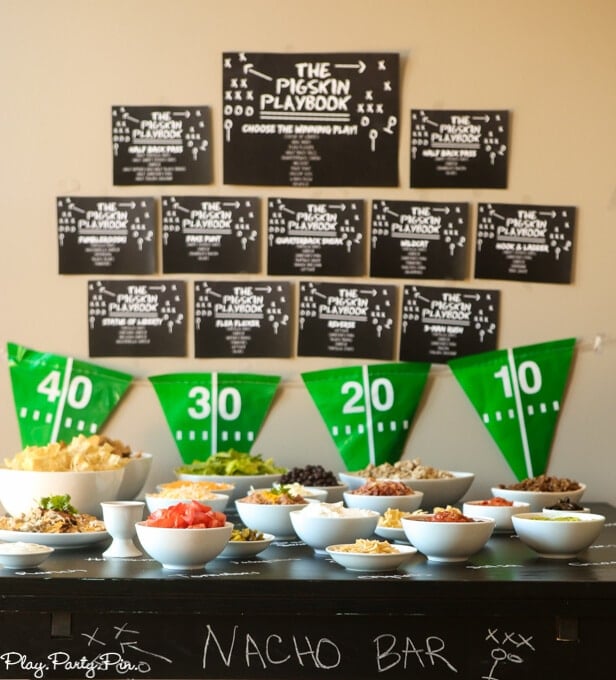 My family loves football. Okay, my husband loves football and I love football because he does. And I love throwing a fun football party.
With the Chiefs trying to run it back this year, I thought it'd be fun to re-share this DIY nacho bar I created a couple of years ago. It's still one of my favorite ways to serve nachos!
Plus, it gives people everything they want – chips, meat, toppings, and even a little guacamole! And people can customize it for themselves so if they're anything like me (no onions!), they can make nachos that work best for them!
DIY Nacho Bar Ideas
Creating DIY nacho bar with all of the toppings you can think of laid out for your guests is easier than you'd think.
First, you need to get all of the things you need for your nachos. I like to do a variety of meat – this homemade taco meat, these shredded pork tacos, and these Instant Pot chicken tacos are always a hit!
Then you need your nacho bar toppings – so many topping options!
Nacho Bar Toppings
These are just a few of our favorites:
Cheese – shredded, queso, Mexican cheeses like cotija, and anything else you can think of
Lettuce – both shredded and cut up romaine so people can turn their nachos into a salad if they want
Sliced black olives
Sliced jalapenos
Caramelized corn – just like we use in this layered taco dip
Pepperoni – I like a good pizza nacho but if you don't, you can skip this
Beans – black beans, pinto beans, and refried beans are all good choices
Diced tomatoes and pico de gallo
Chopped cilantro
Sour cream or this cilantro lime dressing
Salsa – this could include one or various types including green, mild, hot, and more
Guacamole
Queso/cheese sauce
I mean really the possibilities are pretty endless. Most things are good on top of chips!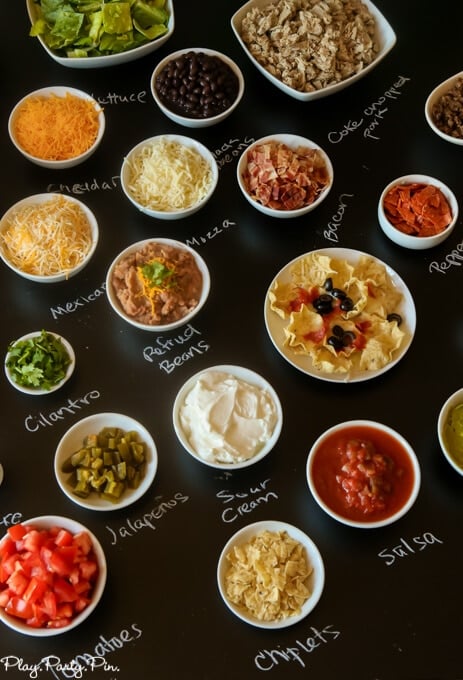 Put all of that on a table with labels telling people what they are or better yet, do it on a chalkboard surface and writehttps://amzn.to/3t7hHk3 on the table just like a coach writing plays on a chalkboard.
Don't have a black chalkboard table like I do? Black butcher paper taped to a table works great as well!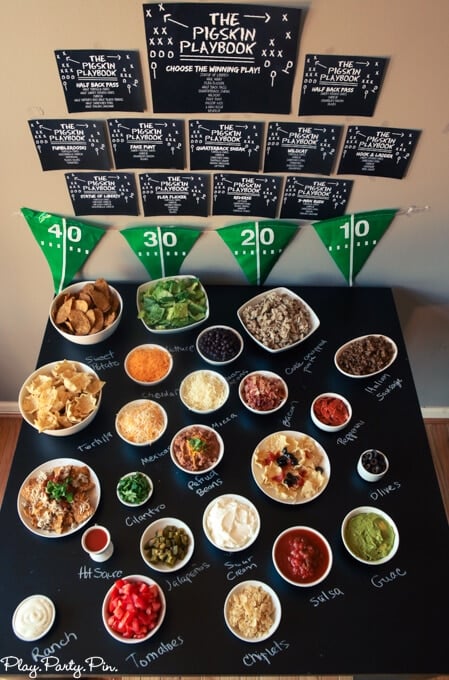 Free Nacho Bar Printables
I always think it's fun to give people ideas of different topping combinations when I'm setting up food bars. I did it with this DIY s'mores bar and again with this nacho bar.
I've got a set of free printable signs at the bottom of this post that has tons of different combination ideas with names inspired by football players. If you're using this for something other than a football game, you can always make up your own combos as well!
Those pepperonis would come in handy for the Fumblerooski! Definitely my favorite of the nacho combinations!
More Football Party Ideas
If you like this nacho bar idea, you'll love these other fun football party ideas – perfect for the Super Bowl, a tailgate, or any other game day watch party!
Download the Printables
Click here to get the printable chalkboard signs. You'll be immediately taken to PDF versions of the signs you can print.
Plus, the signs can give you a good idea of other toppings you may want to include on your nacho bar!