Tell your Elf on the Shelf goodbye with these fun Elf on the Shelf ideas complete with an Elf on the Shelf goodbye breakfast, Elf on the Shelf party games, food ideas, and even decorations!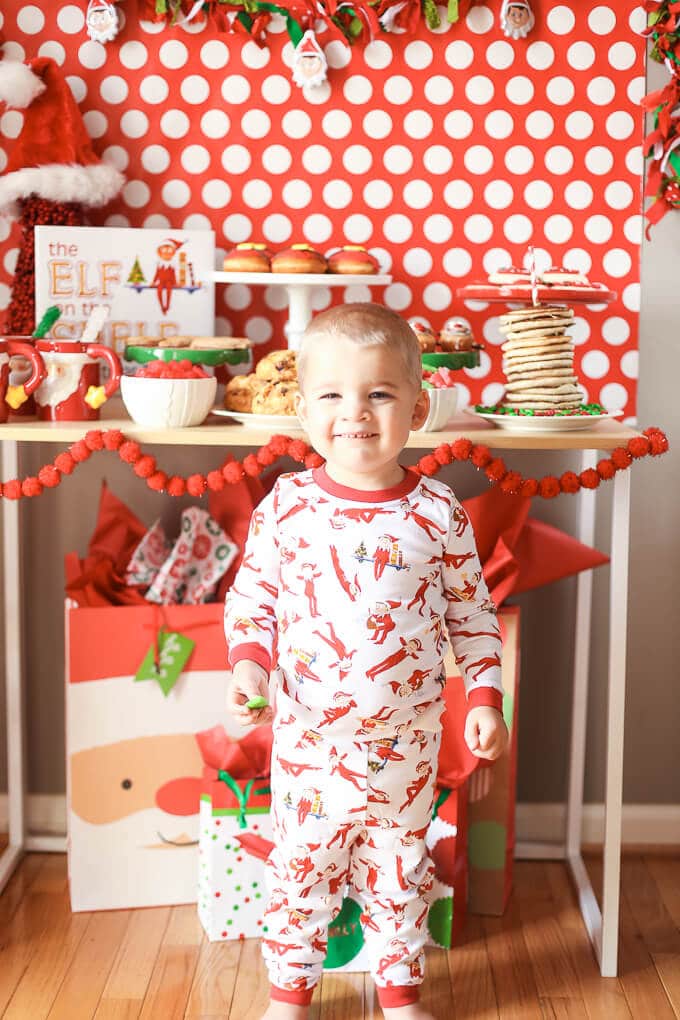 This party was planned in collaboration with Pottery Barn Kids, one of my all-time favorite places to shop if you couldn't tell by my son's nursery. While it was sponsored, all ideas, content, and opinions are 100% honest and my own. This post also contains affiliate links directly to products for your convenience. Thanks for supporting Play. Party. Pin. 
This year we decided to join in the Elf on the Shelf tradition, well sort of. K is only two so he doesn't really get how the elf is supposed to be watching over you to report to Santa if you've been naughty or nice. Honestly, he doesn't quite get the whole naughty or nice thing yet. But he does think it's fun to try and find his elf, Elf, every morning. We're also going to be traveling for two weeks over the holidays so when I originally bought the elf, I decided that I was only going to do it until we left on vacation.
With our vacation next week, we said goodbye to Elf in style this weekend with a little goodbye party inspired by the Pottery Barn Kids Elf on the Shelf collection. And with a little help from one of my favorite printable designers, Elena from WorldWide Party, who created the cutest set of free matching printables for the party. Download all of the free printables at the very bottom of this post.
Like any other party, I started it off with cute invites! Instead of finding Elf in a hiding spot, he found an envelope with his name on it with some cute Elf on the Shelf pajamas. And a letter inside from his elf telling him goodbye and that he should still search the house for a fun surprise (aka the party).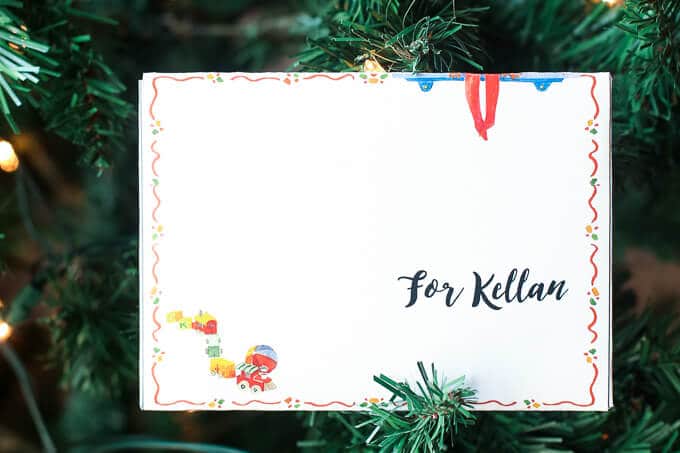 This was one of my favorite parties ever because K was finally old enough to enjoy it and I purposely designed it for K, mom, and dad to enjoy together (the letter even said so). He might not have really understood the whole Elf on the Shelf thing but he sure understood that the elf left him a delicious breakfast and treats galore. Everything from North Pole Pancakes and reindeer rolls to Mrs Claus' cocoa (with rock candy stirrers) made for one magical morning. I stuck with a red and green color scheme to match the traditional Elf on the Shelf feel and used white accents like my absolute favorite white milk glass cake stand from Sugar Confetti Shop for the table.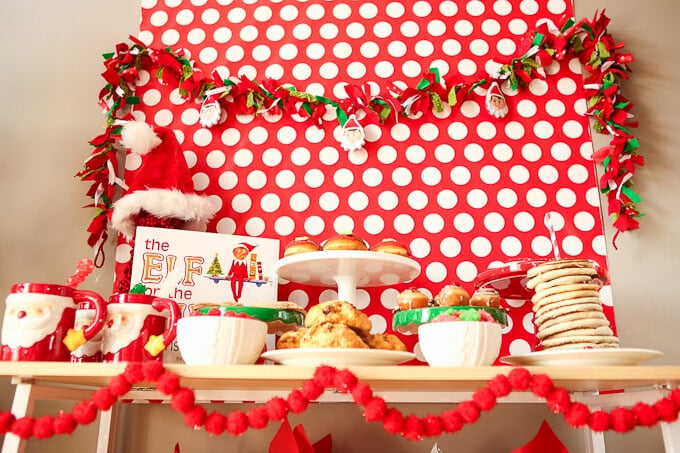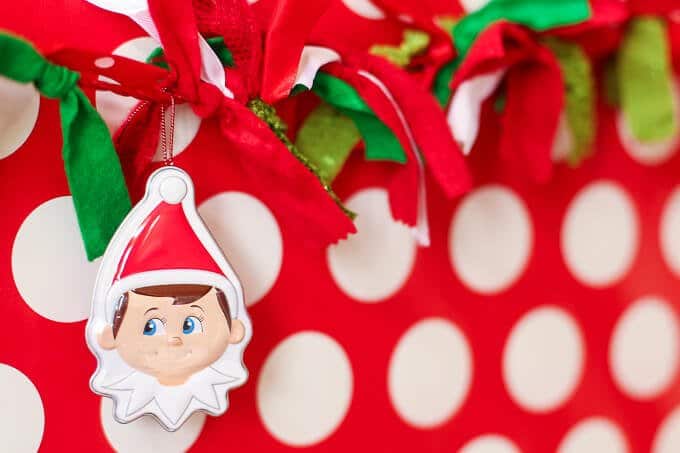 I bought a cute kid-sized table a few months ago and it was perfect for this party. I added a little personalization to the seats with mini stockings and name cards from the free printable collection, then used Elf on the Shelf plates and cups to set a table just for K, mom, and dad. And in the 4th seat, an elf basket with my favorite candy kabobs from Sweets Indeed in the shape of red Christmas trees. Out of everything, those may just have been his favorite treat of the day and that's saying a lot when the other options were things like Santa Belly donuts.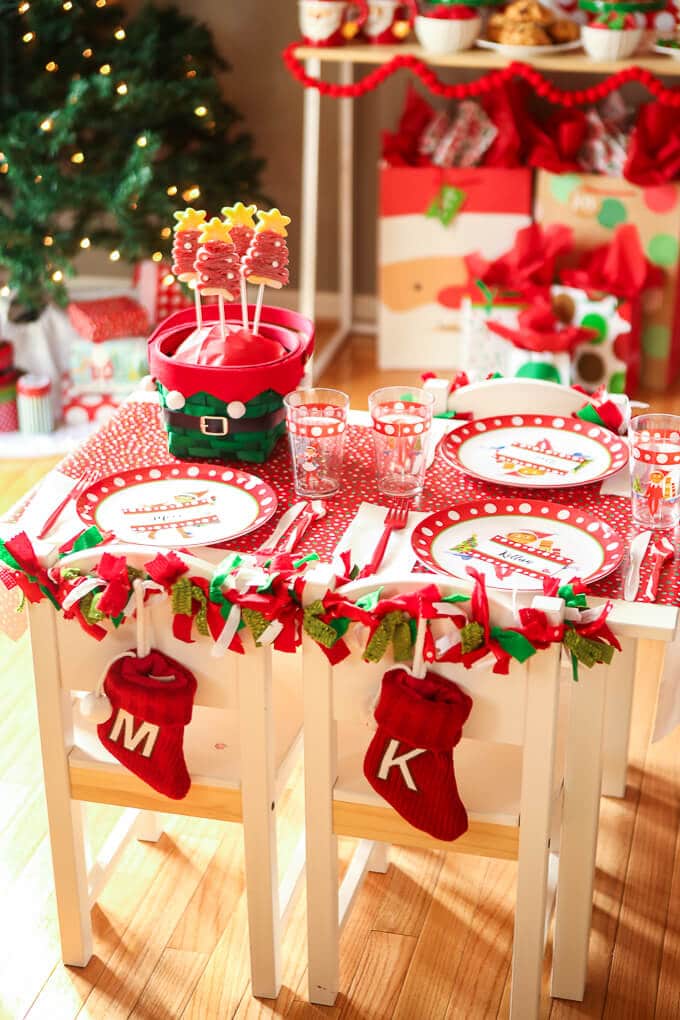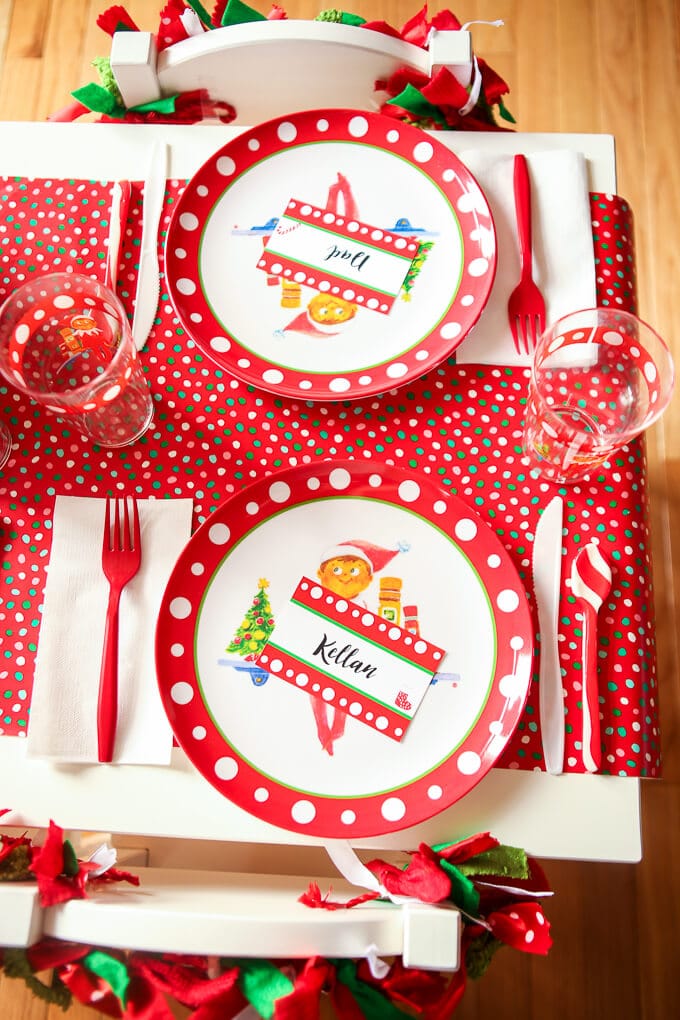 I'm After breakfast, we played Elf on the Shelf minute to win it games! Minute to win it games are perfect for kids because they're inexpensive, easy to setup, and good for short-attention spans. If you've never played minute to win it games before, check out the full rules here and how you can make them good for individuals or teams! You can print the full collection of games here (or by clicking on the image immediately below) or just read through the full list below. And if you need more minute to win it inspiration, my friend Heidi has some great minute to win it games for kids!
Minute to Win It Games Inspired by Elf on the Shelf Ideas
Marshmallow Munch – eat an entire bowl of marshmallows in a minute (or race to be the first)
Candy Cane Catch – Hold a piece of ribbon or twine and catch a certain number (we did five) of candy canes on it.
Toy Touchdown – Pass small toys under your legs like you're hiking a football and have a teammate catch them in a small bucket or bowl.
Elf Toss – Players have a minute to try and toss mini plastic elves into a line of buckets (one 5″ away, one 7″ away, and one 10 feet away). Player has to make elves into each of the buckets in the time to win.
Snowman Shake – Decorate white ping pong balls to look like snowman faces. Fill an empty tissue box with the snowmen ping pong balls and tape the tissue box (or use a velcro belt glued to the box) to someone's backside and the player has to shake all of the snowmen out of the tissue box before the time runs out.
North Pole Pop – Player has to pop 10 balloons using just their hands with winter gloves on.
Jingle Bell Jam – Player has to shake wrapped presents filled with jingle bells to determine how many jingle bells is in each, putting them in order of the most jingle bells to the least.
Naughty or Nice – Players must quickly go through a bowl of red and green candies and divide the candies (one candy at a time) into separate bowls across the room labeled naughty or nice. Red candies go into the naughty bowl and green candies go into the nice bowl.
Reindeer Wrap – Players have to wrap a teammate from head to toe with brown crepe paper and top with reindeer headband to finish the challenge.
Snowball Fight – Player has to bounce (or toss) white ping pong balls into an empty fish bowl (or other bowl if you don't have a fish bowl) at the other end of the table while other players are throwing ping pong balls (from the sides of the table) at the ping pong balls the player is bouncing. Player must make one to win.
Check out full game details and more minute to win it games here! 
After the minute to win it games, we took a little break and we each opened one goodbye present from Elf – elf socks and slippers for everyone to finish off the morning, perfect to match K's Elf on the Shelf PJs, that he wouldn't take off all day.
Elf on the Shelf Party Inspiration
This party was inspired by the Elf on the Shelf collection at Pottery Barn Kids. Click on the links below to be taken directly to where you can buy everything you need to host your own Elf on the Shelf goodbye party!

Party Credits
Party styling and photography – Play. Party. Pin.
Printable Designs – WorldWide Party
White Milk Glass Cake Stand – Sugar Confetti
Christmas Tree Candy Kabobs – Sweets Indeed
Goodbye Letter (three versions) & Envelope
Minute to Win It Game Signs
Place Cards