These Star Wars would you rather questions are perfect for any Star Wars fan to choose which scenario they like best! With fun questions from all of the Star Wars movies and TV shows, there's a question for every Star Wars fanatic!
We have a bunch of Star Wars fans in our house and other than watching all the Star Wars movies, we needed some other fun Star Wars party games to do for May the Fourth next week!
One of our favorite things to do during dinner (or any other meal these days) is ask would you rather questions. From Disney would you rather questions to ones without themes, they're a great distraction from everything else going on.
I mean who wouldn't want to dream about flying the Millennium Falcon (and eating some of the best Disneyland food right after you do) instead of another day of e-learning?
These Star Wars would you rather questions are fun for Star Wars fans of all ages, whether young or old, as long as they're familiar with the movies, characters, and a little bit of Star Wars knowledge.
And since my Baby Yoda valentines were so popular, I even included a few nods to The Mandalorian in this set of questions!
These are definitely going to make my list of May the fourth party ideas for next week!
Star Wars Would You Rather Supplies
One of the best things about this game is that you literally need nothing other than the questions.
And guess what? I've already made those for you! You can download them and print them out at the bottom of this post.
If you really love this game, you should try out our Marvel would you rather game too!
How to Play Would You Rather
This game is super simple, even more simple than my Star Wars scavenger hunt! It's really just about asking silly questions like would you rather fly the Millennium Falcon or race a podracer?
But in case you've never played would you rather before, here's how to play! Plus a few bonus options for different ways you can play to make it even more fun!
1 – Print and cut your cards.
Download the printable cards from this post, cut them out, and you're ready to get started!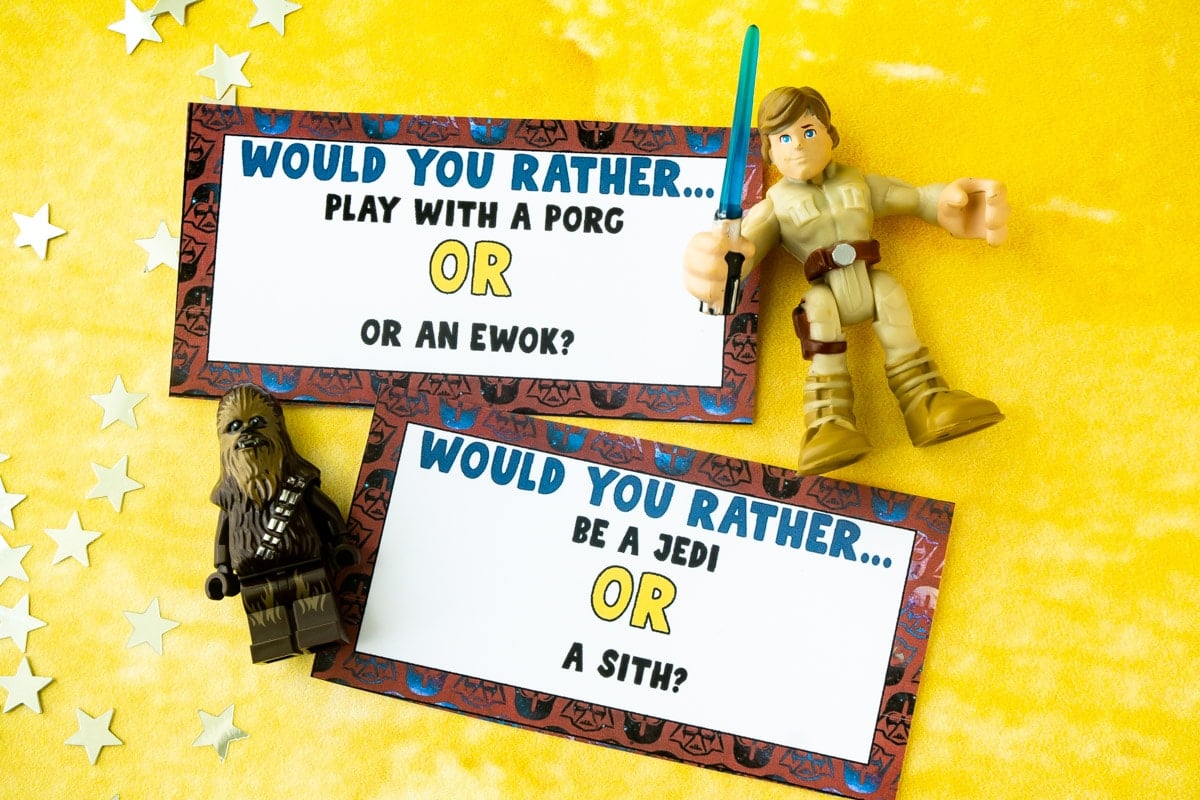 2 – Pick a card and ask a question.
Turn all of your cards over and place them in a pile. Have the first person pick one of the cards randomly and ask the question.
Either one person answers the question or the entire group goes around and answers.
3 – Change it up.
If you want to change it up a bit, try playing like we did with this New Year's Eve would you rather game and ask two people a question then count to 3. When you get to 3, both people have to yell out an answer and try to match one another.
Teams get a point for matching!
4 – Continue playing through all the cards.
Keep asking questions until you get through all of the cards. If you're playing the matching version, the team with the most matches wins.
If not, the questions are just for fun!
When you run out of Star Wars would you rather questions, try these Disney would you rather questions next!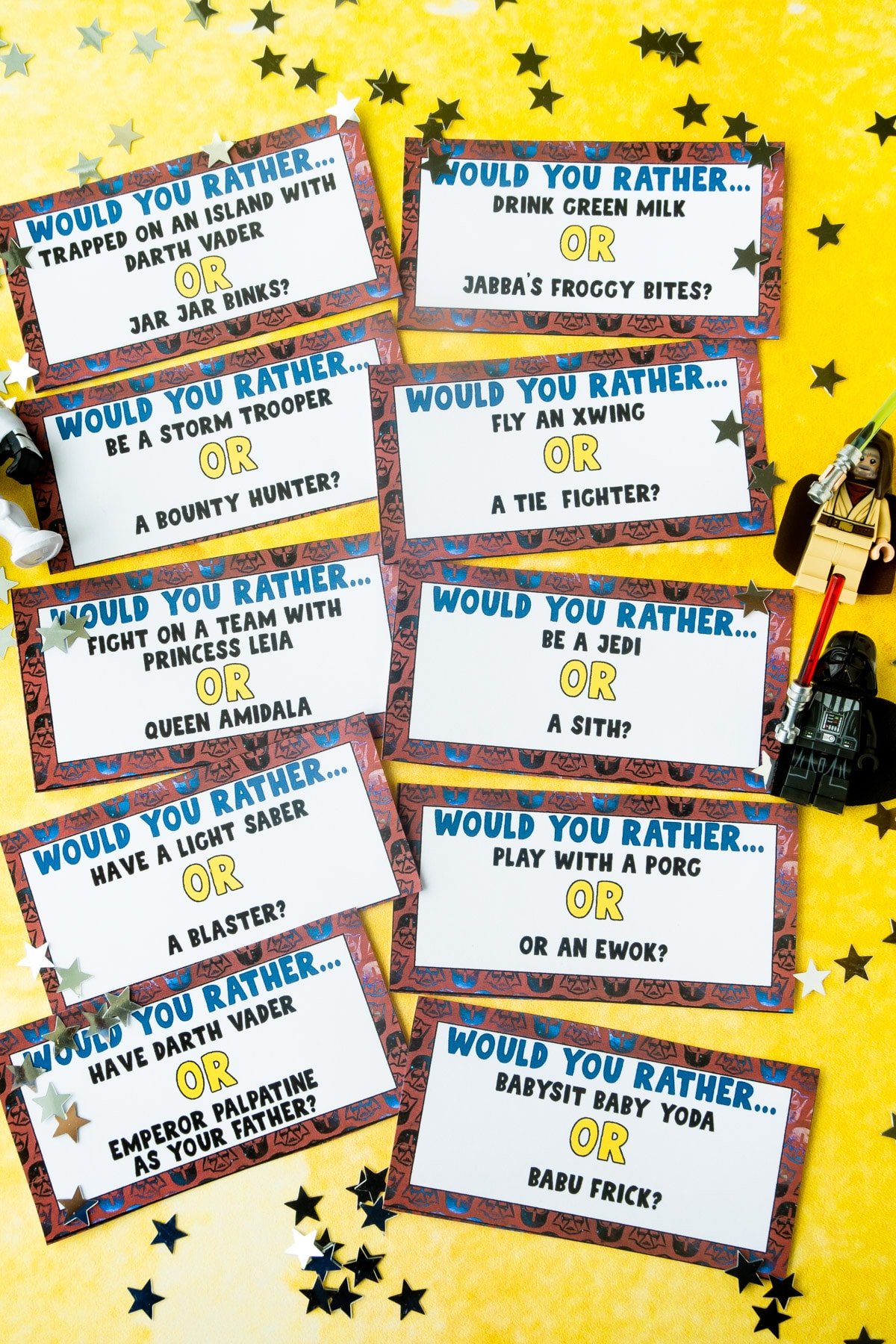 Download the Printable Questions
Enter your first name and email address below to get the PDF with the would you rather questions. You'll receive a PDF with pre-made cards with all the Star Wars would you rather questions (on a fun Star Wars background!).
If you do not see the form, click here to get to it.
More Movie Inspired Games
Don't forget to pin these Star Wars would you rather questions for later!