Hosting a game day party this year? This is the ultimate guide to hosting the best football party of the year – what food to serve, how much to serve, how to get ready for the big day, and even football party games for kids!
The Ultimate Game Day Party Guide
Every year I send out an annual survey to my email subscribers to see what kind of posts I can write that will best help them. This year on the survey, one of the questions I asked was "what is the thing you find the hardest or need most help with for planning a party?" I received a whole variety of answer but within those answers, it seemed like people needed help with the same handful of things.
With the biggest game day in football coming up soon, I thought it might be helpful to put together my game day party playbook to give some of you ideas to plan your own game day party! I've broken it into five parts based on the responses to my survey to give you everything you need to know for one touchdown worthy party!
You can click on the five topics to go directly to that portion (e.g., game day decorations) of the post or just read through the entire thing.

How to Get Ready – Cleaning the house, what to prep, when to start, etc.
How to Decorate – Simple decoration ideas, themed decorations
What to Do – Games/activities for kids and adults
What to Eat – Easy food ideas, menu planning idea, and how much to serve
How to Save Money on Parties – Budgeting, coupons, saving money on parties
How to Get Ready for A Game Day Party
For me, I break this down into three main things that I need to get ready – the house, the party, and yourself. I'm going to skip the party portion because that'll all be covered in the other sections of this game day party playbook! Let's start with the house and the game day essentials you'll need to be ready.
How to Prep Your House
Try to pick up your house the night before even if you're planning on still cooking or making things the day of the party. You'll feel so much less stressed if you're walking around and working in a house that is at least fairly clean. Then when you're working, just keep a roll of Bounty Select-A-Size Super Rolls on hand so you can wipe up any quick messes right then and there. I often will take a trash bag around with me as well so anything I cut or take apart, I can throw right in the trash.
I also try my best to do dishes the night before using a little Dawn Original dish soap so that all of my dishes are clean the day of in case I need anything. You'll have more time the night before than you do the day of the party, I promise.
Plan to be done with all prep by about 30 minutes before the party to do one final clean so you're ready when people show up. I picked up a Swiffer Sweeper Starter Kit from Walmart to sweep up any of those last minute messes, wet or dry, and it's been wonderful to just be able to grab it to do a quick sweep before the doorbell rings! Or who am I kidding, I let my kiddo do the sweeping because he loves it!
The other thing I always recommend is stocking all of your bathrooms with toilet paper and some sort of fragrance like the Febreze ONE – it smells like bamboo, which is perfect for a neutral scent when you have both men and women coming to your party. Walmart sells a huge bundle of Charmin Ultra Strong Mega Rolls that we pretty much always have in our garage, so I put plenty of toilet paper and the Febreze in easy access of the toilet in our guest bathroom so no one has to deal with any sort of bathroom embarrassment. It's worked so far!
Last but not least, take your trashcan out if it's under the sink or in a drawer and put it in plain sight. People are more likely to throw their plates away if they can find the trashcan.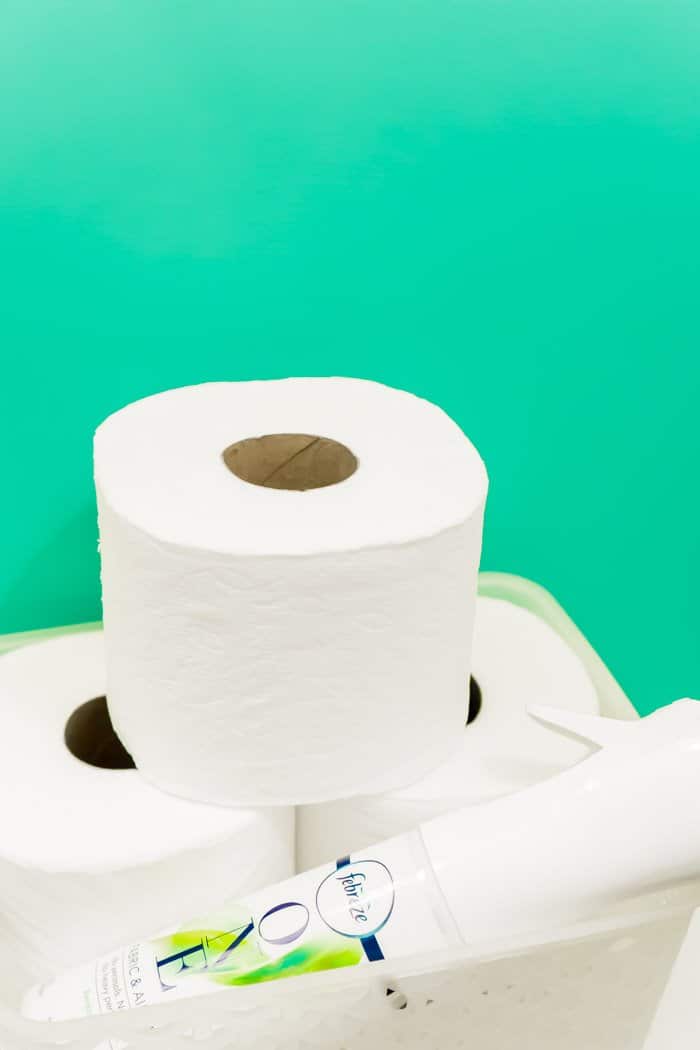 How to Prep Yourself
I had a conversation with my mother-in-law just the other day about this. Somehow we both always forget to leave time to get ourselves ready for the party. I can't tell you how many times I've been in sweats with no makeup on when the first person shows up. The first people to show up are normally my good friends, so it's not a big deal, but I like to be game day ready when people arrive if I can.
First things first, make sure what you want to wear is clean the day before the party. It's pretty much a guarantee that if I don't do this – what I want to wear will be dirty. Every single time.
For our most recent game day party, I made cute football jersey t-shirts for each of the kids with their names on them. Giving the kids something custom for them put everyone in a good mood as soon as they arrived! Before the party, I just tossed them in the washer with one of those Tide Ultra Oxi PODs and a little Downy Liquid Fabric Conditioner (because what kid doesn't like a soft shirt) then added on vinyl just like I did with these Beauty and the Beast shirts.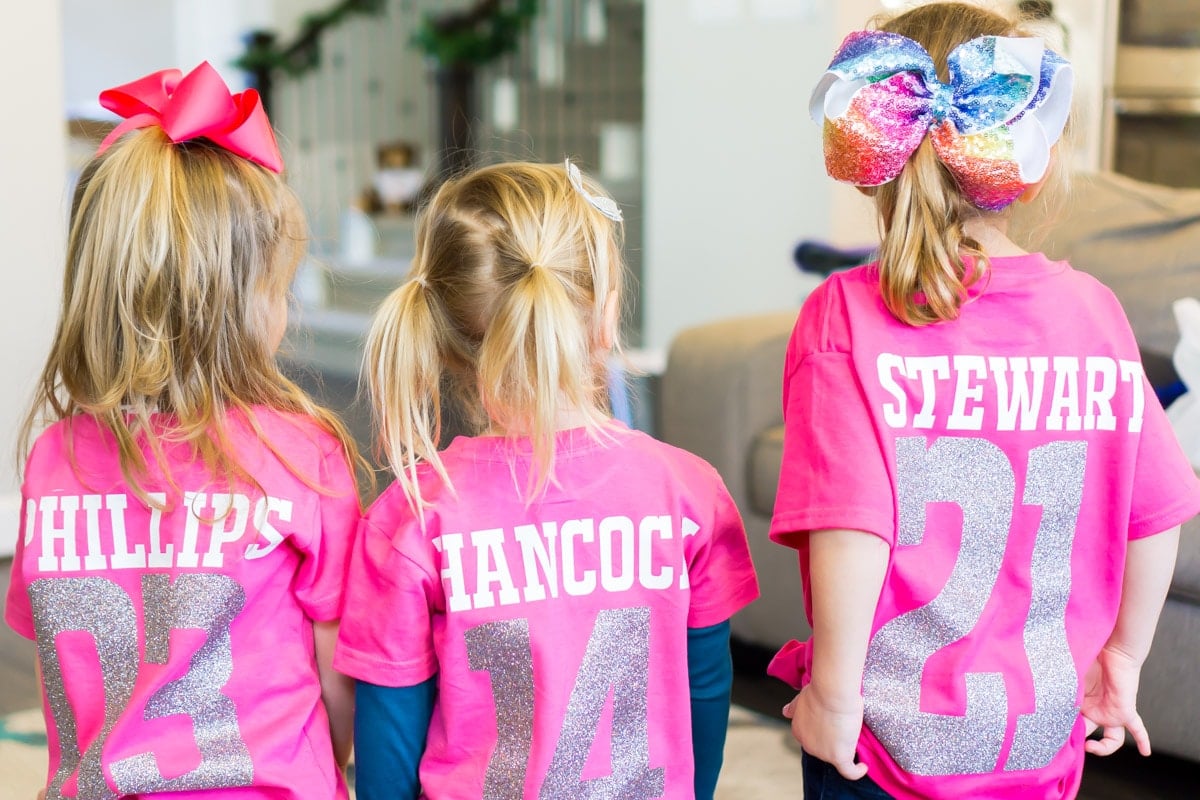 '
If you're someone who cares about looking nice for the party, get mostly ready first thing in the morning before you start your day. That way it actually happens. Wake up, shower if you're planning on it, put on some makeup, and dress in something comfortable you don't mind getting dirty because I know during my party prep, I always end up with frosting or flour or pieces of tape all over me.
Oh and don't forget to brush your teeth with a teeth-whitening toothpaste like Crest Gum Detoxify Deep Clean Toothpaste! You're going to be doing a lot of smiling, talking to people, and probably posing for quite a few photos.
How to Decorate for a Game Day Party
One thing I love about a good game day party is that it's pretty easy to come up with decoration ideas – just look at what appears on a football field. These are just some easy ideas that I've used before and you can mix and match them however you want.
Use a piece of green turf from a home improvement store as your tablecloth, turn it into a football field like I did in this party with a little white tape. Or go even simpler with a green tablecloth that you add tape to, not quite as realistic but still presentable.
Create your own field goal post using soda cans like I did here or using this tutorial with PVC pipe. Both are simple and really effective.
Incorporate "plays" using X's and O's on a chalkboard, backdrop, or even on printables.
Use free printables to add fun designs and moments to your party – I've got a banner, food labels, and cupcake picks here that might work for you!
Add other elements to your party that are typical of football games – cheerleader pom poms, cones, a football, foam hands, and more.
If all else fails, just put your food in football shaped bowls or make football shaped food and call it good.
Don't feel the need to stick with traditional football game colors – I went with a bright pink, blue, and green for my last game day party, and I think it's my favorite one yet because it's so untraditional.
If you're going to skimp somewhere, skimp on decorations and focus more on making sure you have good food and activities. Football parties normally consist of a lot of men who aren't going to notice whether or not you had matching printables on your water bottles.
What to Do at a Game Day Party
This is my specialty. I know people come to a game day party to watch the game but that doesn't mean you can't still do other things. In fact, I think the other things are what makes the party so memorable, but I'm a bit obsessed with games.
Game Day Activities for the Adults
Since the adults are probably actually going to be really into the game, I recommend something simple like this game day commercial bingo. You simply print out the free bingo cards, hand them out, and let everyone play. All you have to do is hand out cards and have a few prizes on hand to give to the winners. It's simple and always a big hit at our parties. If you don't want to do commercials, you can do this traditional football bingo game as well that's more about plays, first downs, and what not. This one actually works really well for kids too. Another family favorite is these football party minute to win it games!
Football Party Games for the Kids
The kids on the other hand are less likely to be glued to the TV during the big game. Since we normally like to invite people over a few hours before the game starts to hang out, I put together a handful of kids football party games that would work for the big game as well!
I also made free printable "game day" cards for the kids that I gave out when people came to the party. When they played one of the games instead of giving out individual prizes, I gave them a sticker for each of the games. Then at the end of the night, they traded in their filled in card for one prize like a football game, a treat, etc.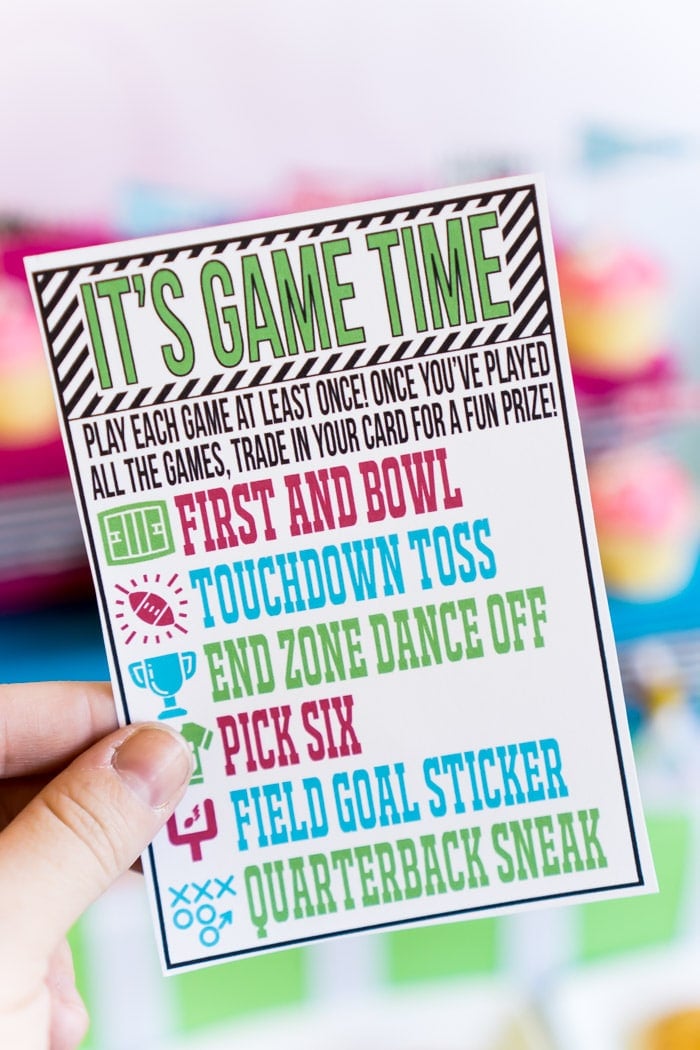 The first two games I've already written about in other posts – a quarterback sneak scavenger hunt for kids and a field goal sticker game kind of like pin the tail on the donkey. And the sixth game on the printable cards isn't as much of a game as just an activity. With the new changes to the touchdown celebration policies this year, I thought it would be fun to do an end zone dance off as part of our activities. It was definitely fun and the kids' end zone dances were quite creative.
I've included instructions below for the other three games – touchdown toss, pick six, and first and bowl. I like punny names, can you tell?
First and Bowl
This one is simple – simply put football water bottle labels on full water bottles and line them up on one side of a room. You can either do nine like you would in bowling or 11 like there are 11 players on a football team. Then tape a line across the room (about 5 feet away for younger kids, go further for older kids and adults). To play, kids have four tries, just like four downs, to try and bowl over all of the bottles using a football. Other than the quarterback sneak scavenger hunt for kids, this was the big fan favorite at our party this year!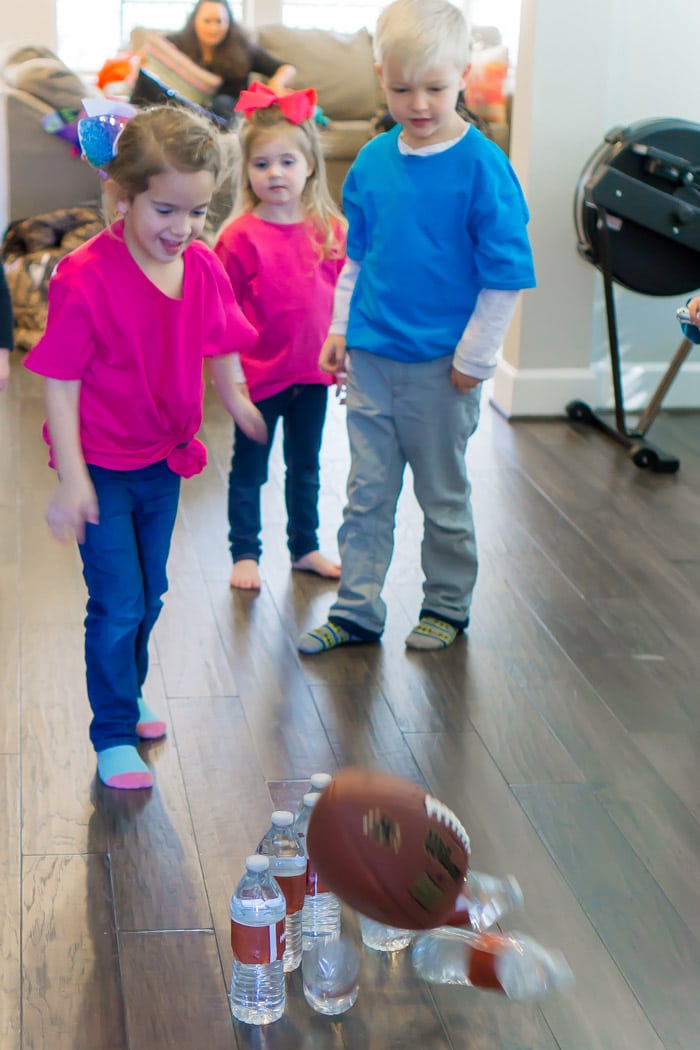 Touchdown Toss
This is another simple one. Pick up plastic football cups, mini footballs, and a football field tablecloth at Walmart in the party section. Tape or glue one of the football cups to each yard line on the tablecloth. Have kids stand at one end of the tablecloth and try to toss the mini footballs into the cups.
Pick Six
I'm not sure why but kids are obsessed with those little rubber ducks and they have them in every shape and color these days. Grab a pack of those ducks, number them 1-6, and put them in a bucket of water.
To play, kids have to pick one of the ducks out of the bowl and try to get a six. If they don't get a six, they have to do something the number of times they got on the duck – things like jumping jacks, spin in a circle, high fives, etc. Once they're done, they can pick another duck and keep going doing the same thing until they get a six.
I definitely recommend having a roll of Bounty Select-A-Size Super Rolls on hand for anyone who might get a little wet. They dry better than any other paper towels I've ever used.
Download the Free Printables
If you're ready to download the free printables to use this idea, simply click the button below or click here.
Design Your Own Jersey Activity for Kids
Another fun activity for kids for any party is decorating cookies. In the case of a game day party, we did decorating their own football jerseys. You can see my son loved it! Make sure to keep plenty of Bounty Select-A-Size Super Rolls around so frosting covered fingers can find a napkin rather than a sleeve. And don't forget the Swiffer Sweeper, it's perfect for picking up sprinkles off the ground!
What to Eat at a Game Day Party
The biggest game day of the year is pretty much a food holiday, I mean not really a holiday, but you know what I mean. It's really all about the food, so you don't want to mess this up. No pressure. Save yourself a headache and time by ordering things online, making lists so you only have to go to the store once, and creating a menu full of foods you know people will love.
How Much Food to Make
Planning how much to make is one of the hardest parts of party planning. I don't have a perfect formula for how much to make, so I stick with these five rules.
Make things that you don't mind having leftovers to either send home with people or to eat later. If you make enough chili for 20 people and only 10 show up, eat chili leftovers for dinner for a few days.
It's better to have too much than to run out.
I normally like to make enough that everyone can try some of all the savory foods and half the desserts. I'm one of those people who likes to try a lot of different things, so I really just plan for myself.
If you're serving things like chips, don't open both bags at once. Pour one in the bowl and leave the other closed. If you have to open the second bag later, great. If not, take it back to the store. Just because you're prepared with a lot of food doesn't necessarily mean you have to serve it.
Have plastic containers or plastic bags all ready to go at the end of the party to send things like desserts home with people that you don't necessarily want to have in your house.
What Food to Make
Since the biggest game of the year typically starts right around dinnertime, I recommend making some sort of easy yet substantial dish like a chili or pizza or soups and then round it out with a few appetizers and desserts. And don't forget you can always ask other people to bring things. If you're picky about what other people bring, assign them to bring things they can't mess up like drinks, fruit, or even a bag of chips.
These are some of my favorite game day recipes that I've seen work really well for all ages! And bonus, these things are all still pretty good if they're not piping hot a few hours later.
Dinners
Appetizers
Desserts
Other Game Day Eating Essentials
Don't just stop at the food. Make sure to pick up ice, drinks – sodas, juices, and bottled water – and paper goods. I like to get plates and cups that match my party theme, but I regularly skip the colored napkins and go for Bounty Select-A-Size Super Rolls instead. I've found that I prefer using a paper towel for a napkin, especially since they tend to last much longer than a little paper napkin does. And at the end of the day, they're cheaper, especially if you buy the big pack at Walmart and use iBotta app and use the offer!
Return to menu
How to Save Money on Your Game Day Party
I didn't mention this at the top of my post but in my annual survey, this was the fifth most common thing people need help with – budgeting and planning parties that are relatively inexpensive. I try my best to not spend a ton on any of my parties or do anything that would cause someone to spend a ton of money to recreate it. These are my best tips for saving money!
First, look for coupons on things you know you're going to buy. For example, right now at Walmart if you use the ibotta app on any of the items in the list below, you'll automatically get $.50 back and if you buy two of these game day items, you will earn an extra $1 bonus back. That's money back in your pocket for things you were already planning to buy. Here's the full list of game day essentials included:
Charmin Ultra Strong Mega Rolls
Dawn Original
Second, think carefully about the cost of things before you make them. A lot of times you can actually buy the same thing cheaper than it would cost you to make, which is crazy but true. That game day t-shirt you've been eyeing at Walmart but didn't buy because you thought you could make it cheaper at home? You probably could have bought it cheaper by the time you buy a plain t-shirt and the vinyl. Just think about it before you decide to spend your time making things instead. It's not always the cheaper route.
And last, buy things you can use again. I have a closet full of white cake stands and plates that I use over and over again in my parties. I change them up with printables, colored papers, and candy linings to make them match my theme, but I very rarely go out and buy new dishes or cake stands these days.
When you're making choices on what to buy, think about whether it's something you'll be able to use again, especially if it's more than a couple dollars. If you'll use it again, splurge and save money on the next party when you don't have to buy something new. If it's a one-time thing, don't go crazy money-wise because after the party is over, that item and money are going in the trash.
Last-Minute Day Of Party Tricks
Last but not least, these are a few hints for making the party itself go smoothly.
Create a plan of attack for when you want to do activities but be totally flexible. Things are going to change. You might have to get rid of a game or start something early.
Make party assignments. Ask your best friend to be in charge of the cookie decorating table. Ask your husband to be in charge of keeping the drink cooler filled up. Ask your in-laws to stay and help clean up afterwards. And if people offer to help, let them help!
Give yourself a break and enjoy the party yourself. At the end of the day, it's about enjoying the company of others, not about how good the food was or how entertained everyone was. Be good company.
This is a sponsored conversation written by me on behalf of P&G at Walmart. The opinions and text are all mine.