This fun winter scavenger hunt is perfect for kids and a great winter activity for snowy days. It's full of fun winter themed items to find and fun for the whole family!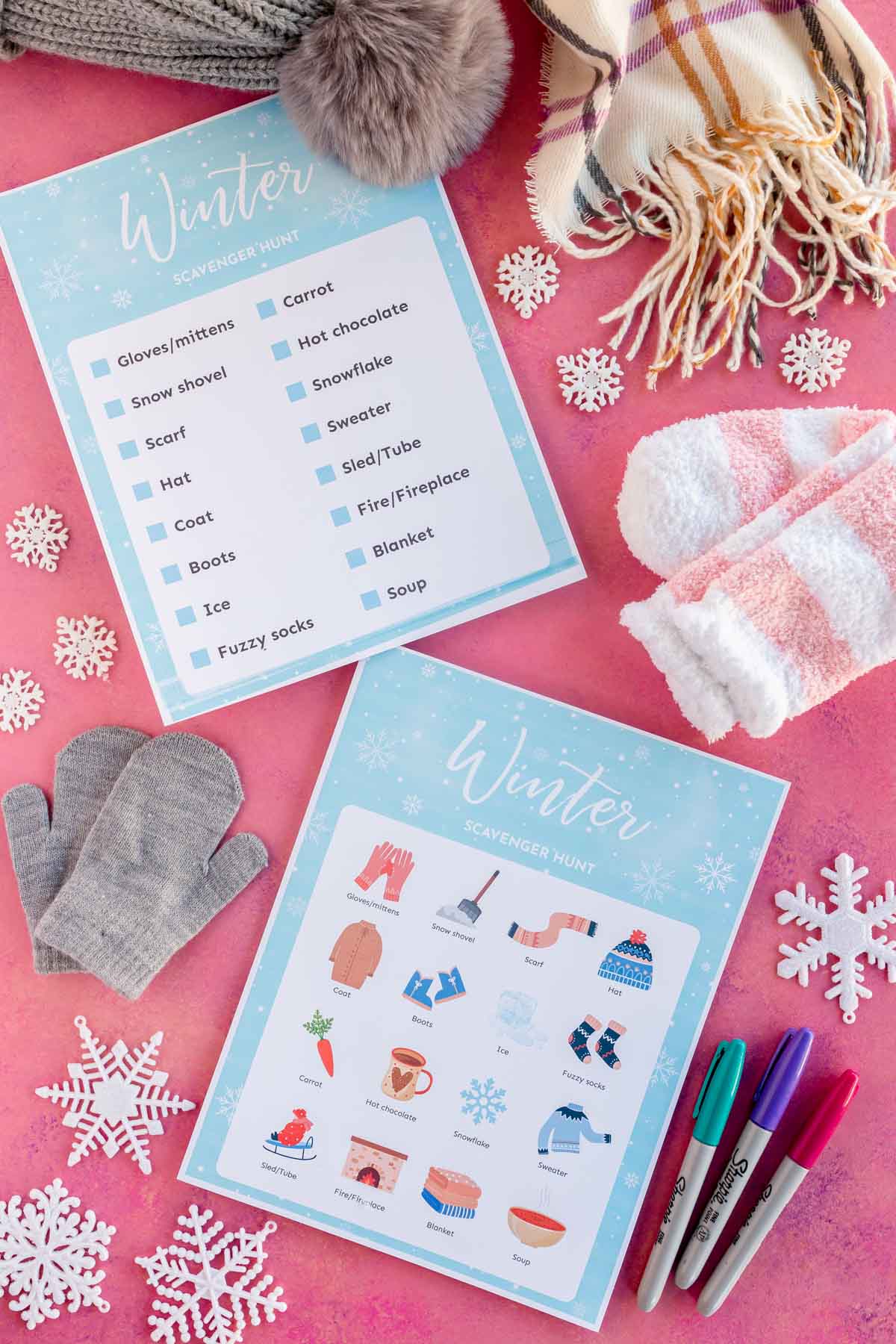 Winter Scavenger for Kids
We're a bit obsessed with scavenger hunts in my family. We've done everything from a Disney scavenger hunt to a Christmas lights hunt!
Now that I have two boys in school, I'm always looking for fun things we can do together when they're home with me. Also, things that they can do together!
The reason I love this winter scavenger hunt so much is that it's something that all ages can enjoy from preschool all the way up to adults (make it a virtual scavenger hunt!). And I included two versions so that you can choose the one that works best for the age of your players.
Supplies
All you need for this scavenger hunt is the print out and something to mark items off the checklist as you go! You could also give players a camera to take pictures of their findings if you want!
And it never hurts to have prizes for when they finishing this easy activity!
Two Easy Winter Scavenger Hunts
There are two different hunts included in the download in this post. They both have the exact same items in their checklist but they're just designed a little differently.
Picture scavenger hunt
I've had a lot of requests for scavenger hunts that have images so that non-readers can do them. I'm still working on updating some of my clue based hunts like this Halloween scavenger hunt with images but it was easy enough to do these seek and find kind in two versions – so here you are!
This image based winter scavenger hunt has both images and pictures so if someone can't read yet or they're not sure what all the words mean, they can just look at the image to find the item instead.
It makes this activity great for toddler age kids, preschool, and kindergarten – all those little ones who just can't quite read the bigger words yet.
All of the items are inspired by a cold, wintery, and even snowy day.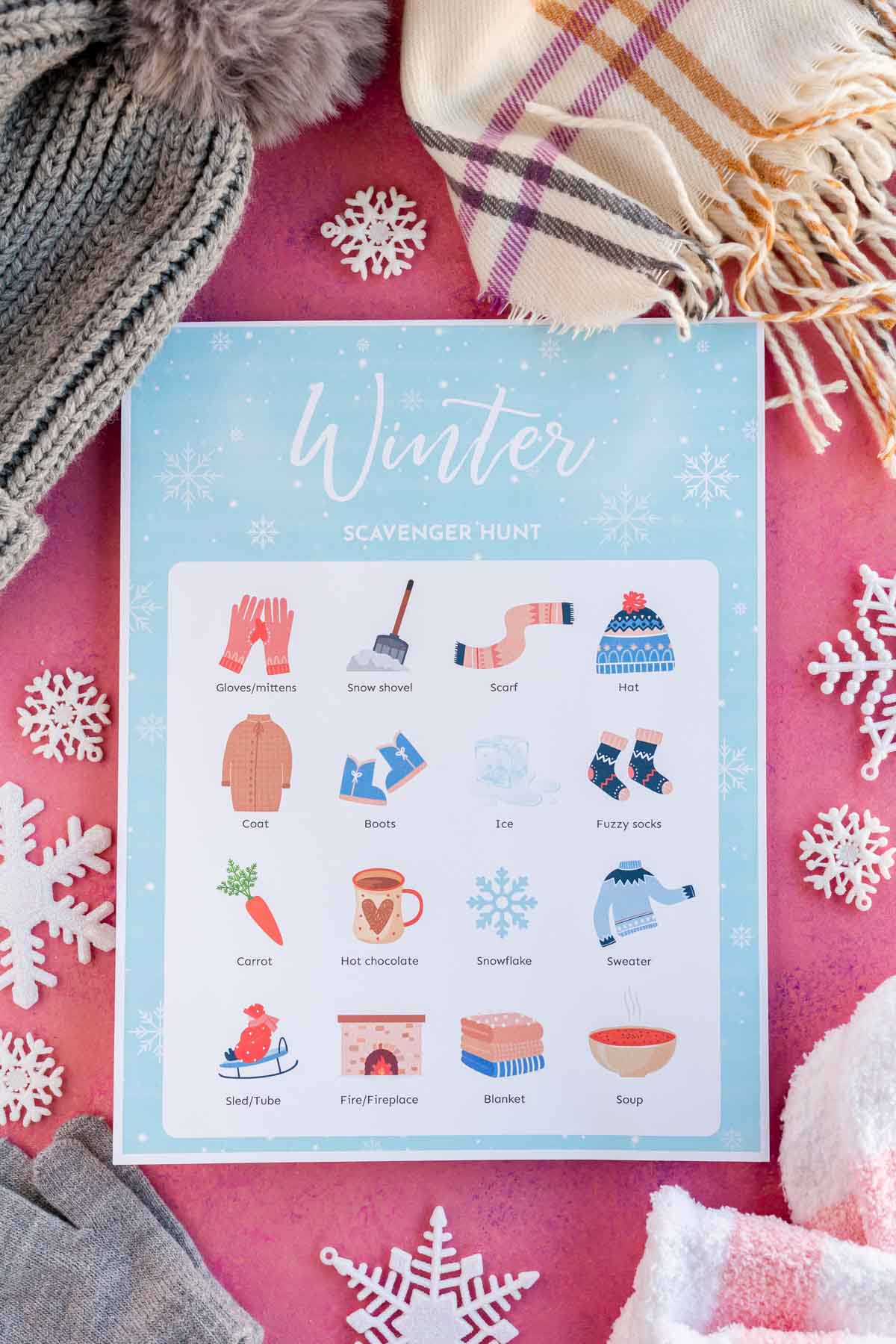 Winter Checklist Scavenger Hunt
The second scavenger hunt is the exact same as the first, except it doesn't have the images. It just has the words, making it easier to read and check things off quickly.
This is best for if you want to use it for kids in higher school grades or even adults. Or if you have a mixed group, you could give younger kids the picture based one and older kids this one so they have to read – totally up to you!
How to Do a Winter scavenger hunt
If you've never done a seek and find style scavenger hunt, here's how it works!
Print out the scavenger hunts from the bottom of this post. Everyone can work together off of one or give everyone their own and race to see who can find all of the things on their checklist the fastest.
Explore – look indoor, outdoor, in nature, in your backyard – find all of the things on this list to finish the hunt!
I recommend crossing things off as you go to keep track but again, if you want to do this just for fun, you can also just look around!
Expert Tips
Make this a snowy day activity for your class or with kids friends. Follow these tips for a video chat hunt and just use these winter items instead! It's a great way to turn a remote school day into a fun one.
Laminate the scavenger hunt and use dry erase markers to cross items off the checklist. Then just clean the slate when you're done, tuck it into a winter activity folder, and break it out again next month or next year!
Have a fun prize or something wintery (like how about some hot chocolate bombs or homemade hot chocolate) to celebrate when kids finish the entire list. Scavenger hunts are always better when there's a surprise at the end!
Game FAQs
How many copies of the scavenger hunt do I need?
You'll need one per person if they're doing it on their own or one per team if they're working together in teams. The printable at the bottom of this post has both a full and half sheet version of each.
Is this scavenger hunt indoor or outdoor?
The items on the scavenger hunt are things that can definitely be found indoors, so you'll likely need to be indoor for part of it. However, if it is a cold day and people are outside, you can likely find many of the things outdoors as well (e.g., ice, snow shovel, gloves). I recommend doing both!
More Scavenger Hunts
If you like scavenger hunts, you'll love these other scavenger hunts for kids!
Download the Winter Scavenger Hunts
Enter your first name and email address in the form below to get the printable PDF.
You will receive a link to download the PDF to your email within minutes.
If you do not see the form, click here to get to it.
If you do not see the email immediately after you fill out the form, make sure to check your promotions, spam, and junk folders!
Or if you'd prefer to not provide your email, you can purchase a copy in my shop here!
As a reminder, the PDF will include:
Instructions
Half-sheet image based scavenger hunt
Full sheet image based scavenger hunt
Half-sheet text based scavenger hunt
Full sheet image based scavenger hunt