Plan a rockin' New Year's Eve party with these great New Year's games! With everything from free printable trivia games to New Year's Eve charades, there's something for every type of person and every type of party! What started with 20 awesome New Year's games has quickly turned into a collection of the best New Year's Eve party games ever!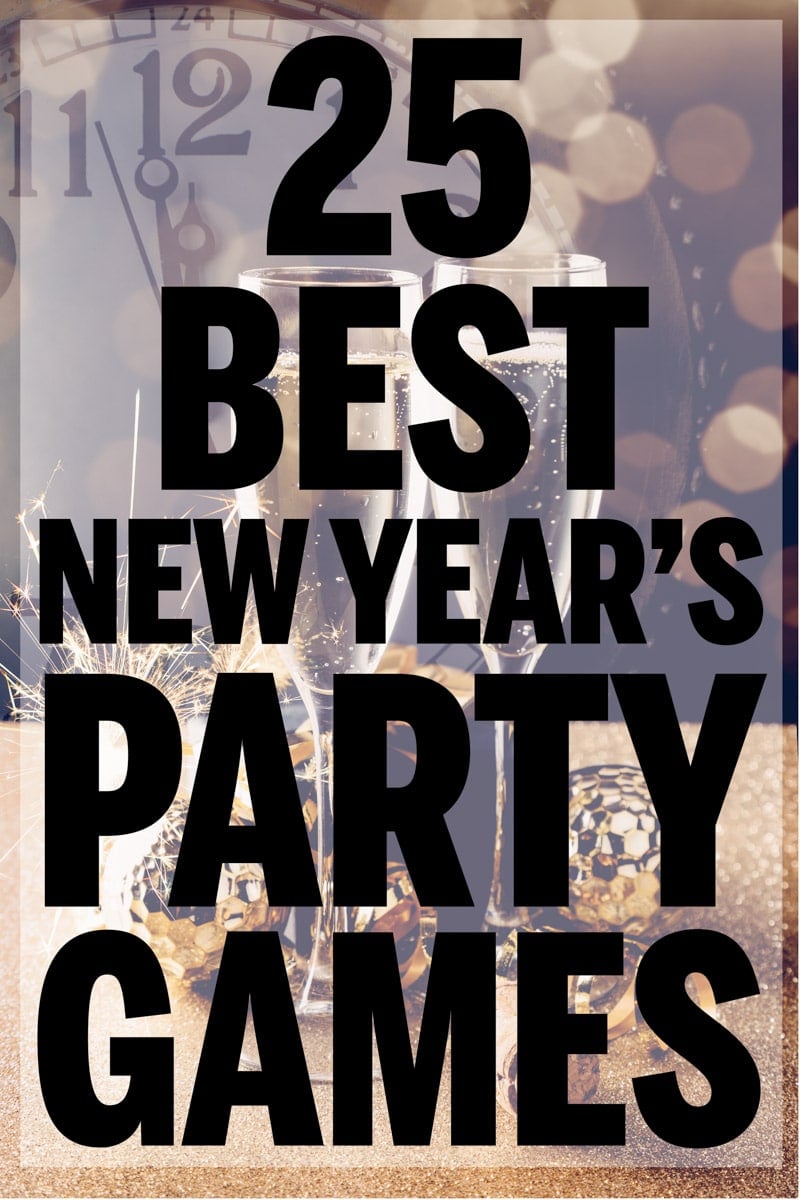 This post contains affiliate links to products for your convenience. If you purchase via my links, I may receive a small commission at no additional cost to you.
The Best New Year's Eve Games
Can you all believe that the year is already almost over? I'm still blown away that it's December, let alone the end of December and time for a big New Year's Eve party!
I love New Year's Eve and hosting New Year's Eve parties! New Year's Eve isn't the same without some fun party games, and I've gathered the best New Year's Eve games all in one place for you right here! Everything from free printable New Year's Eve games like New Year's Eve blank spaces to a collection of active minute to win it games!
Like all of the rest of my parties, I love playing games at New Year's Eve parties and this year is no different! We are going to be playing a handful of games on this list with our in-laws and hopefully you can find a few games on the list as well!
Printable Best New Year's Eve Games
These are the games you want if your guests aren't so into games. Download, print, and pass out with a pen and you're done. Oh and maybe pick up an Amazon gift card or two for the winners!
These games include everything from kid-friendly games to ones that are a bit trickier like these New Year's Eve trivia games.
1 – New Year's Eve Trivia Games
Try your hands at one of these five printable New Year's Eve trivia games with questions about the past year!
Whether you love movies and music, straight trivia, or fill in the blank type games – these printable New Year's Eve games will be a huge fit with your friends and family!
2 – New Year's Eve Scattergories
Who can come up with the best answers for each of the letters in this fun printable Scattergories game?
Get the free printable from Play Party Plan here.
3 – New Year's Eve Dice Game
This fun printable New Year's Eve dice game from Play Party Plan incorporates a little candy, a little dice rolling, and a lot of fun reflection on the past year! Perfect for families, kids, and adults alike.
4 – Riddle Meme This
See who can come up with the viral memes from the past year that are answer to this set of funny riddles! It's a great game to play as a conversation starter or just to laugh about some the ridiculous memes that came about this year!
Get the free printable from Play Party Plan here.
5 – Best Moment of the Year Cards
Get the conversations and party started with these best moment of the year cards from Alice & Louise.
6 – New Year's Eve I Spy
See who can find things first in this fun New Year's Eve I Spy from Little Bits for Little Hands. Great for kids or adults if you want to race and make it a little more challenging!
7 – Roll the Year Game
See who can roll the year first in this fun kid-friendly game from Laly Mom. It's like a New Year's Eve version of this roll a tree or roll a rainbow game!
8 – Recap the Year
Rate 2019 in various ways in this fun printable recap of 2019 activity from Creative Designs
9 – New Year's Eve Word Search
See who can find all the words first in this fun word search printable from Happiness is Homemade.
Active New Year's Eve Games
These are the opposite of the printables above. These are for the more daring, more adventurous, and more active guests.
Pop some balloons, toss some confetti, and get your exercise in before January 1st! My family absolutely loves games like these, and they're perfect for kids or groups that like to have fun! There's a reason they're all on this list of fun kids New Year's Eve party ideas!!
10 – New Year's Eve Minute to Win It Games
Minute to win it games are my speciality and a family favorite! Gather up a few items from around the house and choose one of these hilarious New Year's Eve inspired games!
Perfect for groups, families, and couples! Get all New Year's Eve minute to win it games here.
11 – New Year's Eve Scavenger Hunt
Kids will love this fun New Year's Eve scavenger hunt that has them racing through the house and outside to find the next clue! This confetti themed hunt is great for kids but also works for teens or adults!
12 – New Year's Eve Sporcle
See who can come up with items in a list from the year (e.g., top 10 movies of the year) within certain categories to earn points for their team! But don't guess wrong or you'll be out!
Get these New Year's Eve games for adults from Play Party Plan here.
13 – Who Can Ring In First?
This New Year's Eve game is a fun one for adults and goes great with this ring in the new year themed party!
Be the first to ring the bell when you hear an answer that matches the category (e.g., Avengers: Endgame for top movies of the year) but don't ring it at the wrong time of you'll face consequences!
Get the game instructions and printable question cards here. play
14 – Choose the Right Resolution
Give everyone half of a resolution and see if they can find their partner before the time runs out!
A fun ice breaker and easy game to put together! Get the rules and printables here.
15 – Don't Get Caught in 2019
A hilarious game that has people trying to avoid getting trapped by the person whose it! Great for families, teens, and large groups who want a simple yet really fun game!

New Year's Eve Games for Groups
These games are designed specifically for larger groups. You can play any of the games above with groups as well but they could be smaller groups or individuals as well.
These ones really don't work unless you have more than one person playing and really work best if you have at least 8-10 people, maybe even more.
16 – New Year's Eve Name That Tune
Break into two teams and see who can name the hit songs from 2019 first! Need song ideas? Here's a great New Year's Eve playlist just for 2019!
Get the rules to play Name That Tune from Play Party Plan here.
17 – Saran Wrap Ball Game
While technically this is Christmas game, it's just as fun to play for New Year's Eve! Wrap up prizes in a big saran wrap ball and pass it around the circle but beware – if you get a consequence card, you have to complete the challenge before you can keep unwrapping!
Get the full rules and cards for this saran wrap ball game here.
18 – Guess the Resolution?
Give everyone a popular resolution to put on their back. See who can guess the popular resolution they are before the other people playing!
This game is a great icebreaker and way to get people talking and laughing at the beginning of the party! Get the free printable here.
19 – A Seat Around the Table
Can you score a seat around the table? Part trivia, part musical chairs/spoons, this game is hilarious! Teams compete to not only identify pop culture events but to put them in order – all in a team!
20 – New Year's Eve Would You Rather Game
In this unique version of the typical Would You Rather game, pair up people and see who can guess what the other person will answer on the count of 3!
Get the New Year's Eve themed would you rather game and instructions here!

New Year's Eve Games for Kids
Last but not least, here are some things for the kids. These might work best for a noon year's eve or to do a little earlier in the night before the kids are passed out on the floor.
One of our favorite things to do is make these countdown buckets with a different game or activity in each and play with the kids. It's a great way to keep the kids going all night long (if that's what you want!).
More New Year's Eve Party Ideas
Don't forget to pin these New Year's Eve games for later!