Have you ever played the would you rather game? These Disney would you rather questions for kids will have everyone giggling as you have to choose between kissing a frog and eating spaghetti with a dog? These would you rather questions make a great family activity for any Disney loving family!
This post contains affiliate links. If you purchase via these links, I may receive a small commission at no additional cost to you.
Disney Would You Rather
One of my favorite things to do while waiting in line at Disney World is to ask Disney trivia questions, but we've gone through all of the questions I have so I decided it'd be fun to come up with something new for the next time we're standing in line!
Disney would you rather questions for kids!
They're a great way to pass the time in line or while you're stuck at home and just dreaming you could be at Disney World for a day right now!
These questions are easy enough for Disney fans of any age to answer but also fun for the entire family! And if you've never played the would you rather game, you're in for a Mickey-shaped treat!
How to Play the Would You Rather Game?
Playing would you rather is so simple!
It's literally as easy as asking everyone what they would rather do out of two fun options.
And this game specifically is asking about two Disney inspired questions.
Would you rather kiss a frog like Tiana or share a bowl of pasta with a dog (like Lady & the Tramp)?
Would you rather be captured by Captain Hook or make a deal with Ursula?
Some of the questions are funny, some are a little more serious, and they're all a lot of fun!
1 – Print and cut out the would you rather questions.
I've created printable cards that you can print out to use for the game. Or there's also just a PDF list of the questions you can ask as well if you'd like to save ink, but the cards are definitely more fun!
2 – Pick a card and ask a question.
Put all of the cards into a pile then have one person draw one of the cards.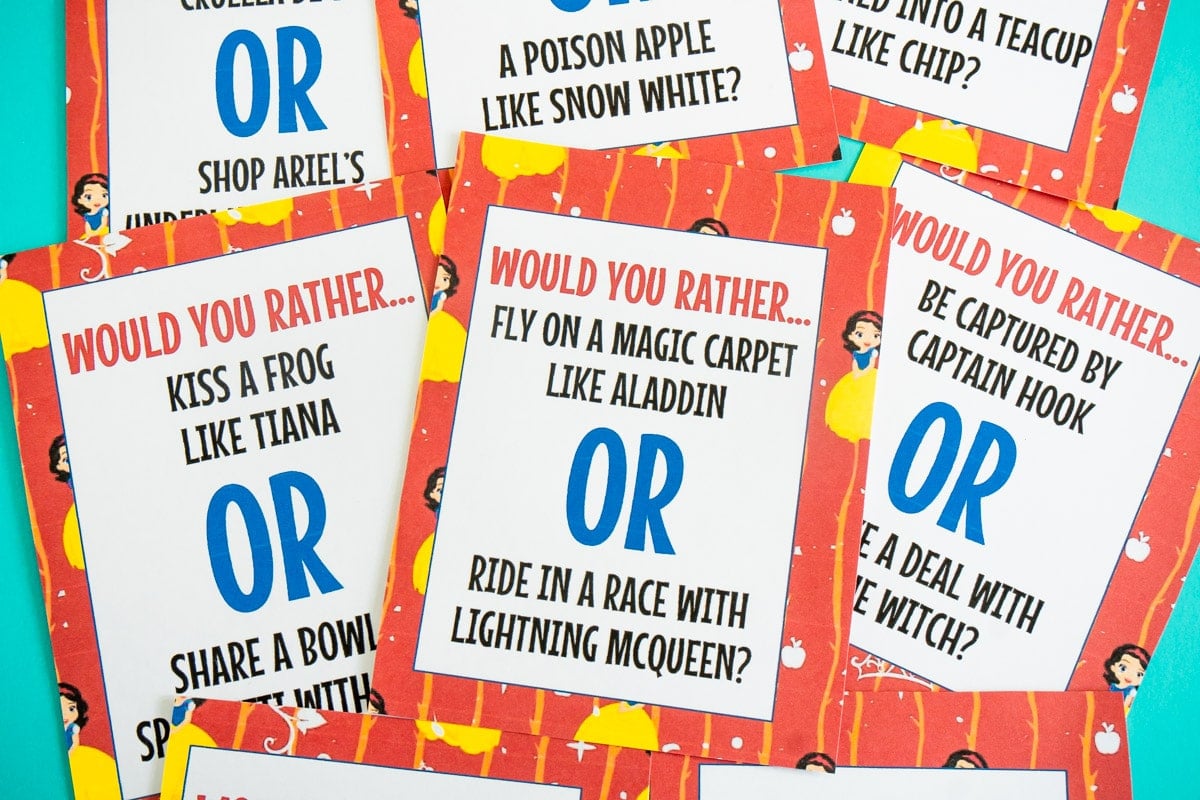 Or you could change it up and play would you rather the connection version like we did with this New Year's Eve would you rather game.
Instead of having everyone answer one at a time, have two people answer at once on the count of three and try to match one another!
Or if you're playing with multiple people, have them write down their answer and flip over the answers at once to try and match their teammate!
There are so many different ways to play but at the end of the day, just asking these Disney would you rather questions for kids is going to be fun!
Want even more would you rather questions? Check out these Marvel would you rather questions, these Star Wars would you rather cards, or these Harry Potter would you rather one!
Turn Would You Rather into Learning Fun
Want to use these would you rather questions for a school activity or as fun learning games?
Let kids read the cards to practice reading skills and instead of just answering the questions on the cards – have them write down their answer and why in a journal or on a sheet of paper.
Even better if it's a Disney notebook like this one!
More Fun Disney Games
Download the Would You Rather Questions for Kids
Enter your first name and email address into the form below to get the free printable PDF with the would you rather questions. You'll immediately receive a copy of the printable and receive a copy to your email as well!
The PDF includes printable cards with questions and a list of questions (same questions – just different format).
If you do not see the form below, click here to get to it.