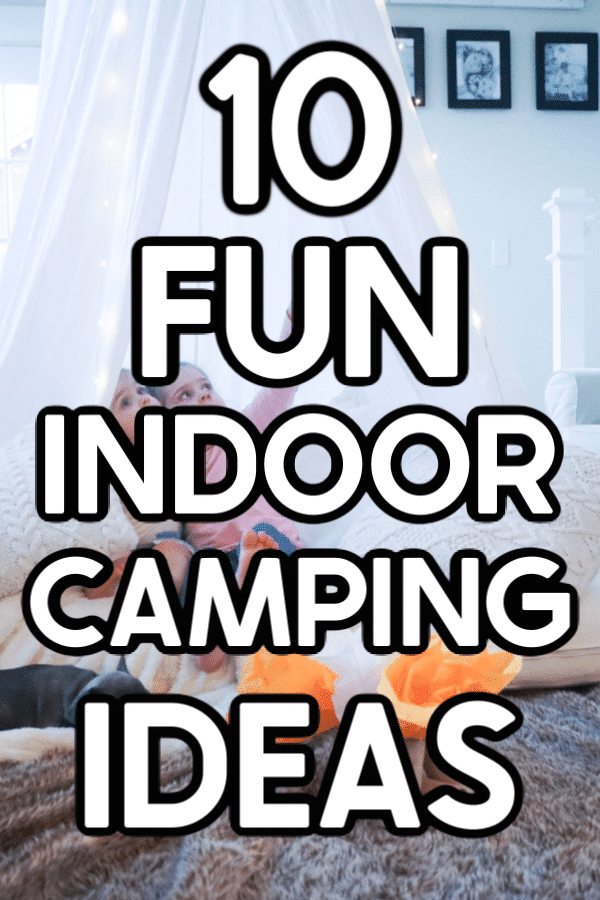 If you can't get into the great outdoors, these indoor camping ideas are the next best thing! With fun camping indoors recipes, camping games, and tips for setting up your indoor campsite, these fun camping ideas will keep you from missing the outdoors too much!

This post contains affiliate links. If you purchase via these links, I may receive a small commission at no additional cost to you.
10 Fun Indoor Camping Ideas
There is almost nothing I love more than eating a gooey s'more while sitting around a campfire, but getting outside to go camping isn't always possible with kids and unpredictable weather.
Instead, we like to have indoor campouts.
These indoor camping ideas are the perfect way to enjoy all of the great things about camping right from the comfort of your own home.
Whether you have young kids who aren't ready to camp yet or aren't able to get to an actual campground for one reason or another, these ideas for camping indoors can bring the great outdoors right to you!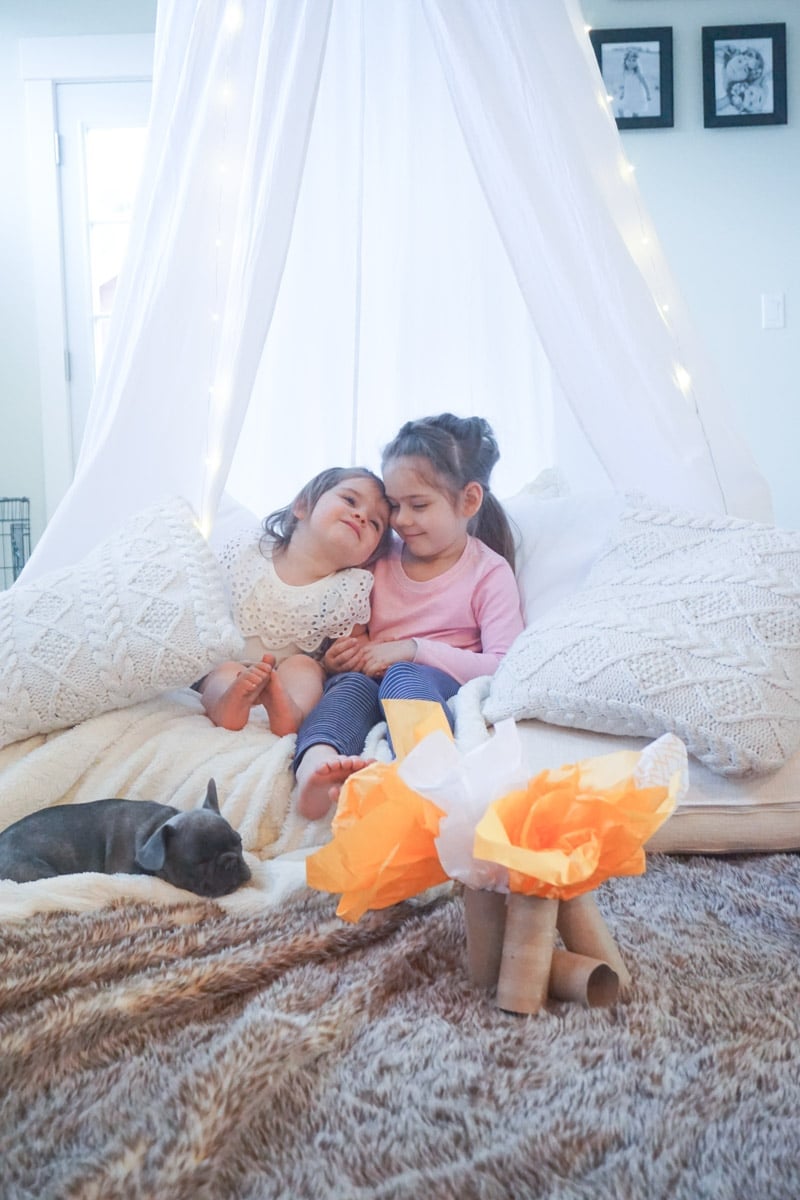 Setup an Indoor Campout
Let's start by talking about how to make it feel like a real campout! These are simple ways you can setup your camping indoors so it actually feels like a campout!
1 – Bring the outdoors in
Start off by decorating the room with rocks, branches, leaves, tree stumps, acorns, and other items you would usually find outside.
If you'd rather not actually bring those items into your house, you can also buy fake versions like these fake leaves I used in my Thanksgiving games!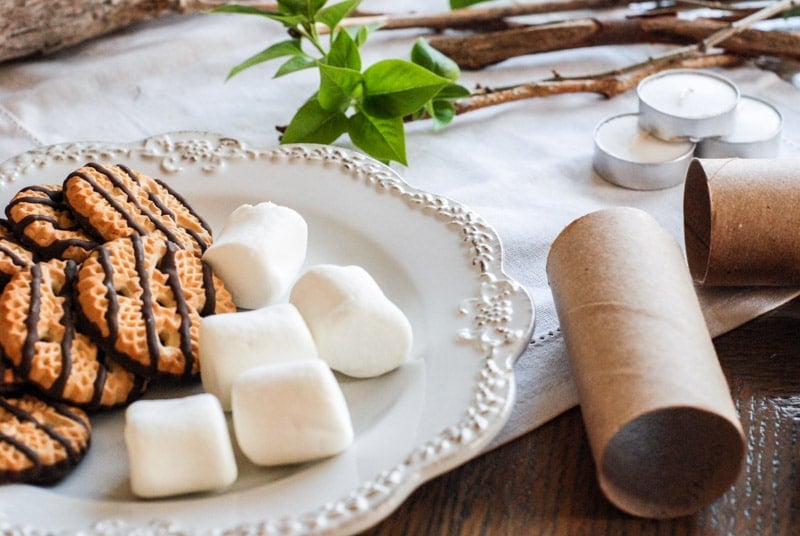 2 – Set Up a Tent
If you have a room big enough for an outdoor camping tent, set it up inside. This works
If you don't, create one by draping a sheet or blanket over chairs and couches as if you were setting up a fort.
Fill the inside with sleeping bags, pillows, blankets, and anything else you might need to be sleep comfortably. Whether or not you actually sleep in there is totally up to you!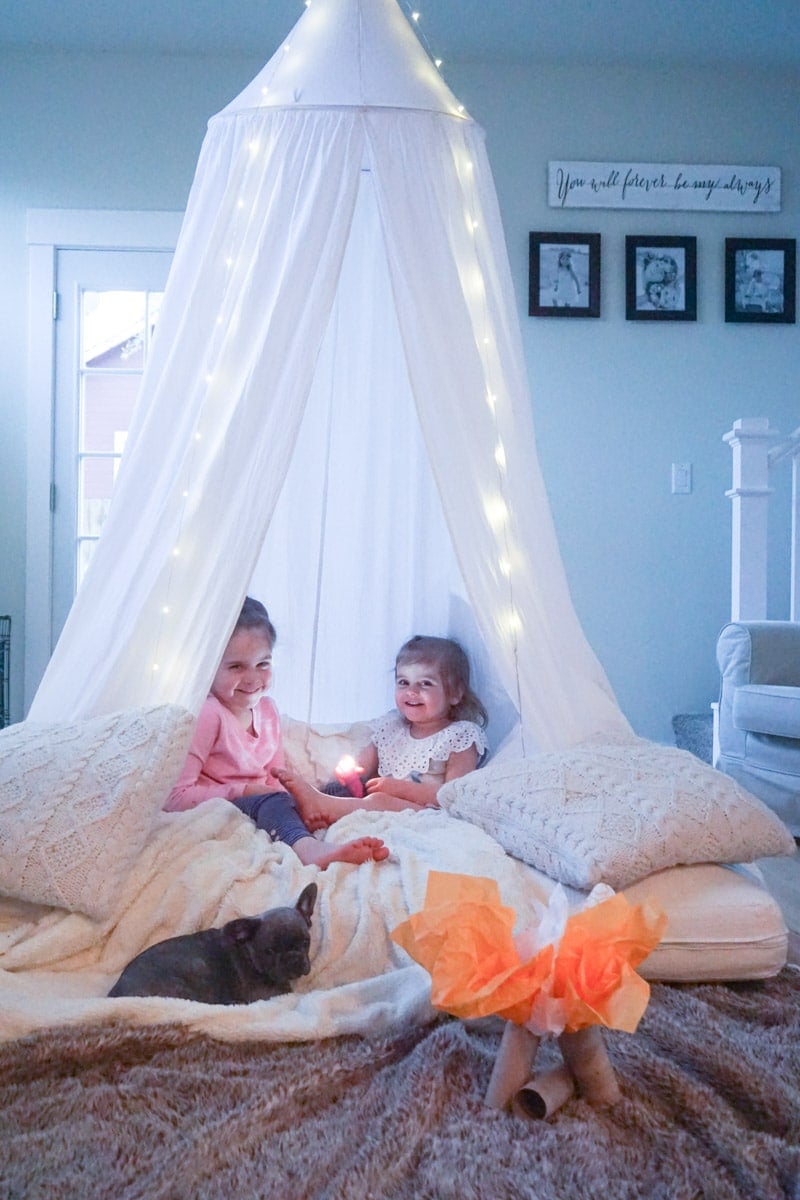 3 – Build a campfire
Before your campout, save your old paper towel rolls. If you're anything like my family, you've already been saving them (and toilet paper rolls!)
The day of the campout place them around the house. Then during your campout, have your family go find the "firewood" (paper towel rolls) to build the fire.
Once they've gathered all of the "firewood," place them in a pile in front of your tent and use colored tissue paper to create flames on top of the wood. Setup camp chairs or buckets around the campfire for seats.
You could also make these candy campfires to teach your kids about how to make a proper fire.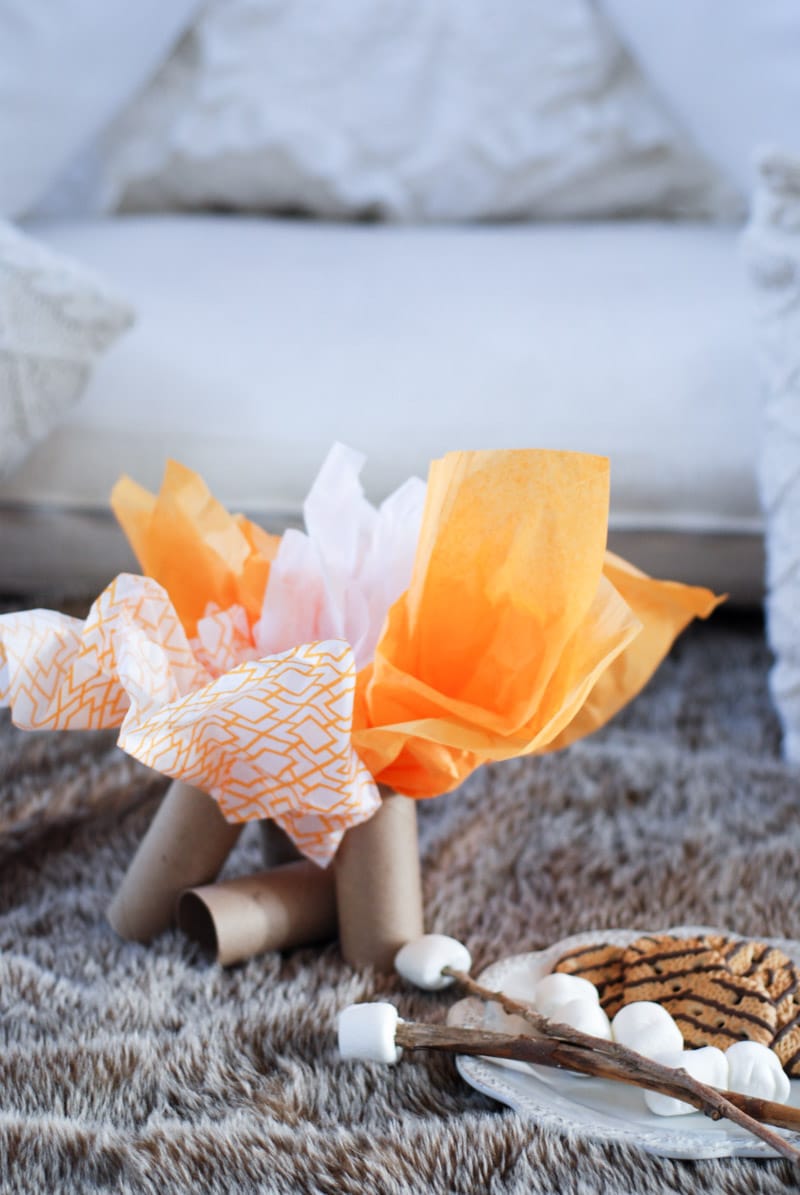 Recipes for Camping Indoors
It can't be an authentic indoor campout without some delicious camp food! These are just a few recipes that would work well with these other indoor camping ideas.
4 – Make tinfoil dinners
Cut up cubes of meat, veggies, and potatoes before your campout. Kind of like you would for these pork skewers.
Right at the beginning of your campout, have everyone make their own tinfoil dinner by placing meat, potatoes, veggies, and seasoning on a piece of tinfoil and then wrapping it up tight.
If you have a larger group, have a Sharpie marker available for people to write their name on the piece of foil.
Once all of the dinners are wrapped in foil, put them in the oven and let them bake at 375 degrees for an hour while you're playing games or hanging around the campfire. Once they're done, eat them with paper plates and plastic silverware.
Alternately, you could just make this sheet pan teriyaki chicken and pretend it was a tin foil meal!
5 – Have s'more fun
A campout wouldn't be complete without s'mores, and luckily s'mores are easy to make in the microwave or simply by roasting marshmallows over an open flame of some sort.
You could even setup your very own DIY s'mores bar with all sorts of toppings and options!
If your kids are older, you can also have them roast marshmallows over tea lights or small candles with grown-up supervision. Or just make a s'more themed dessert like s'mores bars, cookie s'mores or these sweet and salty s'mores.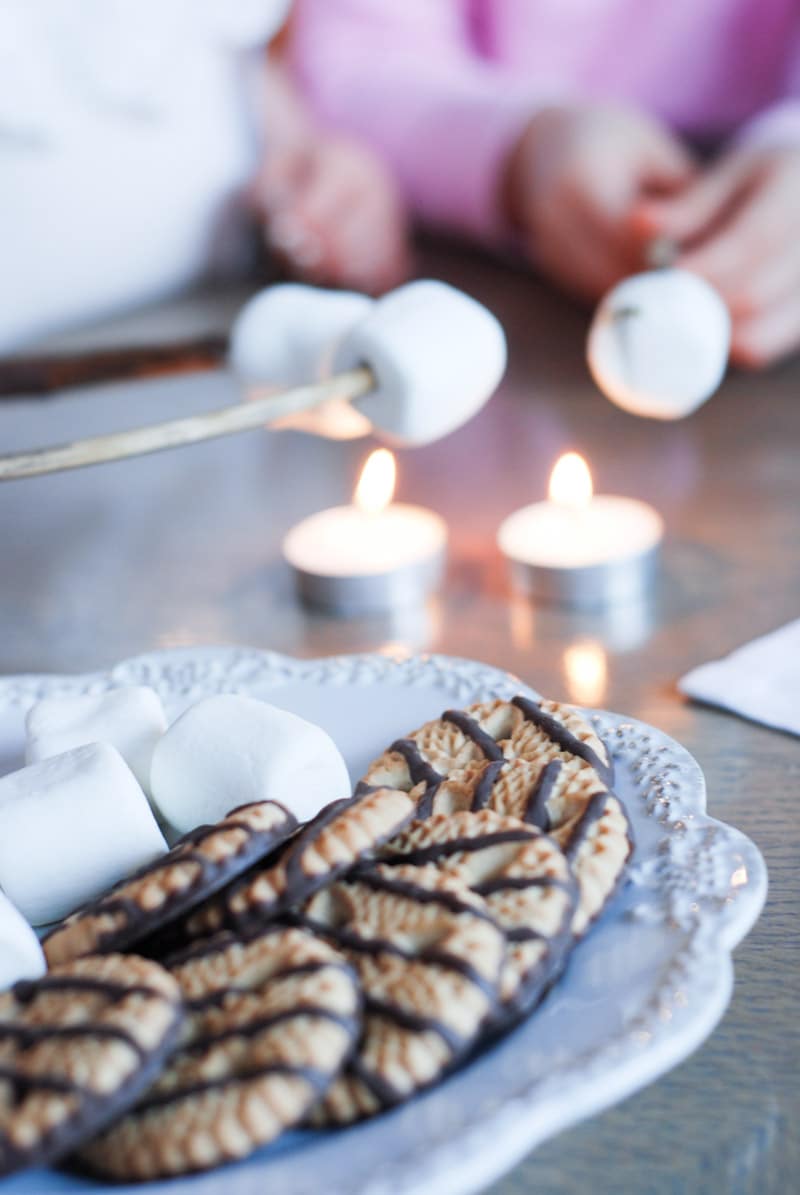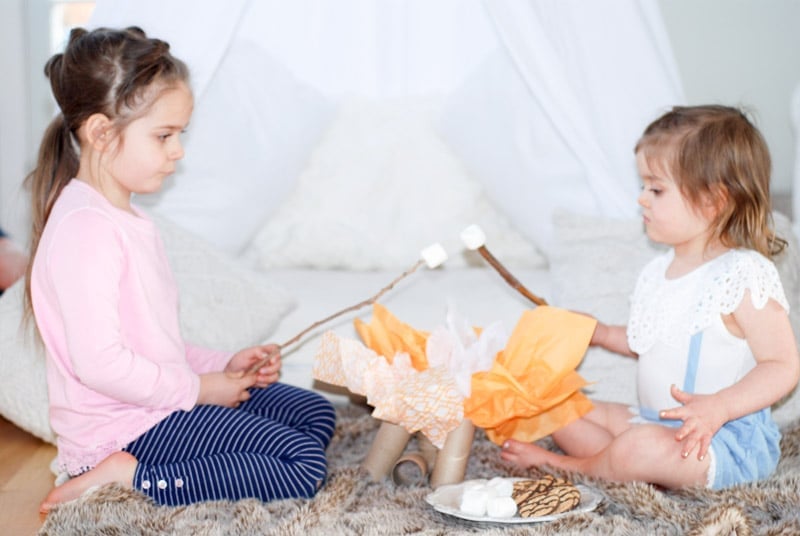 6 – Make dutch oven breakfast.
The morning after your campout, get up early and cook refrigerated cinnamon rolls in a dutch oven on your stovetop so they are ready when the rest of your group wakes up.
Enjoy cinnamon rolls around the campfire before cleaning up your campsite and heading "home."
Indoor Camping Ideas for Fun
One of the best parts of camping is all the camping fun! Here are a few traditional camping activities you could do that will help bring that camping feel to your home!
7 – Play camp themed games
If it's nice outside, go outside and play any of these camping games like capture the flag and tag. Or you could try any of these outdoor games as well!
If it's not nice out, set up a camp obstacle course where players have to roll up a sleeping bag, untie a knot, eat five marshmallows, fill a canteen with water, etc.
Or try one of these printable camping games like camping charades, camping scattergories, or camping pictionary!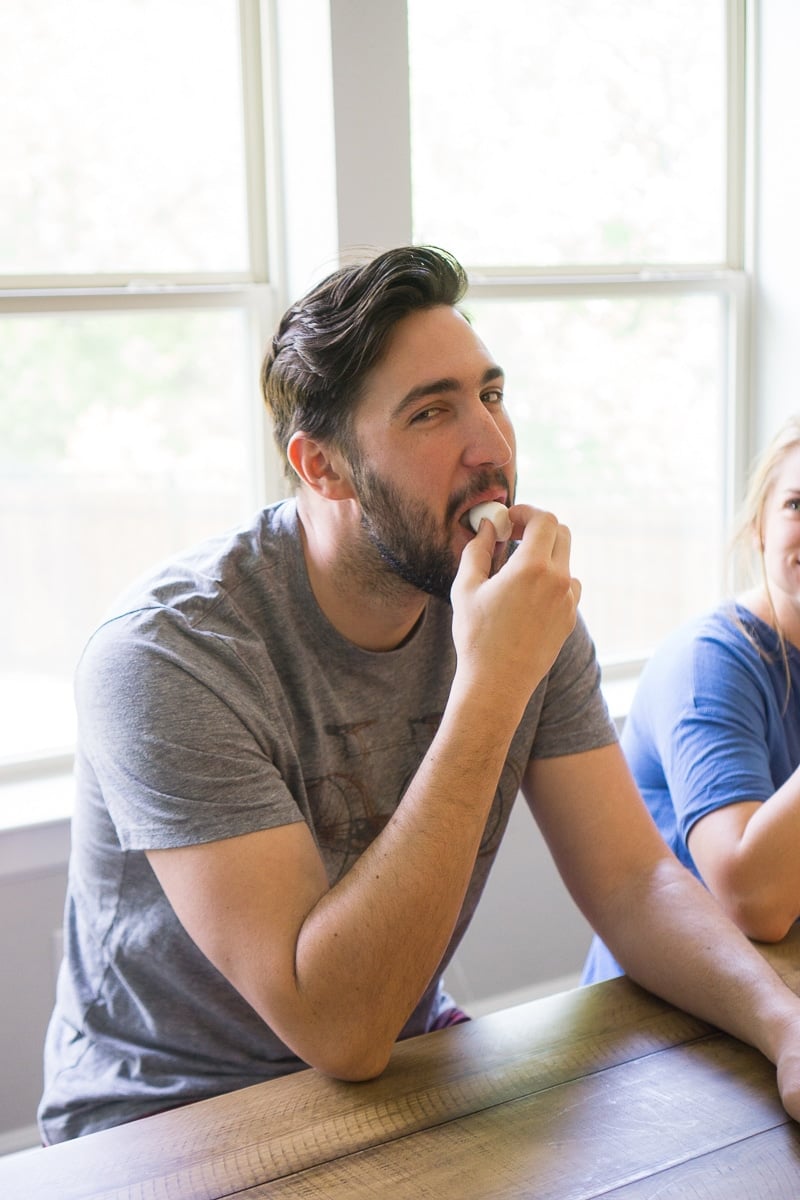 8 – Practice survival skills
Camping typically means building a campfire, cooking over a campfire, setting up a tent, or maybe even creating your own shelter. It's the perfect time to learn outdoor survival skills.
Even though you're indoors doesn't mean you can't still learn some new survival skills or do games and activities based on survival skills. Try one of the activities from this camp certification list or maybe something like this roll a first aid kit game.
It's all about teaching a skill in a fun way!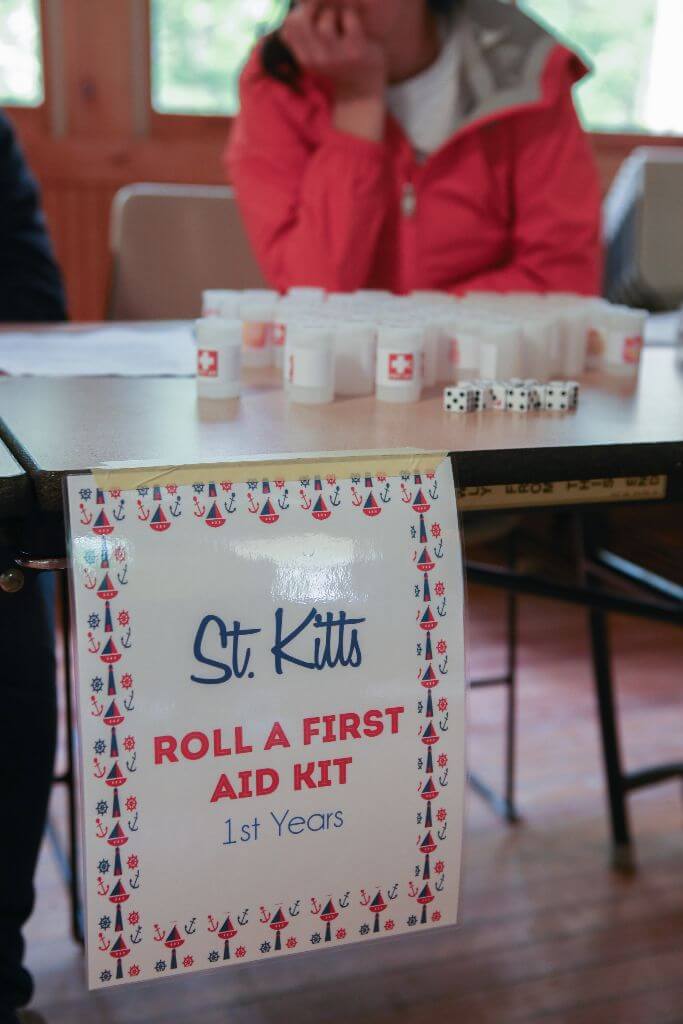 9 – Sing camp songs
Sit around your campfire and sing camp songs like Once an Austrian, Rise and Shine, and I'm a Nut. If someone in your group plays the guitar, have a sing-a-long.
And if you don't know any camp songs, just pick songs your group does know and sing those instead. Being around the "campfire" makes them camp songs!
10 – Tell ghost stories under the stars
Before your campout, stick removable glow in the dark stars to the ceiling and string white holiday lights around the room.
Once it starts to get dark outside, turn off all of the lights in your house and use just battery operated lanterns and flashlights for light.
Have someone tell ghost stories, making sure they are appropriate for the age group or you'll end up with all of the kids sleeping in your tent. After ghost stories, go to sleep all snuggled up warm inside your sleeping bags.
11 – Camping Scavenger Hunt
Send kids around the house looking for all of the items on this camping scavenger hunt! Or if you have a bigger group of kids for a sleepover, divide into teams and turn it into a friendly little camping competition!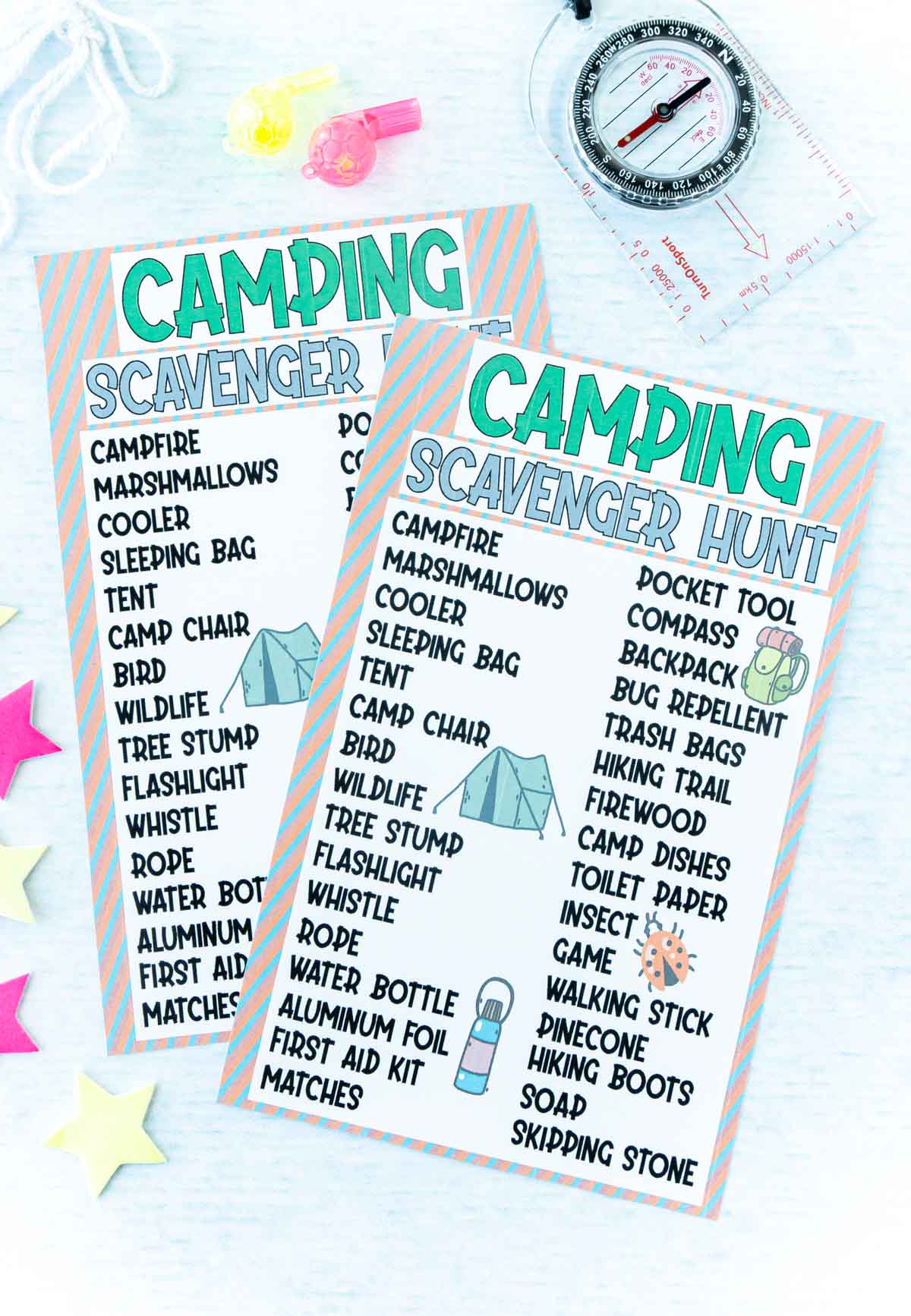 More Fun Indoor Ideas
Don't forget to pin these indoor camping ideas for later!