The Cricut Explore Air is the tool that everyone who makes crafts should have. With millions of awesome projects to make with the Cricut Explore Air, the possibilities are truly endless. These Cricut project ideas are just a small example of what you can make!
Three years ago I bought myself an electronic cutting machine for all of the awesome crafts I was going to do. I made a handful of t-shirts (like these awesome Hunger Games shirts), cut out vinyl for my son's 1st birthday party, and basically let it collect dust in my craft room because every time I tried to use it, it took like 10x as long as I had to finish the project. What seemed so easy for some reason never was. I never even got into complicated projects like print and cut, I really just wanted to cut vinyl, and for some reason it just never worked right the first time.
Four months ago I was sent a brand new Cricut Explore Air. And before I go any further, let me tell you how to say Cricut because as a newbie to the craft industry, I literally called it Cri-Cut (like cry-cut) forever thinking that it was some fancy name that only use crafters knew how to pronounce. It's not. You pronounce it like cricket, the insect. And if you're a little more observant than I was, you'll notice there's cute little cricket antennas in the logo. I'm going to chalk my stupidity up to being pregnant and post-partum brain fog.
When I got my Cricut, I opened the box, which for me is a huge step in the right direction. As my friends know, I'm the queen of unopened boxes. I turned on the machine. I opened the Cricut Design Space and created a simple design of only letters. And I cut some vinyl.
And you guys, it cut. It cut like butter. The first time, the second time, and the last time. I literally finished my project in just a few minutes, not the hours it always took me to finish my project with my other cutting machine. And I barely even had to use all of the cool tools that came with my machine!
As soon as my project was finished, I immediately called my sister and asked if she wanted my old machine and shipped it to her the next day. I've been so busy that I've only done a couple of projects since, but so far every single one has been just as seamless. I can't wait to try out all of the awesome features and really use my machine, not just use it as a space filler in my cute craft room. So many different types of material to cut and so many projects to try.
Just in case you're not as excited about my Cricut as I am, let me give you a little taste of what you can make with it. These projects are all completely different and all made with the Cricut Explore Air. And I can't wait to try all of them!
Design your own projects then cut with Cricut Explore
You can really design whatever you want, turn it into an SVG file, and let the Cricut cut it for you. It's inspired me to start creating my own designs. Just look at this intricate design!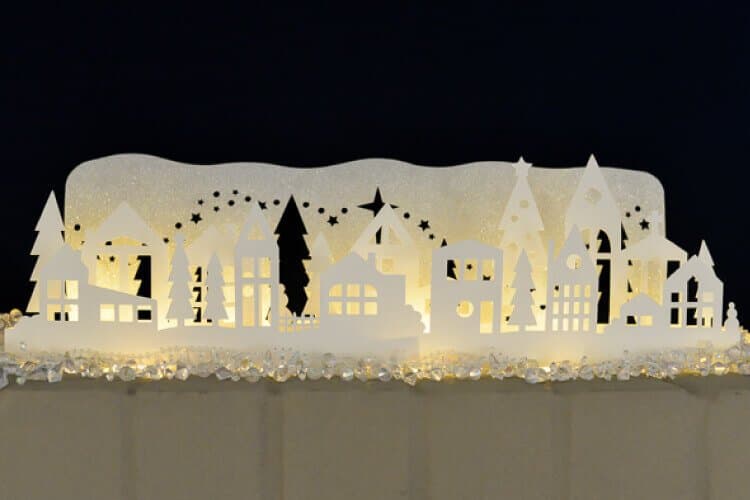 Winter wonderland luminari from Hey, Let's Make Stuff
Cut vinyl with the Cricut Explore Air
Cutting regular vinyl and heat transfer vinyl with the Cricut is a piece of cake and makes creating custom bags, t-shirts, home decor, and more simple. The possibilities are endless when it comes to vinyl!
Christmas tea towels from Happiness is Homemade
Use the pen tool on the Cricut Explore Air for drawing
You can use the pen tool to do amazing things like address Christmas cards or even turn your own doodles into Cricut drawings like these cute Valentine's Day cards!
Color me happy Valentine's Day cards from 100 Directions
Print and cut free printables with the Explore Cricut Air
I make a lot of free printables and the Cricut allows you to actually get them to the perfect size with the print and cut feature! Things like cupcake toppers, envelopes, and more!
Printable Santa Letter + Envelopes from Printable Crush
Cut custom materials with your Cricut Explore Air
This is probably the thing I'm most excited about. The Cricut can cut a ton of different materials, not just vinyl or paper. I'll be doing a post soon talking about all of the things it can cut but some of the things I'm most excited about are felt, leather, and even magnets!
Leather necklaces from Kingston Crafts
Have you ever tried a Cricut cutting machine? Which one do you think I should try first?
This is a sponsored conversation written by me on behalf of Cricut. The opinions and text are all mine.