The Cricut Explore Air is the tool that everyone who makes crafts should have. With millions of awesome Cricut projects to make with the Cricut Explore Air, the possibilities are truly endless. These Cricut project ideas are just a small example of what you can make!
This post was originally sponsored by Cricut but has been updated since. The post includes affiliate links, if you purchase via these links, I may receive a small commission at no additional cost to you.
My Cricut Explore Air
Three years ago I bought myself an electronic cutting machine for all of the awesome crafts I was going to do. I made a handful of t-shirts (like these awesome Hunger Games shirts), cut out vinyl for my son's 1st birthday party, and basically let it collect dust in my craft room because every time I tried to use it, it took like 10x as long as I had to finish the project.
What seemed so easy for some reason never was. I never even got into complicated projects like print and cut, I really just wanted to cut vinyl, and for some reason it just never worked right the first time. That electronic cutting machine went to a friend or a family member, never to be used again.
Then I tried out the Cricut Explore Air. And before I go any further, let me tell you how to say Cricut because as a newbie to the craft industry, I literally called it Cri-Cut (like cry-cut) forever thinking that it was some fancy name that only use crafters knew how to pronounce. It's not. You pronounce it like cricket, the insect.
And if you're a little more observant than I was, you'll notice there's cute little cricket antennas in the logo. I'm going to chalk my stupidity up to being pregnant and post-partum brain fog.
When I got my Cricut Explore Air, I opened the box, which for me is a huge step in the right direction. As my friends know, I'm the queen of unopened boxes.
I turned on the machine. I opened the Cricut Design Space and created a simple design of only letters. And I cut some vinyl.
And you guys, it cut.
It cut like butter. The first time, the second time, and the last time.
I literally finished my project in just a few minutes, not the hours it always took me to finish my project with my other cutting machine.
And I barely even had to use all of the cool tools that came with my machine!
As soon as my project was finished, I immediately called my sister and asked if she wanted my old machine and shipped it to her the next day. I've been so busy that I've only done a couple of projects since, but so far every single one has been just as seamless.
I can't wait to try out all of the awesome features and really use my machine, not just use it as a space filler in my cute craft room. So many different types of material to cut and so many projects to try.
There are some major differences between the Cricut Explore Air and the new Cricut Maker – you can read more about those in this Cricut Maker post here!
Cricut Projects to Make with the Cricut Explore Air
Just in case you're as afraid of using an electronic cutting machine as I was, let me give you a little taste of what you can make with it. These projects are all completely different and all made with the Cricut Explore Air. And I can't wait to try all of them!
Here are just a few different types of things you can do! I also included some example Cricut projects you can make with the Cricut Explore Air from some of my favorite crafty friends!
Don't have a Cricut Explore Air yet? You can get one right here!
#1 – Cut paper products with the Cricut Explore Air
You can go as simple or as complex as you want – just look at this intricate design from my friend Cori at Hey, Let's Make Stuff!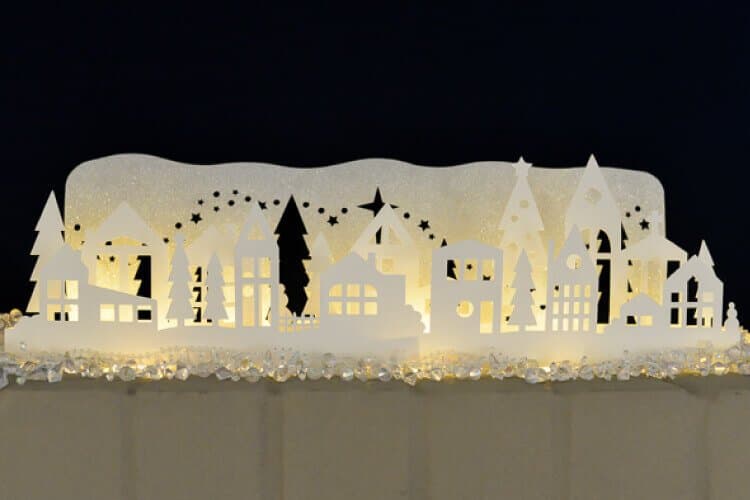 Winter wonderland luminari from Hey, Let's Make Stuff
You can either design your own thing in Cricut Design Space, use designs already there (like I did with this St. Patrick's Day rainbow game), or just use designs already made for you in Cricut Design Space!
Speaking of Cori, she also has an amazing course called Hey, Let's Cut Stuff that teaches you how to use the Cricut, use Illustrator to design SVG files, and more. It's a must-try if you have a Cricut Explore Air! Here are some other fun ways to cut paper with the Cricut Explore Air!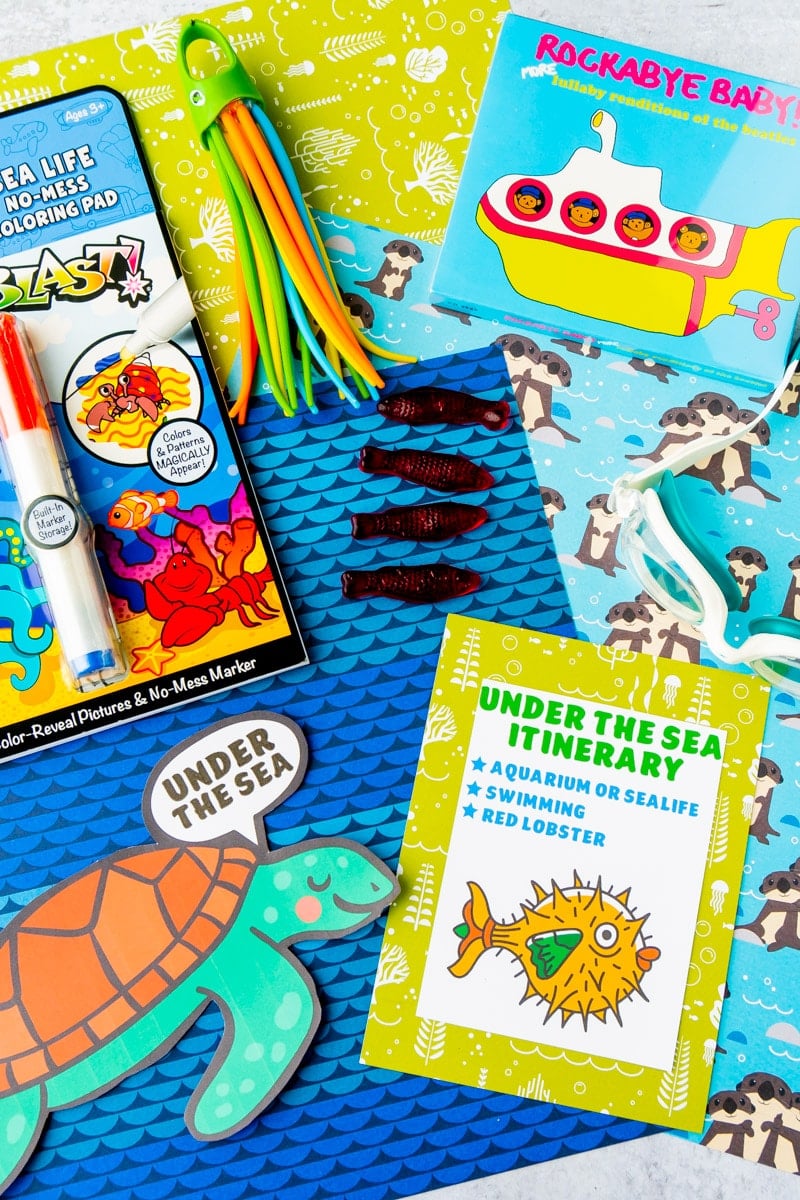 Monthly Mom & Me Date Box (make great gifts for kids who have everything) from Play Party Plan
Orange You Glad It's Summer Party from Giggles Galore (so many fun paper details in this party)
Tea Bag Gift Cards (you can make tons of card ideas!) from Create and Babble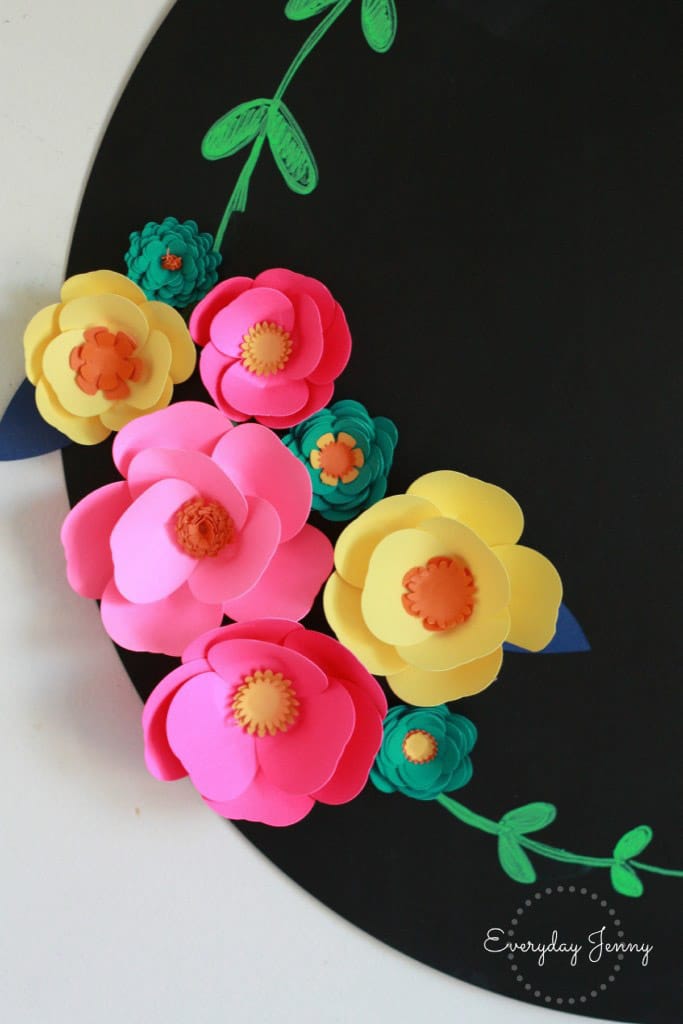 Paper flower magnets from Everyday Jenny
DIY Disney Countdown Blocks from Suburban Wife City Life
Paper flower wreath from Artsy Fartsy Mama
Custom cupcake wrappers (and other party decorations) from Play Party Plan
#2 – Cut vinyl with the Cricut Explore Air
Cutting regular vinyl and heat transfer vinyl with the Cricut is a piece of cake and makes creating custom bags, t-shirts, home decor, and more simple. The possibilities are endless when it comes to vinyl!
If you're planning to cut anything with vinyl, I highly recommend getting a Cricut EasyPress – seriously the best thing ever for getting your vinyl to stick forever!
Christmas tea towels from Happiness is Homemade
Reverse Canvas Drawings from Sew What Alicia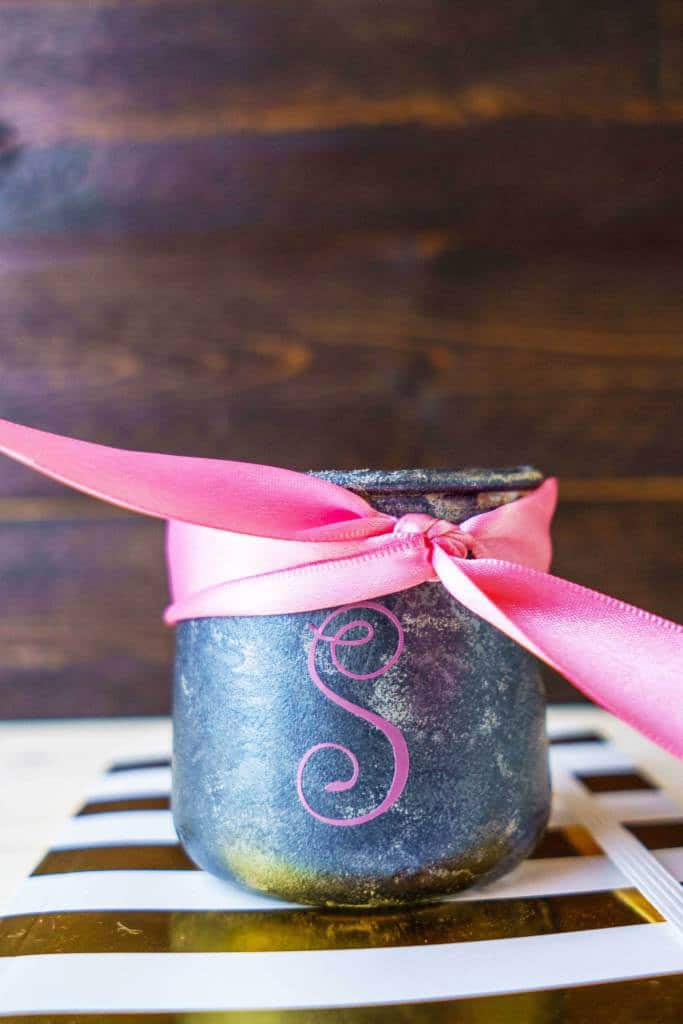 Monogrammed galvanized cups from Major Hoff Takes a Wife
Birthday Gift Bags from Tried and True Blog (these would be great to put all of the candy in from these birthday party games!)
DIY Beauty and the Beast shirts from Play Party Plan (I make new shirts for every trip even if we're only spending one day at Disney World!)
Car window vinyl decal from The Crafty Blog Stalker
DIY painted citrus sign from The Happy Scraps (uses the vinyl as a stencil for this fun painting project)
Narwhal coloring zippered pouch from Hello Creative Family
Fabric Scrap Dinosaur Matching Game from Swoodson Says (this would be so fun to do with these other dinosaur games)
#3 – Use the pen tool on the Cricut Explore Air for drawing
You can use the pen tool to do amazing things like address Christmas cards or even turn your own doodles into Cricut drawings like these cute Valentine's Day cards! And if you've never used Cricut pens before, my friend Cheryl has a great tutorial here!
Color me happy Valentine's Day cards from 100 Directions
DIY Easter Cards (with a cutout to hold crayons) from Frugal Coupon Living
DIY planner stickers from Liz on Call
Modern Calligraphy Art from Keys to Inspiration
DIY adult coloring book from Jordan's Easy Entertaining
#4 – Print and cut free printables with the Explore Cricut Air
I make a lot of free printables and the Cricut allows you to actually get them to the perfect size with the print and cut feature! Things like cupcake toppers, envelopes, and more!
Printable Santa Letter + Envelopes from Printable Crush
Print and cut organization labels from The Country Chic Cottage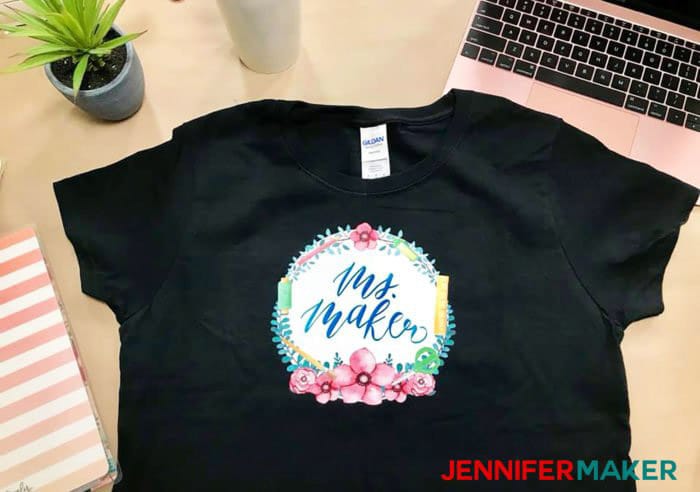 Print and cut t-shirt decals from Jennifer Maker
Watercolor Kitchen Aid decal from The DIY Mommy
Custom party stickers from Make Life Lovely
Fairytale 1st birthday party ideas from Play Party Plan
#5 – Cut custom materials with your Cricut Explore Air
This is probably the thing I'm most excited about. The Cricut can cut a ton of different materials, not just vinyl or paper. It can't cut quite as many things as the Cricut Maker but it can still cut a ton!
Here are some fun projects you can make with the Cricut Explore Air with more custom materials.
Leather necklaces from Kingston Crafts
DIY felt flowers from Weekend Craft
Glass etching (using stencil film) from Too Much Love
DIY stencils from laminating sheets from Daily Dose of DIY
DIY photo magnets from It Happens in a Blink
Need more Cricut projects to try? These are some of our favorites!
Don't forget to pin these Cricut Explore Air projects for later!