A few years back I created the gratitude game to teach children gratitude. This year our November is a little busy so instead of doing an entire month of gratitude, I am going to do a 12 days of Thanksgiving activity with my preschooler.
Each day we'll do one simple activity that's good for teaching toddlers thankfulness, for the twelve days leading up to Thanksgiving. Try these gratitude activities to help enjoy the thankful season a little more.
As K has gotten older, I've started realizing that one of the ways he learns best is by watching Richie and me in all of our daily actions. I thought it would be the prefect opportunity to start teaching K thankfulness by doing gratitude centered activities through our 12 days of Thanksgiving.
All of the activities are ones that we can do together, which is my way of leading by example.
As I was trying to come up with the twelve perfect activities for our 12 days of Thanksgiving, I of course started thinking about the 12 Days of Christmas. I love how the song goes, "my true love gave to me," and thought about how perfect a phrase like that would be for my 12 days of Thanksgiving because the goal is to celebrate and be thankful for the things that we've been given.
So I ran with the idea and came up with activities centered around things our Heavenly Father gave to us to remind K how blessed we are and where those blessings came from. Some of the ideas I came with include family, food, our home, our toys, our talents, our bodies, etc. I then took each of those blessings and turned them into a fun little "Heavenly Father gave to me," saying to fit in with theme.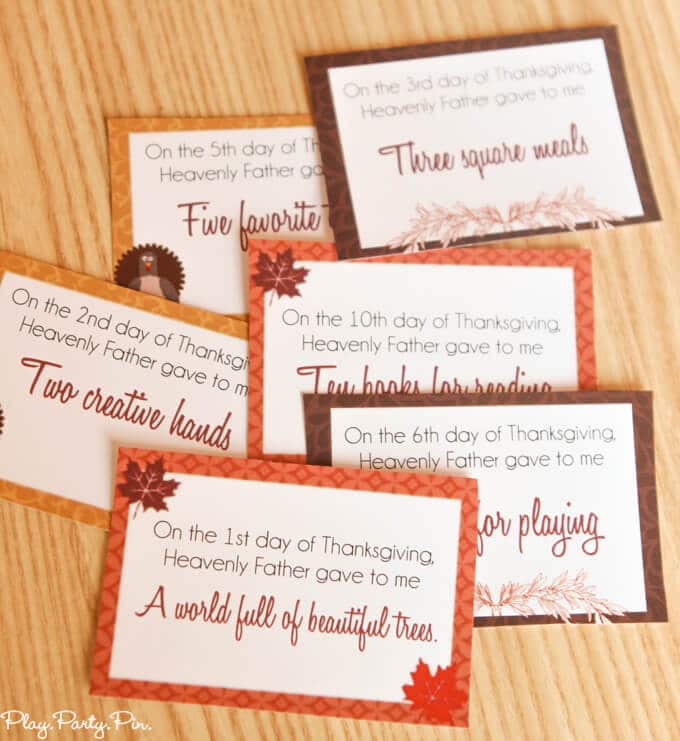 Rather than just giving K the cards each day, I'm going to set out a little cornucopia full of things related to that day's activity along with the card. I always say that it's easier to teach something if you make it fun, and I think that everything together will be really fun and something he'll remember for years to come.
And maybe, just maybe, he'll remember why we went outside to find leaves and wrote letters to our grandparents in November.
Some of the cards and activities that we'll be doing include giving away six toys for the "six toys for playing" card, drawing pictures and writing thank you cards to grandparents for the "12 grandparents for loving" card, and going to the grocery store and buying food to donate for the "three square meals" card.
Here are the gratitude activities we're doing; you can download all of the different activity ideas and cards below. Pick and choose which ones you want to do for each day.
Gratitude Activities for Kids
One World Full of Beautiful Trees

go on a hike
rake leaves for someone
picking up trash on a walk
collecting leaves to make a craft

Two Creative Hands

trace your hand to make turkeys
draw a picture for your friends
do a craft for a friend
bake treats for a friend

Three Square Meals

donate food to a food bank
buy a meal for someone in need
buy a bag of food at a grocery store
have friends over for a gratitude lunch

Four Calling Phones

Use technology to call the people you care about most just to say hi
Call someone to invite them to the park
Take pictures on your phone and send them to someone who might need a little boost
Say thanks for being a good friend via text

Five Favorite Things

Make a goodie basket of your favorite treats and leave it as a surprise for a neighbor
Buy five of your favorite things (bubbles, crayons, etc.) and take it to a friend with a thank you note
Go through your toys and pick out some of your favorite things to donate
Bake your favorite treat with your family and enjoy together while watching your favorite movie

Six Toys for Playing

Pick out six toys to donate to a children's shelter
Buy a toy for one of your friends who may not have as much, give it anonymously
Make a new toy with your family – e.g., blocks, play-doh, etc.
Clean up all of your toys with mom.

Seven Games for Playing

Play your favorite game with your family
Play one of these fall themed games
Make up a new game to play with your family
Pick out your favorite game at the store and give to a friend with a thank you note.

Eight Stores for Shopping

Go to your favorite store and pick out some fun treats and give to a friend with a thank you note
Pay for someone's groceries or purchases in front of you in line
Offer to help gather carts in the parking lot of your favorite store
Give the cashier a thank you gift like these ones when you check-out.

Nine Songs for Dancing

Have a dance party. Go crazy
Drive around looking at the trees and listening to your favorite music
Make someone a CD or playlist of songs that make you happy

Ten Books for Reading

Donate a couple of your favorite books
Read books about gratitude together
Do something based on one of your favorite books like bake blueberry muffins for Blueberries to Sal
Go to storytime with your friends.

Eleven Talents for Sharing

Help clean up the house
Bake something with mom
Spend the day laughing and playing with your family
Have a playdate with friends and let the kids play musical instruments, draw, etc.

Twelve Relatives for Loving

Draw pictures/write letters and send them to your favorite relatives.
Take Thanksgiving pictures and send to your favorite relatives.
Call or FaceTime with your favorite relatives (or one who might need a boost) just to say hi
This would be a fun and simple way to teach your toddlers about thankfulness this Thanksgiving and luckily I've already done all of the work for you.
All you have to do is print out the free printable cards and put them out for your kids each morning. And then have a great time celebrating gratitude and thankfulness starting next week!
Get the Free Printables
Enter your first name and email address below to get the free printable. You'll receive a copy to your email within minutes.
If you can't see the form below, click here to get to the form to enter your info.