In this scavenger hunt for Halloween, players have to search for fun Halloween items either around the house or around the neighborhood! Two different Halloween scavenger hunt ideas that are printable and ready to play right away!
Seek & Find Scavenger Hunts
If you've read my blog at all, you know I love me some good scavenger hunt ideas. In the past I've shared everything from an indoor scavenger hunt to a fall photo scavenger hunt and even an alphabet scavenger hunt!
So it only makes sense that it's time to finally share a Halloween scavenger hunt – two actually. These are both seek and find type scavenger hunts where you are looking for items on a list. And they're perfect for social distancing Halloween fun!
If you're looking more for riddle or clue based, you'll want to check out this Halloween scavenger hunt instead that's more like a treasure hunt.
In the first, they are just typical Halloween items you might find around the house. In the second, it's specifically written to be a Halloween decorations hunt where you're searching for typical Halloween decorations around a neighborhood. They're some of my new favorite Halloween games, for small parties!
Do one or both versions this holiday season for a super fun Halloween activity for the entire family. You could even make it a little competition to see who can find the items on the lists first!
Supplies
The best thing about doing a scavenger hunt for Halloween like these seek and find ones is that you really don't need anything other than the scavenger hunt you can download below and a pen to mark things off.
Oh and maybe a car if you want to drive a little further for the Halloween decorations hunt! Otherwise, just print and play!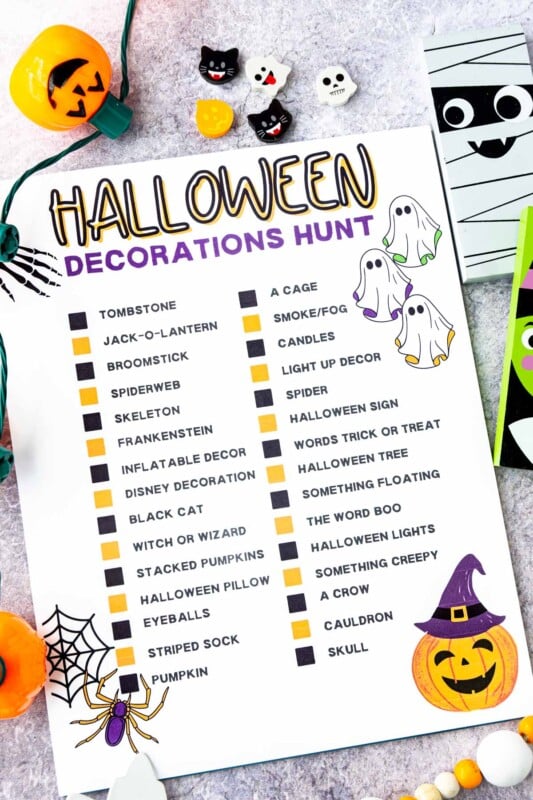 Two Printable Scavenger Hunts
There are two different hunts included in the download in this post. They're slightly different, so I'm going to explain them both. They look very similar other than the options though, so I included them both in this post together!
Hunt #1 – Find the Items
This seek and find list searches for typical Halloween items you could potentially find around the house or also ones you might see if you took a walk through your neighborhood. But they're pretty generic other than being Halloween themed.
Kids (or whoever is doing the scavenger hunt for Halloween) can get creative to find the items. Black cat could be a stuffed black cat. Vampire could be a Twilight book or a Hotel Transylvania movie.
Send them off with a hunt and see what they can find or make it a family night and search all together. Dress up in costume and walk your neighborhood seeing what you can find!
Check off the boxes as you go so you remember what you're still looking for. When you finish the Halloween hunt, celebrate with some treats as a family! I like these witch Halloween rice krispy treats, monster cookie sandwiches, and candy corn pudding cups!
Game #2 – Halloween Decorations Hunt
Okay so moving on from the typical Halloween scavenger hunt to a new one this year – a Halloween decorations hunt! With the recommendations being to not go door to door trick or treating, this fun scavenger hunt for Halloween is a fun way to still get outside on Halloween without actually knocking on any doors.
Instead of just finding typical things like a ghost or a bat in this hunt, you'll be searching your neighborhood for specific types of Halloween decorations. There are a few items on the list that appear on the first scavenger hunt above but mostly, they're things that are decoration specific.
Items on this scavenger hunt includes things like something inflatable, stacked pumpkins, Halloween lights, and a Boo sign. I tried to keep things fairly generic so you'll most likely see the items on the list but still fun enough that you won't just see them all at the first house!
We love doing this Christmas lights scavenger hunt every year, and I think this Halloween decorations hunt may just be a new family tradition! You could even make this a neighborhood activity – give each family a scavenger hunt and see who can find the items on the hunt first.
Make it a full night of fun by playing a little Halloween would you rather, asking some Halloween truth or dare questions (truth or scare!), and using some of these Halloween party ideas for a fun finish!
Or drop off some Halloween boo baskets while you're out and about – your neighbors will love the fun Halloween surprise!
Looking for more Halloween Games?
Expert Tips
Go virtual by having everyone join in on Zoom or another video chat service and using the items on this Halloween scavenger hunt with the rule for this virtual scavenger hunt. Just replace the list from over there with these Halloween items!
Laminate the scavenger hunt and use dry erase markers to mark things off as you go. Then instead of throwing away the scavenger hunt, do it again later in the season or next year!
Do both scavenger hunts during the Halloween season. Let kids do the regular seek and find one sometime in October and do the Halloween decorations one as a family Halloween week! They may look the same but it'll still be fun to search for different item together!
Make it a competition and have people take photos of the items they find to prove that they found them! First person to return to the house with all of the items (and photos of the items) wins a prize!
Game FAQs
How many copies do I need to print?
If you're going as a group and working together, you'll just need to print one copy of the hunt. If you're doing a competition, you'll need one copy per team.
What if I can't find some of the items?
That's totally fine. It's meant to be an activity for people to enjoy time together – just find what you can and enjoy treats together after!
How do you do a Halloween treasure hunt?
If you're looking for riddles that lead to Halloween treasure, you'll want to check out this Halloween scavenger hunt that comes with clues!
Do you have more scavenger hunts?
Yes! You can find them all on my scavenger hunts page here!
More Halloween Games
Download the Printable
Enter your first name and email address in the form below to get the printable PDF. You will receive a link to download the PDF to your email within minutes.
Or if you'd prefer to not provide your email, you can get a copy in my shop here.
The PDF will include:
A full-sheet PDF with the Halloween scavenger hunt
A half-sheet (two to a sheet) PDF Halloween scavenger hunt
A full-sheet PDF with the Halloween decorations hunt
A half-sheet (two to a sheet) PDF Halloween decorations hunt
A PDF with one half-sheet Halloween scavenger hunt and one half-sheet decoration hunt (if you want to do them both!)
If you do not immediately receive the email, make sure to check your promotions, spam, and junk folders!
If you do not see the form below, click here to get to it.