This Halloween trick or treat game is perfect for all ages whether you're hosting a classroom party for kids or a party for teens! Simply change up the tricks and treats, and you'll have everyone hoping you use these trick or treat ideas every year!
Trick or Treat Game Idea
Halloween is one of my favorite holidays and for good reason. Candy. Costumes. Chili (especially this white chicken chili). All things I love.
It's no wonder we host or at least attend a Halloween party every year! This Halloween trick or treat tree game idea is still one of my favorites because it's SO simple to make and play!
It's also great because it's really just about luck – not skill like these Halloween minute to win it games. Luck of the pick really.
The basic idea is that you pick a pumpkin and that pumpkin includes a trick or a treat. Keep reading to get more details on this fun Halloween trick or treat game!
Trick or Treat Tree Supplies
You really don't need much to make this trick or treat game. Just a few things – most of which you probably already have at home!
How to Make the Trick or Treat Tree
There's really no making to this game. It's as easy as 1, 2, 3.
1 – Print out the trick cards. I recommend printing them on white card stock or you can print them on regular paper if you want them to be able to fold a little easier. Cut them out once printed.
If you need more trick ideas, you could totally use any of the dares from these Halloween truth or dare questions.
2 – Fill each of those little mini pumpkins with either a trick or a treat making sure that you can't see them sticking out. I've got plenty of ideas for non-candy treats below if you want to do something other than candy.
3 – Hang the mini pumpkins up on the tree.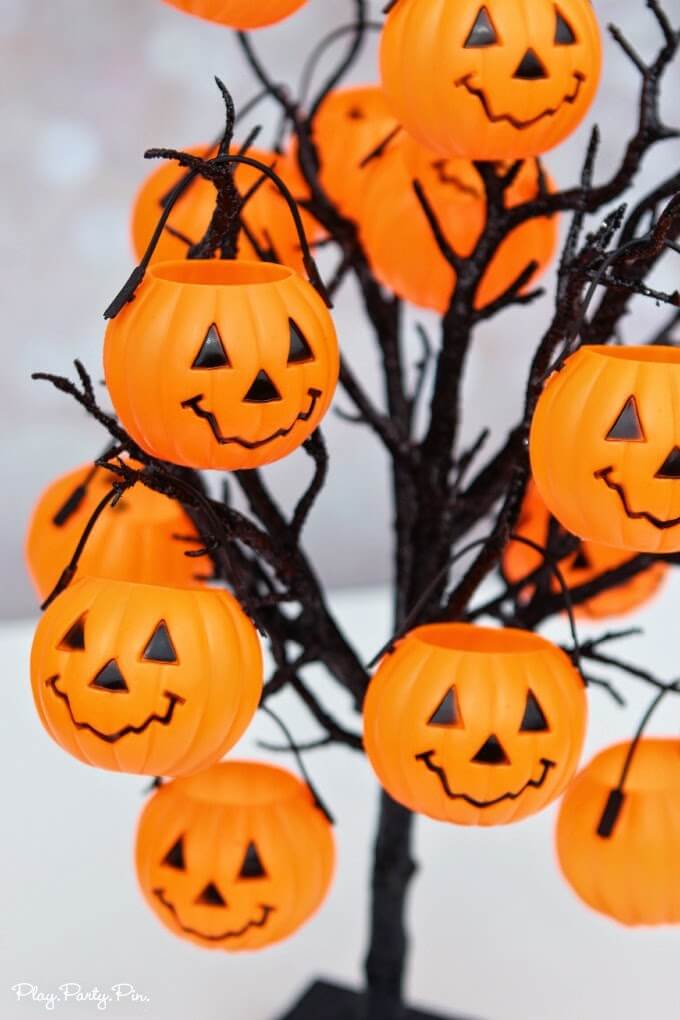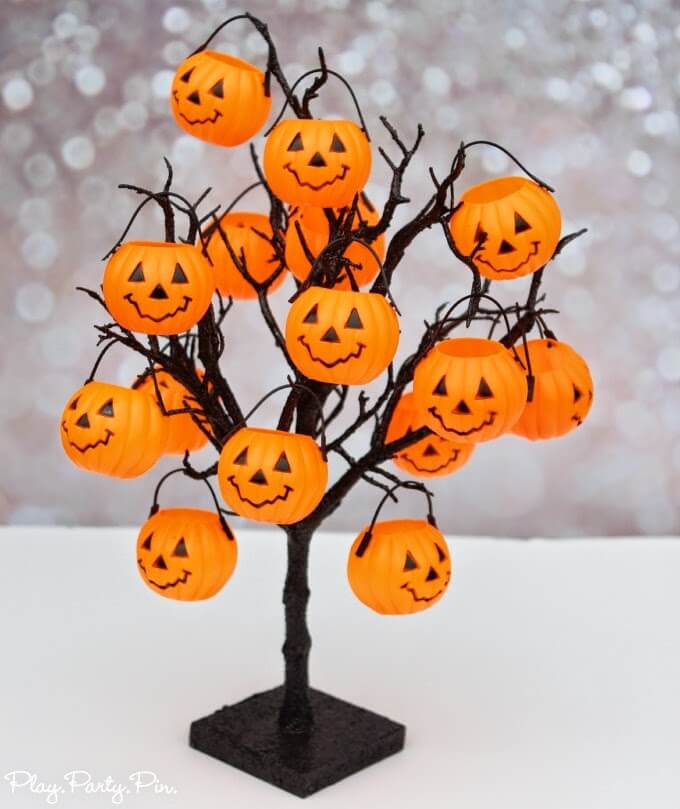 How to Play This Trick or Treat Game
Playing the game is almost as easy as setting it up!
1 – Choose someone to go first. It really doesn't matter who, but I recommend someone who will be a good example if they get a trick and not a treat. My 13-year-old nephew started the game out for us this year!
2 – Whoever's turn it is picks a pumpkin off the tree. If they get a treat, they get to keep the treat.
If they get a trick, they have to do the trick. Once they do the trick, you can either let them choose a treat from a bowl nearby or have them get back in line and hope for better luck picking their pumpkin next time.
Note: Make sure people know that they have to go with whatever pumpkin they touch first – no feeling them, looking inside, etc. because you can easily tell if it's a trick or a treat when you touch it.
Non-Candy Treat Ideas
These are just a few non-candy treat ideas you could put inside the pumpkins. You could also do things like these Halloween game prizes as well!
Halloween Advent Calendar Idea
Instead of doing this as a trick or treat game, you could also take the same idea and use it as a Halloween advent calendar (like this Christmas advent calendar) instead!
If you want to do this as a Halloween countdown calendar with your kids, just have your kids pick off one pumpkin each day leading up to Halloween.
You can replace the "tricks" with the printable list of Halloween activities I've put together (download it below) or by using some of the activities on this fall photo scavenger hunt or this fall bucket list.
Looking for more Halloween Games?
Download the Printable
Click the button below to get the free printable cards. If you don't see the button, click here to download the files.
The file will include:
Two pages of trick or treat activities to put in the pumpkins
One page of blank cards to fill in your own activities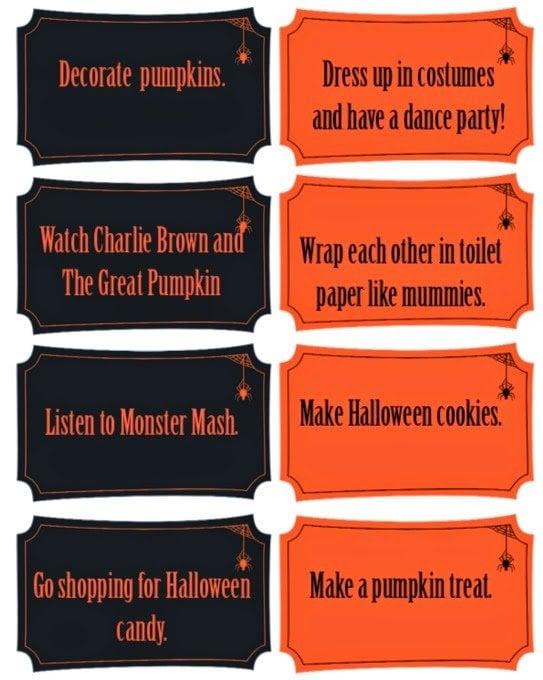 Other Halloween Games
More Halloween Fun