Princesses of all age will love all of these fun and creative princess party ideas! Everything from delicious princess party food to decorations and of course, activities fit for a princess! It's everything you need for the ultimate princess party!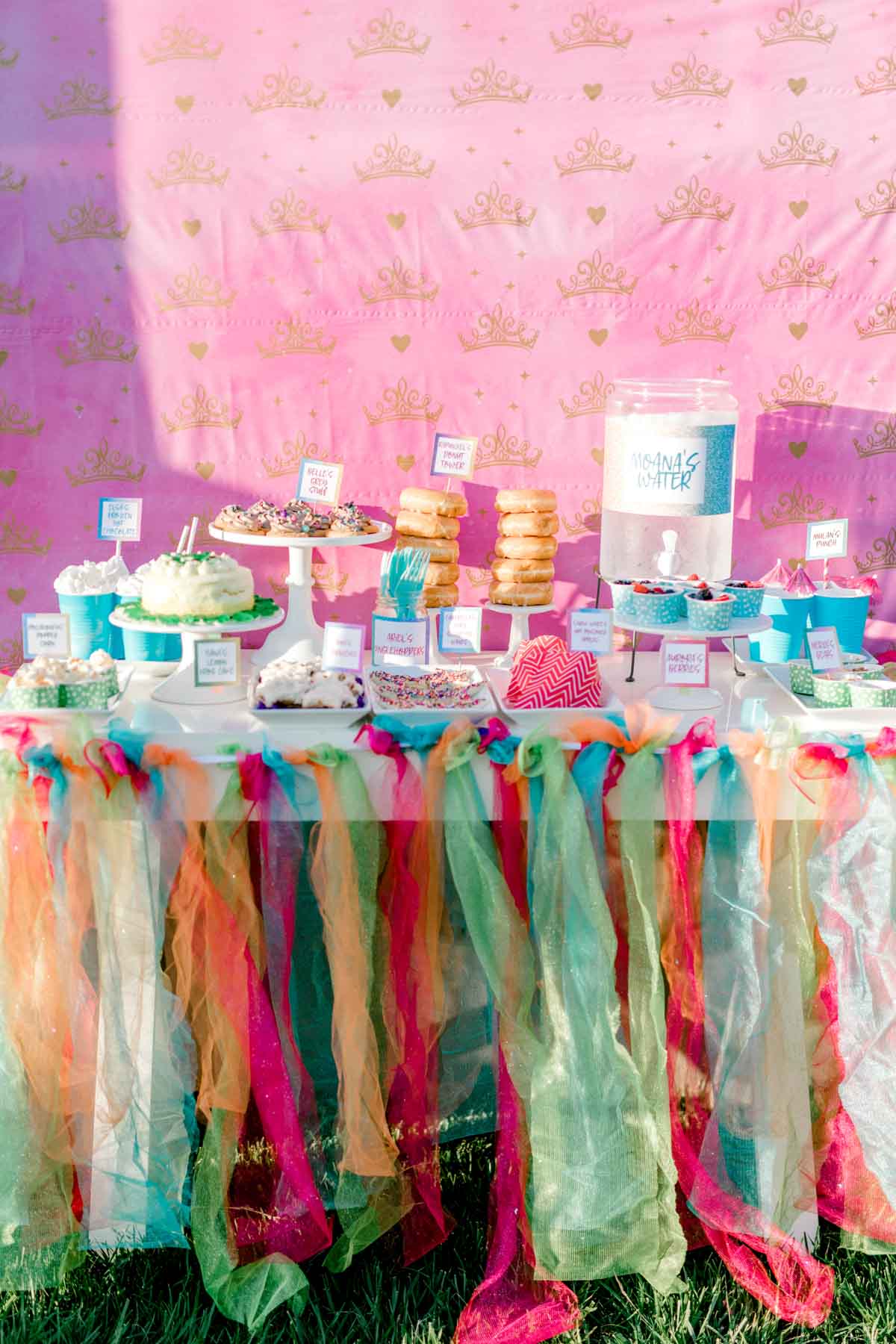 Sponsored by: ShopDisney, all opinions and ideas are 100% honest and my own. This post also includes affiliate links.
As the mom of boys, I don't typically get to do the princess thing. I remember being totally thrilled when my niece came to Disney World with us because it meant I finally could try out the princess Disney character dining that my boys had no desire to do! We typically end up doing things like Jedi training and superhero games instead.
But I love Disney princesses and all that they stand for – kindness, bravery, going after their dreams, etc. – so when ShopDisney recently launched the Ultimate Princess Celebration, I thought it would be fun to throw my own little princess party inspired by all the things we can learn from Disney princesses!
I invited a couple of my son's friends over for a day of princess food, princess party games, and plenty of fun!
Princess Party Theme
Instead of going just straight princess themed and having the girls dress up in princess dresses, I thought it would be really fun to do a pajama picnic instead! It kind of reminded me of the comfy princesses from Ralph Wrecks the Internet!
ShopDisney has the cutest princess pajama sets that were nice and light for the hot summer day. Plus, they were comfortable for all of the adventurous activities I had planned!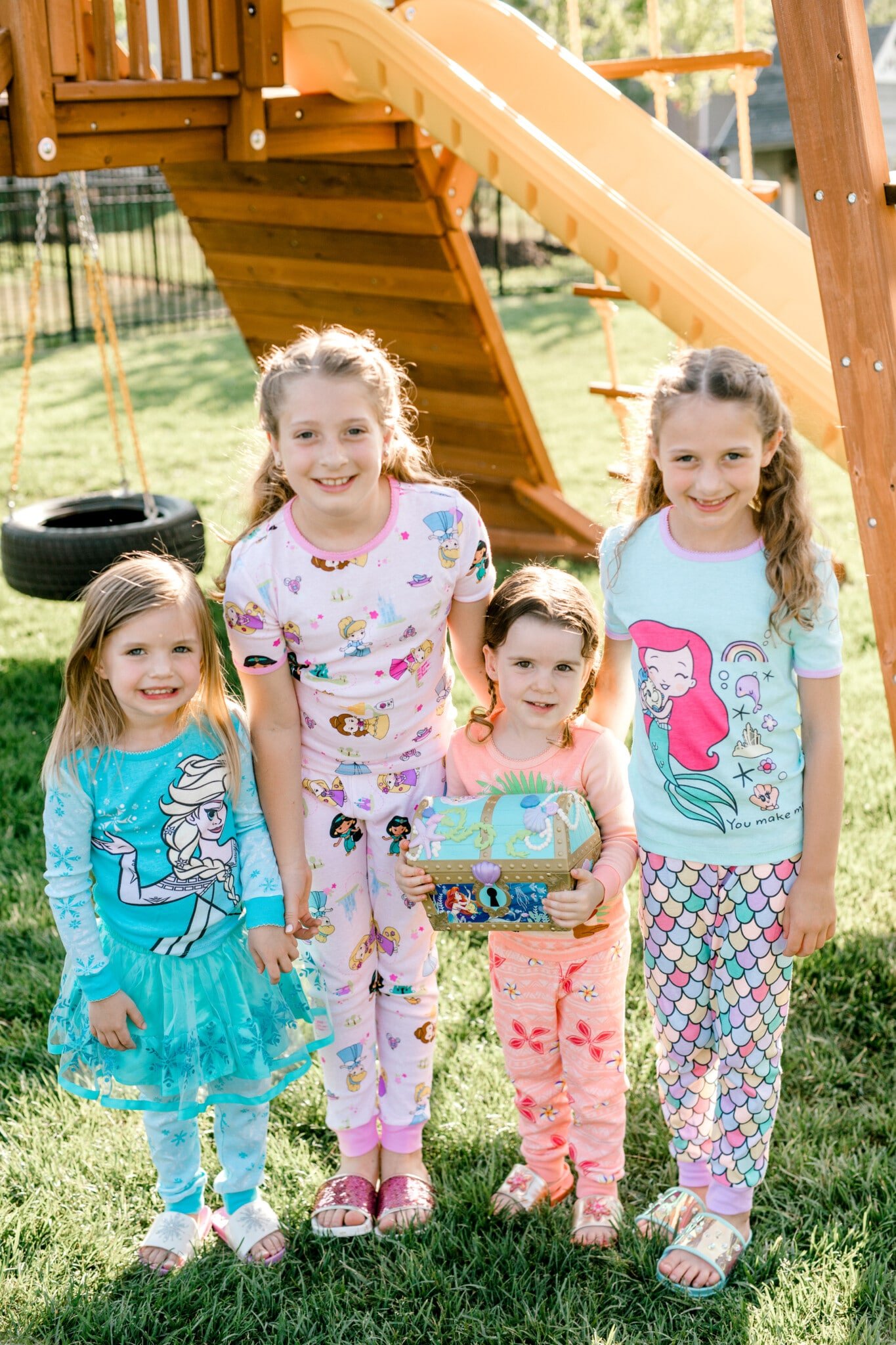 I also picked up a pair of matching slide sandals for each of the girl, a little more comfortable to run around in than say glass slippers!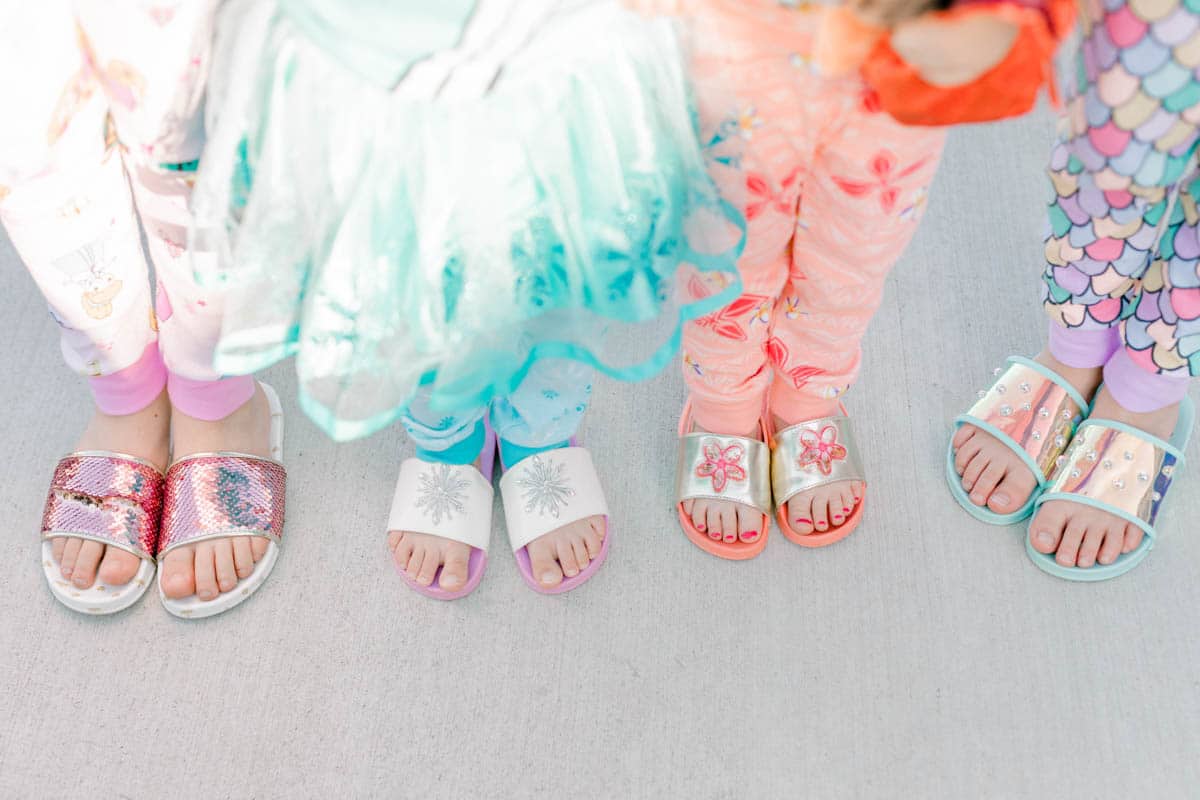 Shop the Look
Elsa tutu pajamas | Frozen slides
Princess pajamas | Princess slides
To go along with the princess picnic idea, I picked up these giant round princess beach towels. They made the perfect picnic blankets for eating all of our princess snacks!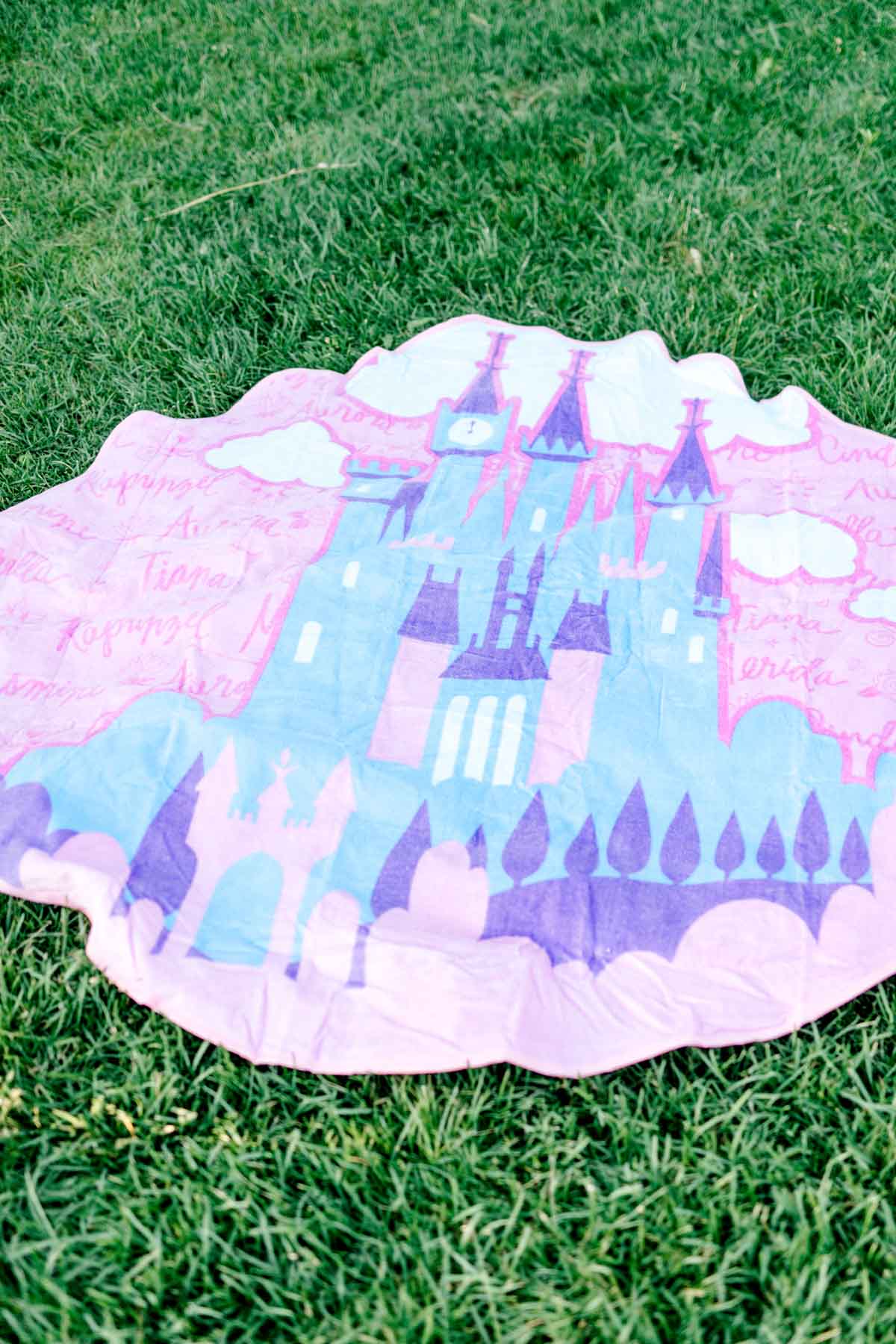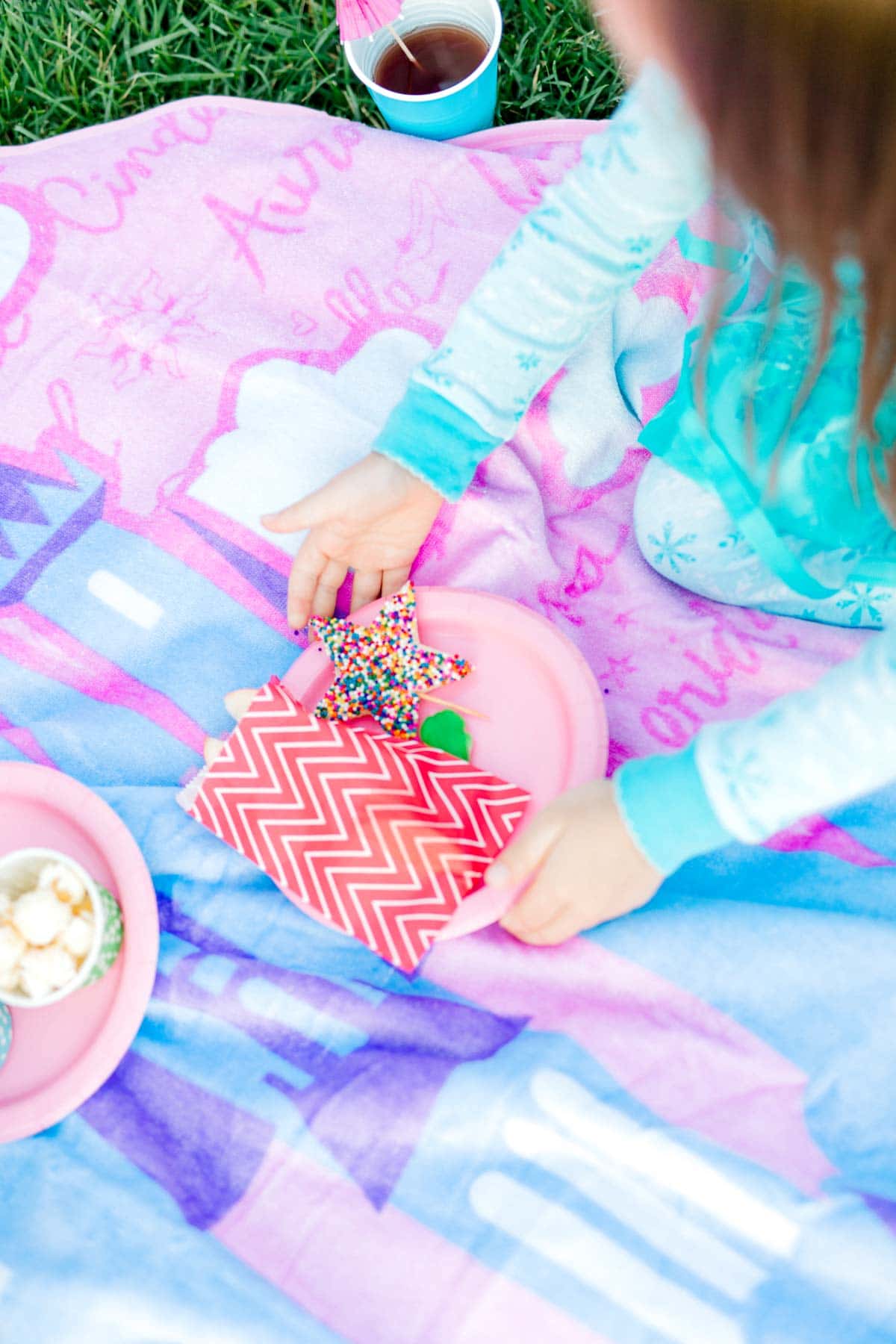 Princess Party Decorations
I decided to go pretty simple with my princess party decorations and focused more on my food and activities!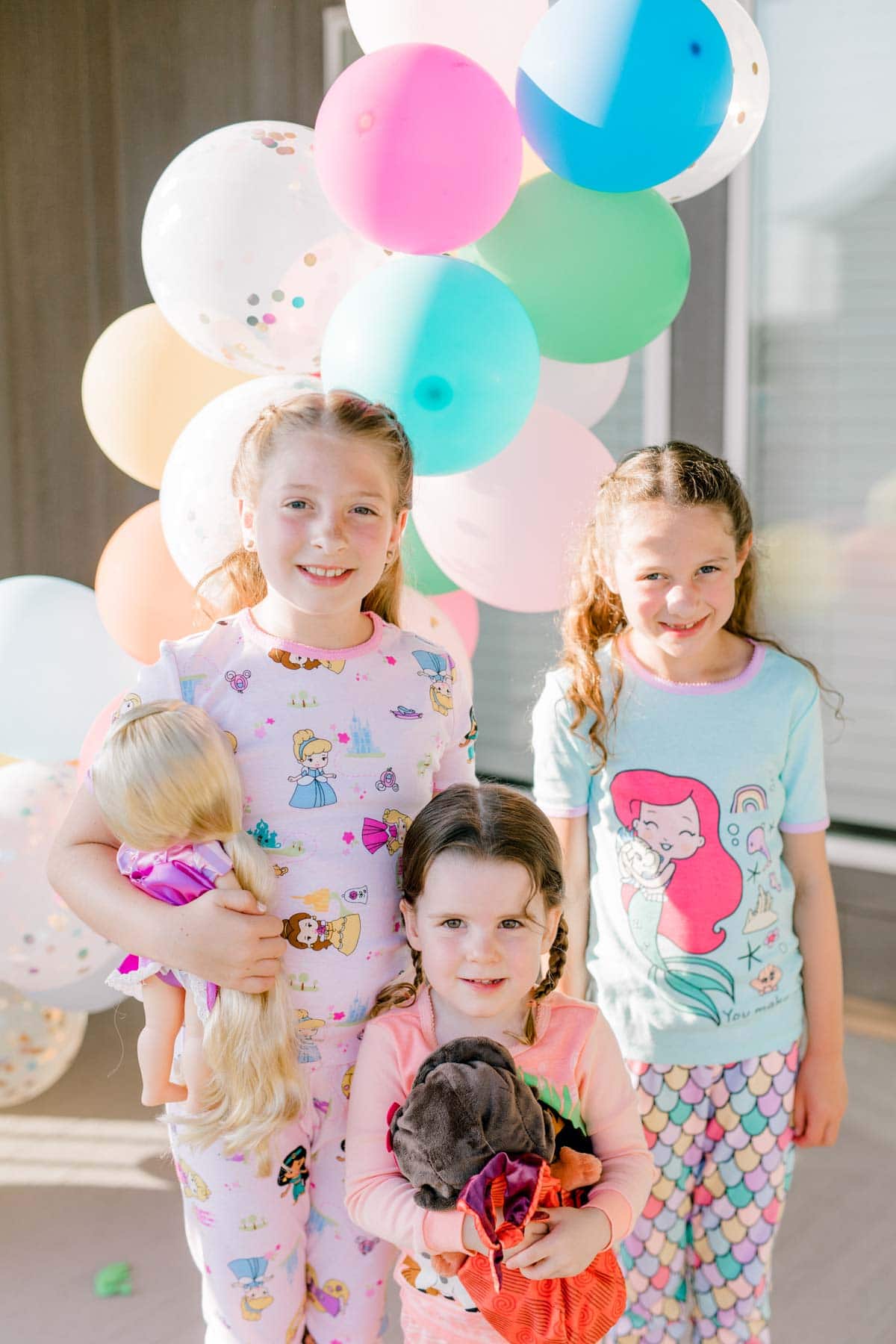 Since I was celebrating all of the Disney princesses, I made a balloon garland with all different colored balloons and some confetti filled balloons!
I added the princess tutu table cover I made for my once upon a summer party a few years ago to the food table, and added a princess backdrop behind the table.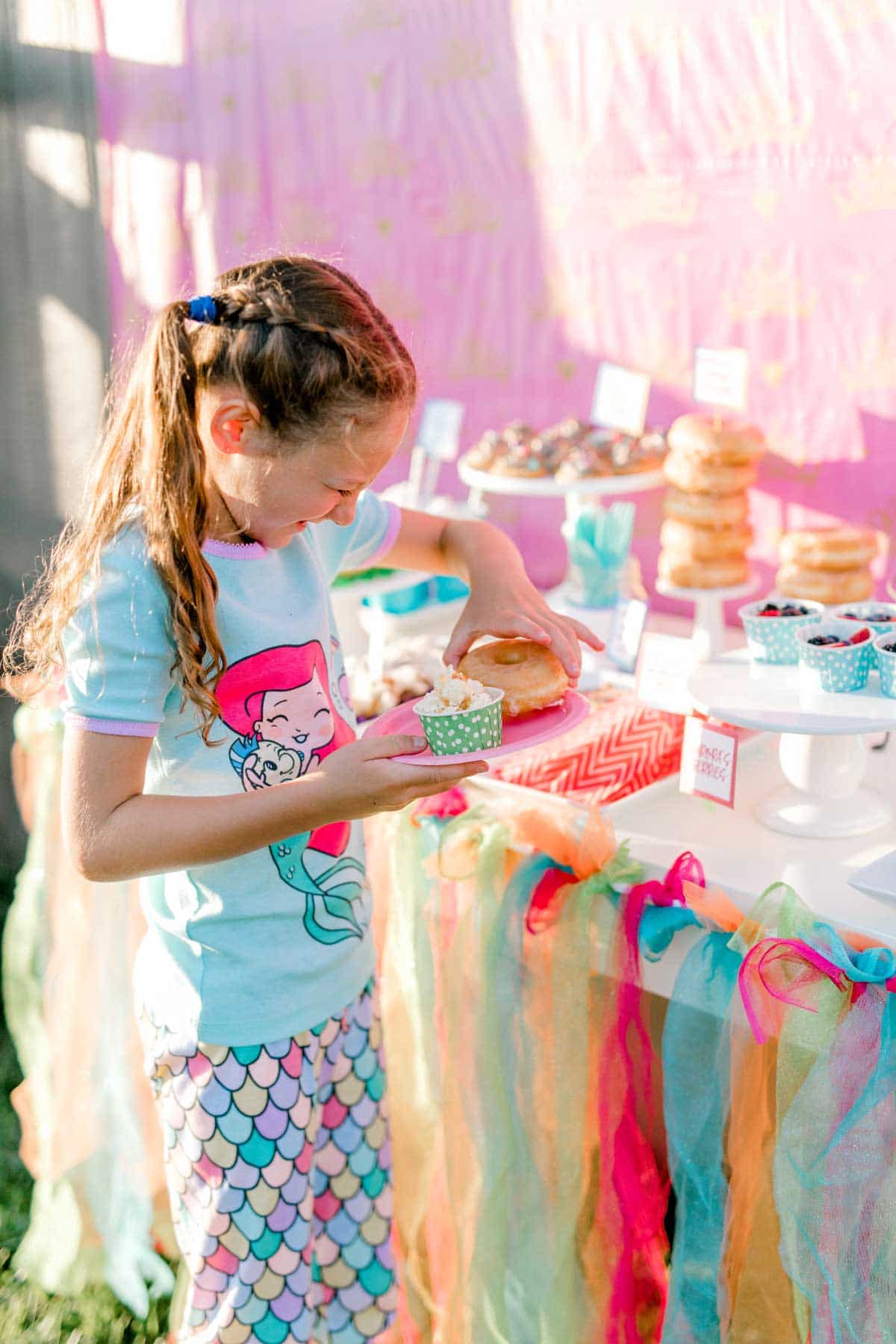 When you're choosing your decorations, you can't go wrong with color, sparkle, and shine! We all know that princesses like to shine!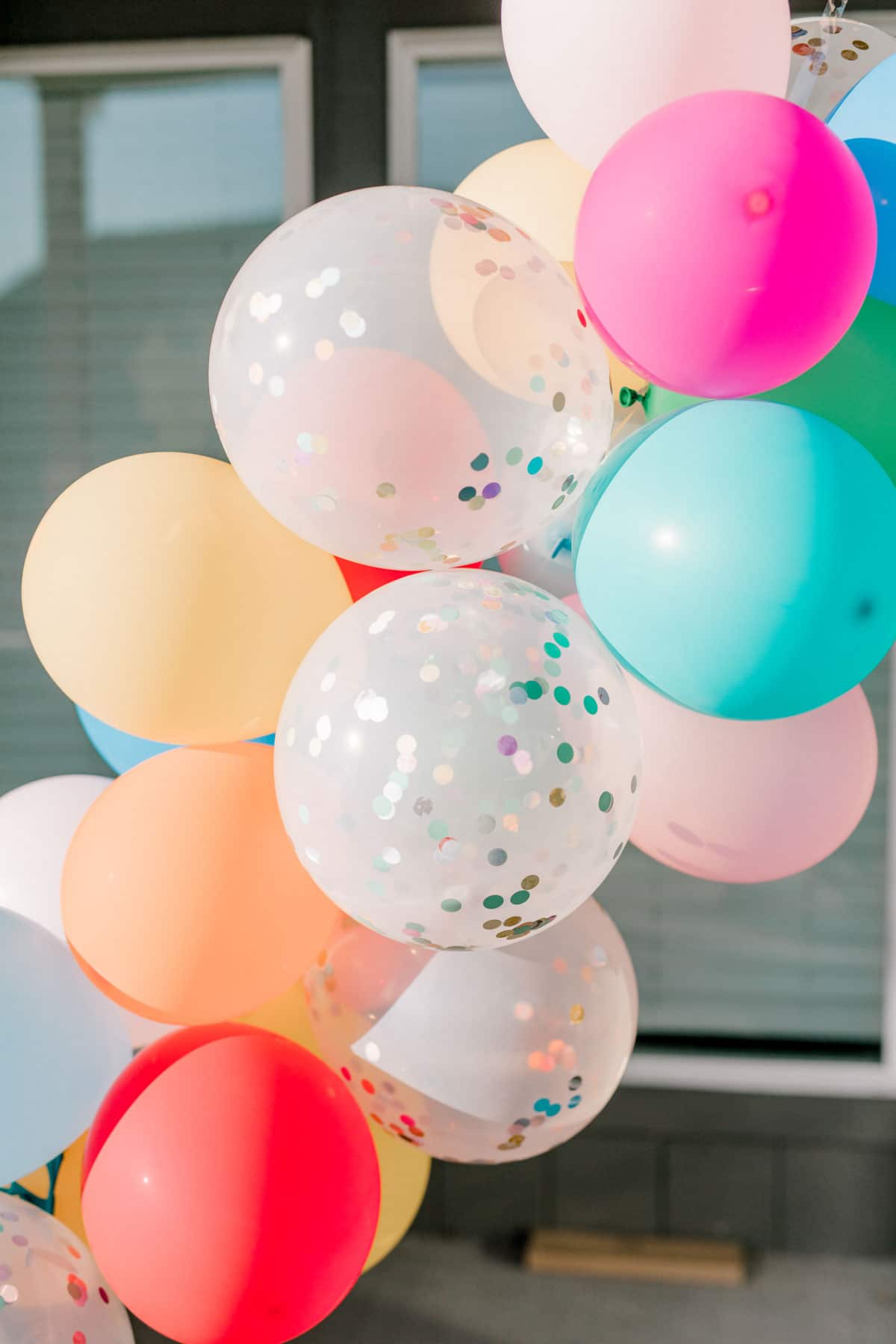 Princess Party Food
I'm a huge fan of themed food for parties and this party was no different! I went through each of the princess movies and came up with princess food ideas based on the movies. Each of the food items is either something eaten in the particular princess' movie or something inspired by an item in the movie!
Anna – I cut sandwiches into cute princess crowns, I did both peanut butter and jelly sandwiches and chocolate ones because you know our favorite Arendelle princesses love chocolate!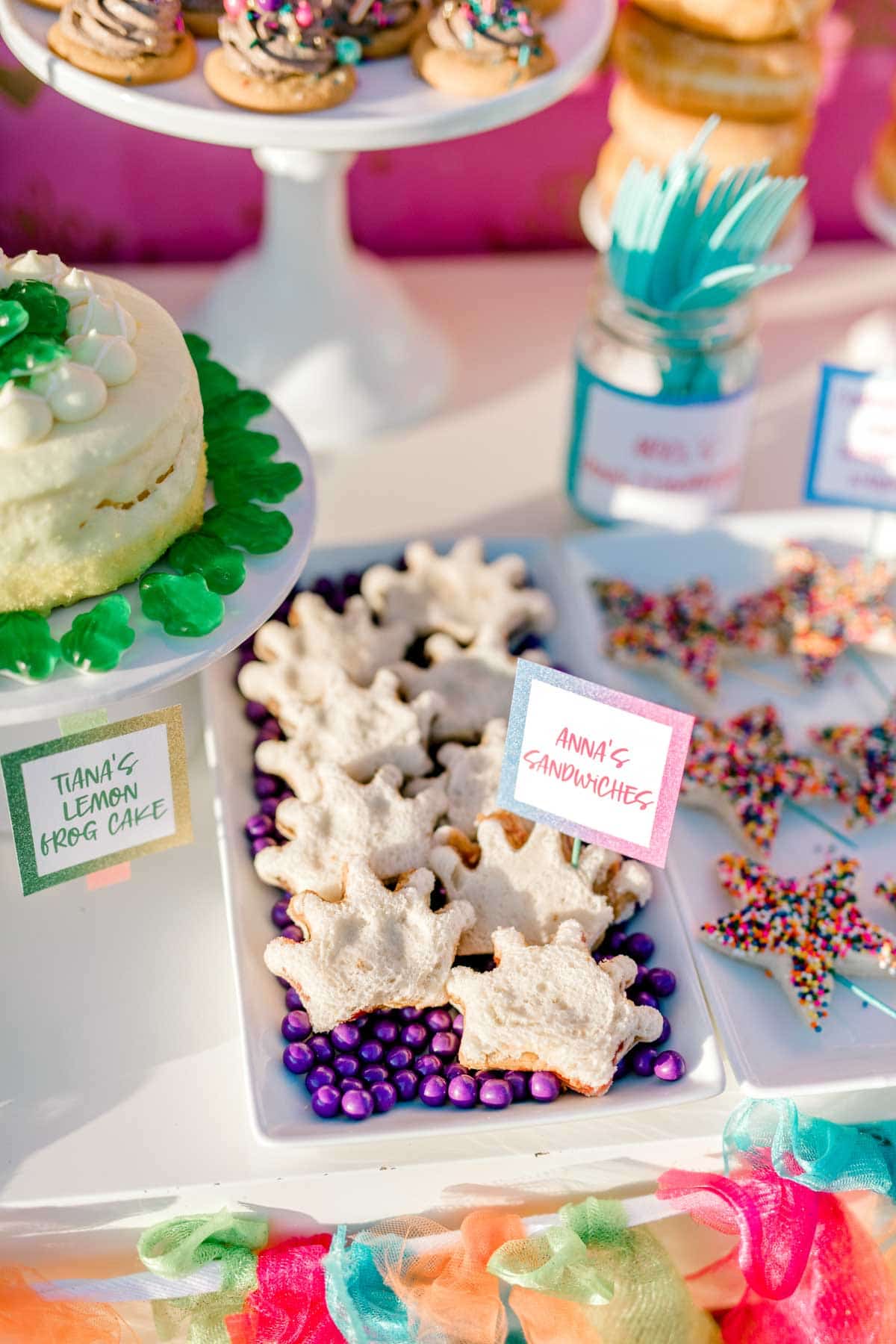 Ariel – Ariel didn't get an actual food because forks aka dinglehoppers seemed too perfect. If you want to do actual food you could do anything under the sea such as gummy sharks, candy fish, or even the candy sushi I served as my Disney themed birthday party!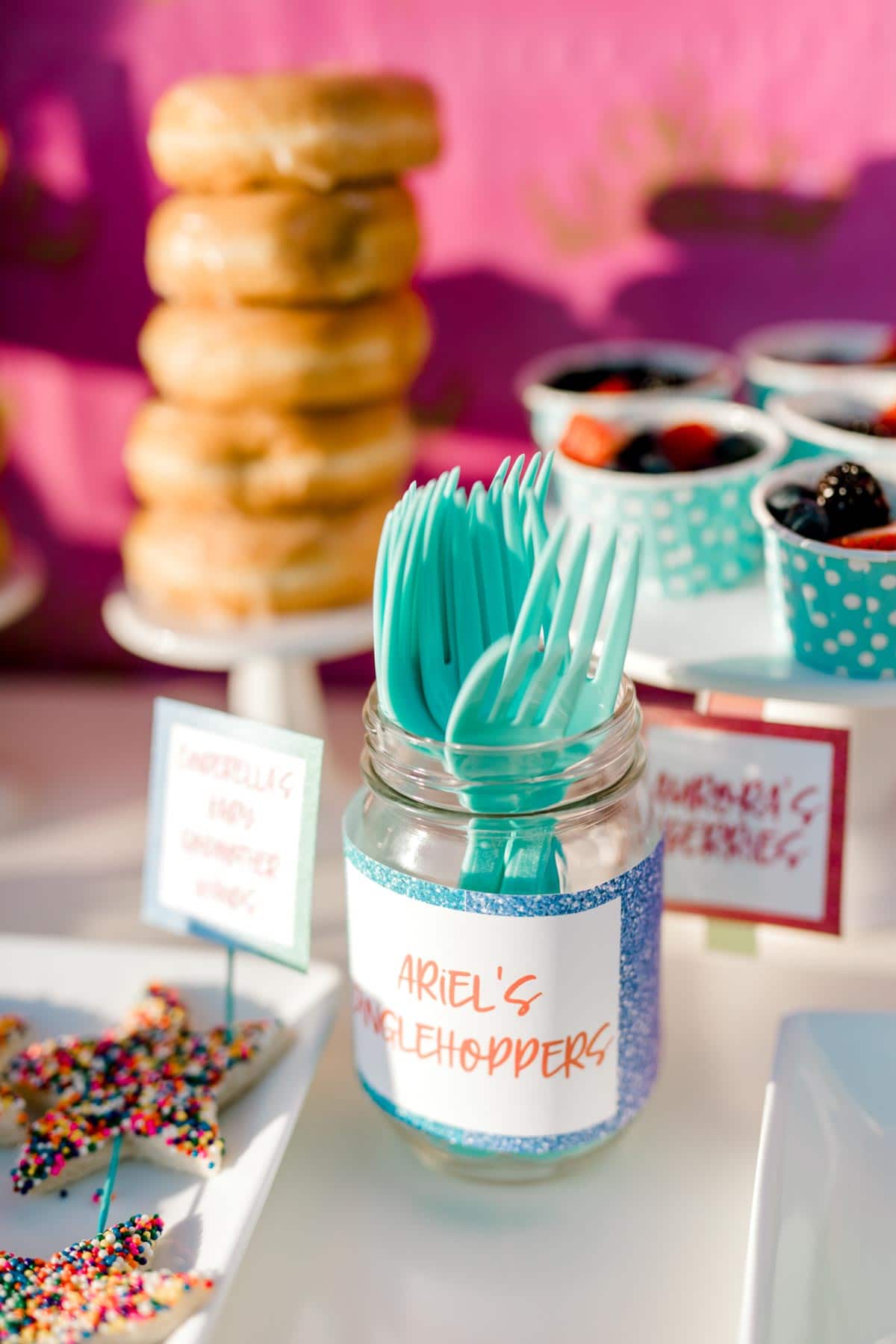 Aurora – For Aurora, I served berries like she went searching for in the forest. I went with a mix of berries but you could always just serve one type of berry or anything berry flavored! Even something like these strawberry danishes or strawberry scones would work!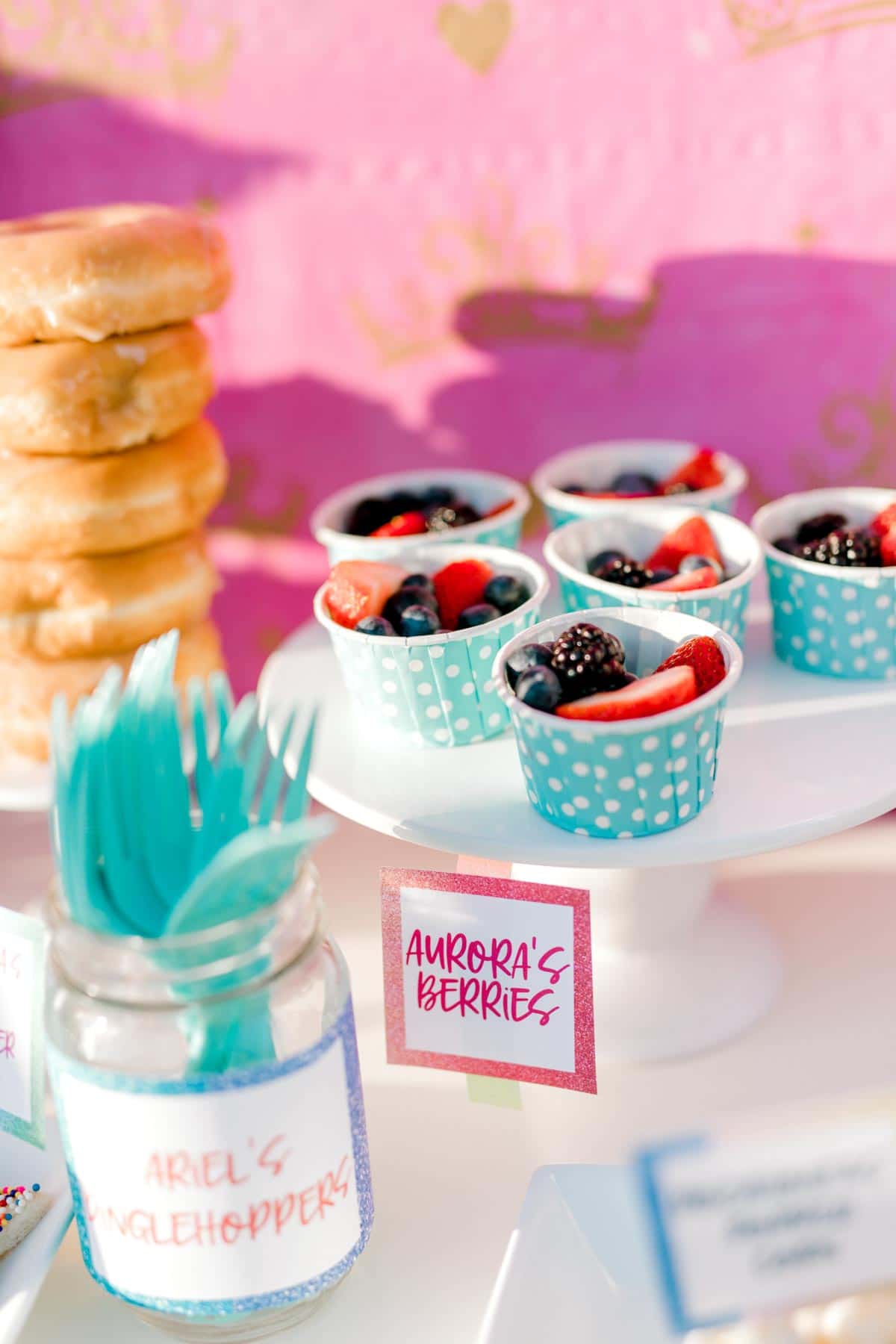 Belle – I made this grey stuff recipe; it was the hit of the party! It's one of my favorite Disneyland foods, so it's no surprise everyone loved it! It's basically just an Oreo pudding on top of a sugar cookie!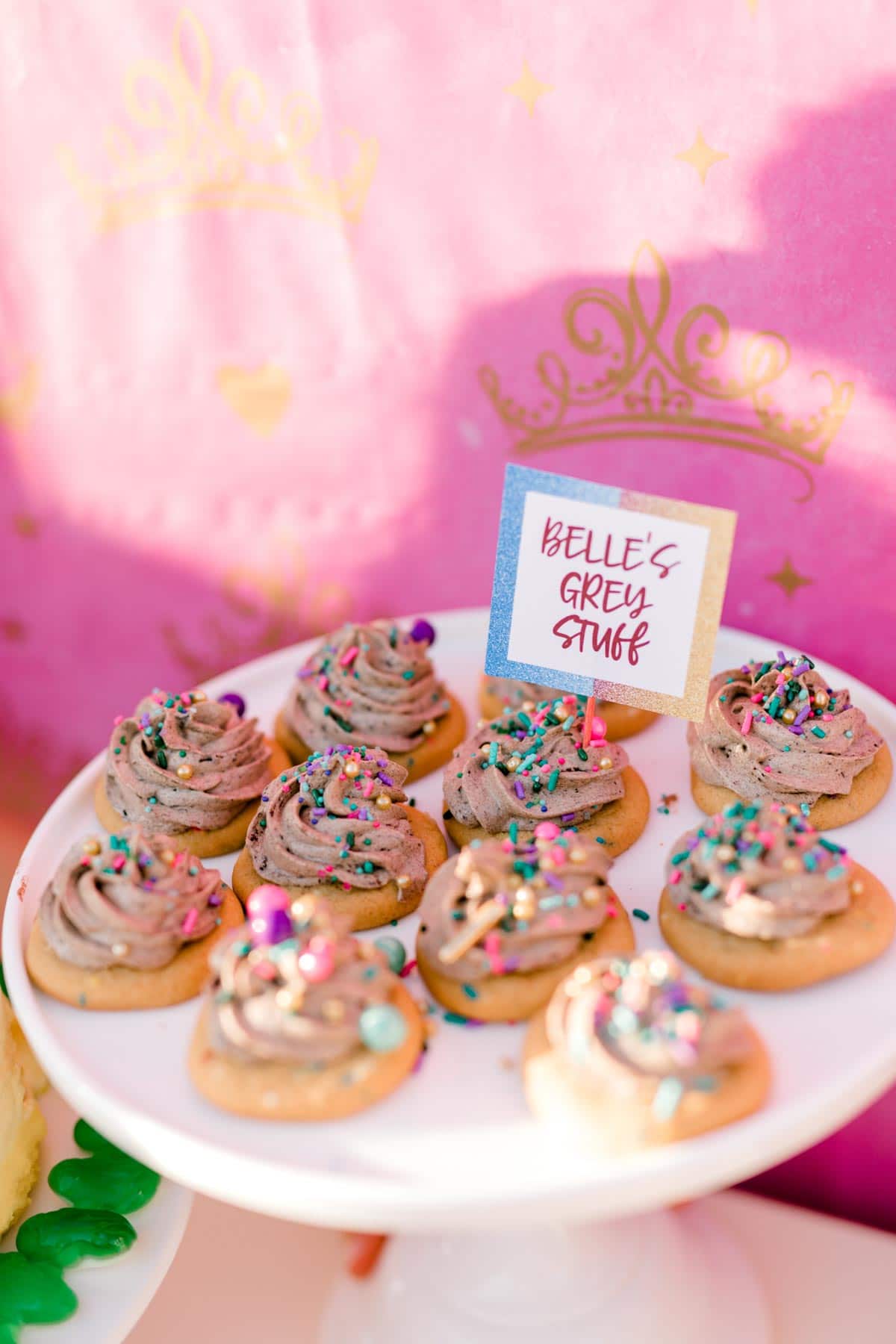 Cinderella – I made this fairy bread then cut them into star shapes and combined with a toothpick for Fairy Godmother wands. If it were fall, you could also do anything to do with pumpkins! These pumpkin cream cheese muffins with little crowns on top would be amazing!
Elsa – I made this frozen hot chocolate recipe and served it in blue cups. It was perfect on our hot summer day! If you're going to serve frozen hot chocolate, I recommend not bringing it out until right before serving OR freezing it completely and letting it thaw during the party before serving.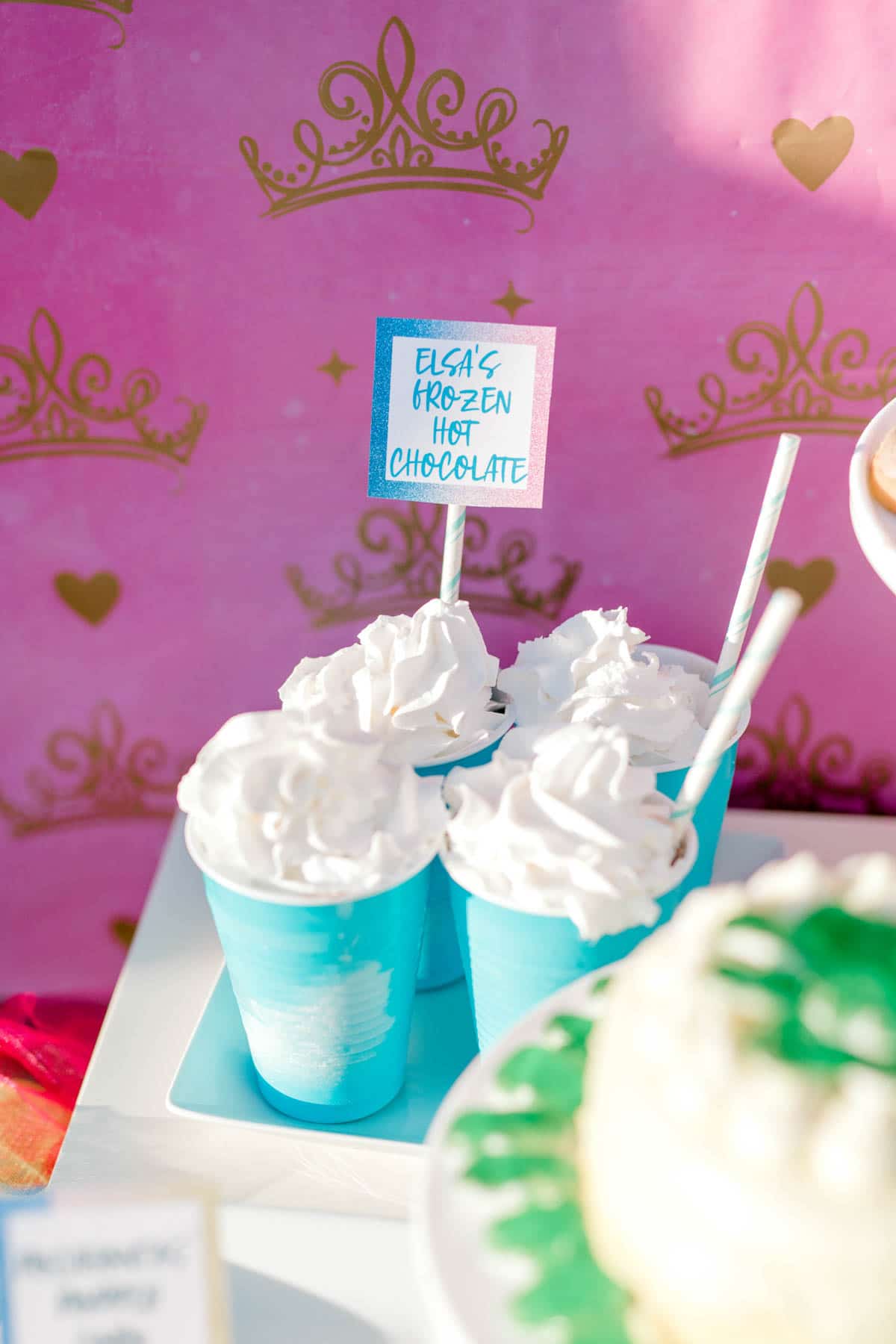 Jasmine – Jasmine didn't get a good either, she was represented with magic carpet napkins with little fringe on the end, just like the actual magic carpet! This is the only one I didn't get a picture of, but believe me – they were cute! If you wanted to do food, you could do candy gems, jewels, or an Arabian dessert like baklava.
Merida – I served graham cracker bears but you could really do anything with bears or any sort of Scottish dessert like Scottish buns!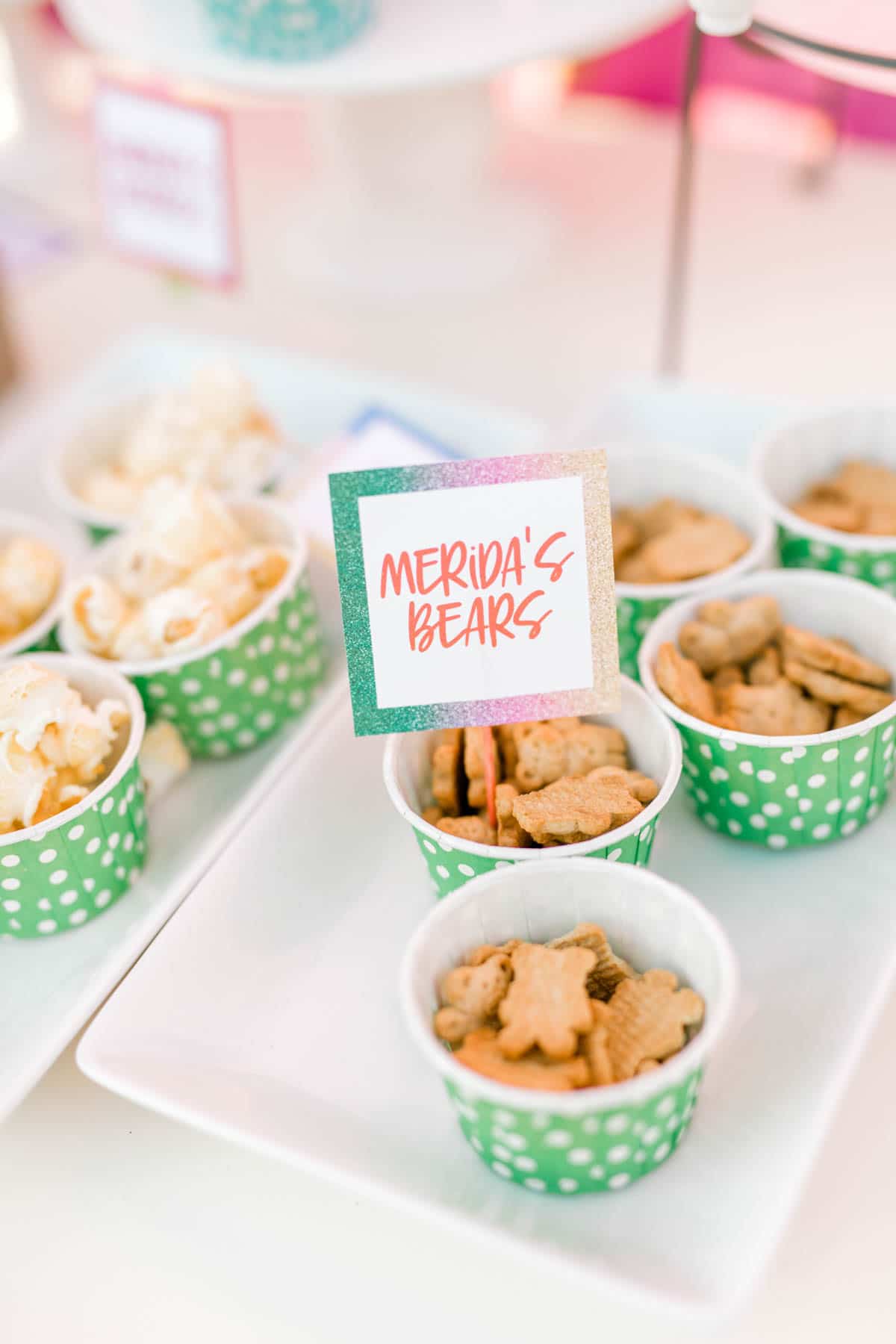 Moana – This one was easy, I had to do water for Moana because it calls her! And on a hot summer day, there's not much better than ice cold water! If you wanted to make this a little extra, you could add in some fun gummy sharks or ice cubes frozen in sea life shapes. These ocean blue lemonade popsicles would be fun too OR even just some coconut water with fun straws.
Another great option would be this Moana inspired tropical mocktail!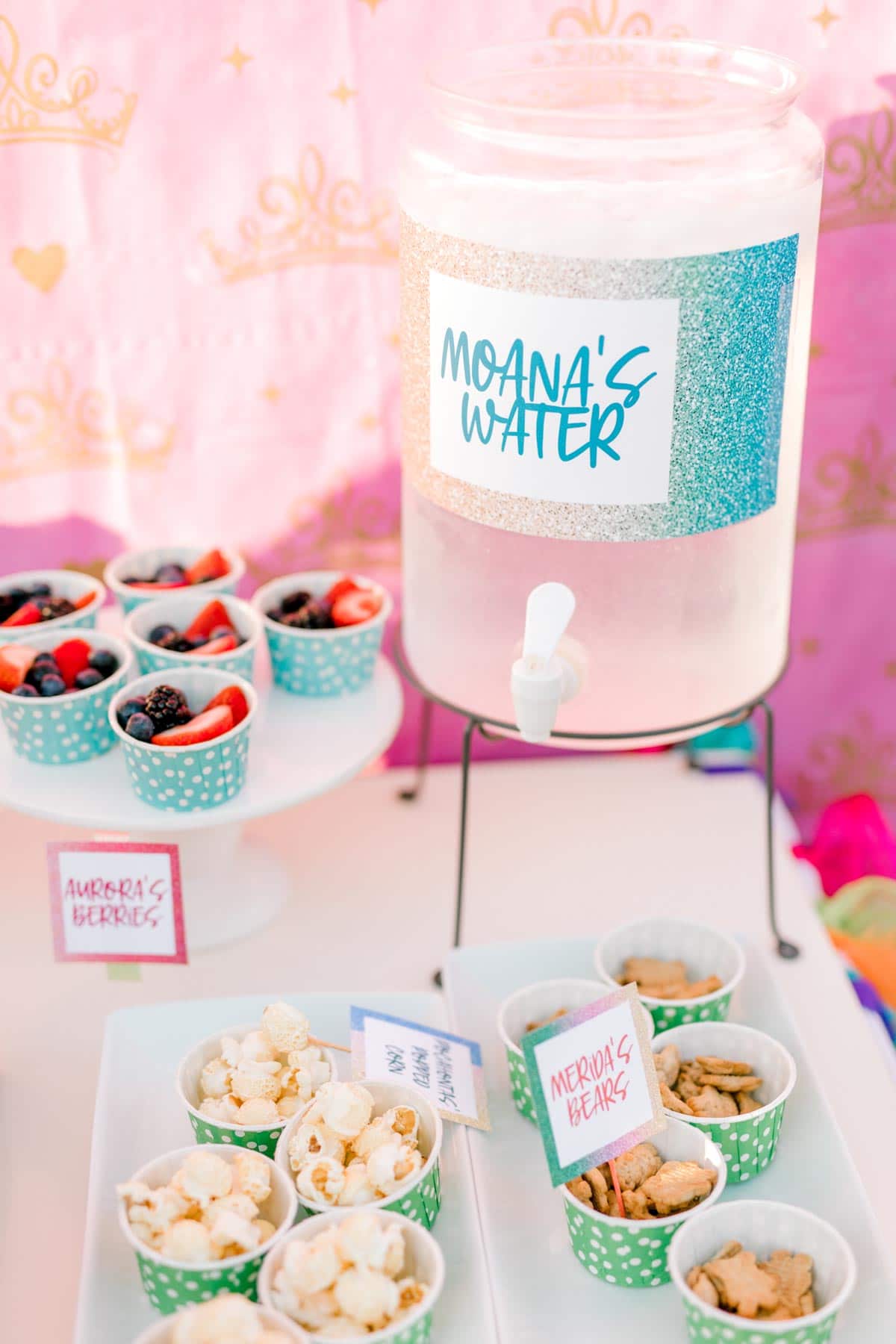 Mulan – For Mulan, I thought about Chinese desserts but decided to go with punch since Mulan is one of the few princess movies where the princess learns to punch!
I made this homemade fruit punch (with a red color) and added cute parasols like Mulan uses in the movie. If you don't want to fruit punch, you could do this raspberry summer punch that has a red color too.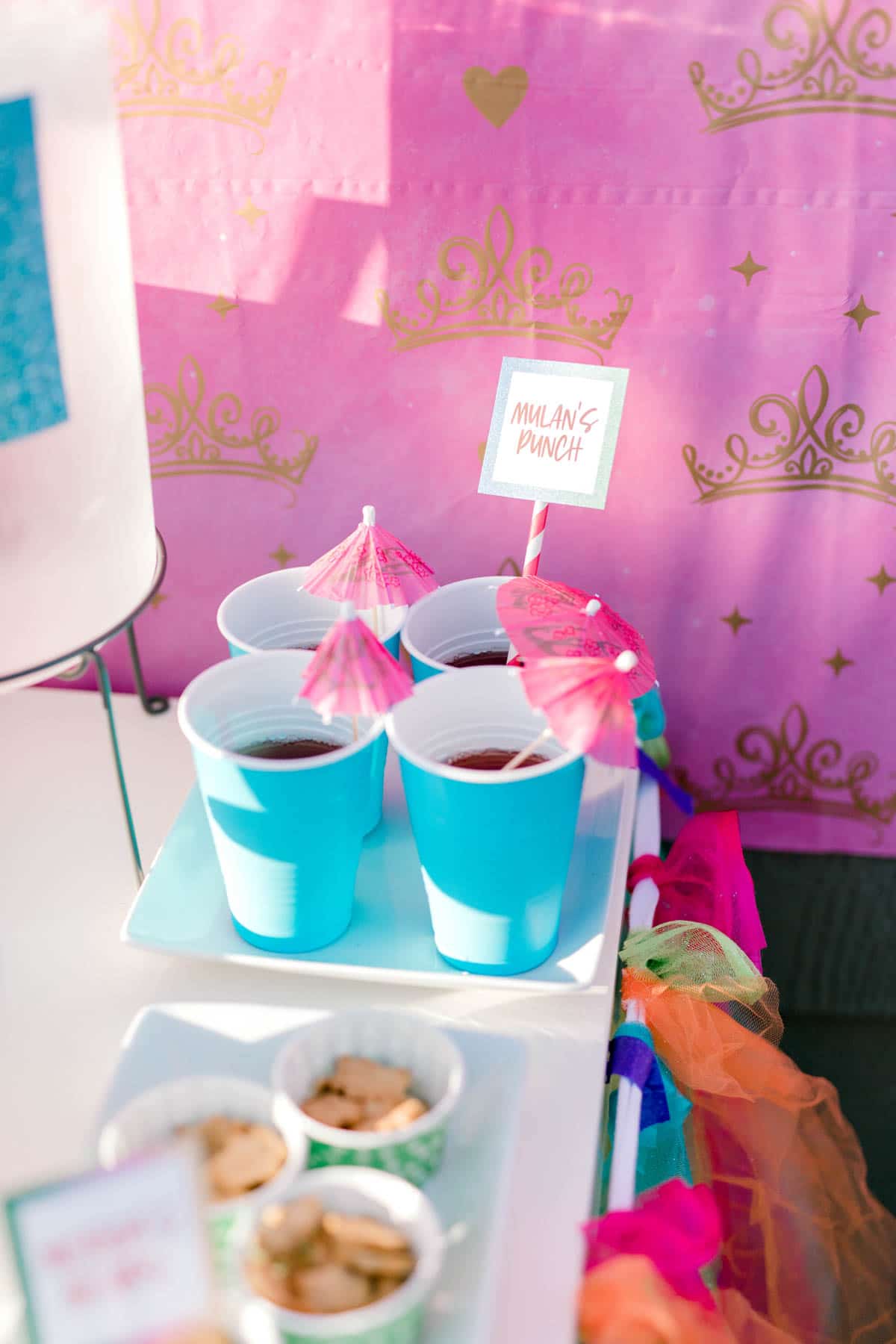 Pocahontas – I served little cups of popped "corn" to represent the corn seen throughout the movie but you could also do anything with veggies or animals.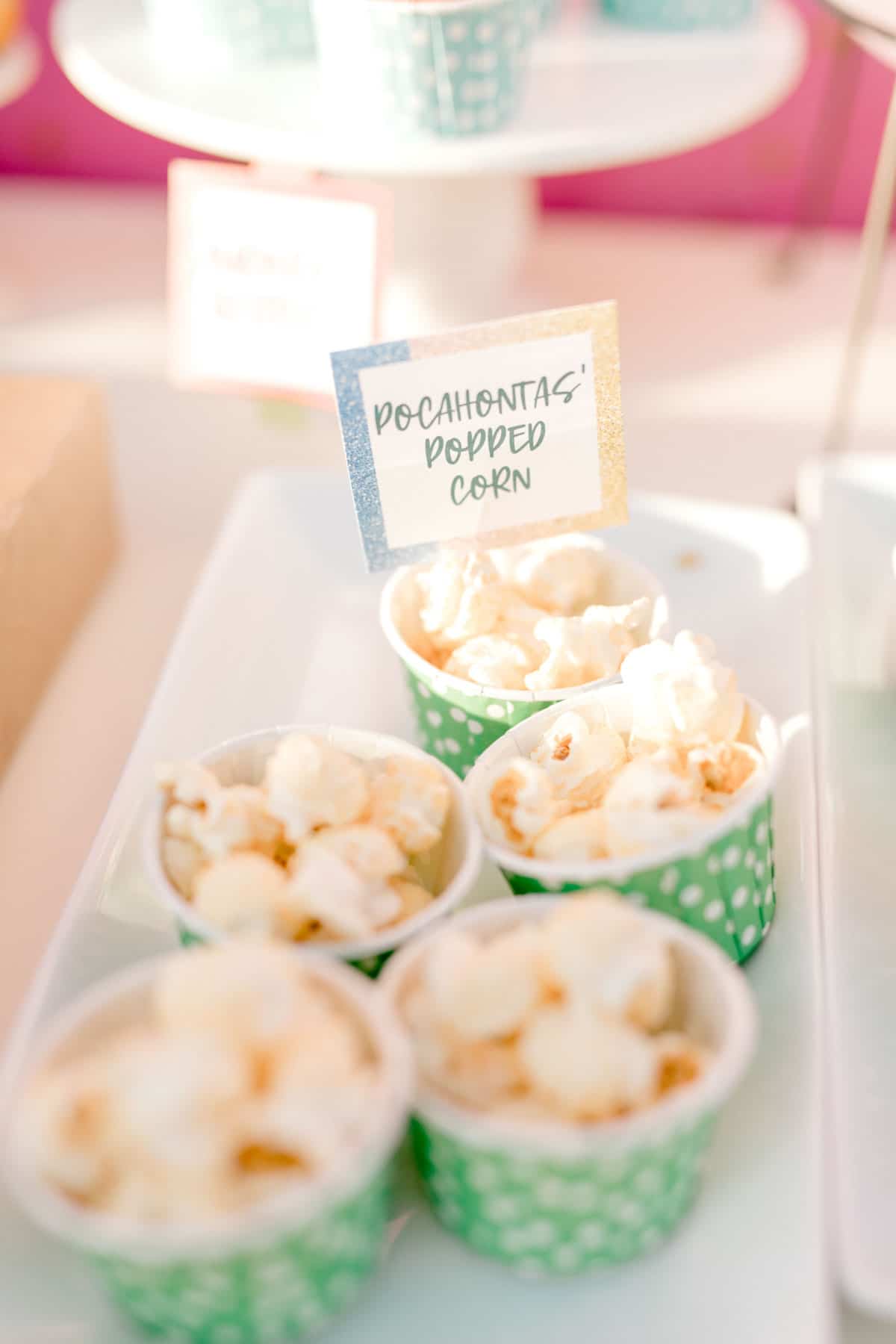 Rapunzel – I made a tower of donuts (one of my favorite donut party ideas), but you could easily do a tower of anything or my other idea was a braided dessert like pizza loaf but a dessert.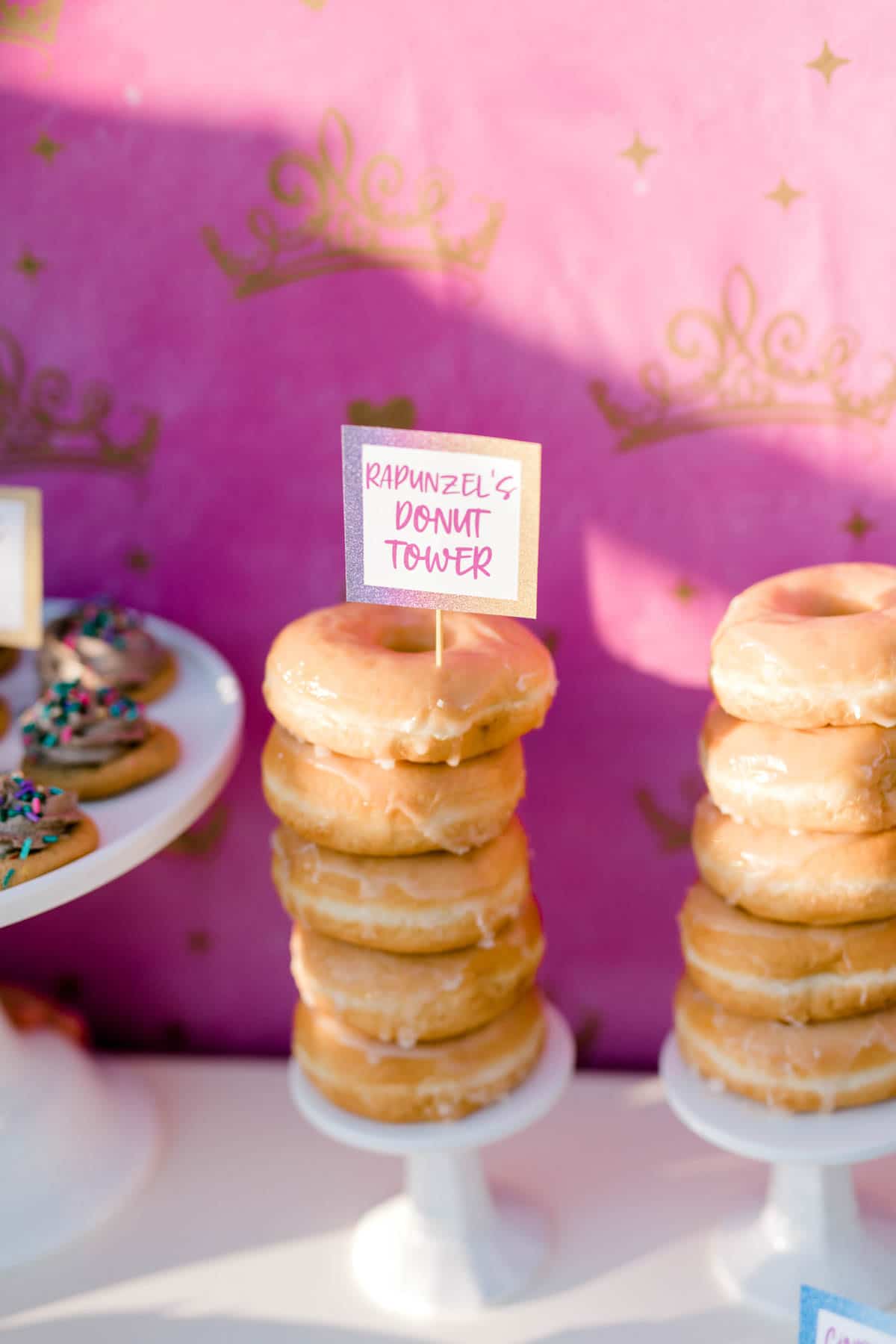 Snow White – I cut up and served not poisoned apple slices because what else would go with Snow White? If you're going to make them ahead of time, make sure to add a little bit of a lemon juice bath to keep them from turning brown!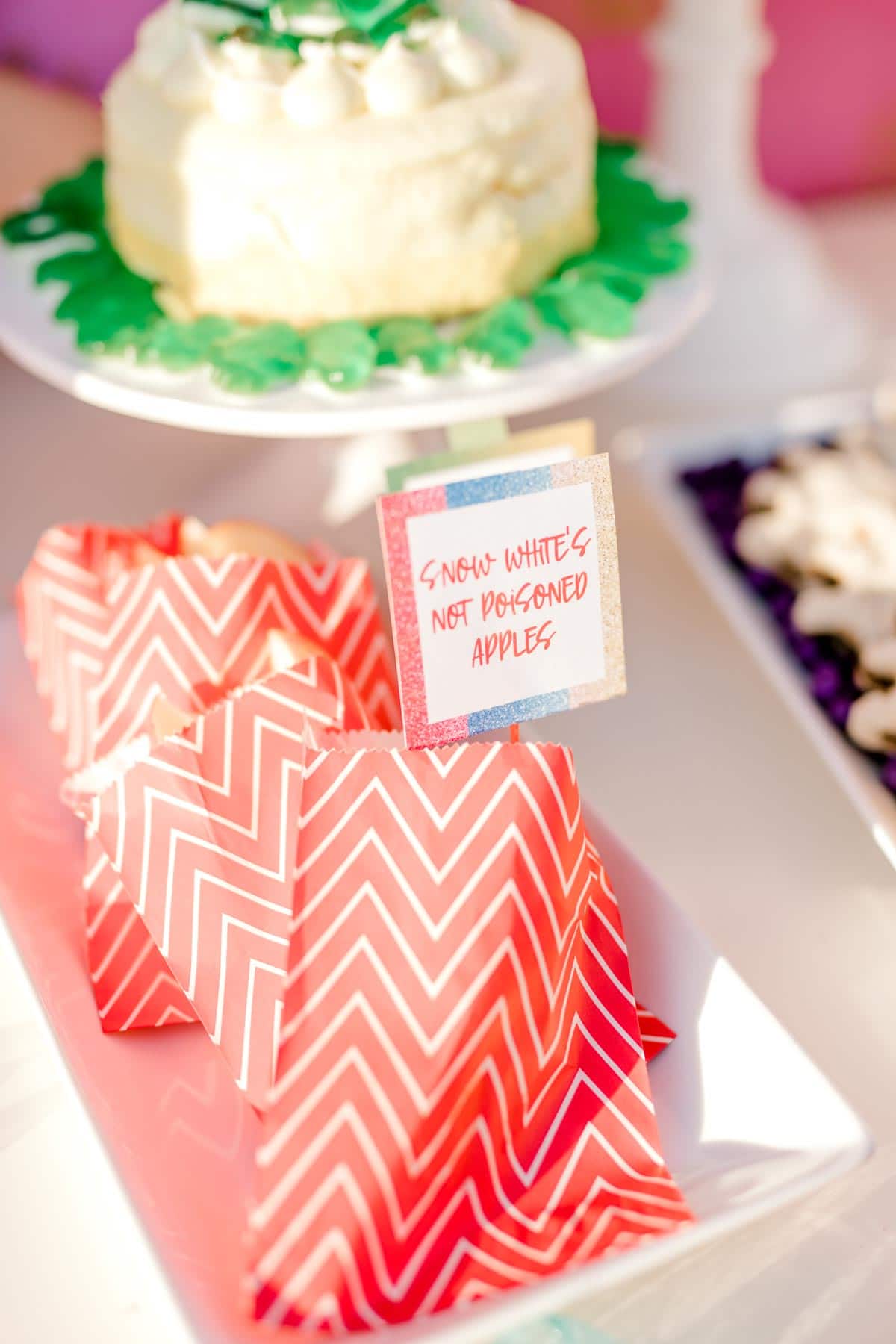 Tiana – With Tiana being in love with food, this one was tough, but I went with a yellow lemon cake with little gummy frogs. I really wanted to do beignets but didn't think they'd be good sitting sitting around for a couple of hours.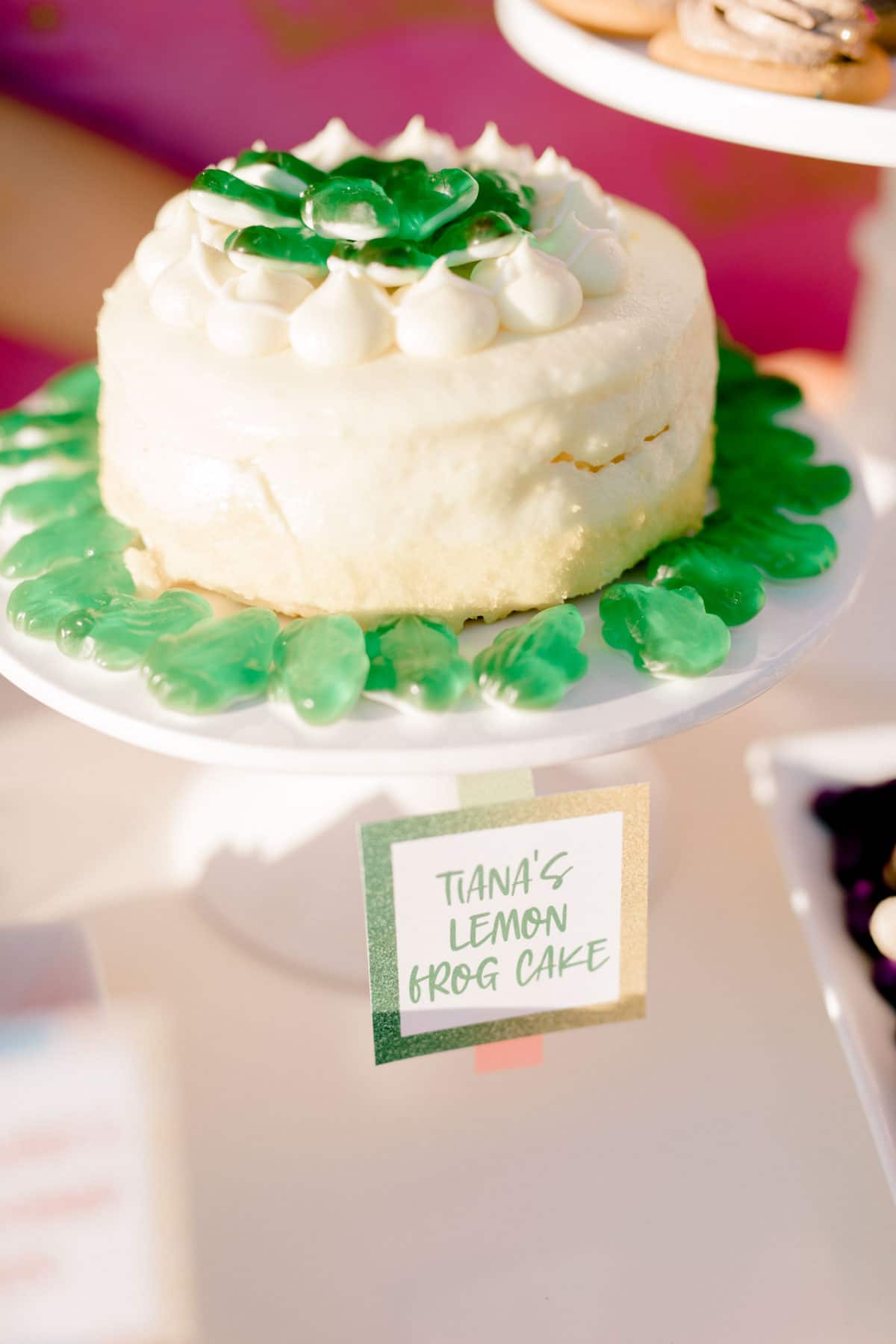 Since it was incredibly hot out, I also grabbed the cutest princess snowglobe tumblers for each of the girls to use during the party, since we didn't eat snacks until the end! They had so much fun playing with the water bottles, and they definitely kept them cool on such a warm summer day!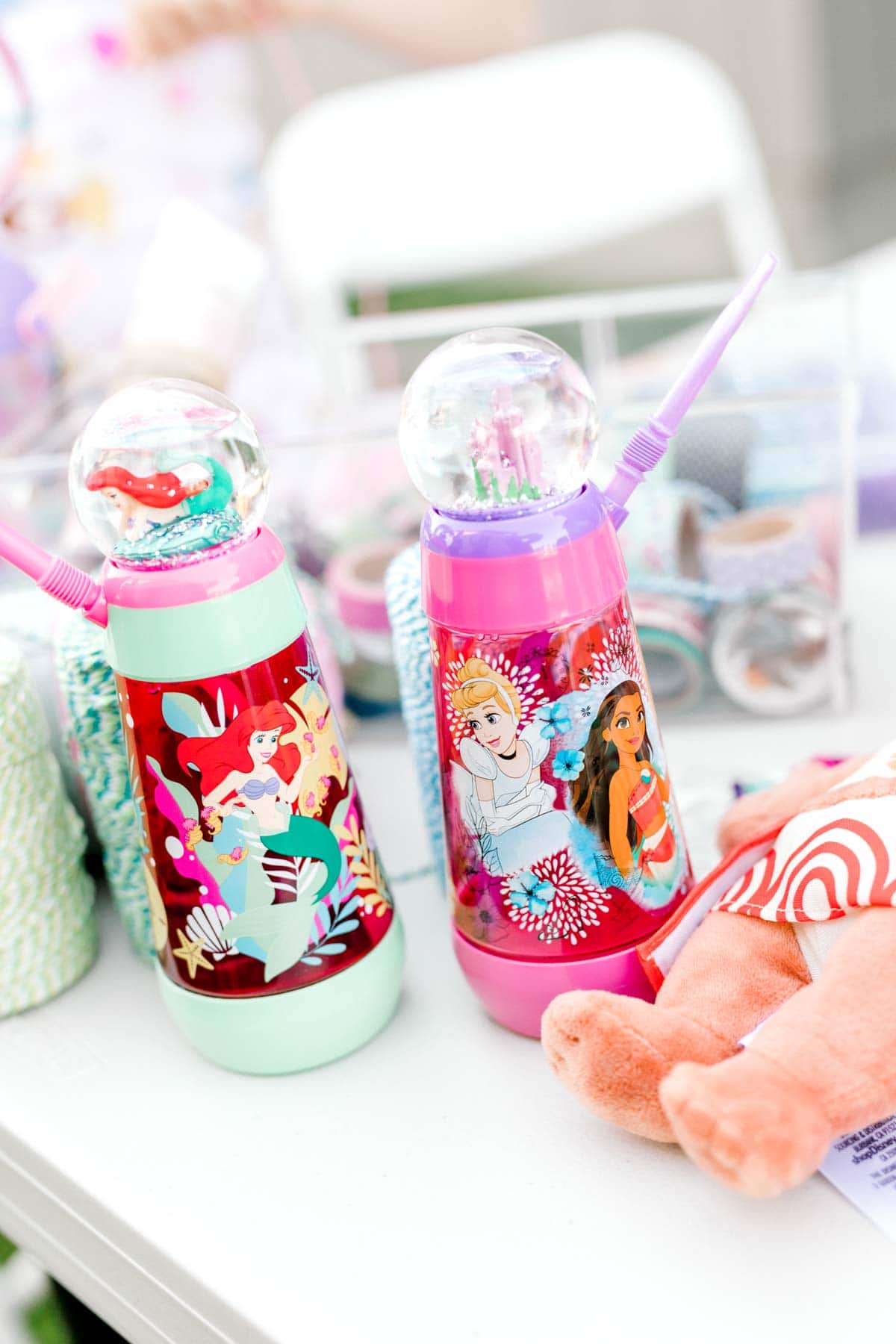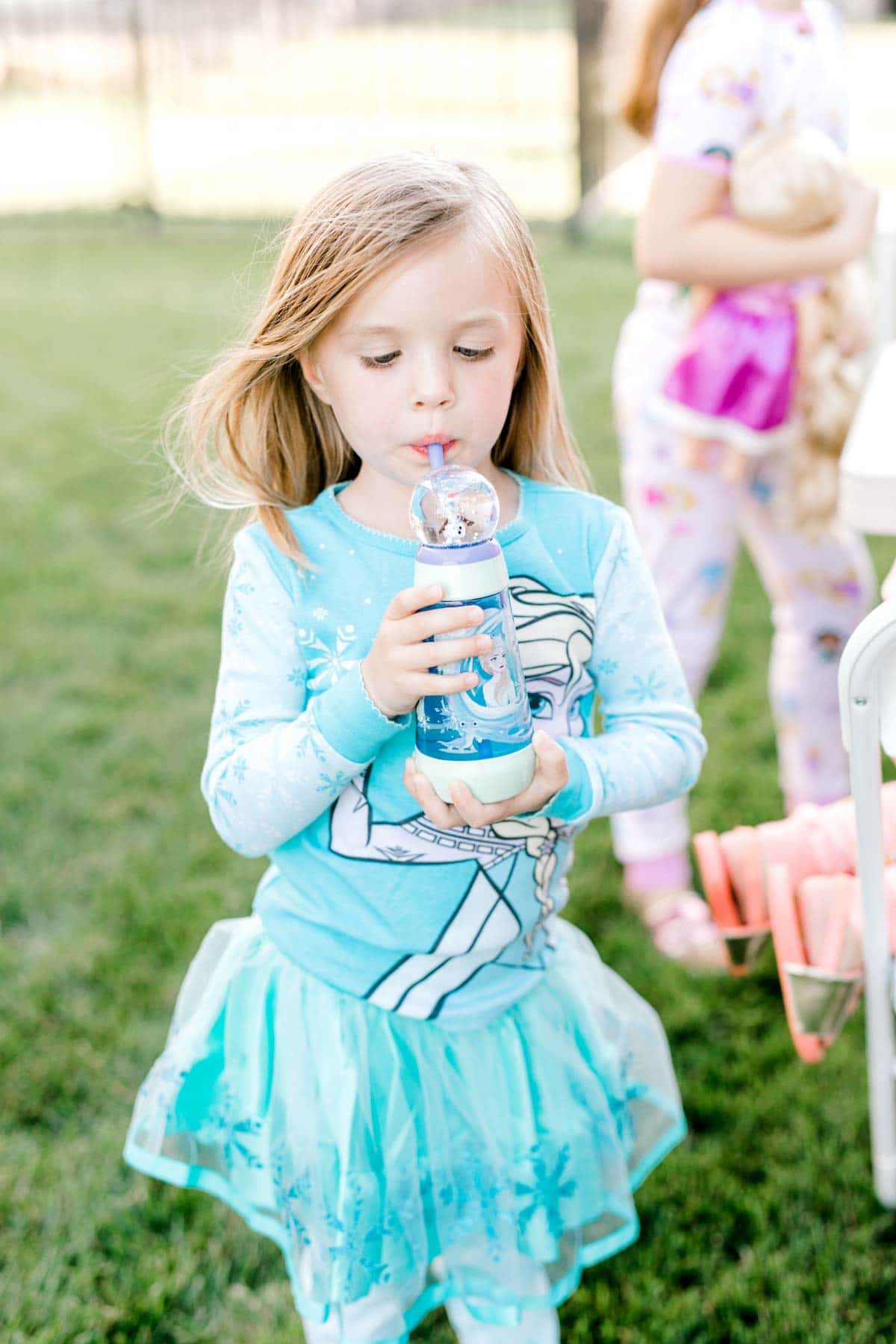 Princess Party Printables
If you want to use any of the same foods that I made, I created a set of princess food printables you can download by clicking here! They have colors inspired by the princess and the name of the food item!
Depending on how you plate the food, you can either add with colored ribbons, toothpicks, or even tape to straws in the drinks. It's just another fun way to add a little extra to the party!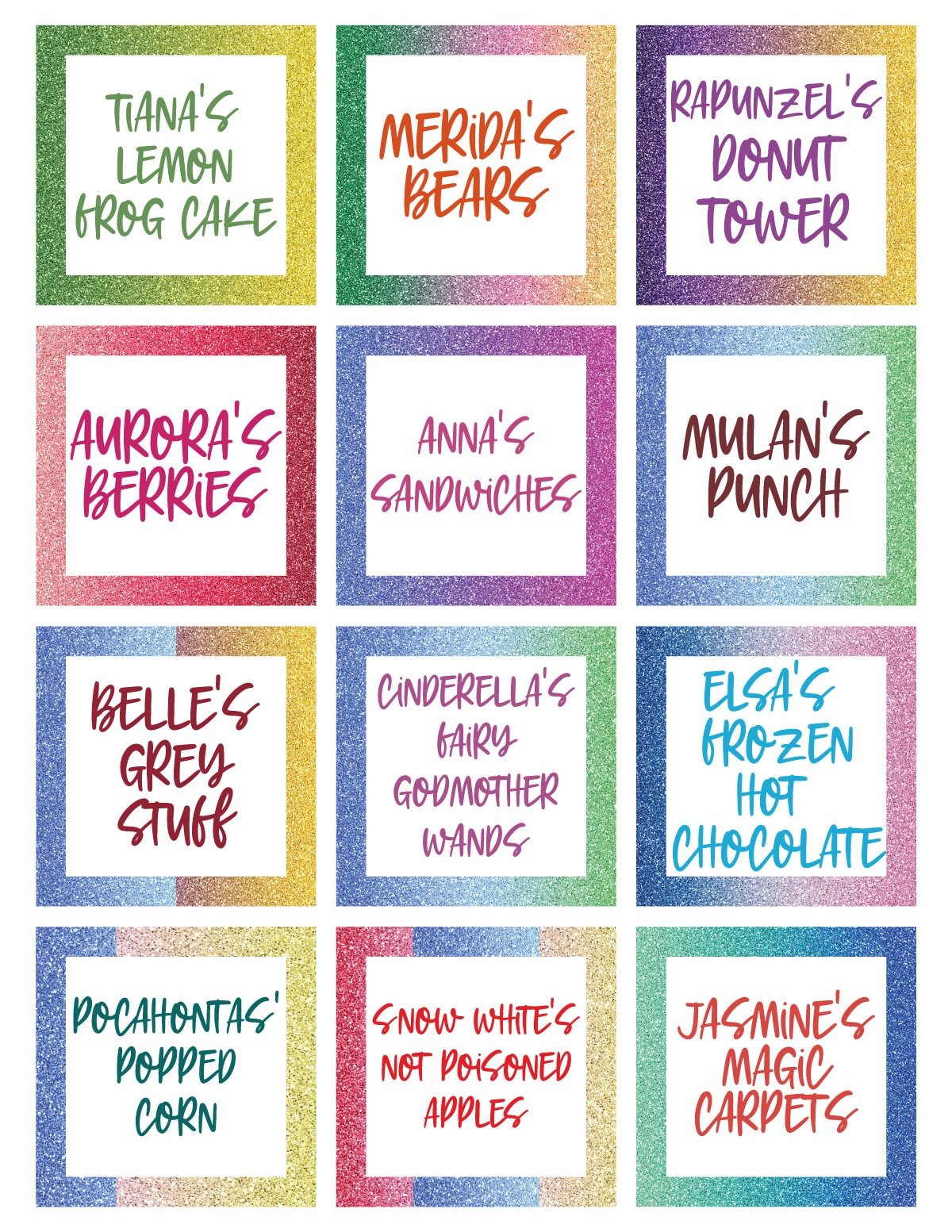 Princess Party Activities
One of my favorite parts of this princess party was all of the activities we did! I loved how the ShopDisney website has a princess page with distinct qualities for each of the princesses, so I got my inspiration for these activities from there!
I actually wrote an entire post with details on all of these princess party games and activities, so I'm not going to go into detail here but some of the highlights included:
Making dreamcatchers
Coloring pictures for other people
Going on an Ariel inspired treasure hunt
Being brave on a playground adventure
The princess games post has all of the details, including some other fun "princess training" ideas that would be a perfect addition to your party!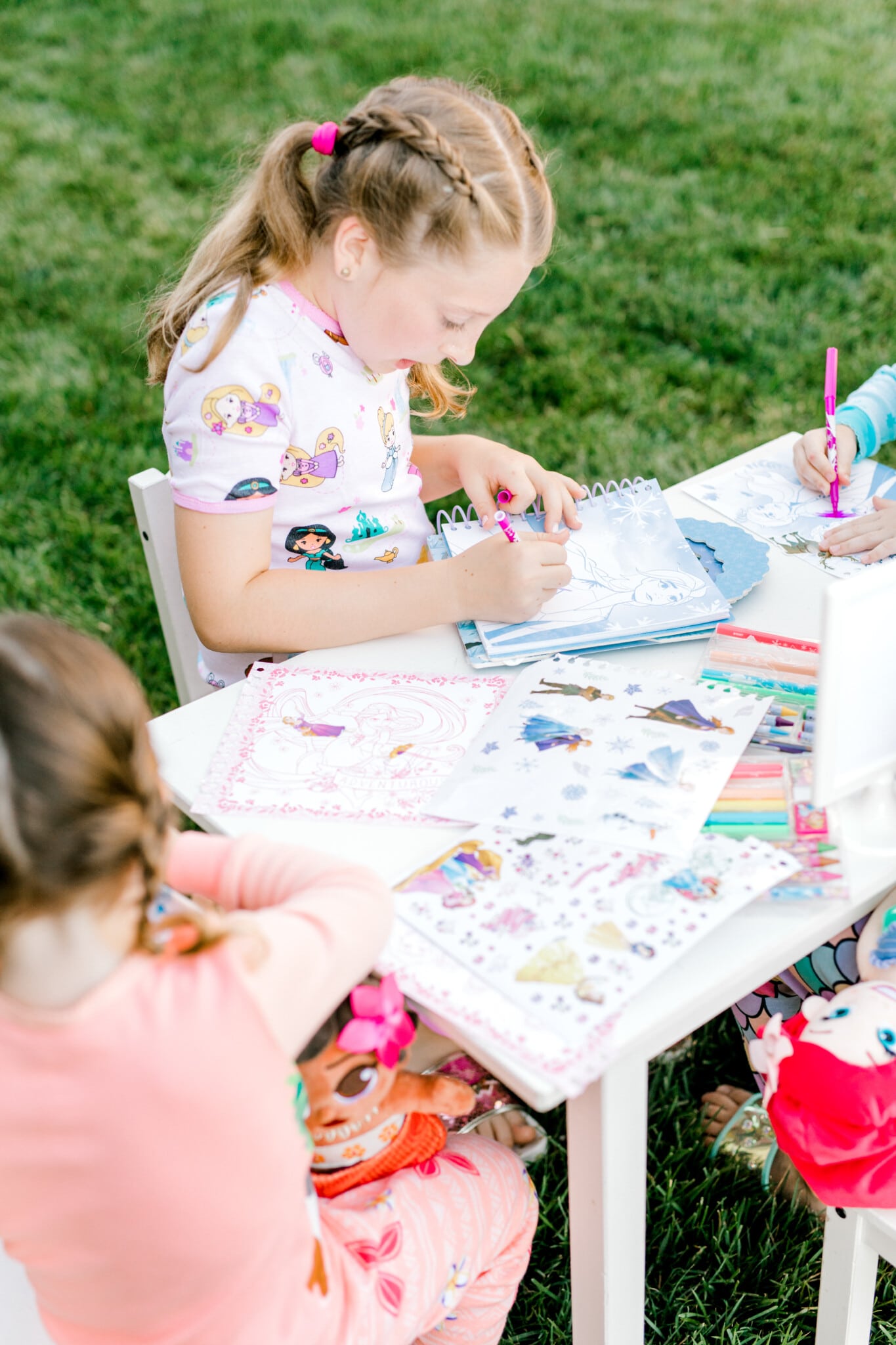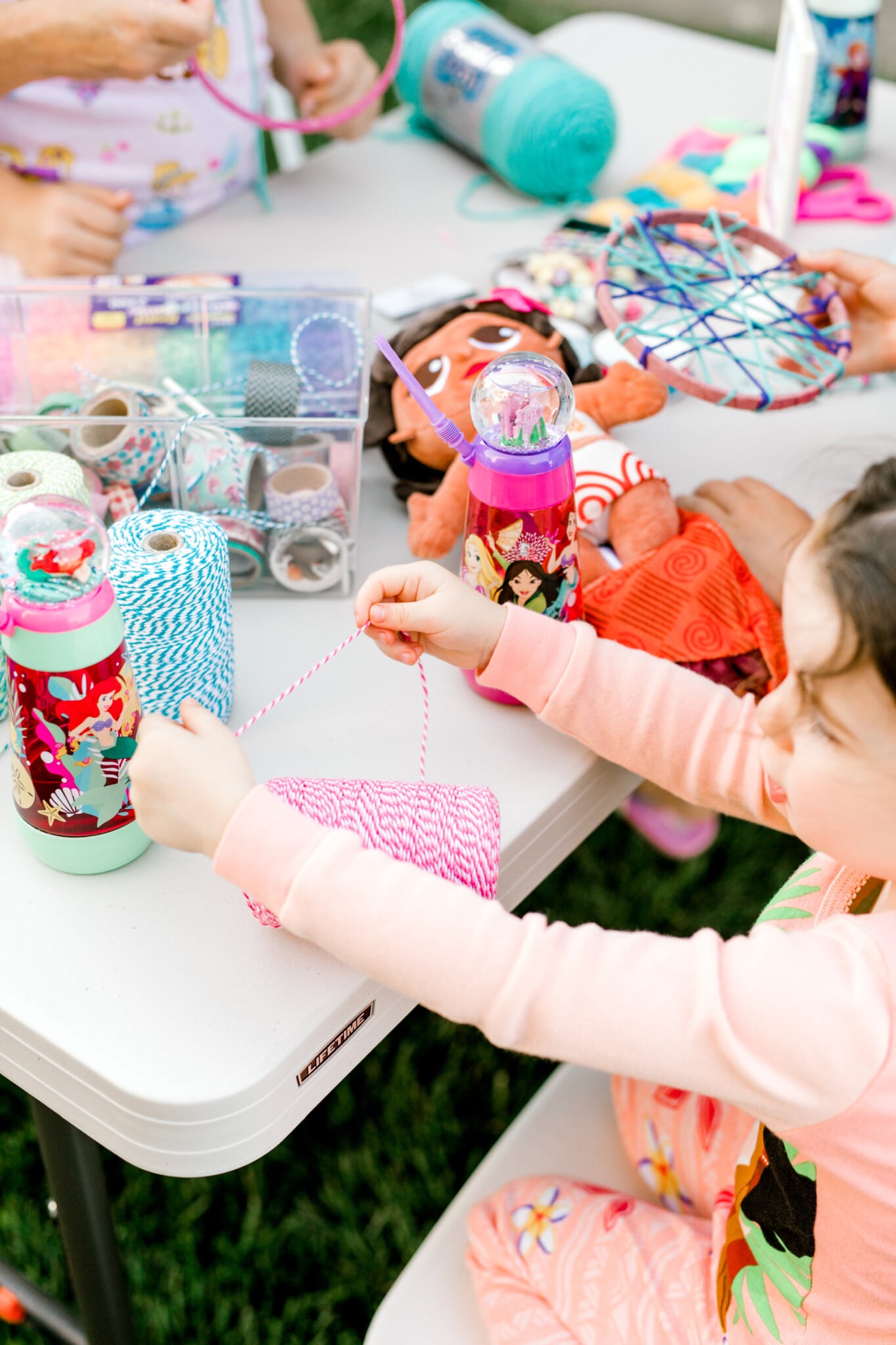 Princess Party Favors
Instead of doing cheap party favors that would just get thrown away, I thought it would be fun to have the girls find princess items they can keep and use as a prize for finishing the Ariel treasure hunt.
ShopDisney has an amazing assortment of princess bags in various sizes, shapes, and budgets, so I picked up a bag for each of the girls that went along with their pajamas.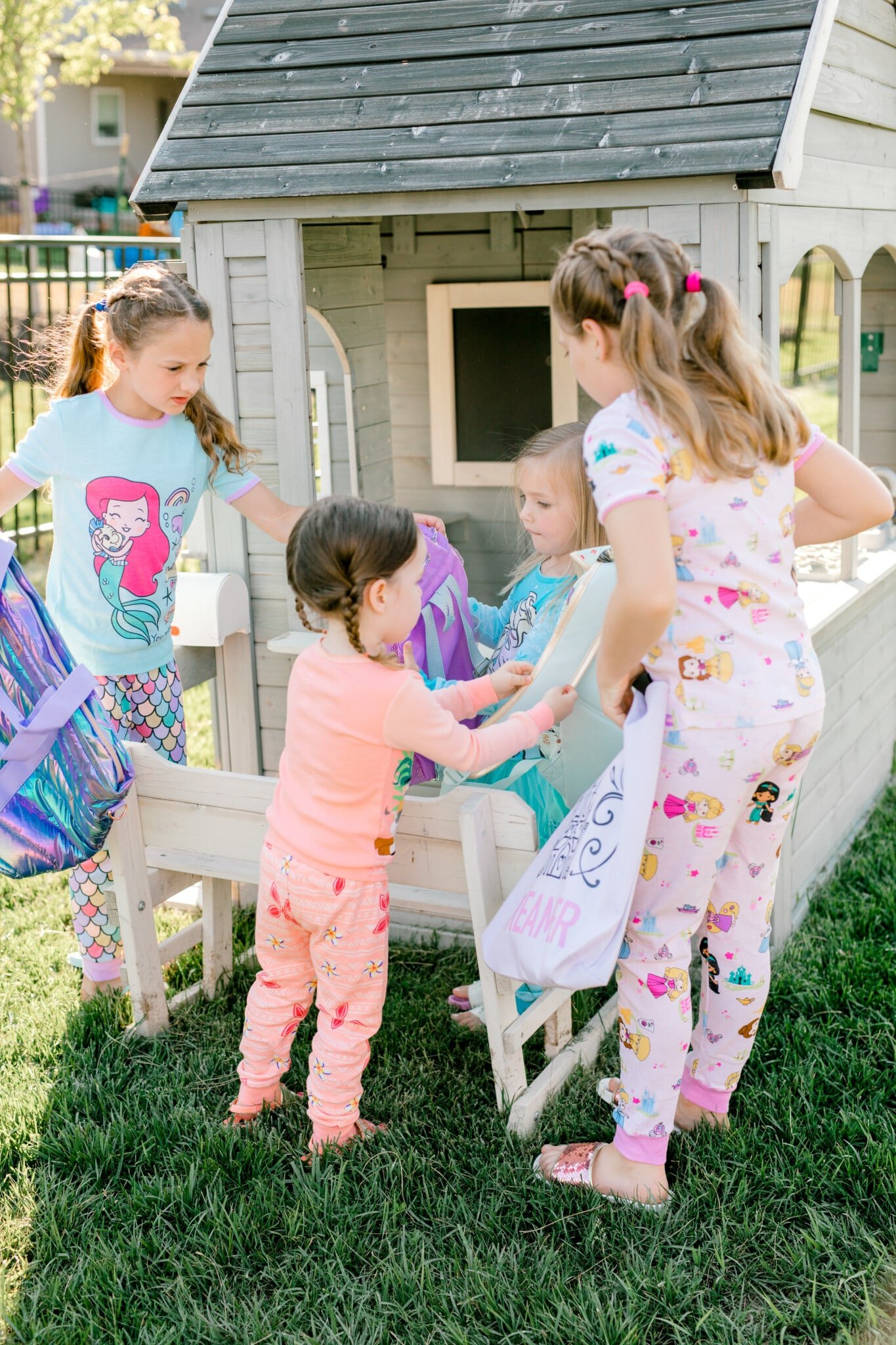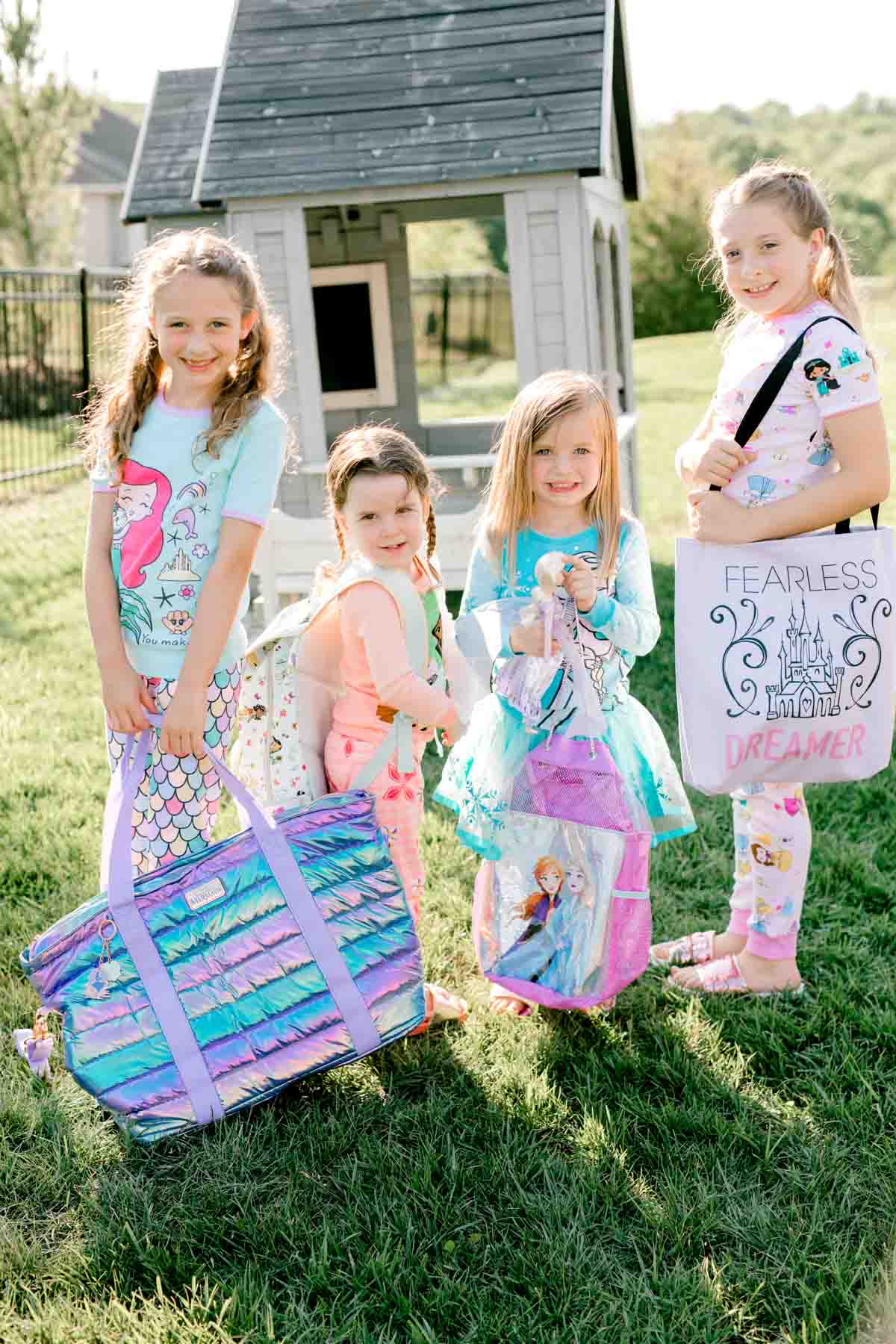 I mean how cute is this just a bit too big but she'll grow into it soon Moana backpack? Totally worth it!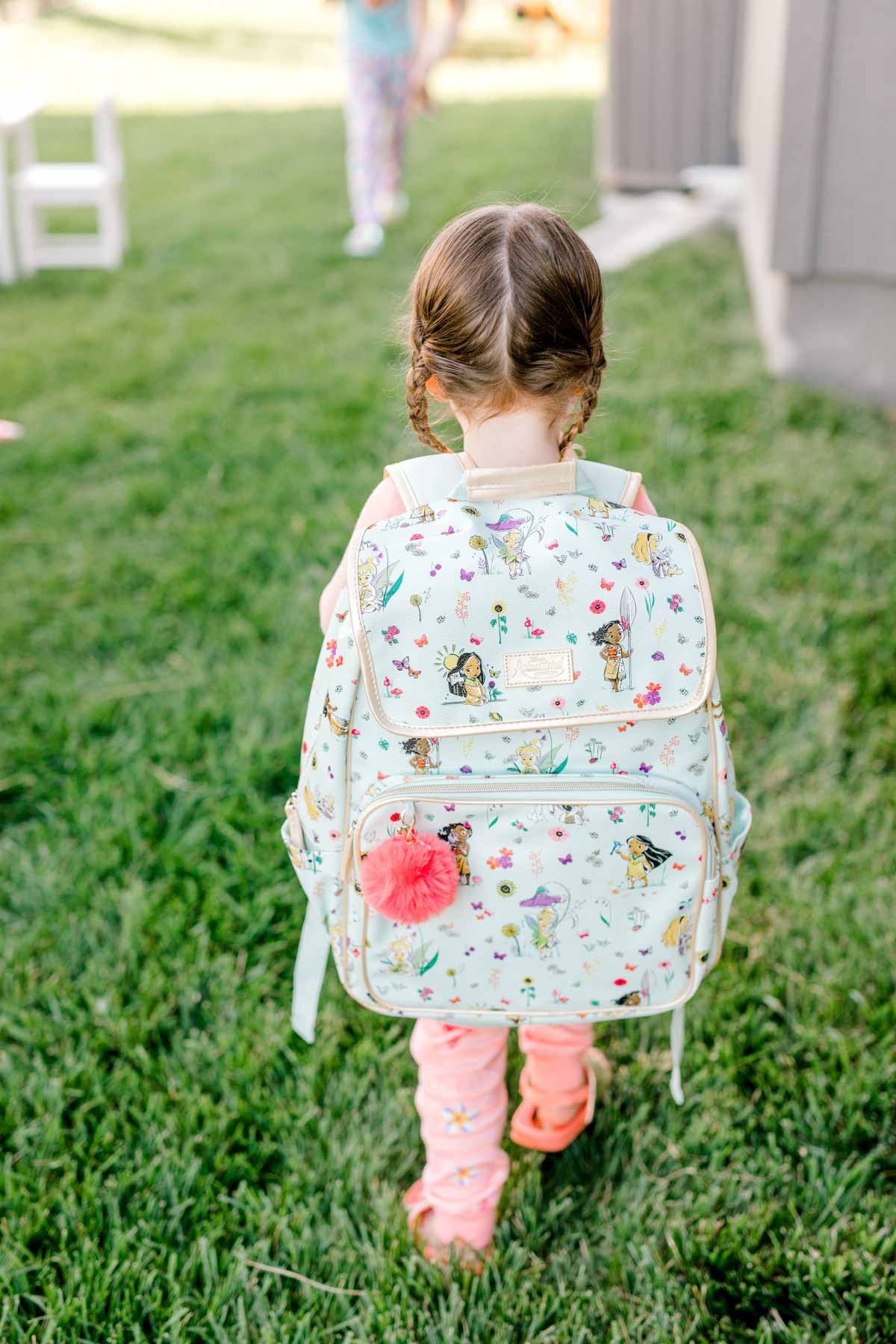 ShopDisney also has a ton of options for different princess toys, including all sorts of types of dolls. So I picked out a doll that matched the age of each of my princesses (e.g., Moana baby for the littlest princess) and stuffed them in the bags!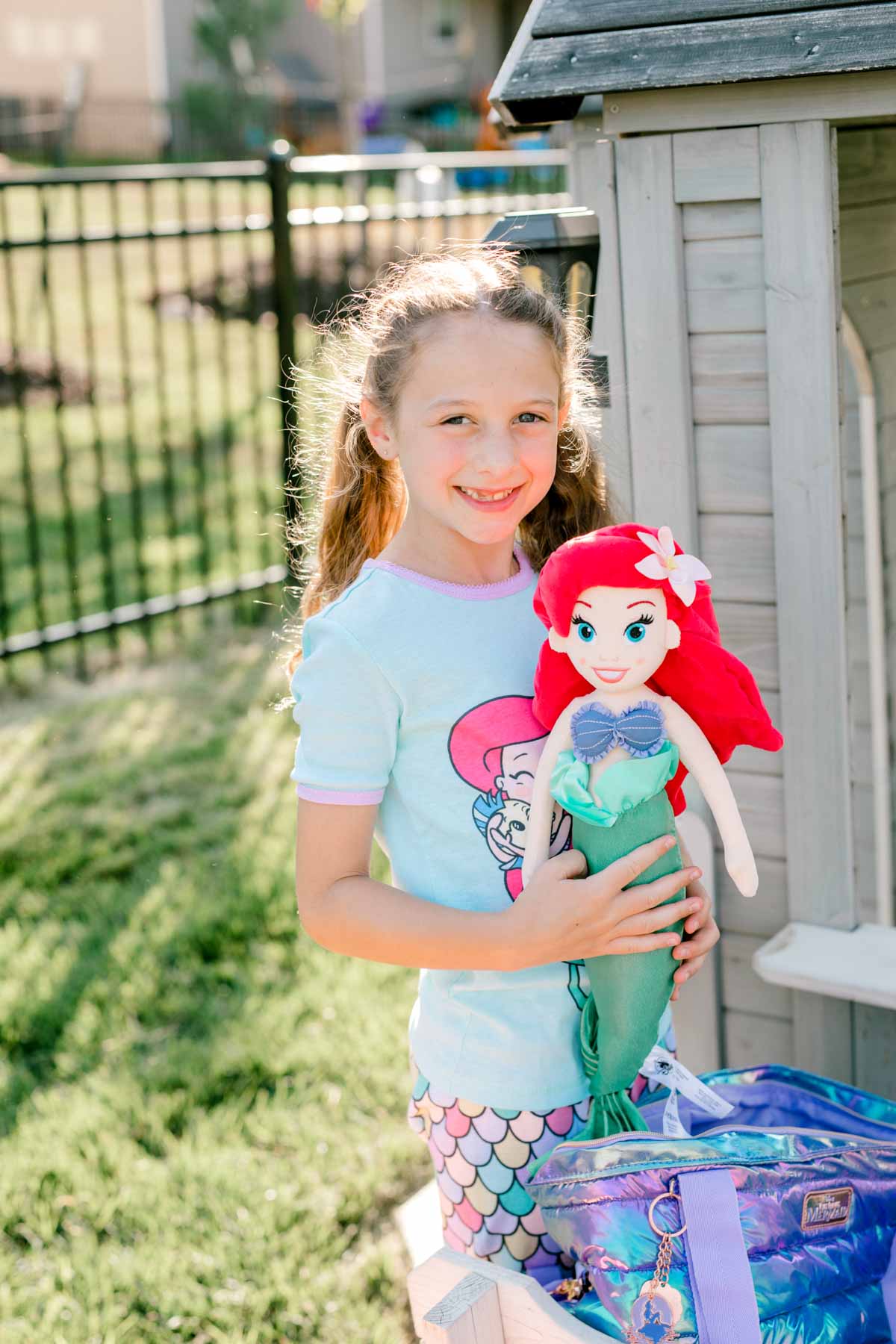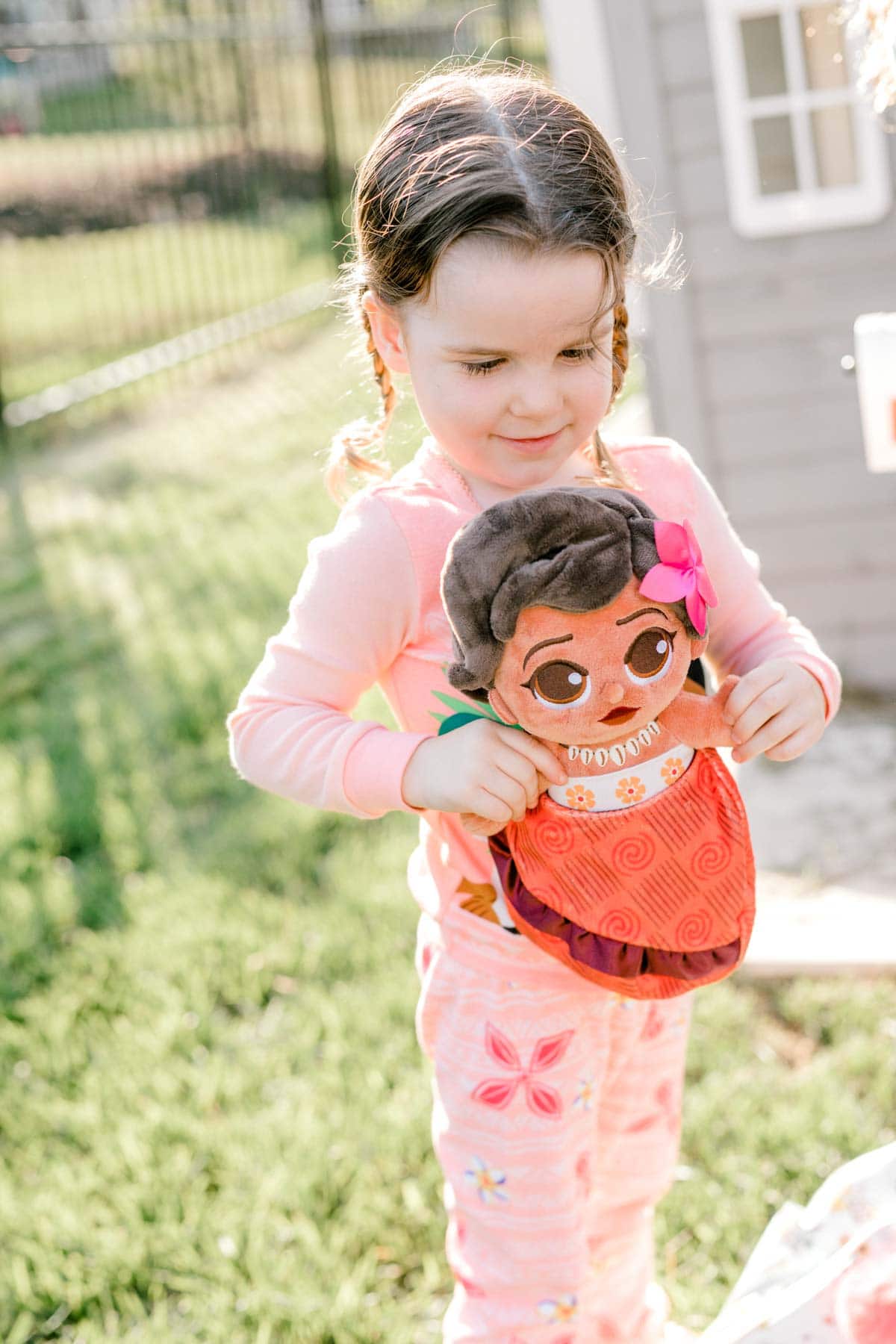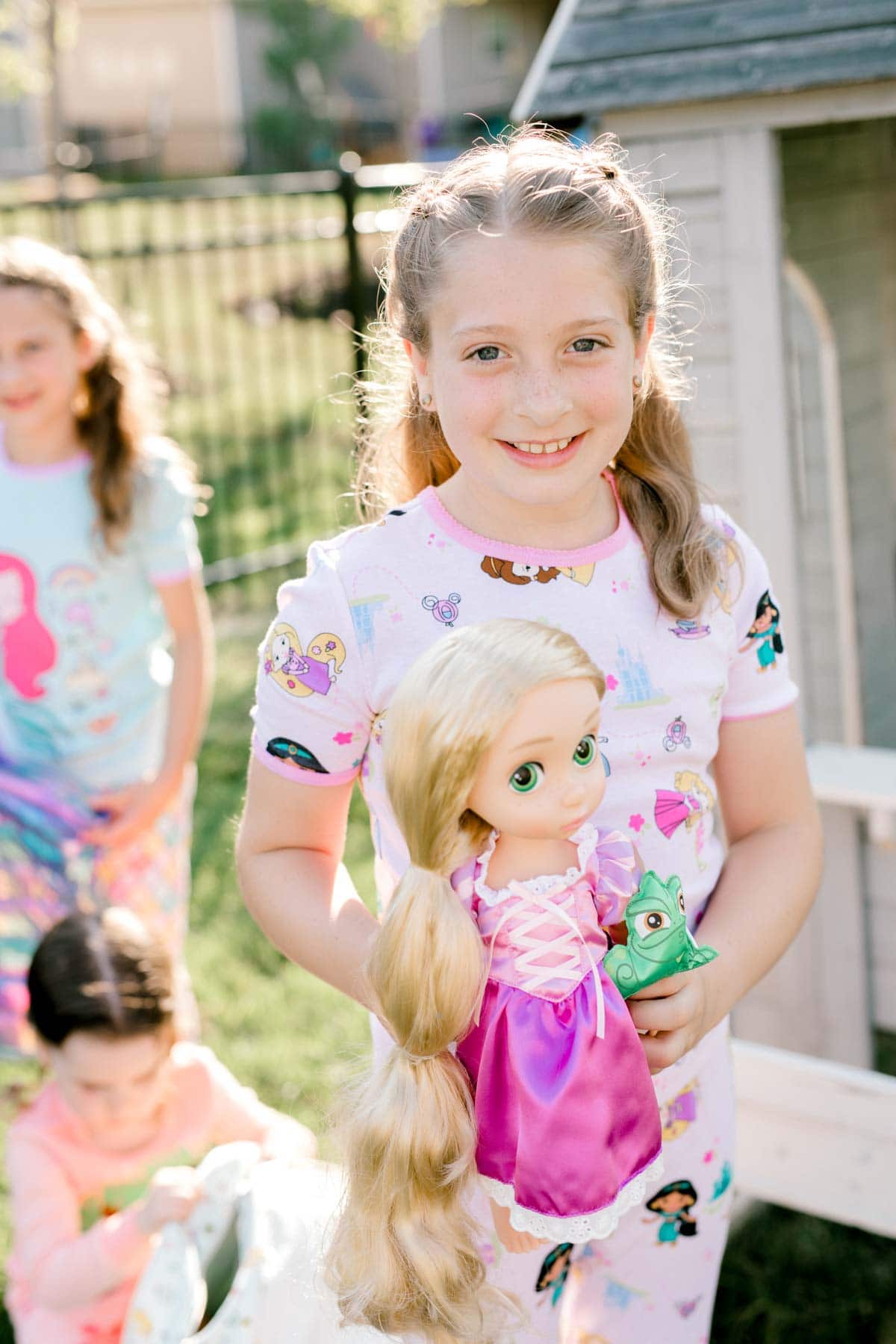 Shop the Favors
Moana backpack | Moana Disney baby
Ariel fashion tote | Ariel plush doll
Frozen swim bag | Elsa classic Frozen 2 doll
Fearless dreamer tote bag | Rapunzel Animator's Collection doll
Watching the girls find their bags and open them might've been my favorite moment of the entire party!
I love being able to send people home with things that they'll love and use for years to come instead of just a day or two, and I think the bags and dolls did the trick!
Other Princess party Ideas
If you still need more ideas, any of these would make a great addition to a princess party!