These Monster Match Halloween bingo cards are perfect for kids to play at classroom parties or kid's Halloween parties! Matching the monsters is easier for kids to find than numbers, and they get a kick out of the cute little fuzzy guys!
This Halloween do the monster match instead of the monster mash with these cute Halloween bingo cards full of cute monsters for kids to match! It's a great alternative to traditional Halloween bingo!
Halloween Bingo for Kids
I've been the classroom room mom for years now and every year and every holiday someone decides that we should play bingo for the class party. It's a classic game for a reason (and the perfect game for a group of kids), so I knew I had to create my own Halloween bingo cards!
Here's the thing about playing bingo with a classroom full of kids – the game can get really long, especially if you're doing it so that everyone can win once.
These Halloween bingo cards are perfect because you don't have to get five across like a traditional bingo game, you have get four across. Kids attention spans during a party are limited, so the four across keeps the game moving fast!
Then you can play one of these Halloween games or do one of these fun Halloween activities to get some of the energy out instead!
Want A classic bingo Game?
If you're looking for a more traditional bingo game with a Halloween theme, I also have a five across Halloween bingo printable you can get here instead! There's a full set of 40 cards over there so if you have more than 20 kids in your entire class, that might be a better option for you if you need a fun Halloween party game for everyone!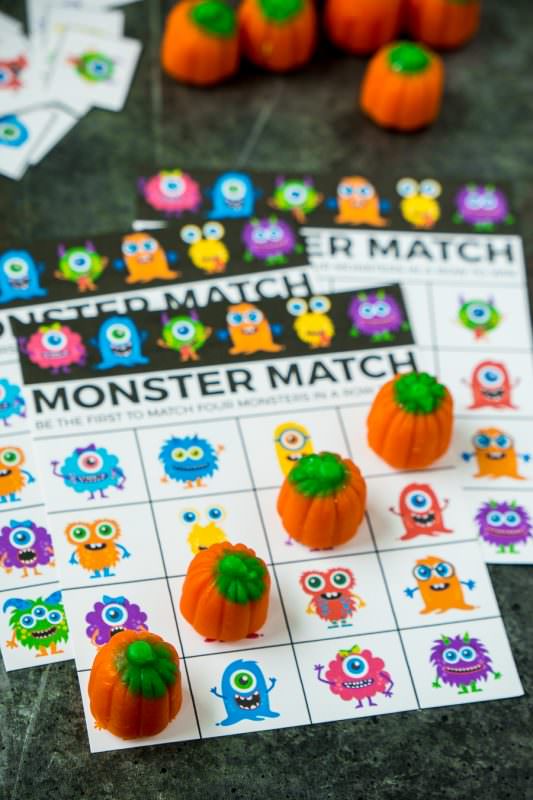 Easy Halloween Bingo Game
This Monster Match is basically Halloween bingo board but a cute monster version that's great for younger kids who can't read yet or don't want to look through all 25 spaces.
I've played this with my preschooler all the way up through my fifth grader, and they both enjoyed it.
It definitely had nothing to do with being able to pick out a fun little Halloween prize every time they got four in a row, nope nothing to do with it.
We actually played this bingo game and let kids punch out one of the cups in this Halloween punch game for prizes, and they LOVED it!
You could play this with older kids or even teens if you want, but the cards only have 16 spaces, so it might prove a little easy for them.
For older kids, I recommend these Halloween trivia questions or this Halloween Family Feud game instead
Note!
Since there are only 16 spaces on this board and not the 25 on a normal bingo card, there is not a free space. It also means that there is more of a likelihood that kids will bingo at the same time so just be prepared for that.
I'm assuming most people using this Halloween bingo game are not going to be giving out major prizes, so it shouldn't be that big of a deal if two people bingo at once – but just wanted to make sure you were aware!
Supplies
To play this Halloween bingo game, you'll need:
Halloween bingo cards (get at the bottom of this post)
Monster calling sheet (the calling cards are included in the file)
Covering bingo markers for everyone playing – candy corn or Halloween colored candies is always a good one.
Bag or bowl (to put the calling images in)
Prizes
Bingo Game Setup
Before you're ready to play, there are a handful of things you'll need to do to get ready to play!
Print out the Halloween bingo cards – one per person! If you want to reuse these cards, laminate them once they're printed!
Cut out the bingo cards – there should be four per page.
Print out two copies of the calling card.
Once they're printed, cut out the individual monsters from one of the calling sheets – you'll use these as your monsters to pull! Put the cut monsters into a bag or cup.
Get your prizes ready! You can either keep the prizes hidden or have a table full of prizes for people to choose from!
How to Play Halloween Bingo
This monster match bingo game is played just like a regular bingo game except the only difference is that kids only need to get four in a row instead of five! Here's a quick refresher on how to play!
Give out a Halloween bingo card (there are 20 unique cards at the bottom of this post) and markers to everyone. If you're doing edible markers, I recommend giving everyone 20-25 so that if they eat some, they'll still have enough to cover their card! Otherwise, 16-20 markers is fine!
One at a time, pull one of the images out of the bag and show/announce it to everyone. Anyone who has that image on their card should cover it.
Continue pulling out images until someone has covered four spaces in a row. That person should yell bingo and wins a prize!
You then can either keep playing on that card or have everyone clear their cards and play again.
Make it Last Longer
If you want the game to last longer, you can try one of these types of bingo games instead of traditional four in a row bingo! This makes these smaller cards still work for older kids and groups as well if you're playing with both younger children and older!
Corners – instead of having to get four in a row, someone only gets a Halloween bingo when they cover all four of the corner spots!
X or Cross – instead of having to get any four in a row, someone only gets a Halloween bingo when they cover either the middle vertical and horizontal rows (to create a cross) OR when they both diagonal lines to create an X. Choose one or the other option, not both.
Postage stamp – instead of having to get any four in a row, someone only gets a bingo when they cover the four spaces in the middle of the card.
Outsiders – instead of having to get any four in a row, someone only gets a bingo when they cover all of the outside spaces (none of the four interiors).
Halloween Prizes
One of the hardest parts of setting up Halloween bingo is picking out fun prizes for the winners! If you're playing this at a classroom Halloween party, I'd stick with smaller things like Halloween trinkets or Halloween candy and play until everyone wins and just give out Halloween party favors when they win!
If you're playing at a smaller party, try some of these fun Halloween prizes instead! Pretty much anything you'd put in a you've been booed bucket would work!
Bingo FAQs
How do I play with a large group?
You can get 20 cards to download for this game below. If you need additional cards than that, you can print out duplicates of the cards and just realize that people will bingo at the same time. Or if you really need more than 20 unique cards, email me and I may be able to create more!

Or you can buy my other game of bingo with a Halloween theme (they have cute witch's hat imagery) in my shop that has more cards available! That Halloween bingo set is a little more traditional with five across and a free space!
What should I use as bingo markers?
You can use any sort of Halloween candies like candy corn, Halloween colored M&Ms, or even just little pieces of Halloween papers cut out. Alternately, I have these bingo markers on hand that we use regularly – they Halloween items are just a fun way to keep with the theme!

If you laminate the cards, you could also have kids use dry erase markers to mark the cards then just wipe them off when the game is over!
How many different game boards are there?
This fun game has 20 different bingo cards included in the set along with marker sheets. All of the fun Halloween bingo cards have monsters in various colors and styles!
Other Halloween Games
Want some other fun Halloween games to go with your bingo for class parties or kid parties?
Try one of these Halloween games at your next Halloween party or family game night that are a little more active or interactive! It'll be the perfect combination to go with this Halloween bingo game!
Looking for more Halloween Games?
Get the Printable Halloween Bingo Cards
I've created 20 different cards to play this free printable Halloween bingo game. Each printable PDF has four unique cards on it that will just need to be cut out before you play.
The PDF of free printables also has instructions and a calling card to use. You can print it all out to create a classroom set you can use year after year!
Enter your first name and email address in the form below to get the free Halloween printables. Or if you'd prefer, you can buy a set of cards in my shop here.
If the form isn't showing up below, click here to get to the form to download the printable files.
The PDF will include:
20 Halloween bingo cards
Calling sheet
Instructions and use policy – everything is for personal use (non-commercial) only
This post was originally published in 2017 and has since been updated with an easier to download file and images.