These easy weeknight meals can all be made in under 30 minutes, making them great dinner ideas for the school year!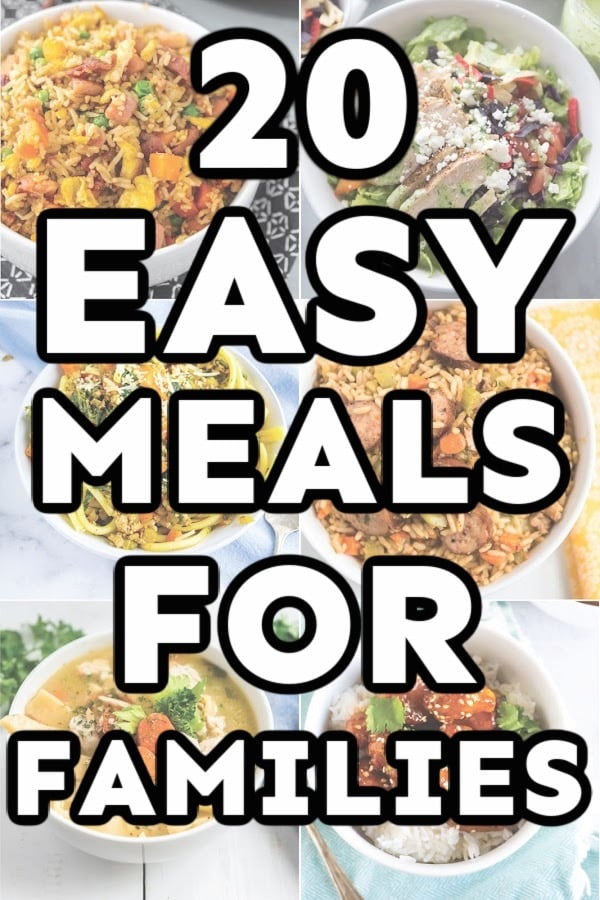 While this post is sponsored by Perdue Farms, all opinions and recipes are 100% honest and my own!
Easier Cooking
I was chatting with my brother today and at some point in the conversation we both came to the same consensus – we are so over cooking dinner. It's been a long five months of cooking at home.
With the start of school – whatever that looks like – right around the corner, schedules are going to get a lot busier than they have been for most people the last few months. When there's homework to do, practices to get to, lesson plans to put together, and kids to get to bed – no one has time or wants to make dinner that takes a long time.
I've put together our 20 favorite weeknight dinners – an entire month worth of weeknight meals – that are family-friendly, easy to make, and absolutely delicious!
We switch things up here and there but most of these recipes make it to our weekly meal planner at least once a month!
Make cooking dinner even easier by ordering all of your meat right to your doorstep from the Perdue Farms website.
Plus, order with this link and you'll get an extra 15% off your entire order! Then all you have to do is a buy fresh stuff as necessary to go along with the meat that's already in your freezer waiting to be cooked.
Okay now let's talk food! I've tried to include all sorts of recipes so it's not just a lot of chicken or a lot of pasta. They're not in any particular order so put them on your menu where they fit best!
Easy Weeknight Meals
This fettuccine Alfredo is my new favorite dinner! It's a one-pot meal that both kids and adults will love, plus it's can be on the table in just about 20 minutes!
Combine it with these grilled chicken strips and some easy breadsticks for a full meal!
2 – Hamburgers and homemade french fries
Forget stopping by your favorite fast food place and make hamburgers and these french fries at home. Either make your own patties out of ground beef or buy pre-shaped burgers like these ones to make it even faster!
Pair it with Big Mac sauce and these air fryer french fries – they're simply the best. And if you don't have an air fryer, you can make them in the oven too!
3 – Turkey meatballs
These turkey meatballs come together in just minutes with just some ground turkey and spices, then are baked to perfection! Work on homework while they bake or make a batch of this coconut rice to go alongside them!
If your family likes chicken tenders, you could either buy some frozen ones like these or make coconut chicken tenders with a pina colada dipping sauce for something even the adults in the family love!
If you've been using a packet or jar of taco seasoning, stop now. Once you try this homemade taco meat (made with ground beef and spices you'll have at home), you'll never go back.
Put it in tacos, burritos, quesadillas, or even on nachos for the perfect Taco Tuesday weeknight meal!
This turkey ragu is another one of our family favorites because it combines kid-friendly pasta with adult-friendly flavors like kale and ground turkey. It's super easy to make and the oil-based sauce is one I crave weekly!
While this ham fried rice recipe calls for ham, you can use whatever meat and veggies you have on hand! We typically make a double batch of this Instant Pot white rice for Taco Tuesday then use the leftover rice for this super simple meal the next day.
A good bowl of chicken noodle soup can make any day better, especially when it's made with homemade egg noodles. They're super simple to make and pretty much foolproof!
Use these diced chicken breasts to make this soup even easier to make!
This jambalaya is another one of our go-to recipes because smoked kielbasa lasts for a good amount of time, so we almost always have it on hand!
Unlike some jambalaya recipes that are too spicy for the kids, our easy jambalaya is just flavorful – not spicy. Plus, it's all cooked in one pan, which is great for everyone!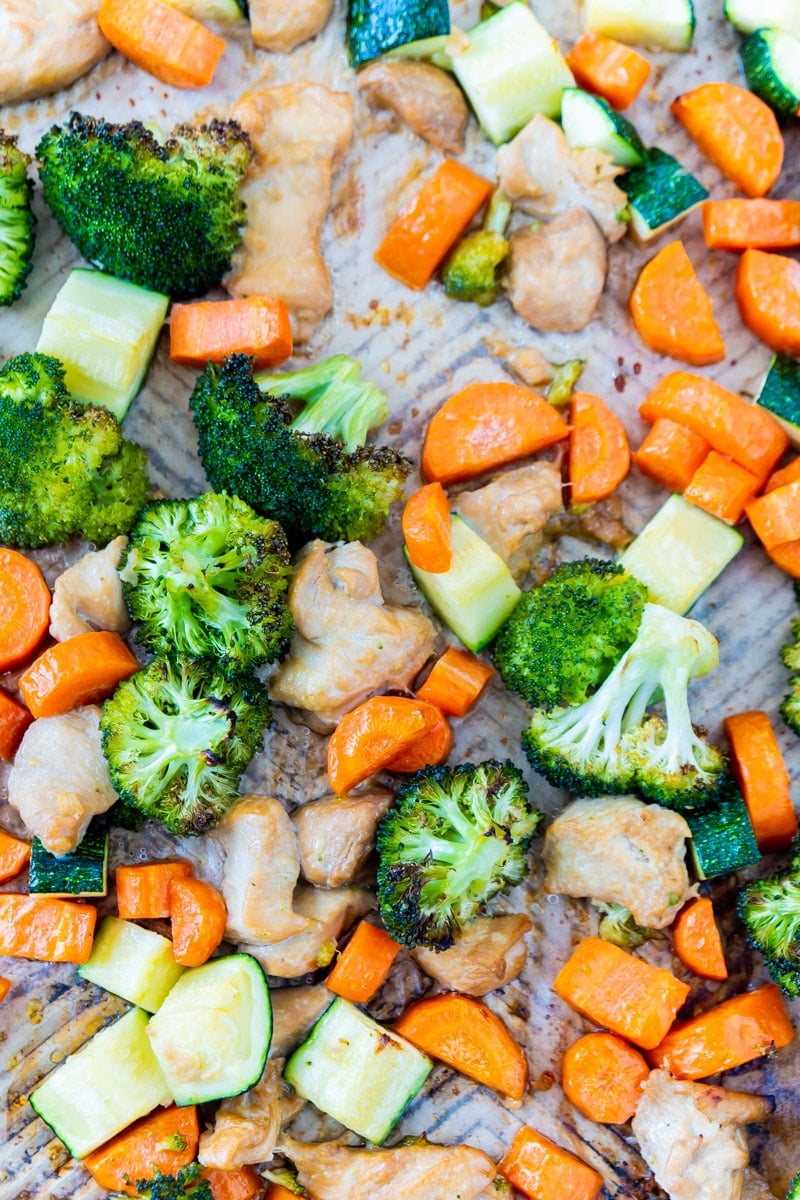 10 – Sheet pan teriyaki chicken
If you like teriyaki chicken, you'll love this sheet pan recipe! All it takes is cutting up some veggies, marinating the veggies and diced chicken in a teriyaki marinade, then baking!
And if you have leftovers, whip up some of these teriyaki chicken bowls the next day!
want all these recipes & more in one place?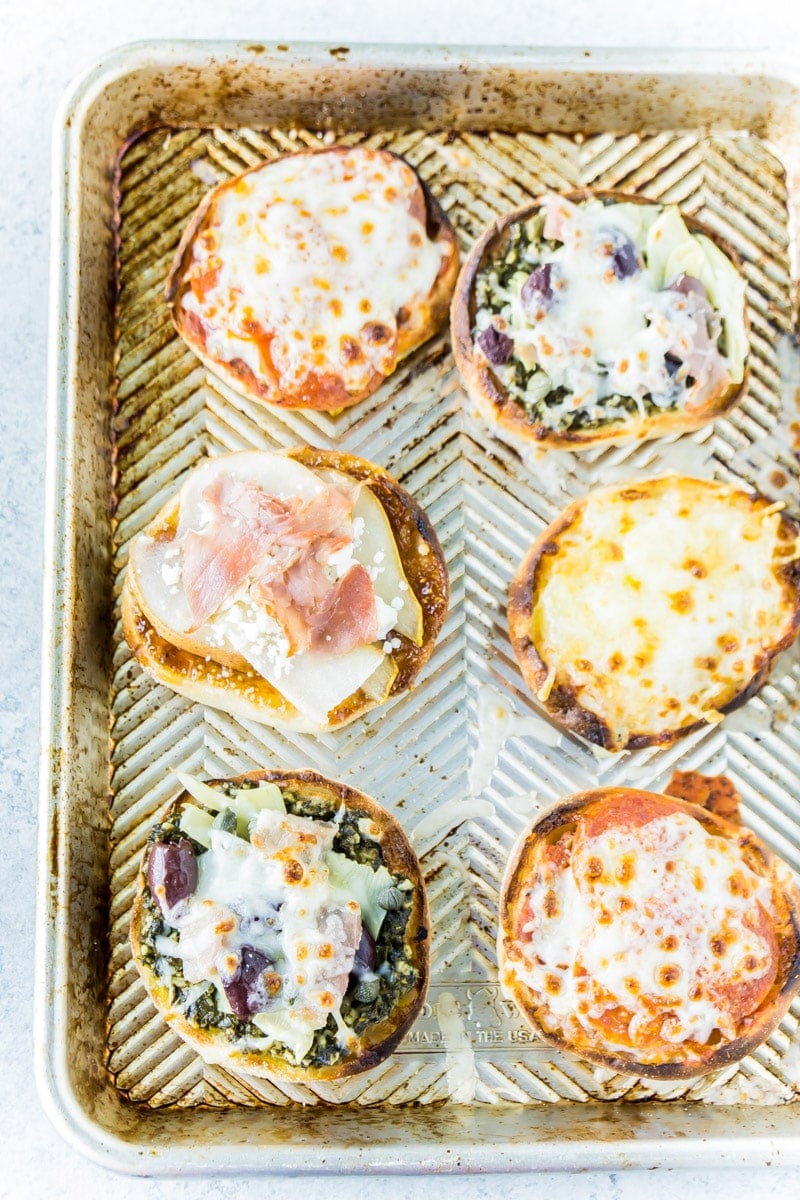 11 – Pizza night
I don't know about you but we eat pizza in some sort at least once a week. Pick your favorite out of these English muffin pizzas, this pizza loaf, or these mini calzones. They're all super family friendly and fun for the kids to help make (if they want!)
This is the single most popular recipe on my site, and for good reason. Both kids and adults love this almond crusted chicken. The outside is flavorful, the inside is moist, and it's way easier to make than you'd think!
It's kind of like a grown-up version of chicken tenders that kids still like! Make it with boneless skinless chicken breasts or if your kids prefer tenders, use chicken tenderloins instead!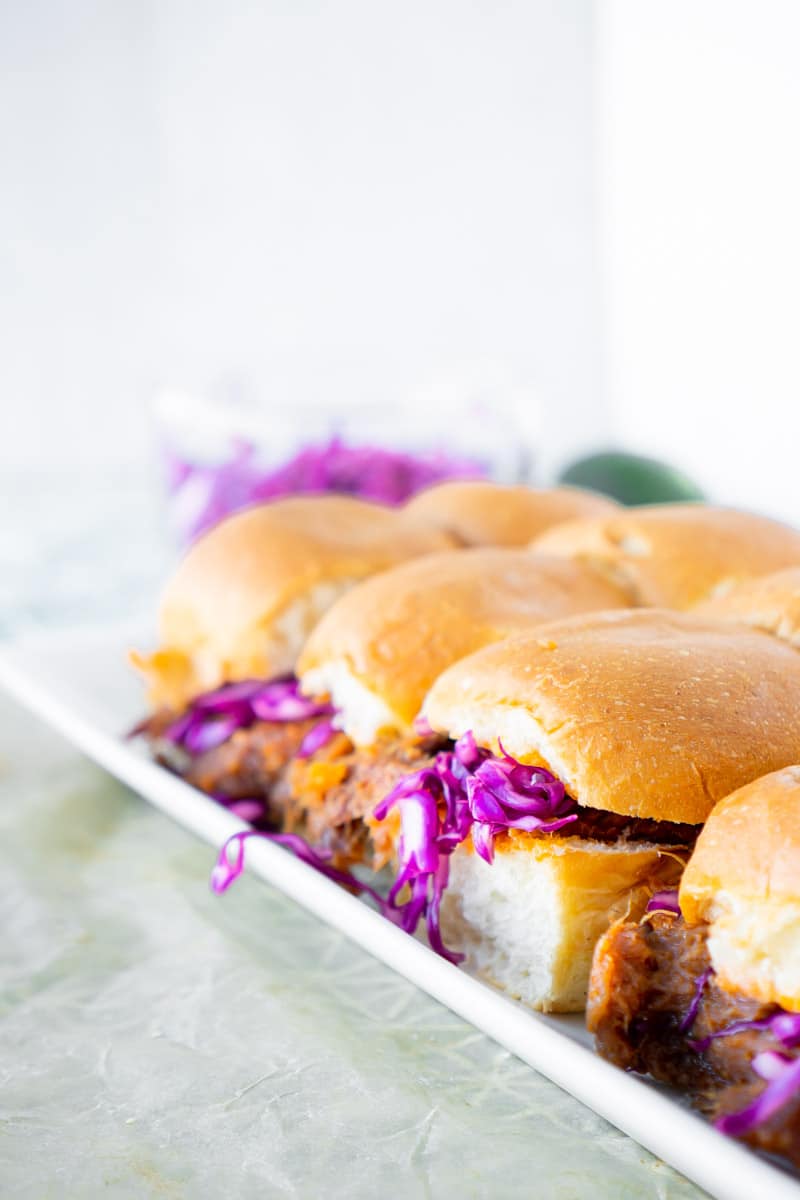 Living in the Kansas City area means that we like our barbecue but making good barbecue at home often means a lot of time. Save time by buying this Niman Ranch pulled pork with barbecue sauce (it's so good!). All you have to do is toss it in the oven and it's ready in minutes!
Put it between a slider roll for pulled pork sliders or between buns for sandwiches. Add a salad or veggie of some sort and you're golden!
I probably shouldn't crave this soup in the middle of the summer, but it's so good I crave it all year long! And even though the name sounds little pretentious, it's super easy to make!
Simply start with some Italian sausage, add some veggies and potatoes, a little cream (or coconut cream if you want it to fit a Whole 30 meal plan), and voila – an amazing soup in like 30 minutes.
This sweet meat sauce isn't your typical jar of sauce plus noodles spaghetti. It's my husband's own signature spaghetti sauce. It's a bit sweet, a lot flavorful, and takes no time at all to make.
Add it to your favorite noodles with a little parmesan cheese and some garlic bread for what will likely become a staple on your weekly menu!
Skip the takeout and make pad Thai at home with this super easy pad Thai recipe. Seriously, it's like five ingredients and takes about 15 minutes to cook!
Add grilled chicken strips, shrimp, or just eat it with egg if you're not feeling like a lot of meat.
We use a secret ingredient (aka these chicken breast chunks) to make this orange chicken in minutes! And the sauce is so good, I don't even miss our local Chinese restaurant!
18 – Spaghetti Squash with Pesto
Change things up from the typical menu with this spaghetti squash peso recipe! It's a great way to sneak some veggies in, hidden with a delicious spinach pesto. Even better with a little crumbled bacon and fried egg on top!
If you don't think your kids will like the spaghetti squash, make them this pesto pasta and keep the spaghetti squash all to yourself!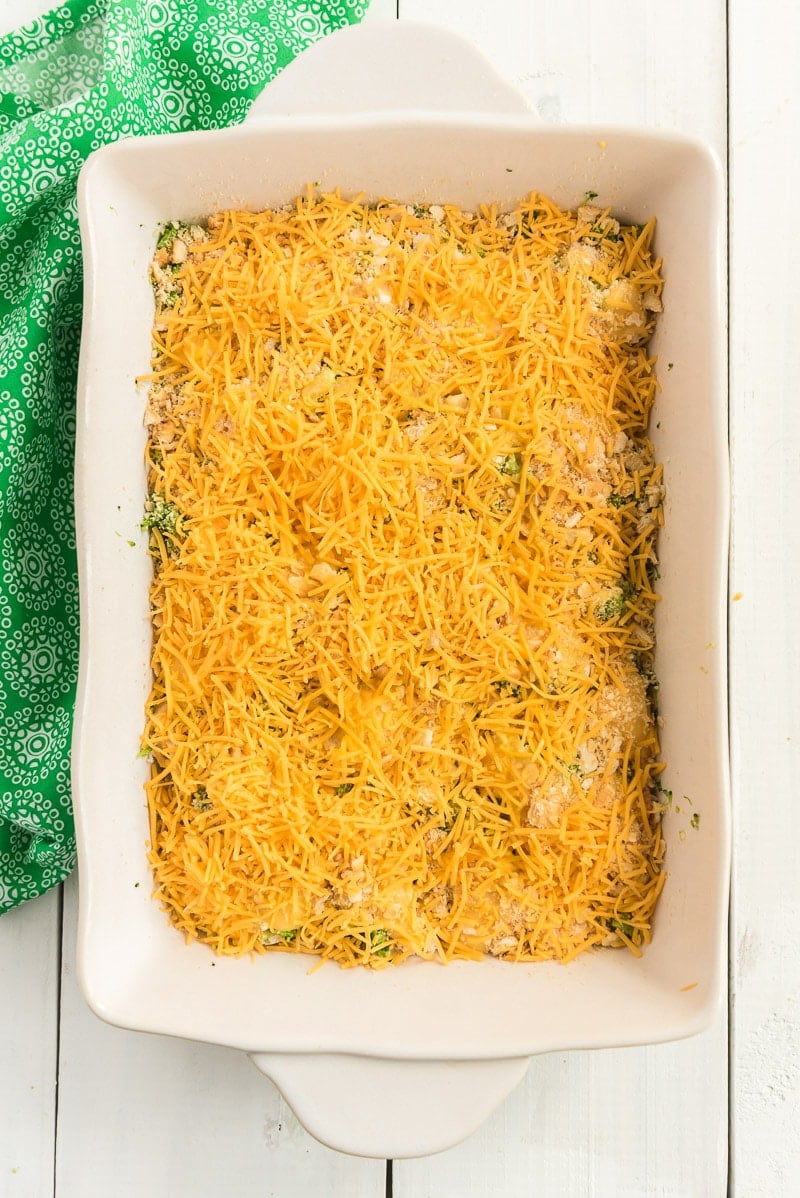 19 – Broccoli chicken casserole
Is any meal plan of easy weeknight dinners complete without a casserole of sort sort? This broccoli chicken casserole is one my mom used to make me and combines flavors kids will love (crackers) with ones that moms want their kids eating – chicken and broccoli!
Just layer the ingredients, bake, and enjoy!
20 – Southwestern Chicken Salad
Let's finish it off with a good old-fashioned salad. This chicken salad combines grilled chicken with a salad full of veggies and cheese then topped with tortilla strips! Finish it off with a cilantro lime dressing for a super easy, family-friendly dish!
Make this even easier by marinating these pre-cut boneless skinless chicken breast strips instead of cutting them by hand!
More Weeknight Meals
If 20 isn't enough, here are a few more easy weeknight dinners you can swap in or add to the rotation!
Printable Shopping List
Ready to go shopping? Order your meat from Perdue Farms then add everything to this blank printable shopping list (or order grocery delivery) I've created just for you!
Just click the button below to get it!