These free printable thank you tags are perfect for showing a little thanks to people in your life. With sixteen different free printable gift tags that all say thank you in some way, there's a tag for every occasion!
Use these to add to hostess gifts, teacher gifts, or just to add an extra special touch to any gift! There are free printables that work for pretty much anyone you want to say thank you to!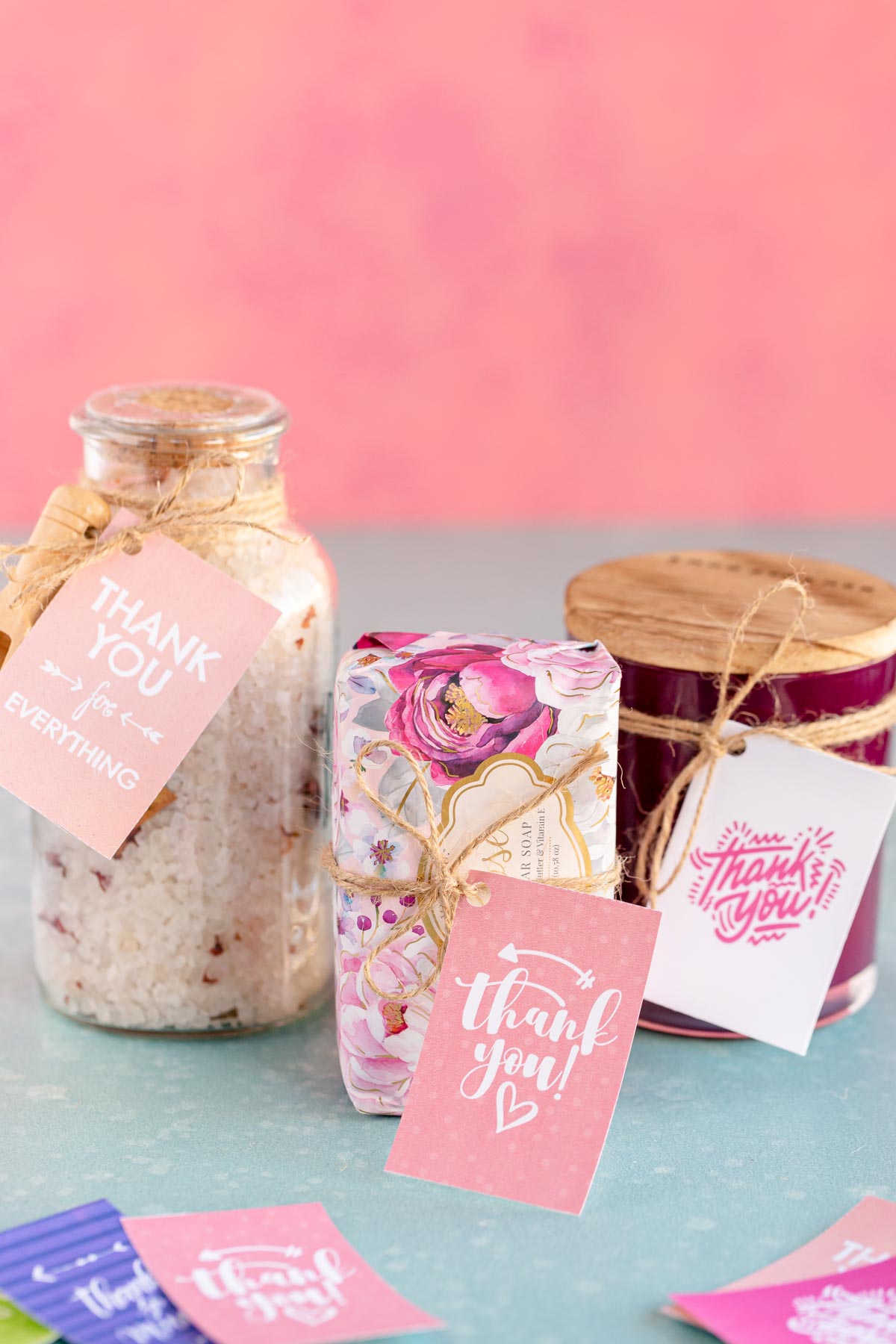 It seems like all year long I'm looking for simple ways to say thank you to someone for something.
Thanks for watching my kids while I went to a doctor's appointment. Thanks for coming up with awesome Christmas party ideas. Thanks for being an awesome teacher (use these teacher appreciation free printable tags for all the wonderful teachers in your life) – you get it.
And I love being able to say thank you to someone.
I'm so excited to share these free printable thank you tags with you! You can use them with thank you gifts, with goodie bags or party favors, or just as a way to say thanks.
I love that they are super simple, and it only takes about five minutes to have a personalized thank you gift ready to go!
They are so cute and really add a nice touch. It's one more way to say "Thank You" in a personal way! I know you'll find a reason to use them!
They would also be perfect for kids parties, baby shower favors, bridal showers, hostess gifts… basically any event where you need a little something extra. Or you need to tell someone thanks for helping out!
Thank You Gift Tag Designs
I've put together a set of 16 different printable thank you tag designs. There are six different sayings and each of the sayings comes in at least two different designs – one colored and one with a white background.
The more generic sayings like thanks come in a couple of different options.
I tried to include all sorts of variations on how to say thank you to someone in case you wanted something more formal, more casual, more adult, or just more generic.
If you want something a bit more holiday specific, I also have these fun Thanksgiving gift tags too that also say thanks!
These are the six sayings including in the designs:
Thank you for everything
Thanks a bunch
Thanks so much
Thank you
Thanks
Thanks for all you do
I went ahead and made colored tags for those of you who like pops of color and a white version for people who want to print a little less ink.
Tip!
If you want to print out the colored ones and want professional-looking products, I always recommend sending these pre-designed designs directly to a printer to print. It'll not only save you ink but also you'll end up with the highest quality thank you tags possible.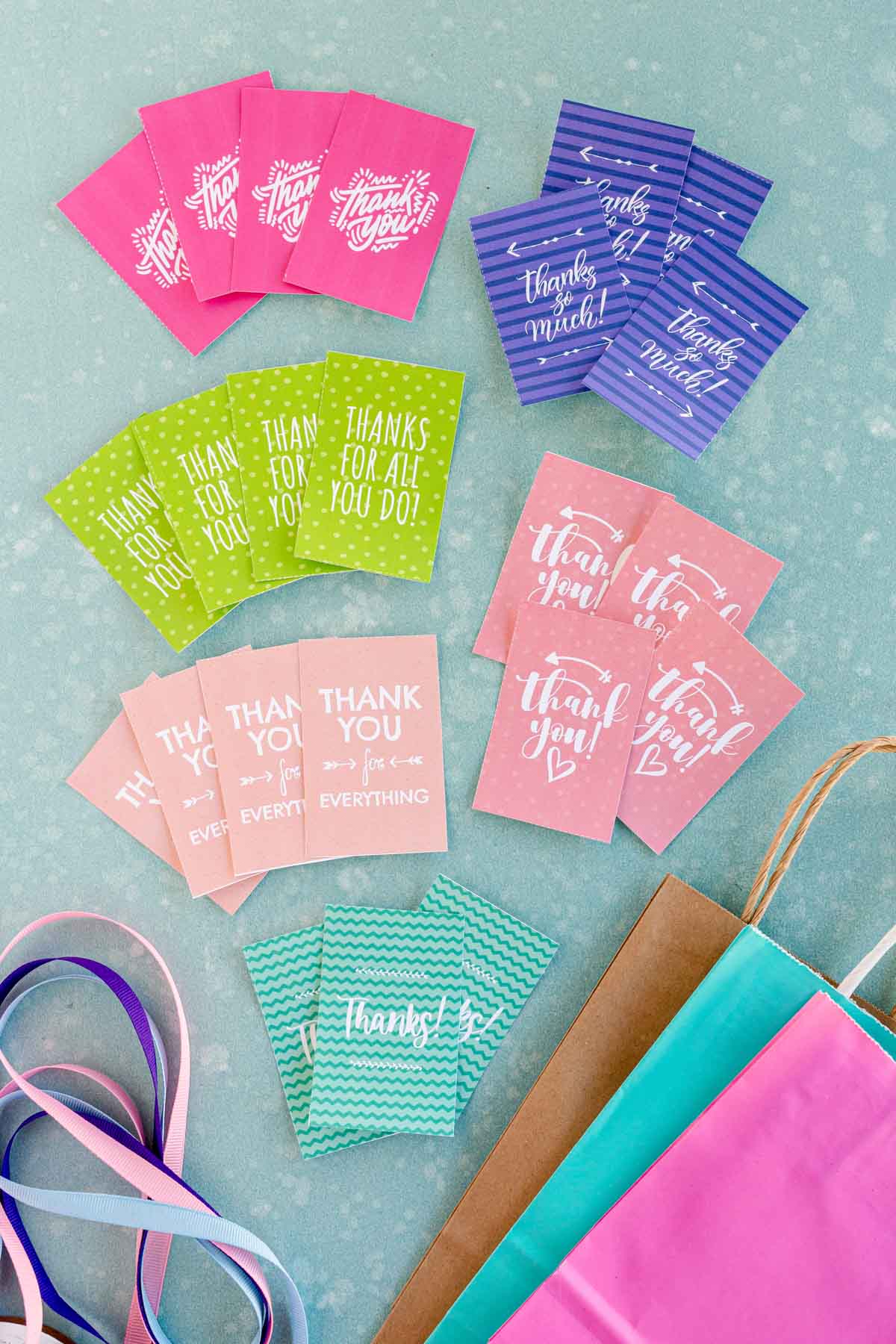 I personally love how the colored tags pop, especially on more neutral gift items like cookies and brown paper bags! These would also be a great addition to any gifts during the holiday season to add a little color to the otherwise red and green colors.
The white are also a great option and I tried to use some good color options for those to still pop somewhat – they're just not quite as eye catching as the full color designs!
But still cute, always cute! I share lots of tags on my site, and they're always cute!
The white printed tags would be perfect on things like colored bags, coloring wrapping paper, or even just as a little card you put in someone's mailbox with a personalized note on the back! Since they start with a white background, you can print a ton of them without worrying about ink!
Simple Thank You Gift Ideas
If you're looking for some ideas of gifts you can use with these tags, these are just a couple of ideas I've used in the past!
They've all been well received, probably just because anyone likes to be thanked and appreciated!
Personalized mugs, cups, or water bottles are a great idea. Or just a cute one – no need to personalize! Slap one of these cute thank you tags on it and you're golden.
Candles are a very popular thank you gift and bonus, they smell great when burned! Just wrap a thank you tag around a candle with a little ribbon or twine and you're ready to go!
Picture frames and other home decor are another great way to say thank you, especially if you print out a photo of the recipient and something related to what you're thanking them for!
If you go with home decor, I recommend doing something universally liked or with a somewhat neutral design so it fits in with anyone's tastes.
Gifts baskets are also a good option! I have a handful of different gift basket ideas on my site including one full of blue gifts (that would be great with the blue thank you tag), one with orange gift ideas, and even ones for chick flick lovers!
Pamper items are another popular choice, especially if you're saying thank you for helping with something exhausting. Bath salts, bath bombs, fuzzy socks, and really anything to help relax all would be great. Plus, you can get them for pretty inexpensive.
Slap one of these free printable thank you tags on them and it'll look much more pricey than it actually cost, even if it's just a small gift! Add a handwritten note to the back for the perfect addition!
Speaking of relaxing, anything that helps you get cozy is also a good choice. Blankets, fuzzy socks (again!), hot chocolate (homemade hot chocolate mix would be even better), and gloves all would be winners, especially during the winter months.
And last but not least, treats. Everyone loves treats and they're probably the easiest way to say thank you to someone. Store-bought treats, candies, and baked goods are always appreciated. Just make sure you are aware of any allergies before you make your deliveries!
If you need some ideas for homemade items that make great gifts, these are some of my personal favorites:
And if all else fails, go with some standard chocolate chip cookies. They're always a winner.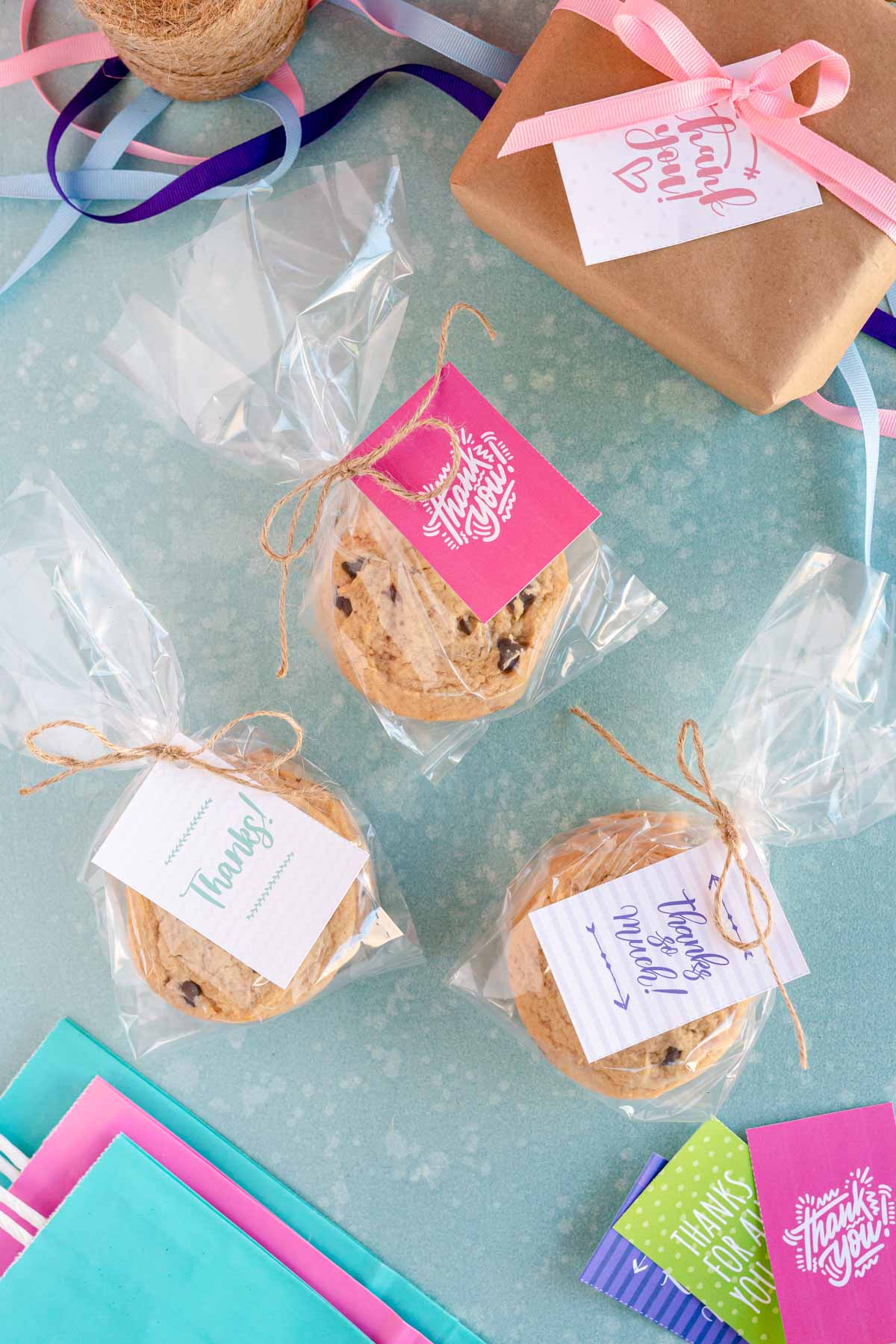 How to Use the Thank You tags
Start by printing the printable tag template. I recommend printing the PDF file on white cardstock for sturdy tags!
Once they're printed, cut out each of the gift tags. It's possible you won't need all the tags on a sheet so you can just cut out as many as you need.
Once they're all cut out, you can either tie, tape, or in some other way attach the tag to your gift.
It's super simple, yet still a great way to say thank you! Any thank you will mean a lot to someone!
These thank you gifts aren't big, but it's the thought that counts! If you need some ideas of people to give these to, here's a good start!
Teachers for teacher appreciation week in May
Neighbors
Friends
Kids
Family members, especially extended ones
Post office workers
You could even leave them randomly if you'd rather not share who sent the gift, kind of like mini random acts of kindness. Or put a basket on your doorstep with the tags and treats!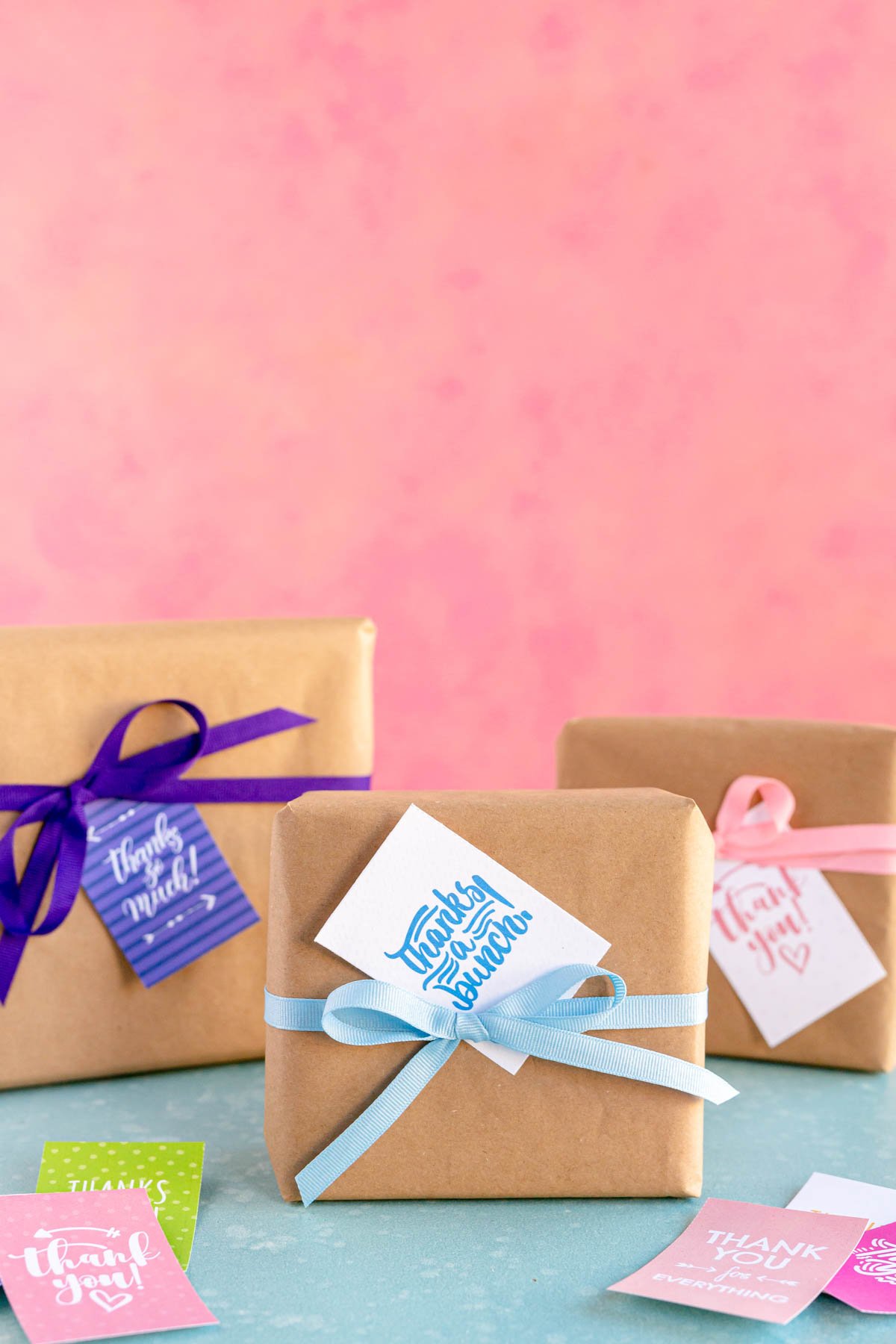 More Printable Gift Tags
Tips & tricks
Print the tags on white card stock or another high-quality paper for sturdy tags that will look and feel more professional.
Use a single hole punch to add a hole to the center of the top or a corner. String ribbon, baking twine, or some other decorative element to tie these tags to jars, candy containers, and more.
Print out a bunch of these and keep them in a bag in your purse, car, or greeting card section in your home. Add them to products sent out if you're a business owner, add them to a Christmas gift for a church leader, or even just to a bottle of soap for a preschool teacher. They're simple to add if you already have them on hand!
Download the Printable Thank You Tags
Enter your first name and email address in the form below to get the printable free download PDF. You will receive a link to download the PDF to your email within minutes. Print on card stock and you're on your way.
If you'd prefer to not provide your email address, you can get a copy in my shop here.
If you do not see the form, click here to get to it.
If you do not see the email with the printable design templates immediately after you fill out the form, make sure to check your promotions, spam, and junk folders!
The file will include:
Eight thank you tags with colored designs
Eight thank you tags with white designs
Use policy – all files are for personal use only
Extra Thank You Tags
I originally wrote this post with gift ideas and thank you tags to go with packs of Extra gum. I've since updated it to be more universal since not everyone likes Extra Gum.
But if you're here looking for those tags, you can download them by clicking here. And if you want to see what I'm talking about, I've left one image below to see the ideas I had eight years ago when I originally wrote this post.
My printable design skills have improved a bit huh?