These Christmas party games are guaranteed to make even the lamest Christmas party entertaining! With 25 of the absolute best Christmas games for adults and kids, there's really something for everyone and every type of party! Fun Christmas games, free Christmas games, and even Christmas games to play with big groups!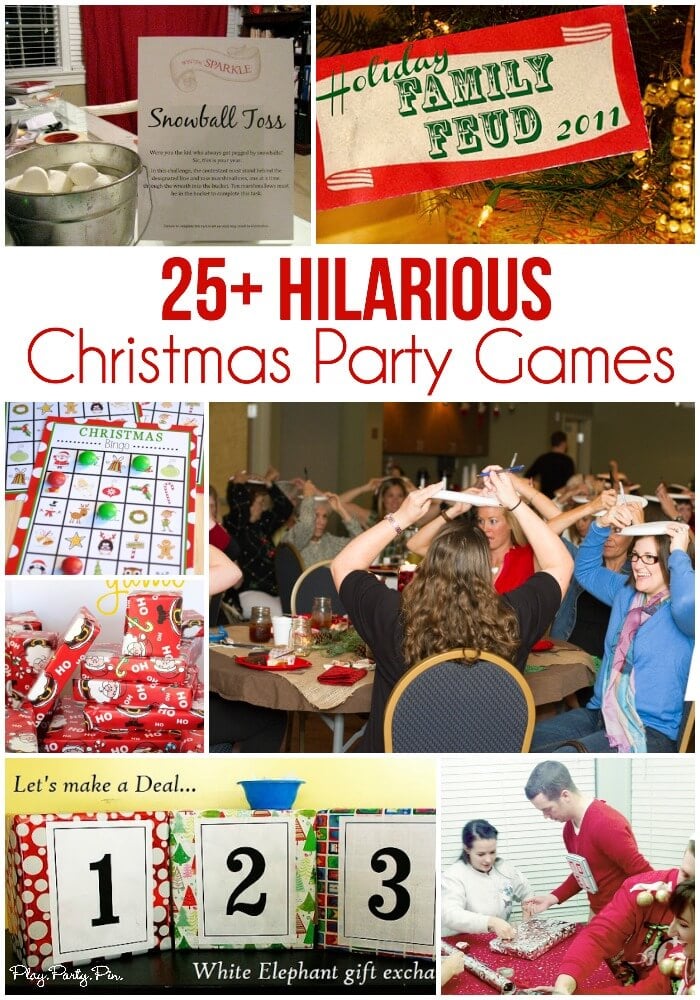 25 of the Best Christmas Party Games
With all of the holiday parties, you're bound to need at least a couple of fun Christmas party games to play! Lucky for you, I've gone through the trouble of collecting 25 of my favorite Christmas party games from all over the internet! Now all you have to do is play!
I looked through a ton of different games and these all made my top 25 list of Christmas party games that I personally would play at one of my holiday parties.
There are games with free printables (trivia, charades, bingo, Minute to Win It) and others that have all of the instructions you need to have your own holiday game night.
You're bound to find awesome Christmas games for adults, teens, and kids!
And just in case you came from Pinterest and missed it, I just posted 25 brand new hilarious Christmas minute to win it games that are great for both kids and adults! You're going to love them!
Game Show Inspired Christmas Party Games
Love games like Deal or No Deal, Wheel of Fortune, and Family Feud? Then you're going to love these fun Christmas games inspired by your favorite TV game shows! 
Elf on the Shelf Minute to Win It Games  from Play. Party. Plan.
Christmas Minute to Win It Games (25 different games!!) from Play Party Plan
Christmas Carol Pictionary from My Computer is My Canvas
Christmas Name That Tune (with free holiday playlist) from Play Party Plan
Let's Make a Deal from Brassy Apple
Holiday Family Feud from Journey with Johnsons (or here's a really cool digital version)
Holiday How Do You Doo (with free holiday playlist) from Play Party Plan
Traditional Minute to Win It  from Happiness is Homemade
Board Game Inspired Christmas Party Games
Not a game show person, then what about board games? These Christmas party games are inspired by some of my favorite boards games like Scattergories, Charades, and even Balderdash! 
Christmas Card Balderdash from Play Party Plan
Christmas Taboo from KM Printables
Christmas Rollick/Reverse Charades from Upside Down Homeschooling
Holiday Scattergories from Creating Motherhood
Christmas Charades from the Joys of Boys
Christmas 'Things You Should Know from Lucy
Gift Exchange Christmas Party Games
These games aren't your typical white elephant gift exchange; they're unique and creative gift exchange games. If you want more gift exchange ideas, check out these creative gift exchange ideas! And if you need gift exchange gift ideas, this list has over 100 ideas! 
12 Days of Christmas Cards  (12 Days of Christmas inspired gift exchange card games) from Play Party Plan
The Christmas Game from Let's Get Together
Heads or Tails Gift Exchange (flip a coin style gift exchange game) from Play Party Plan
Right Left Poem Passing Game from Sunnyside Cottage
December Dice Exchange (dice rolling gift exchange game) from Play Party Plan
Pick A Gift, Any Gift Card Game (free printable gift exchange card game) from Play Party Plan
Lucky Last Line from Play Party Plan
Never Have I Ever Christmas Gift Exchange from Play Party Plan
Switch Steal Unwrap Roll a Dice Gift Exchange Game (my favorite!) from Play Party Plan
Fun Christmas Games for Adults or Groups
These Christmas games ones are great for large groups, office parties, or Christmas Eve activities with your family! Don't forget to pick up some gift cards, Christmas candy, or Christmas movies as prizes for the winners! 
Paper Plate Game from Happy Home Fairy
Dance off to the best Christmas party playlist ever from Sugar & Soul
Reindeer Antlers Game from Cookie Exchange
Holiday Sticker Stalker from Apartment Therapy
Reindeer Games from Life Design Craft
Dear Santa from Play Party Plan
Christmas Who Am I Guessing Game from Stone and Co
Christmas Minute to Win It from Play Party Plan
Gift Wrapping Game from Kids Creative Chaos
Guess the Christmas Scent from Kid Friendly Things to Do
Christmas Movie Bingo (bingo using movie quotes and actors) from Play Party Plan
Team Gift Wrapping from One Good Thing by Jillee
Pin the Nose on Rudolph from Kreative Designs
Crazy Christmas Scavenger Hunt from Diva Girl Parties
Christmas Lights Scavenger Hunt from Sweet Sugar Blossoms
Christmas Games You Can Print
These are the simplest of all of the Christmas party games. Just download, print, and play. If you're gonna try out bingo, these bingo stampers are a hit with the kids and holiday candy is a hit with the adults for markers. 
 Christmas Bingo from Crazy Little Projects
Christmas Carol Chaos from Play Party Plan
Christmas Book Bingo from Good Life Eats
Printable Christmas Trivia from Moms and Munchkins
Christmas Lyric Challenge from Prints by LJ
Christmas What's In Your Purse from 3 Flavors of Design
Christmas Word Scramble from Family Crafts
Printable Christmas Word Search from Happiness is Homemade
Other Great Christmas Party Games
And if you don't want to do any of the work, these games are ones you can order directly from Amazon. Just head over to Amazon, add to cart, and buy. Definitely the easy way to go. 
Christmas Charades Game
Pin the Hat on the Polar Bear
Reindeer Ring Toss
Pass the Ugly Sweater Card Game
A Christmas Story Board Game
Other Great Party Games that are Perfect for Christmas Parties:
You could also just try out one of my favorite board games and replace the words with Christmas ones. Or just use the words provided, still hilarious!
Catch Phrase
Scattergories
Guesstures
Taboo
Reverse Charades
Jungle Speed
Wits and Wagers – Party Edition
Heads Up
Pictionary
More Fun Christmas Party Games
[ess_grid alias="Christmas-Games"][/ess_grid]
Don't forget to pin these Christmas party games for later!